Nine games to go, Liverpool are in a real title challenge – and supporters can play their part says Reds' left-back Andy Robertson.
While there have been claims recently from a certain former Liverpool player – a player with a vested interest in putting doubt in Liverpool fans' minds – that pressure from supporters hindered the Reds' title challenge in 2013/14, Robertson disagrees.
"Talk about pressure and 'bottling' it – relegation, that's pressure," Robertson explained, speaking to The Anfield Wrap.
"I've said it in interviews before, people lose their job, players lose half their wages, managers get sacked more often than not. That's not what this is.
"We're going for a title, we're going for trophies, it's something we should enjoy, it shouldn't be something that we fear.
"You know how hard it is to win a Premier League. We've got nine games and we've put ourselves in a great position. Some people that are talking about it would pay a lot of money to put their team in the same position as us."
As Liverpool fans, we are, of course, desperate for a league title to celebrate and to add that elusive number 19 to the trophy cabinet after 29 years of waiting.
Nervous energy from the stands in the 1-1 draw with Leicester at Anfield was recognised, then contrasted by a supportive, positive backing for the 3-0 win over Bournemouth in the Reds' next home game.
"After the game, the lads knew it made a big difference, even from when we went out to warm up there was probably a lot more fans in the ground than usual," said Robertson.
"Saturday at 3 o'clock is where maybe we need it the most, we've only got nine games left and half of them will be at home, if we can make an atmosphere that will make even a small difference to the lads then it will stand us in a good stead."
The players are keen to reaffirm that the fans can be important during this final run-in, as shown by Robertson's willingness to discuss this with fan media so openly and honestly.
"All players are on social media, all players walk out the ground, so it's very hard to get away from it," explains the likeable Scot.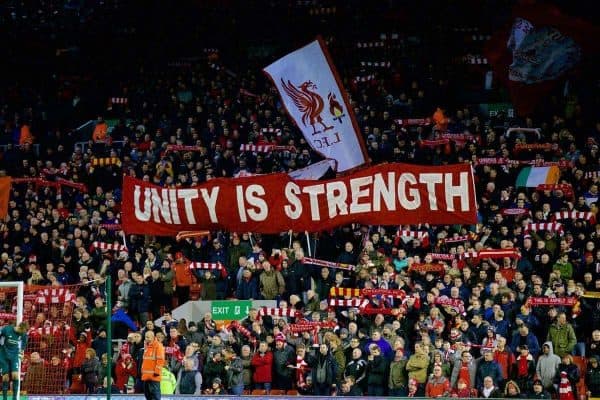 "When we're drawing, fans are prone to overreactions, of course they are, they'll just say how they feel in that moment. That's part and parcel of being a footballer, [but] we're tough-skinned, we know how to deal with that.
"If you said at the start of the season would we have took a point behind Man City with nine games to go, after how far we finished behind them last season, you would have.
"It's hard because of what's happened in the season, we were leading but it was too early, it was in December/January, you don't win a league then.
"Now we're at the bit where it matters, we're in single figures and we're a point behind. We've given ourselves a hell of a chance. If City slip up then we need to be in a position to take advantage of that."
In many other seasons, this Liverpool squad would be nailed on title winners with 70 points from 29 games – which is more than the Reds' total points in six of the last nine seasons – and only Man City's excellence is skewing the perception for some.
"We will fight for everything; if we fall short it won't be from a lack of trying," says Robertson.
"As long as everyone, fans included, can look back at the end of the season and say 'you know what, we tried everything' and we go into next season, it's a young squad, we'll gain from this season, win or lose."
The message from the players is clear: we're in this for the run, we need the fans to be positive. So ignore what the mainstream media or players or pundits from elsewhere are saying, you as supporters can impact the players positively.