Liverpool came from behind to take the three points and beat Burnley, winning 4-2 at Anfield to go back to within a point of top spot in the league.
Liverpool 4-2 Burnley
Premier League, Anfield
10 March, 2019
Goals: Firmino 19′, 67′, Mane 29′, 90+4′; Westwood 6′, Gudmundsson 90+1′
---
Week after week after week…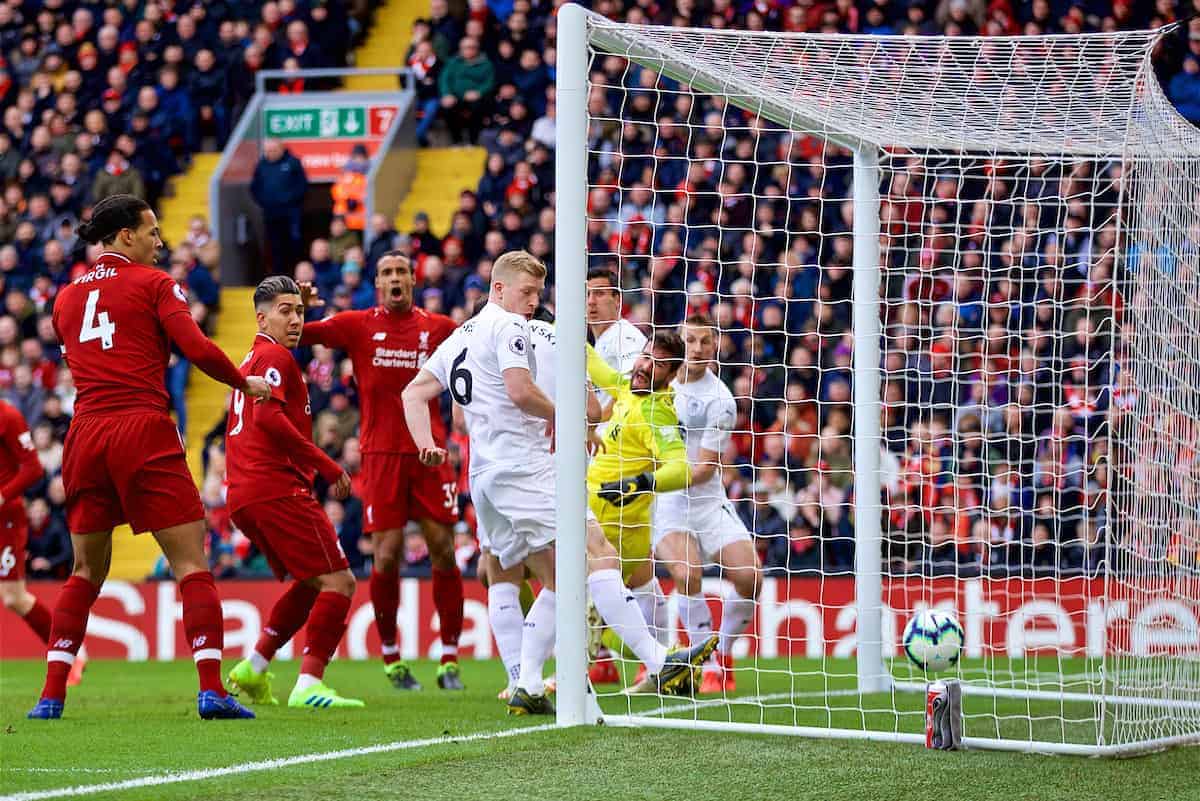 Good job all these domestic cup ties have been used to trial VAR technology so it's ready when needed, hey?
Every single week in the Premier League, it seems, we're faced with situation after situation where such a control system would be of obvious, immediate and vital benefit.
It's not just at Liverpool games, either, but naturally given the context of the season, it's hugely galling for Reds fans to see a mistake go Man City's way which should have been ruled out, then the next day see another go against Liverpool.
A two-goal swing could be huge on any weekend; on this occasion City were struggling to break down Watford before Raheem Sterling was the beneficiary of woeful officiating.
Alisson, instead of being vindicated and given justice for being fouled from an early corner, instead received a yellow card and the end of his clean sheet streak.
Reds' response and Bobby's back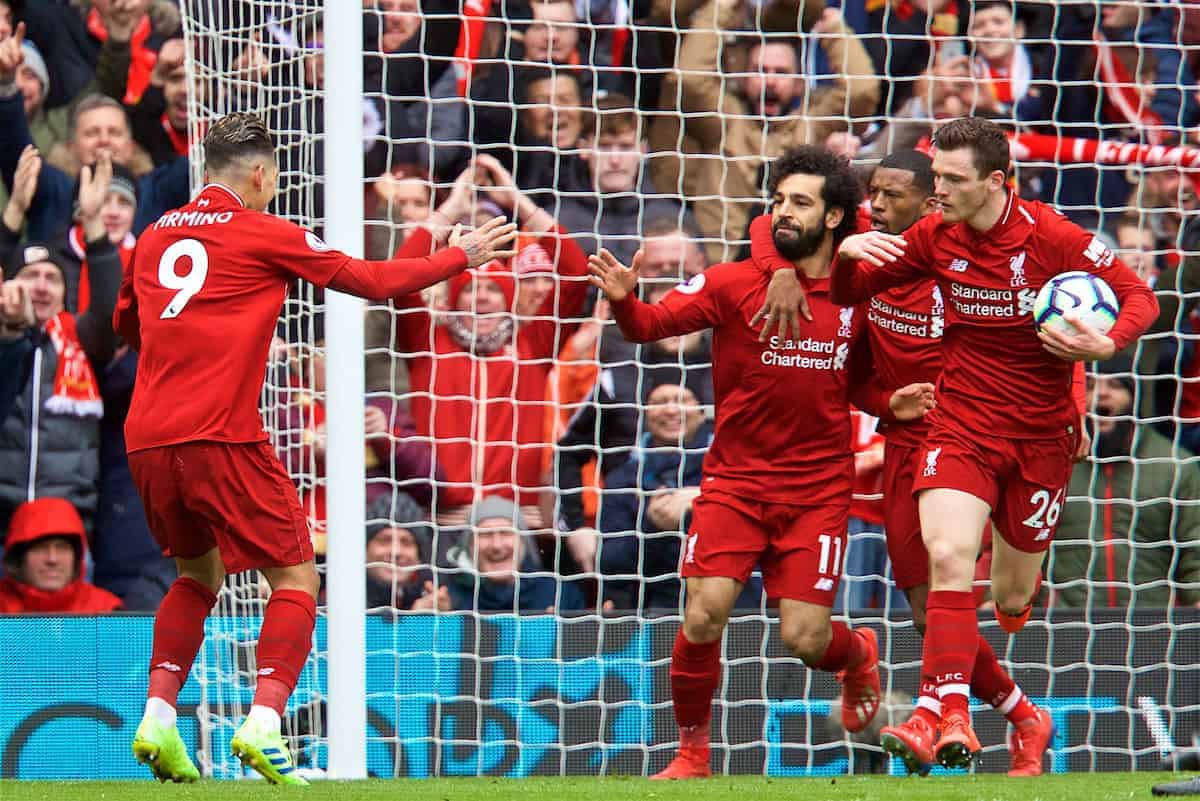 After three recent 0-0s, supporters could perhaps have been forgiven for feeling nervous after the Reds went behind.
The response was impressive, though, in a measured and calm way rather than an all-out-blitz: lots of possession, more movement than has been the case at times and all three forwards looking to link up with each other with regularity.
Getting Roberto Firmino back on the scoresheet could prove vital; the No. 9 has been below his best over the course of the season but he got himself into the most goalscoring-est of positions—if we can invent that word—to end a lean run, tapping home from all of about one yard out.
Exactly where he needs to be, some of the time.
His second goal was, by contrast, the perfect second striker's goal: the follow-up, the late run from deep, the rebound latched upon before anybody else.
And that's Firmino—two forwards in one when at his best. Hopefully this brace gets him back toward that level, because he's critical for the Reds when on top form.
A note, too, for Mane: two goals, both well taken, great composure and the most in-form attacker at the club.
Salah's ongoing misfortunes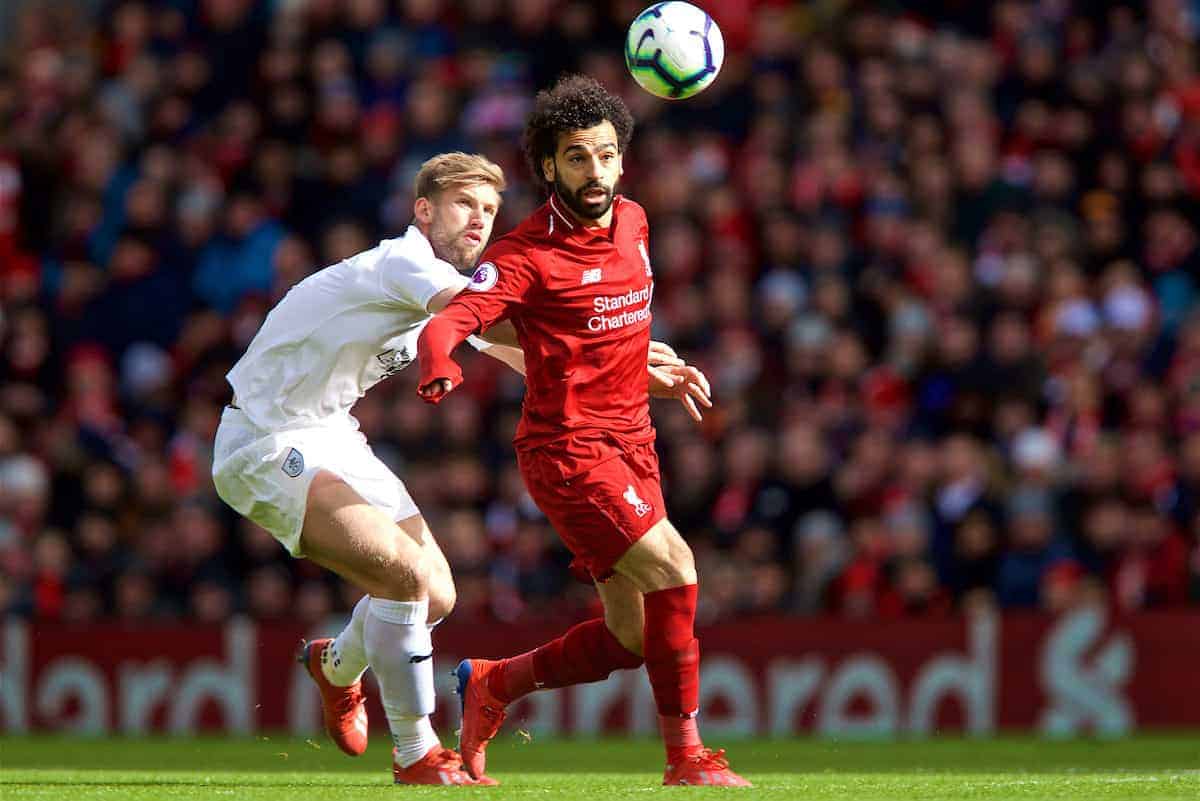 Self-inflicted to an extent, perhaps, but Mo Salah's ongoing form in front of goal is a bit of a worry.
Perhaps it was the potential of the Premier League record hanging over him, feeding on his anxiety a little, but it shouldn't have made a difference in a one-on-one against Everton and it shouldn't have made a difference when bearing down on Tom Heaton today.
With the score at 2-1, Salah should 100 per cent have been focused on teeing up Sadio Mane for an easy second goal, wrapping up the win and ensuring the prolonging of Liverpool's title fight.
The choice to try and go for goal himself was overly selfish, utterly fine if perhaps early in the game or when three goals clear, but not at the time and context of the match at Anfield.
He was desperate for Mane to roll the ball for him and therefore match Alan Shearer's record in stoppage time, but his teammate had already buried the chance for himself.
It's one goal in eight games in all competitions now for Salah and, while Firmino being back in goalscoring form is good news, we could do with the Egyptian King rediscovering his finishing touch quickly too.
Lallana back in town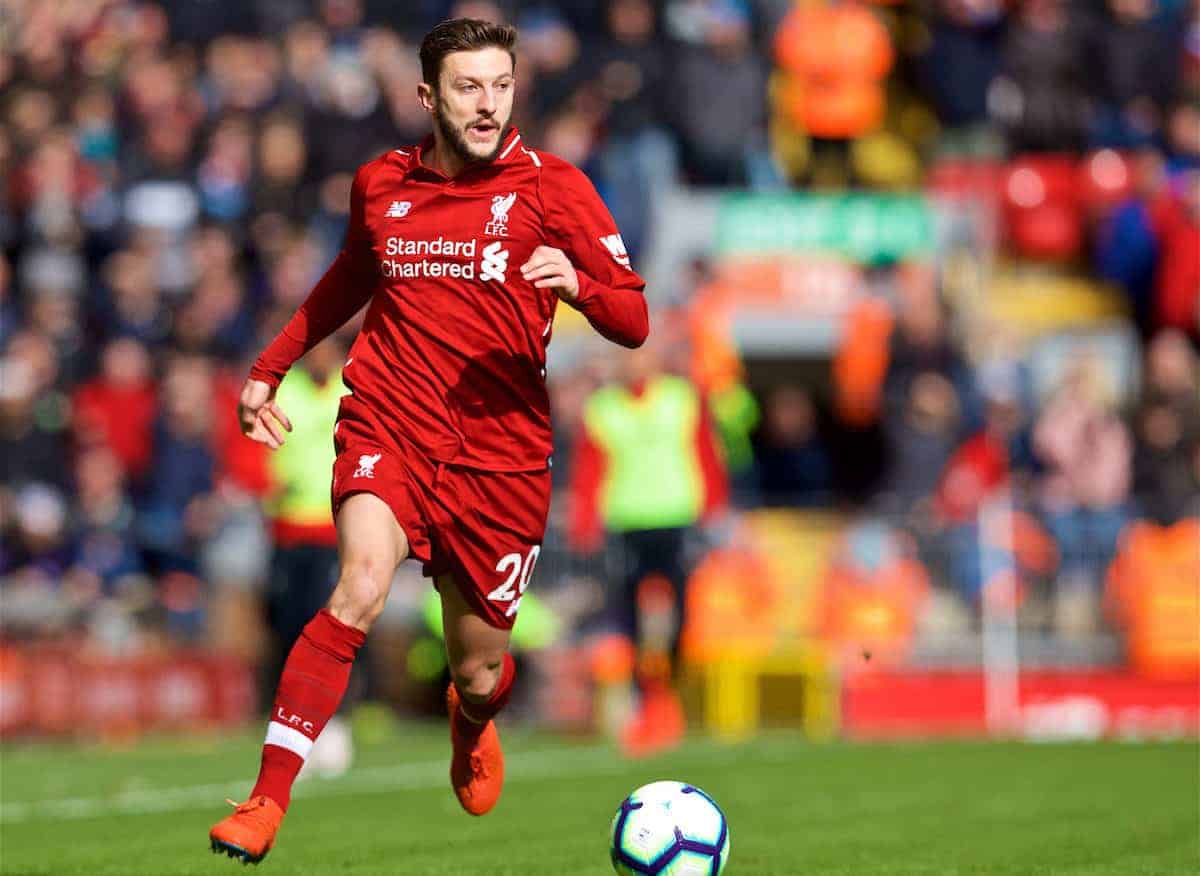 Jurgen Klopp raised eyebrows a week ago by bringing on Adam Lallana late in the match; this time he was named in the starting lineup—but in a much more appropriate role.
Lallana played as the most forward-running of three central midfielders, trying to help to keep Burnley pressed back and making late runs into the area to good effect.
He played 76 minutes before being replaced by Naby Keita, showing good endeavour and energy throughout and linking play neatly for the most part—not too many unnecessary turns and even a few intelligent ones in good areas, creating space in the penalty area a couple of times.
One sliding block led indirectly to Mane's superb finish to put the Reds ahead, though perhaps BT Sport awarding him Man of the Match was slightly over-stating his impact on the match!
In the second half in particular, his influence waned to the point of being nothing more than a willing runner, and he certainly didn't do enough to suggest he would be markedly better than any of what James Milner, Jordan Henderson or Keita have offered in most games this term.
Still, though—an extra body, a fit player and another option are all positives.
Keeping the pressure and onto Bayern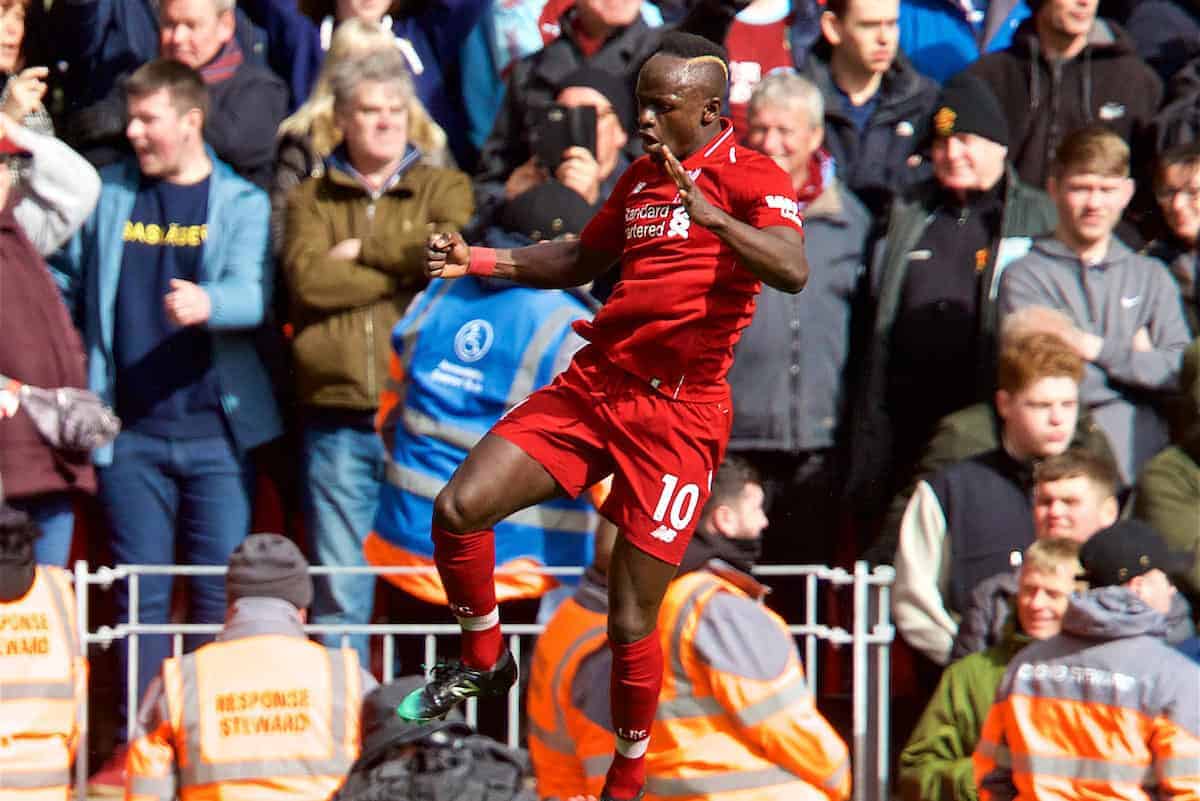 So the Reds are back to within a point of Man City and it's eight games remaining, showing once more Liverpool's ability to accept, absorb and react to pressure.
Going a goal down this time and having to bounce back even indicates a greater mental resilience, and level of quality, than was expected.
Now there are two key questions: can this form in front of goal be shown again in the bigger matches, where it has been missing recently? And, can away form be upped considerably?
Next up it's Bayern Munich on Wednesday and Liverpool need their best away European performance of the season, by some distance, if the Champions League adventure is to be continued.
The impressive on-the-ball play, the bodies in the box and the eventual scoreline are all huge positives.
Now it's up to Klopp and his men to show they have the fortitude and quality on the biggest of stages: Anfield and the Allianz, and an aggregate win.
Two trophies remain to be won.