Liverpool's failure to control the game saw a familiar approach from Everton pay off in the Merseyside derby, with another 0-0 draw played out at Goodison.
Form goes out of the window for a derby, and for this one so did any quality football.
The tactics of both sides were affected by poor play, but this was dictated in some way by Everton's long-ball game which recalled their Allardyce days (and worked well).
But it was also due to Liverpool not having the required quality on the ball in midfield.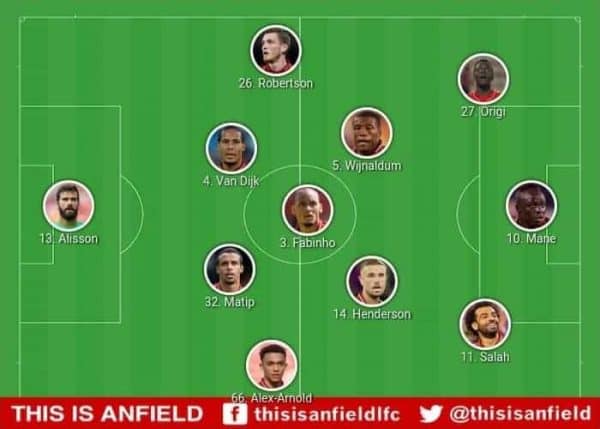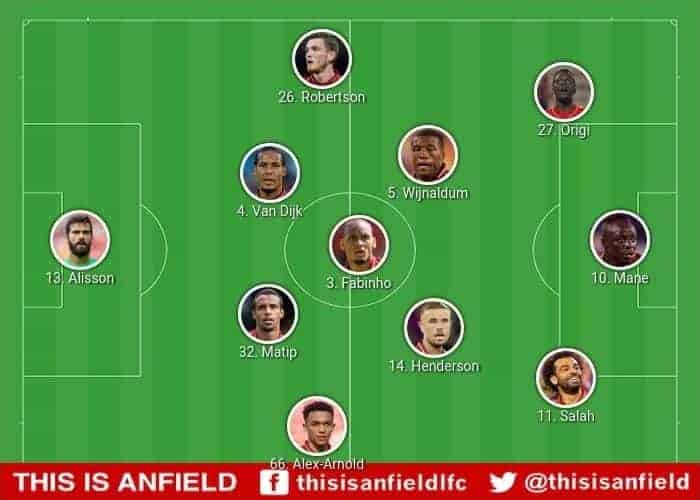 Klopp retained the shape from the Watford game, making one change in midfield as Jordan Henderson came into the side in place of James Milner.
On the face of it this appears to be a like-for-like change, but it might not be.
20% of Hendo's passes were aimed at one of our forwards v Utd
His season average is 15%

30% of Milners were aimed at our forwards against Watford
Season average 28%

— SimonBrundish (@SimonBrundish) March 3, 2019
Lost Control Again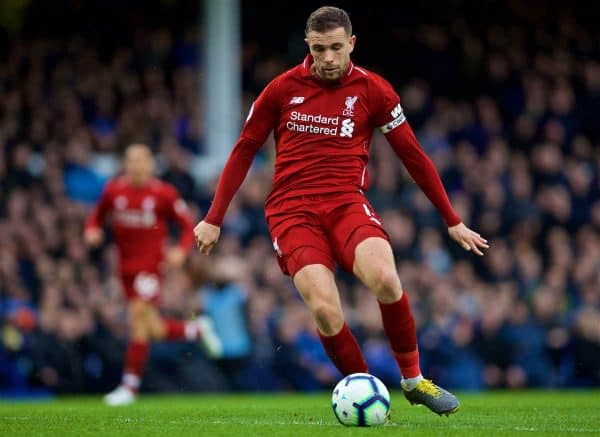 Henderson played some eye-catching long passes early in the game, including one of those excellent crosses he has the potential to pull off when playing in the more advanced role, but like the rest of the side his play on the deck in tight areas was poor.
He finished the game with a pass success of 77 percent which, worryingly, was the best in the team bar the two centre-backs, the goalkeeper (more on Alisson later) and Georginio Wijnaldum who only made 19 passes during his hour on the pitch.
This isn't to single out Henderson for criticism—he wasn't the worst player on the pitch—it's to highlight a change in the side, and the trouble all players had controlling the game.
When a title-challenging side comes up against a mid-table team, you'd expect the former to have the quality to control the game, but they didn't.
Then again, it was a derby and things were being thrown out of a window which was also letting in gusts of wind…
Everton were happy to let Liverpool have the ball, but Liverpool couldn't keep it.
Silva Gets Credit for Allardyce Tactics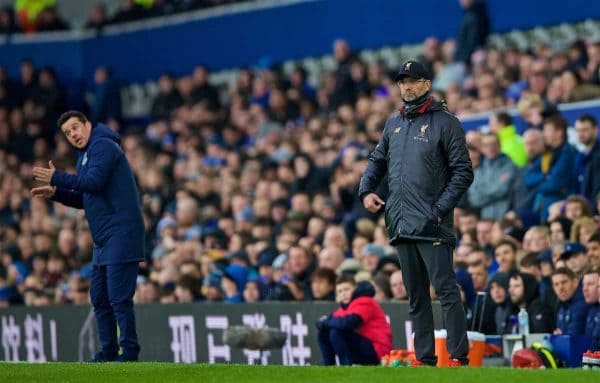 The Toffees themselves reverted back to the tactics used by Sam Allardyce as they regularly launched balls up to Dominic Calvert-Lewin, who had been moulded into a target man under their previous boss.
Everton reverting to the Allardyce/Calvert-Lewin tactic #EVELIV pic.twitter.com/Y1HeYkI8Ju

— James Nalton (@JDNalton) March 3, 2019
Silva was glad of them and, ironically, received plenty of praise after the game for using them.
"We pressed high, and improved our pressure in that first moment," said Marco Silva.
"In the first half we had some problems with the position of Fabinho. Different second half, we did some steps forward with Morgan and Gana.
"We played more in the middle in the second half, but of course we had to be wary of them as they are maybe the strongest team in Premier League in counter-attack."
Big Chances Missed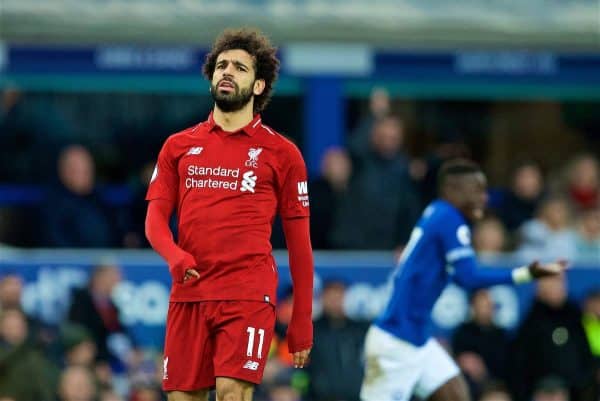 Liverpool did have chances on the counter-attack, but didn't take them.
They were able to create a number of opportunities despite the scrappy nature of the game, but their finishing was as wasteful as a lot of the passing.
There is no need to consult Opta stats to determine which was the game's biggest chance.
Mohamed Salah was put through on goal by an excellent interception and pass from Fabinho, but fluffed his lines at the vital moment.
On days like this he looks like forlorn, World Cup Salah, rather than the one we're used to seeing at Liverpool, and nothing went his way at Goodison.
Speaking of Fabinho, his opportunity late in the game may have gone down as a big chance had he been able to get a shot away, but his first touch let him down. Opta only records such chances when a shot is actually registered.
On this occasion both the data collectors and the player failed to make anything of this big chance.
Full-Back Fortunes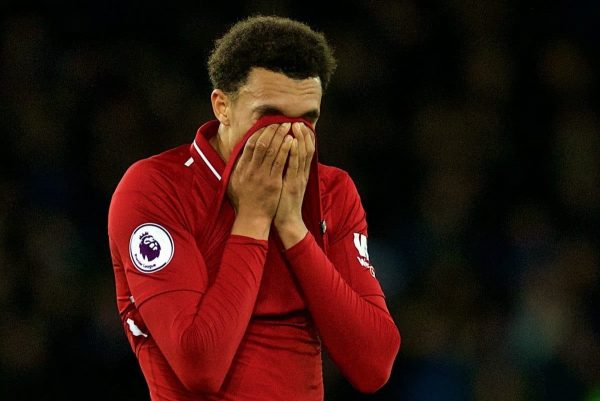 Forty percent of Liverpool's attacks went down their right, slightly less than against Watford, but almost 50 percent of Everton's attacks came down Liverpool's left.
Luckily for the Reds, Theo Walcott was as poor as he's been for much of this season, but Everton looked more dangerous when Richarlison came on later in the game.
This meant contrasting afternoons for Trent Alexander-Arnold and Andy Robertson.
Both made a similar amount of actions, with 85 and 84 respectively, but Robertson's were in deeper areas, while most of Alexander-Arnold's were in the opposition half.
Their touch maps are almost mirror images of each other, if the mirror was placed diagonally from the bottom-left corner to the top-right corner, the image showing Trent at the top and Robertson at the bottom:
Actions of Trent Alexander-Arnold (top) and Andy Robertson for Liverpool today. pic.twitter.com/XdihvwvDUN

— James Nalton (@JDNalton) March 3, 2019
Strength in Defence
Positives for Liverpool in this game emerged in defence, with Virgil van Dijk at his imperious best, and Joel Matip proving game after game that he's the man to partner him in Joe Gomez's continued absence.
They limited Everton to seven shots with three on target, and an Expected Goals total of just 0.43 according to InfoGol:

Despite Everton's pressure, Alisson's short distribution was very good, and when he had the ball in hand it was like a hot potato as he released it almost immediately.
He also made a good save from Calvert-Lewin, combining his good positioning and reflexes.
Van Dijk reinforced his status, not just as the best defender in the land, but as the best player.
He won 10 aerial duels and made 13 clearances, though the latter stat shows the lack of control in this game generally. He'd rather be making passes than clearances, but he still managed to finish the game with a pass success of 86 percent.
While all around him were losing their heads, he was still mostly majestic.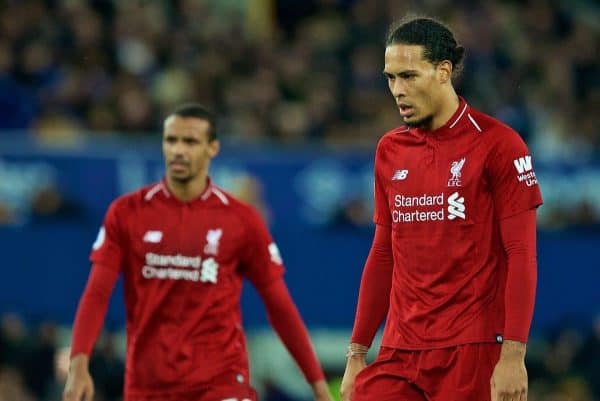 For Liverpool this was a missed opportunity, just as the game against Man United at Old Trafford was.
A point from a derby can be passed off as a decent result, but unfortunately for Liverpool they contest rival matches against two teams, while Man City only have to deal with their city rivals.
Regardless of rivalry, they were matches Liverpool should be winning, but didn't.
The title is now City's to lose, but so far this season the team who have the title in their own hands haven't been able to keep hold of it.
Maybe the timing is good for Liverpool.