End of season games are season-defining, not club defining, writes Alex Malone, as he provides plenty of reasons to be positive in the season run-in ahead.
Tottenham on Sunday – the latest in what seems to be an endless parade of must-win, can't even draw games.
Already there is talk about 'what if' Liverpool fail to win a trophy for yet another season. 'A disaster,' 'a failure', 'another year as the nearly men?' etc.
It will, most certainly, be a huge disappointment, but let's look at the bigger picture.
This is a team who, under the guidance of Jurgen Klopp, have reached two European finals, are consistently reaching the Champions League every season via league position, will 100% finish in the top two of the Premier League and are heavy favourites to reach a second consecutive Champions League semi-final.
In the Premier League, against Chelsea, United, Spurs, Arsenal and Everton this season we are undefeated. We have already beaten four of them this season and are yet to face Chelsea at home.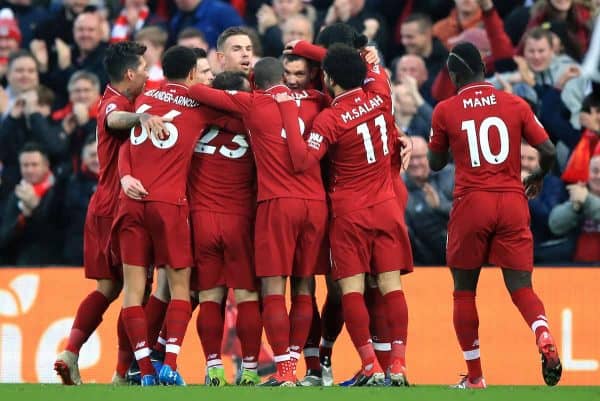 We are also streets ahead of each of them in the league. Only City – by the width of a couple of coats of paint on the goalposts – have gotten the better of us this season.
Yes, we dropped points to Leicester at Anfield, but again, perspective. They were 2 of only 4 points dropped at home in the entire season to date. Only Man City, who threw attacking football to the wind in favour of caution, were also capable of taking any points off us at home this season.
We have 76 points from 31 games; an incredible average of 2.45 points per game, and a +52 goal difference.
We are a massive 15 points clear of the team in third.
We currently have the second best attack and the best defence in the Premier League.
We have lost just a single game.
Last season we finished on 75 points; the prior season it was 76. We have equalled or beaten those points totals already with seven games still to play.
For a little more perspective, consider that just a couple of seasons ago, Leicester won the league with a mere five more points than we have right now.
This is not just a very good Liverpool team, it is a great Liverpool team.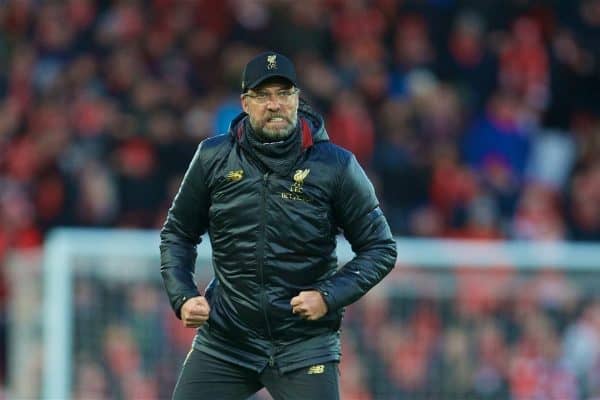 It is also, based on points total and games lost to date, one of the greatest English teams of modern times. An average of 2.45 points/game average with one defeat after 31 games confirms it.
As sod's law would have it, we just happen to have another excellent team getting in the way of our ambitions. Under normal circumstances, the league would just about be wrapped up by now.
It isn't, of course, and in order to achieve it this season, we don't just have to maintain the current level of excellence; we quite possibly have to be the greatest Liverpool team, points-wise, there has ever been.
But there is nothing to suggest that we cannot. In fact, whatever happens, it is highly likely this will be the most points ever achieved by a Liverpool team in 127 years.
It is a team so well organised that it is incredibly difficult to beat. It is so meticulously balanced that it is equally difficult to score against and defend against.
Yet even with all these impressive numbers, we have been surprisingly and harshly criticised at length this season by pundits and fans alike.
I've heard utter nonsense like "Liverpool haven't played particularly well this season," and "the front three just aren't firing."
Just to underline what nonsense that is, at this stage last season, we had scored 73, conceded 34 and lost 4 games. We had 63 points. This season, we have scored three less, conceded 16 less and have three fewer defeats.
We also have 13 points more. (For the stats geeks among us, that means we scored 2.35 goals per game last season compared to a "measly" 2.26 goals this season.)
Up front, Roberto Firmino and Mo Salah have been under almost constant scrutiny and criticism this season even though they are two thirds of the most potent front three in England over two seasons.

Not only that, but Mane and Salah are joint second leading scorers with 17, with Firmino also in double figures with 11. No other team has three players in double figures.
Want a little more perspective? Man Utd's "goal-scoring superstar" (that's what I hear every time I hear the pundits opening their mouths), Marcus Rashford, has nine.
Further down the field Trent Alexander's defending has also been overly criticised, while it is often suggested that outside of Van Dijk, we really have no other decent centre backs – yet we have the best defence in England. Another overlooked stat is that we concede the fewest goals from set pieces and score the most from them.
This level of performance, the ongoing development under Klopp and current form means that in the Champions League we are 2/9 to make it through to the semi-final. Porto are 7/2.
If you think back just a couple of seasons making the Champions League at all was a hope, progressing in it an aspiration; now making the latter stages is a reality.
In England, only one team can possibly stop us from being crowned Champions this season; they're also a likely Champions League final opponent. I wouldn't be at all surprised if we were to meet them in Madrid.
But for all City's spending power, expansive squad and recent history of success, past history favours us, in that no English team has ever achieved a clean sweep of four trophies. City, let's not forget, have not only never won a Champions League, they've never even made a final.
Guardiola will, of course, be doing everything in his power to win the lot, but he'll also understand the enormity of the task and the effort required to achieve it.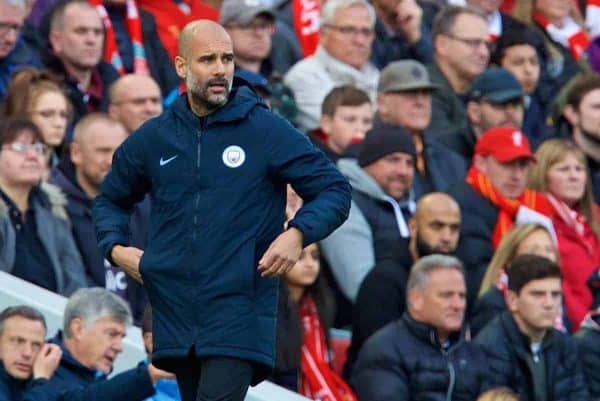 At some point, (and that point will be April), he will simply have to trade off. For all their squad depth, they do NOT, as is often touted, have two world-class players for each position. They have their essentials just as we do, with three of theirs, Fernandinho, David Silva and Sergio Aguero the wrong side of 30; they are 33 (34 in May), 33 and 30 (31 in June) respectively.
History also tells us that even with a significantly less demanding schedule than City's, teams usually run out of steam as the physical and mental demands increase; and players in their 30s run out of steam sooner than others.
If these three players in particular need a break – which they almost certainly will – will Guardiola rest them for Champions League games or Premier League games? He is going to have to choose, and I think we all know which competition the billionaire owners (and quite possibly Guardiola himself) want the most.
I'm in no way saying that we have it easy, but we certainly do have it easier. Our absence from the FA Cup and the favourable Champions League draw have more likely helped than hindered our chances of success in both competitions.
How this season pans out in both competitions time will tell. But it will not define the Klopp era, or the future potential of this squad. It will define only this one season.
We are now several levels of quality above where we were when Klopp took the reigns, and progress has been on a consistent, upward trajectory ever since. His development of this squad is far from finished.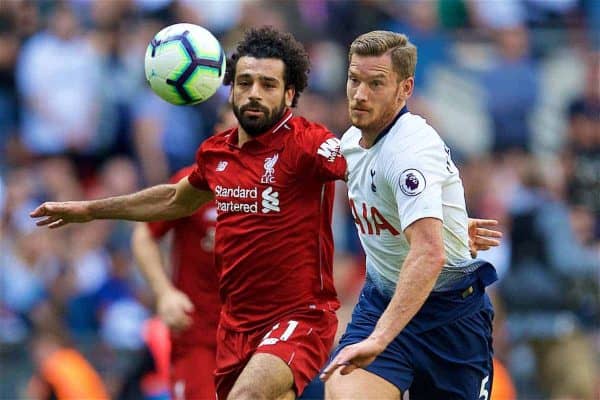 Spurs on Sunday is just the latest in the recent 'biggest game so far' stakes. Win it, and we are one step closer to the Holy Grail, but there will be many twists and turns ahead.
If we do finish this season empty-handed, trust me, I will be every bit as disappointed and dejected as you are.
But if we don't win anything this season, it doesn't change the fact that our amazing club hasn't been this healthy on and off the field, this competitive and consistent on it, and this exciting to watch, for a very, very long time.
And in the hands of Jurgen Klopp, his staff, the owners, the squad, and our incredible, unrivalled support, it's only going to get better.