Jurgen Klopp has revealed the gesture made to Trent Alexander-Arnold after the right-back's record-breaking hat-trick of assists against Watford.
It is rare that a player will record three assists in a single game, and even less so for a defender, but Trent became the youngest to ever do so in the Premier League on Wednesday.
Setting up two for Sadio Mane and one for Virgil van Dijk, the youngster capped a sensational performance at Anfield by setting a new record, 143 days after his 20th birthday.
Typically, if a player scores three they will take home the match ball, but Klopp revealed in his pre-Merseyside derby press conference on Friday that that honour was bestowed to his No. 66.
The manager discussed the importance of Trent and Andy Robertson's creativity from out wide, insisting it is crucial in "modern football."
"It's important, that's modern football. If you ask a young boy 'what's your favourite position?', I don't think a lot of boys would say 'I want to be a full-back!', he joked.
"But football changed, they became much more important.
"I was a full-back myself for a decent part of my career, it didn't look completely different to what the boys are doing but at least I know that there are a lot of things to do.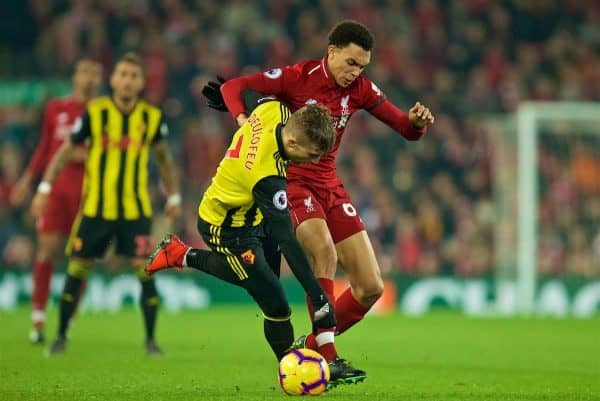 "You have to be really strong defensively.
"But on the other hand, because a lot of teams clear the wing for the full-backs, offensively, if you are able to be open-minded enough, and have the football quality, to see some people in the same shirt in the box that helps a lot.
"In that game it was exceptional, I don't think I ever was part of a game when someone got a hat-trick of assists.
"So it was special. He wanted [the match ball], so he got it.
"So that's how it is. It was really cool, so now let's try to do something like that again."
Trent now has six assists for the season, but finds himself behind Robertson in their full-back's competition, with the Scot setting up 10 in all competitions.