Marco Silva has taken a sly dig at Liverpool ahead of Sunday's Merseyside derby, claiming they celebrated Divock Origi's winner "like the World Cup final."
The Reds face another big challenge this weekend, with their locals rivals keen to damage their Premier League title hopes at Goodison Park.
It is arguably the toughest remaining away fixture for Jurgen Klopp's side, as they enter the final 10 league matches of the season.
Everton have suffered a disappointing first campaign under Silva, with high-profile summer transfer business initially leading to talk of a top-four finish.
That hasn't materialised, however, and they now sit ninth in the table with seventh the best they can hope for come May.
Origi's famous stoppage-time winner earned Liverpool a priceless 1-0 win in the derby at Anfield in December, leading to scenes of unbridled joy.
Appearing to stoke the fire ahead of the game, Silva mocked the jubilation when Origi scored, in response to Klopp claiming this game is like a World Cup final to Everton.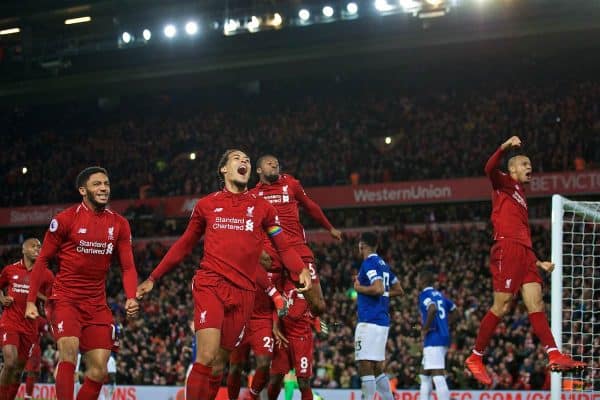 "[A World Cup final] for us?," Silva joked.
"It's a special game for both the city and the fans. I didn't see a big difference [between the sides] when I managed my first Merseyside derby last December.
"What I felt was a special match for both teams. They celebrated that lucky goal in the last seconds of the match like it was the World Cup final.
"[The quality of Liverpool and Everton] was more of less the same. I didn't see a big difference."
When discussing the weekend clash at Goodison, Silva was in bullish spirits, as Everton look for a first derby win since 2010.
He believes his team deserved more from the game in December and is confident of a positive result if the Blues replicate that performance.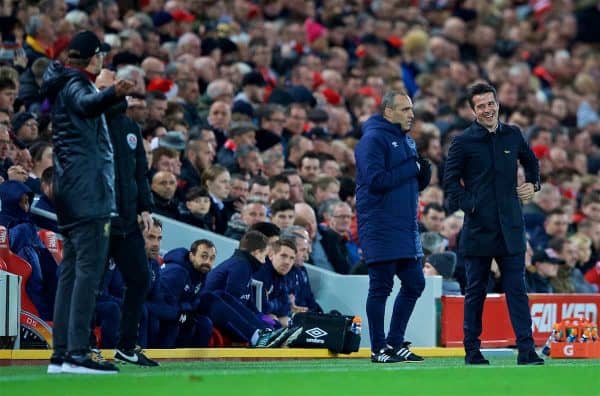 "We have to believe in ourselves. It's a long time without a win for us; that shows it's a difficult match," he added.
"If we can perform in the level we performed at in December, we will be very good.
"In that type of performance, we are always closer to winning the match. In that match, we deserved something more.
"Derbies are normally a really tough match. Normally, it's not fantastic football from both teams, but we have to be really competitive, keep our focus all the time, play better than them if we can, and do our best."
A win for Liverpool this weekend would be another major step forward in their quest to win the Premier League title.
Everton would love nothing more than to hurt their chances of glory and a feisty Goodison atmosphere is likely to await the Reds.
Five of the last six meetings on Everton turf have ended in a draw—that is unlikely to be good enough on Sunday.