This Sunday marks the 233rd Merseyside derby and one of the most vital in recent memory—for both sides of the divide, in different ways.
It may well be a pivotal derby in terms of the Reds' quest for the Premier League title and, for Everton supporters and Marco Silva too, the stakes are also high.
So, to bring you a sample of the atmosphere and mood ahead of the game, This Is Anfield has literally gone Across The Park.
Liverpool and Everton enjoy one of the most unique rivalries in football. Families, workplaces and schools are split down the middle in terms of allegiances. So, whenever derby time comes around, the mood in the city of Liverpool is one of nervous anticipation, excitement and sometimes dread.
If your team wins, you feel like you've just inherited the keys to the Kingdom and you can't wait to rattle them in front of your rivals. Lose, and there can be no hiding place; not at home and certainly not at work.
So, we went across the park, or to be more accurate, we spent some time in the somewhat inconspicuous Liverpool Film studios, which for more than a year has been home to the Across the Park Podcast.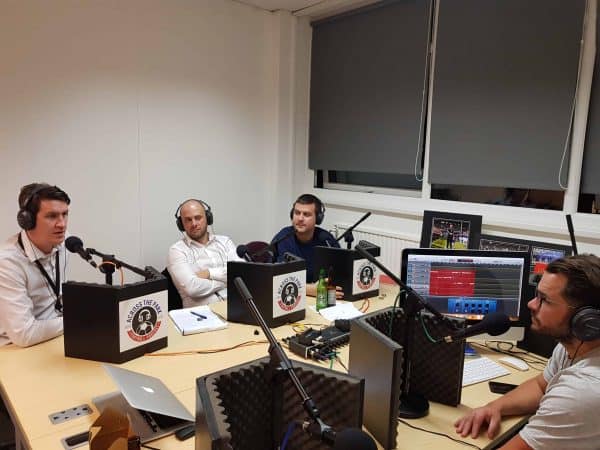 It's a surprisingly sophisticated set-up, compared to the pub debate that ultimately inspired the idea for the podcast itself. There's a professional sound system, a smattering of club memorabilia and a fridge full of beer.
Ever since its inception, Across the Park has striven to maintain the authenticity and relaxed conversational tone of a pub debate between a group of mates.
It works well and they've now racked up thirty episodes and established themselves as regulars on local radio. So, who are they?
Simply put, they are six mates, three Red and three Blue; Terry, Phil and Gary form the Red half of the collaboration and Milsy, Judgy and Craig represent the Blues.
The podcast features ex-players and figures associated with both clubs, as well as journalists.
Terry explains how the idea came about.
"It was a sunny day, we'd had a few scoops and as we always do, we started to get onto a debate. We were arguing was about whether Trent Alexander-Arnold, who had just broken through at Liverpool and who'd had a few good games, was better than Seamus Coleman.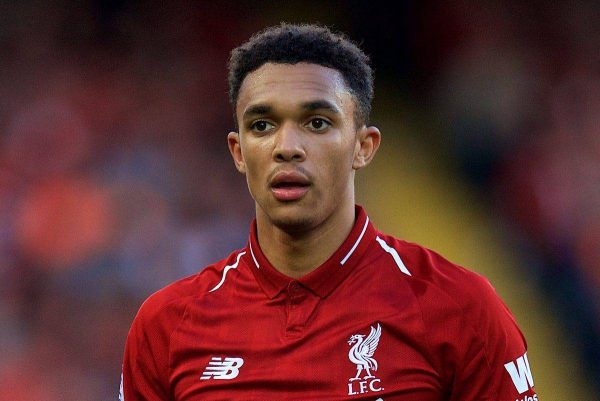 "Both sides had decent arguments for their own player and some of us were even torn. A couple of us regularly listened to the more partisan podcasts and we felt that it'd be interesting to tape some of our chats and see how it came out."
Judgy agrees, "Yeah, I think what added to it was we were sitting around a table on two benches and because of the setup there was loads of back and forth.
"And it was like, 'this is actually quite enjoyable' and people around us were almost looking over wanting to get involved."
Anyone who listens to the show will be able to picture the lads sat in a pub, empty bottles and glasses strewn across the table, as they get into animated conversations about their teams and the game.
It's all instantly identifiable, and you'll find yourself wanting to join the argument. But, for all their passion, there's no hint of bitterness or anger.
It's just a group of lads who care about their teams. They're prepared to argue the toss when necessary, but laugh and joke and still be mates afterwards.
It's a point the group are keen to reinforce and it's something that has formed the 'ethos' of the podcast. The idea of a friendly rivalry: the banter can be sometimes brutal and cruel, but never vile.

This is something Milsy feels strongly about.
"We've always been known for having a friendly rivalry, lots of banter and debate, and there wasn't any podcast available for that.
"There is, of course, the Liverpool shows that the Reds like, and similarly Blues' shows that we like, but there was nothing that families who are divided across Merseyside could enjoy together."
Craig backs this up, "Yeah, for instance, I'm a Blue, me brother's a Red, me Dad's a Red, me Granddad's a Blue—everything's split."
There are of course traditional local media outlets that aim to be representative of their very unique demographic. However, the podcast gives the lads the freedom to break free from the confines of 'official' broadcast media and create more of an authentic fan experience.


Interestingly, none of the lads are old enough to remember the 1980s and the height of the so-called 'friendly derby.' It is something they've grown up hearing about though and they're keen to rekindle it, as Terry explains.
"It is a unique city like that isn't it? The fans do mix outside of football and in the old days, they even mixed during the games. But now, that seems to have disappeared.
"We just thought, because of that, there was a natural space there. The podcast hopefully sits somewhere in-between the more partisan podcasts from both sides."
Of course, the metaphorical middle ground in Liverpool is Stanley Park. So, Across The Park becomes the perfect title for the show. It's a space where Reds and Blues of all ages can indulge in their mutual love of their clubs and their city.
Milsy goes further. "I'd love it if our listeners were dads and lads or mothers and daughters. The whole family getting involved, whether they support Liverpool or Everton."
Turning our attention to the big game, it's always a huge fixture in the city—but is there an extra edge to it this season? Terry thinks there is.
"In terms of Liverpool, it's a massive game because we're right in the middle of a title race—we can't afford any slip-ups.
"Not giving any points away to your local rivals and the thought of facing these three for a post-match reaction just gives it that extra edge.
"Against Watford, I was looking for us to put in a performance but in terms of Sunday at Goodison, I couldn't care less how we arrive at three points, as long as we leave with them!"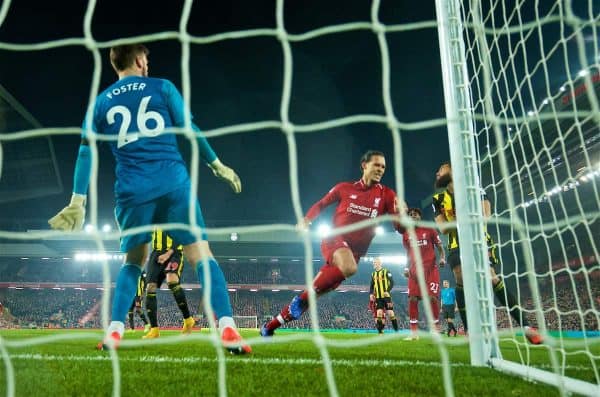 Gary feels Liverpool need to focus on having the right temperament. "For me, we've got to try and look at it as most other games and not get caught up in it being 'the derby.'
"If we treat it like every other week and stick to the manager's game plan, I don't think we have much to fear. It should be a run-of-the-mill victory and move on."
For the Blues, the result against Cardiff has given them a psychological lift going into the game. Milsy feels also that it has eased fears of being dragged further into the bottom half of the table.
In terms of Sunday, there is also the prospect of putting a positive spin on the rest of the season. A win over Liverpool would be something of base and lift the mood around Goodison.
Of course for every Evertonian, not least of all Craig, the possibility of raining on a potential championship parade for the Red half of the city is a huge bonus.
Before any Reds go rushing to their keyboards to decry this as 'bitter,' I'd just say that as a Liverpool fan who has lived through a few Everton title wins, it wasn't pleasant and I wasn't exactly cheering them on from the sidelines.
It's completely normal to want your team to prosper, and laughing at your rival's expense is all part of the deal.
Back then we could still feel proud that it was our city winning the honours, but we would all have preferred us to be the 'pride of Merseyside,' not them.

Of course, times have changed beyond measure since the great days of the 80s. So too have the clubs. So who do the lads think will be the key men for their respective teams this weekend?
Milsy feels that Gylfi Sigurdsson could make a big impact. "There's an ongoing debate between our fans as to what he offers aside from the goals. For me, there's no doubt, that when he turns up, Everton seem to win."
For the Reds, Terry fears Richarlison. "On his day, and if he fancies it, he's got all the attributes to cause us nightmares. He's quick, he's direct, he can finish.
"I know he's been a bit of a mixed bag form-wise but as we all know, form goes out the window in derbies and he's a young lad with a point to prove.
"In terms of our key man, I'd have to say Virgil van Dijk. He's coming off the back of another two goals against Watford on Wednesday, so he's obviously a threat from set pieces.
"Most of all though, he's a leader at the back and we need to be on our toes against what could be an interchangeable front three in Richarlison, Bernard and maybe Theo Walcott."
For Judgy, Sadio Mane poses a significant threat to the Blues. "He's quick, he's powerful, he's unpredictable," he says. "Couple that with the fact we're so slow at the back, he might be the difference, if we don't play him right.
"In terms of the player who's most important to us, I agree with Terry. It's no coincidence that our recent poor form has coincided with the dip in Richarlison's form.
"At the start of the season, whenever he played well, so did we. I'm hoping he proves that he's the better of the two Brazilian forwards either side of the park."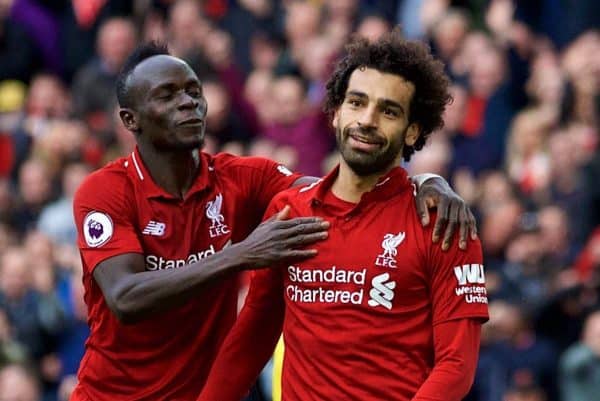 Phil interjects, "I'll just add to that. For me, my main men are both Mane and Mohamed Salah. We talk about the importance of the defence and all that, but our success has been built on the front three.
"With us not being sure about the fitness of Bobby [Firmino], it's the other two that need to be on their game, to make us tick as an attacking force.
"On the other side, personally, the man I fear most is Sigurdsson because I really don't think Everton have the quality to break us down. Gylfi could defo come up with something…a long-range effort, a free kick, something that you can't necessarily account for."
Judgy agrees. "In fairness, Phil, we haven't had a player like that in our team for quite some time. So that's good for us."
Craig has also identified Sigurdsson as Everton's key man. "He's going to be the most important player for us on Sunday. I think, if we're going to win, we'll probably need to nick it.
"In that case, it's most likely that Sigurdsson will be involved. Maybe it'll be from a goal from distance, maybe something a little bit special."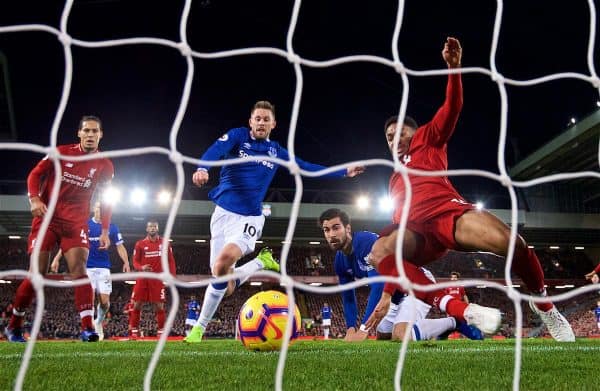 However, Craig has pinpointed Trent Alexander-Arnold as a danger man for the Reds. "He's obviously had a great game on Wednesday," he points out. "But not only that, the way we've defended against set pieces, if he can whip balls in like he did and we're showing the same vulnerabilities…"
There's a bit of back and forth at this point, with Phil pointing out that van Dijk and Mane love to score against the Blues and will relish the Beckhamesque delivery from Trent, while Judgy argues that the Liverpool youngster is unlikely to enjoy the same freedom to go forward that he prospered from against Watford, pointing out that he may have his hands full with Richarlison.
Craig acknowledges the point but feels Alexander-Arnold will still pose a danger from set-pieces. "He's gonna be on them as well isn't he? He can't half whip them in. For all those reasons I think he's gonna be a real threat."
Gary, who has kept his counsel to this point, weighs in and points out that Liverpool are somewhat spoiled for choice in terms of danger men.
"It's a hard one to choose who our key man will be, because we have so many that could have such a big impact," he argues. "If Salah is on it, we know what he can do.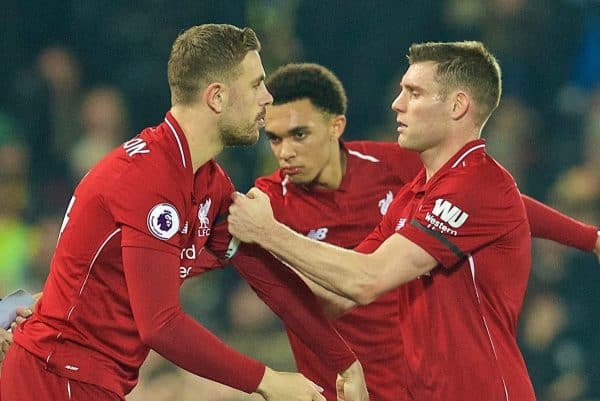 "Mane's recent form will undoubtedly have them worried. James Milner was immense against Watford and Fabinho has shown his forward passing can break down opponents. Then there are our full-backs. They give us so much impetus going forward.
"Looking at their team, I'd probably have to say Sigurdsson. He's scored a few times against us and is probably Everton's most dangerous player. He'll have a bit of confidence now now after his brace in the week. But like I said, if we stick to our own game, we shouldn't have any problems."
The conversation turns to team selections.
How would the lads like their managers to set up this weekend? As you will imagine, gaining consensus among any group of football supporters is a tall order, but the Blues manage eventually to settle on an ideal line-up.
They opt for Pickford in goal, with Coleman at right-back, a centre-back pairing of Keane and Zouma and Digne at left-back.
In midfield, they opt for a three of Gueye, Schneiderlin and Sigurdsson, with a front three of Richarlison, Calvert-Lewin and Bernard.
And for the Reds?
In goal, it's Alisson, with the same back four that set up against Watford: Trent at right-back, Van Dijk and Matip in the middle and Robertson at left-back.
The midfield three would be Fabinho, Milner and Wijnaldum. Up top, Salah and Mane are obvious starters, with Firmino preferred to Origi, if he is fit. Failing that, the lads are agreed that the Belgian gets another run-out, with Sadio reprising his No. 9 role.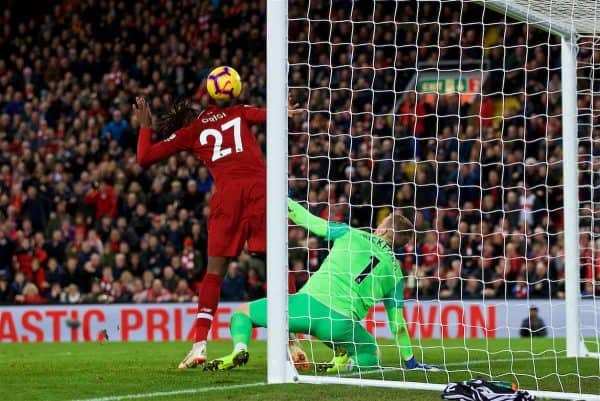 With all that out of the way, it's time for a more challenging question.
How do the lads rate their opponents' seasons so far? Do the Blues think this Liverpool side has what it takes to finally lift the title, and how does it rate compared to past teams?
Here there is a surprising honesty and balance.
Milsy feels that with Liverpool top of the table going into March, they have to be favourites for the title. He points to the acquisition of Fabinho and Van Dijk and Liverpool's evolving style as significant in their title charge.
However, there is a sense that the relative strength of the Reds' squad, compared to City's, may handicap them a little.
Judgy is adamant it's now a two-horse race. "I think the difference is that both teams will defo pick up injuries between now and the end of the season.
"City will be able to deal with those injuries and get results. I don't think Liverpool can and although I certainly think this Liverpool team has what it takes, I just think they may fall short to this exceptional City squad."
Craig agrees, arguing that Liverpool must win every game, if they are to lift the title in May. He's not sure they can.
What about the Red contingent? Do they think Silva needs more time?
There's agreement that Everton are going through a transitional period. Phil argues that the Blues have become a club that keep sacking managers. He feels this prevents progress and leads to a periodic reset that can't be good for the club or the supporters.
In the absence of an available, superior alternative to Silva, then there is little sense in dispensing with his services, he suggests.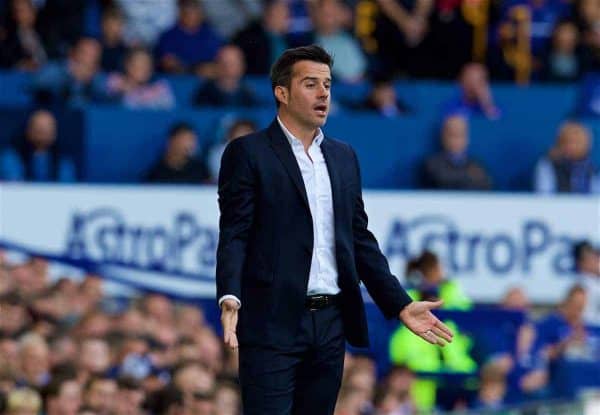 While agreeing with this in principle, Terry feels Silva has to prove he can take the club forward in the future.
"I think Silva's yet to show the type of man management skills and qualities, that made Everton pursue him so heavily. Let's be honest, he's hasn't covered himself in glory and he seems unable to snap the players out of this slump.
"He needs a big result. But not only that, he needs to find a system and a shape that works."
We're nearing the end of our time now and the beer has all-but run out. So, we come to score predictions for Sunday.
Milsy for Everton: "I think it's a tough ask for us on Sunday. Positive thing is I can see us scoring. Unfortunately, I can't see us not conceding and for that reason I'm gonna go for 1-1."
Terry for Liverpool: "I can't see anything other than a Liverpool win if I'm honest. I think the Watford game was a statement, and although Everton played well at Anfield, we're a different team now. I can only see a Liverpool win. 3-1."
Judgy for Everton: "It's always the same the closer you get to the derby, the more blind faith you seem to get and it's going that way again for me. I think we're going win it.
Not only that, I actually think we are gonna keep Liverpool out. I think it'll be one of those mad days where Liverpool hit the bar, the post and we ride our luck and in fairness, I think it'll have to be one of them for us to keep a clean sheet.
We're a big result away from being able to start again and I think it'll come on Sunday. I'm going for 1-0."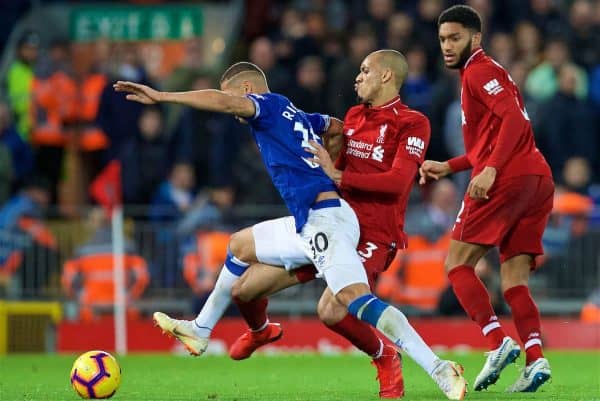 Phil for Liverpool: "I think Everton came to Anfield last time and they went toe-to-toe with us. They played with a high press and a lot of intensity and I think that's what they need to do to unsettle us.
"I think, if Everton have got any chance, that's what they've got to do but that's a double-edged sword, as that could leave them wide open for a spanking. I don't think Everton will get anywhere from trying to hold out. I'm going for 2-0 to Liverpool."
Craig for Everton: "I'm gonna go with my heart and say 3-1 to Everton. I'm hoping it's going be an old school derby and we wind the clock back…that's my only hope anyway."
There's laughter, as Terry says, "I will not be meeting you lot after the game if its 3-1."
Gary for Liverpool: "I'm going to say we will be able to do what I've said we need to and get a comfortable win. I'll go for 4-0. Hopefully, this doesn't come back to bite me on the arse."
Well, as a Liverpool website, that's probably a great place to leave it.
---
You can listen to the lads on the Across The Park podcast every week here.