The media applauded Liverpool's mentality and Sadio Mane in the 2-1 win at Fulham but saw concerns with a lack of ruthlessness and Mohamed Salah's form.
It wasn't pretty but the Reds ground out a priceless three points to overtake Man City at the top of the Premier League with a two-point lead.
James Milner's nerveless late penalty proved the match-winning moment, coming seven minutes after a goal from ex-Red Ryan Babel cancelled out Mane's first-half strike.
The performance wasn't impressive, but Liverpool simply had to win and did exactly that with a spirited response which completed what has been a magnificent week.
Everything looks rosy going into the international break and here's how the media assessed the nervy but crucial victory at Craven Cottage.
The media assessed it as a huge win for Liverpool and praised the Reds' "powers of recovery"…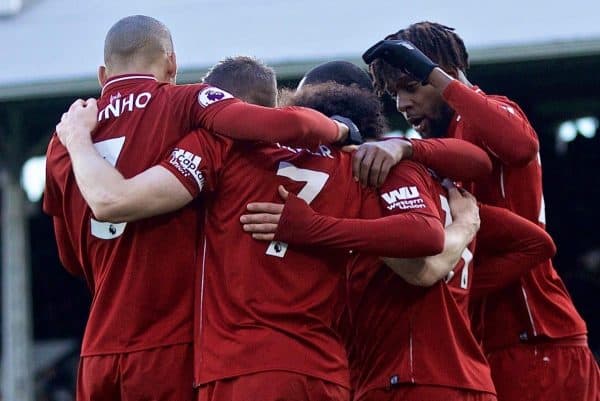 The Liverpool Echo's James Pearce lauded the Reds' "powers of recovery" and praised Klopp's men for finding a way to win:
"The powers of recovery Klopp has instilled in this team came to the fore once again.

[…]

"All that really matters is that they found a way to win after three successive league stalemates on their travels. Their two-pronged assault on the two biggest prizes in club football remains on track."
The Guardian's Dominic Fifield assessed the spirited response as the sort that will inspire belief that the title can be won:
"As it was, their ability to recover from that setback in what time remained will merely serve to reinforce belief that the title will be theirs."
On a different positive note, the Mirror's Darren Lewis assessed how vital it has been that Liverpool have rediscovered their goalscoring touch:
"With eight goals scored in their last three wins they've got their mojo back just to set up a thrilling climax to the Premier League title race."
However, reporters were not too impressed with the overall performance…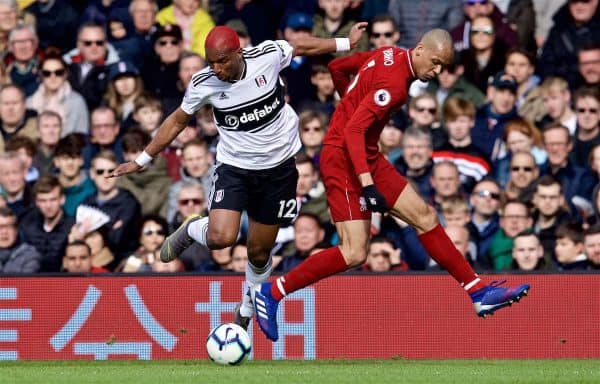 First off, the Independent's Charley Bradley was unimpressed by scraped manner of the win and feels Liverpool have big work to do in producing the strong away form needed to win the title:
"Liverpool may have won today, but it's their first away win in the league since mid-January, and it came by the skin of their teeth against a side with 17 points all season.

"If they are to pull it out of the bag and win the league title, they have to be more convincing away from Anfield."
And the Mail's Martin Samuel was critical of Liverpool's sloppiness allowing Fulham a route back into the game:
"This wasn't so much Liverpool bravely gutsing it out, as Liverpool sluggishly letting Fulham back in.

[…]

"The huffing and puffing against a team surely destined for the Championship next season […] plus the chaos that led to Fulham's equalising goal would be of concern to a manager fighting off any team, let alone one in the form of Manchester City."
The Independent's Jonathan Liew was disappointed with Liverpool's game-management, noting how the Reds were needlessly gung-ho in trying to kill the game:
"Controlling games is a skill that has frequently eluded this Liverpool side in the past: witness the Crystal Palace, Leicester, West Ham, Burnley games from earlier this season.

"There appears to be a strand of this side's DNA that believes that if you're not trying to thrash the life out of a game, you're not really playing it at all."
This is Anfield's Henry Jackson bemoaned Liverpool's sloppiness in the final third and assessed that this must be eradicated immediately:
"A lack of ruthlessness in attack has been an issue of late, most notable at Man United and Everton, and Liverpool got away with it this time.

[…]

"It is wrong to sound too negative on a day when the Reds went top of the Premier League, but this must be a warning sign ahead of the final seven league games of the season."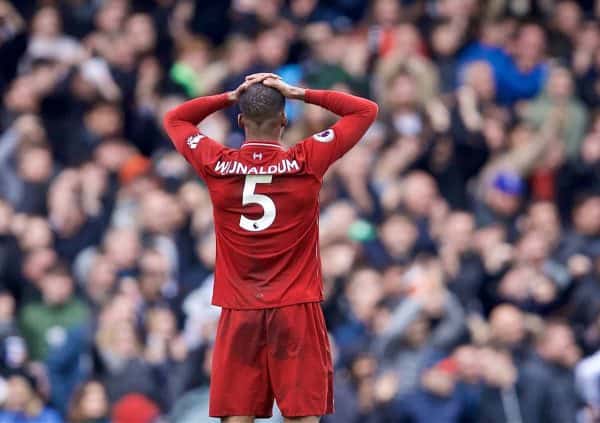 ESPN's Michael Cox thinks Liverpool's struggles for top performances, despite the wins, shows that the Reds won't win the title as City are more ruthless in dispatching of opponents:
"You sense that Manchester City won't struggle like this. Pep Guardiola's side are superior at taking the game to the opposition and converting their possession dominance into outright goal-scoring opportunities, largely thanks to the likes of David Silva, Bernardo Silva and Kevin De Bruyne. That remains the area where City have a distinct advantage over Liverpool.

"Liverpool might be winning without playing well, but City are winning while also playing well. Despite the old saying, and despite Liverpool returning to the top with this victory, it's City who look better placed for the title."
The Evening Standard's David Lynch was less concerned by the display however, pointing out that a lethargic performance was to be expected after the efforts spent in Munich:
"The exertions of midweek were apparent in a low-tempo first half but, with a goal advantage, it seemed the Reds had little to worry about.

"Unfortunately, the difficulties of playing two top-level games in quick succession became more and more apparent as the second period wore on."
The media felt the game showed the contrasting fortunes of Mane and Salah and discussed their displays…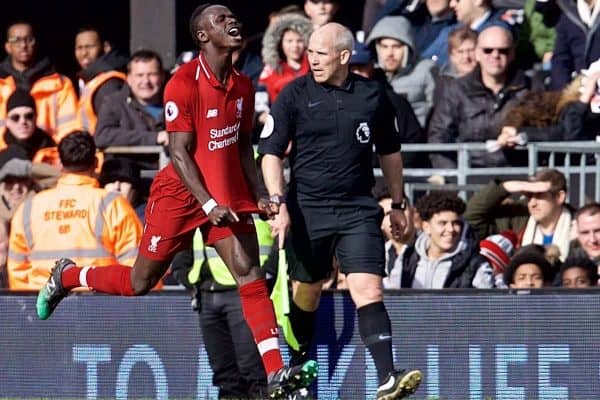 Bradley praised Mane for producing goals at the crunch time of the campaign, and thinks that the No. 10 is staking a big claim to be Liverpool's player of the season:
"He may have scored less than Salah, but goals of greater importance have come from Mane, who is surely Liverpool's player of the season."
Writing for Goal, Neil Jones assessed Mane as the Reds' best player on the day and pointed out how he has done a great job in taking the goalscoring mantle from the Egyptian:
"Mane's run of form is well-timed. While Liverpool's No. 11, Mohamed Salah, endures a dry spell, their No. 10 is flying.

[…]

"Just as in the Allianz Arena on Wednesday, he was the most dangerous player on display here, by a distance. Bright and busy, sharp in his movement and clinical when given a chance."
Lynch also praised Mane for delivering the goals, but thinks that Salah has to start finding his goalscoring form to ease the burden on the Senegalese:
"Liverpool's Egyptian talisman is on his worst run in front of goal since joining the club, but the fact it hasn't affected his team is down to his colleague's form.

"But you feel Salah will need to bring his personal drought to an end if they are to achieve success on either front this season. Mane can't keep picking up the slack."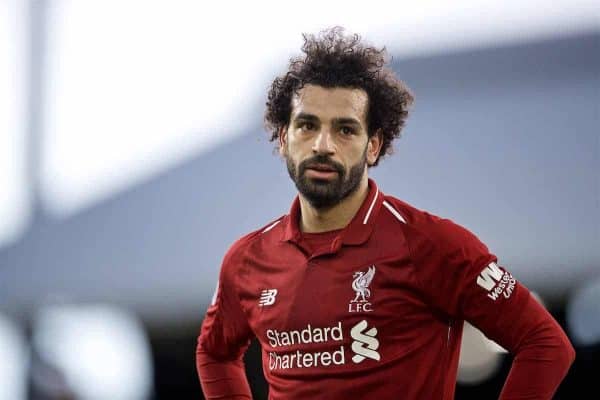 Jackson thinks Salah is feeling the weight of his goal drought and was frustrated by the Egyptian's greediness in search of a goal as it came at the expense of better choices:
"It never happened for Salah at any point on Sunday and he was guilty of being greedy in the final third, seemingly opting for personal milestones over his team's success.

"That may sound harsh, but the Egyptian needs to get this drought out of his head.

"It is threatening to be to the detriment of his team-mates, and such is his brilliance as a footballer there is no doubting that the goals will flow again soon."
Meanwhile, Lewis stuck up for Salah, explaining how the Egyptian provides so much more to the Reds, highlighting the No. 11's defensive work on the day:
"To focus on the numbers is to overlook Mo Salah's tremendous contribution to this Liverpool team—at both ends of the pitch.

"Often double marked, Salah's pace and creativity had the Fulham players and fans on edge throughout.

"Midway through the second half when it looked as though Ryan Babel would have a clear run on goal—before he eventually scored—it was Salah who ate up the ground to close down the winger's options."
There was further discussion on the good and not-so-good individual performances…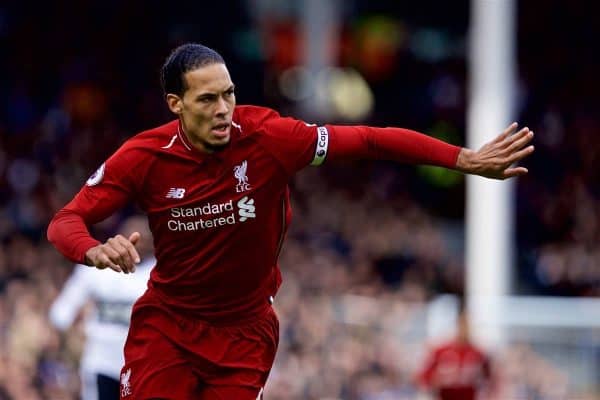 Jackson thought we may well have seen the first—and only—weakness of Virgil van Dijk which Ryan Babel perhaps alluded to pre-match, that being the Dutchman's overly relaxed nature:
"Could it be that that weakness is his casual nature?

[…]

"Van Dijk is the world's best centre-back at the moment—one error shouldn't change that—but if there is one minor criticism it is that he is almost too laid back for his own good sometimes, and that is something he himself has acknowledged."
Jackson also praised Milner for stepping up at the big moment and noted how the vice-captain's "winning mentality" shone through:
"One of the most mentally resolute players in the squad, it was no surprise to see the 33-year-old step up when it really mattered, stroking home a vital penalty late on.

"Milner has been there and done it twice with Man City—that winning mentality shone through on a below-par afternoon for Jurgen Klopp's men."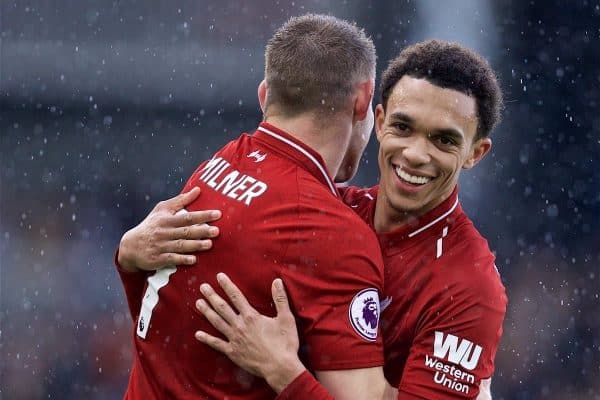 Finally, Bradley was impressed with Trent Alexander-Arnold's influence from right-back, and thinks the youngster has a future in midfield:
"On occasions Trent Alexander Arnold has displayed his passing range beautifully. Today, he switched the play from right back out to the left on a couple of occasions and played a delightful lofted through ball to Mo Salah in the first half.

"With Liverpool's midfield good for depth, he may have to wait for an opportunity in the middle of the park, but Alexander Arnold's passing ability will continue to be an asset for Klopp's side."