Liverpool dropped their performance levels on again to suffer a frustrating 0-0 draw – their third in four games – and leave the title out of their own hands.
Everton 0-0 Liverpool
Premier League (29), Goodison Park
3 March, 2019
---
The killer touch, deserted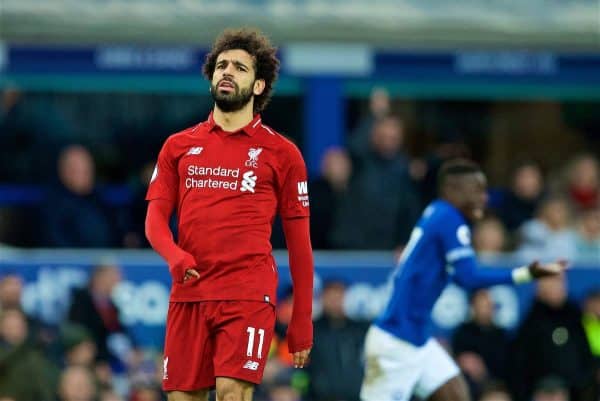 What a day for Mohamed Salah to have his worst day in front of goal.
In previous matches he has been anonymous or marked out of action, but here against Everton he was given the run of the final third at times and should have had a hat-trick.
A first chance, cutting inside on his left foot, would more often than not bury itself top corner. Instead, he hit it straight at Jordan Pickford. A close-range one-on-one after Joel Matip's dribble sent him clear didn't even see Salah get a shot away, so poor was his first touch.
And, the big one.
A dribble through on goal, all the time in the world…straight at the 'keeper. It was his second touch; he needed it to take him slightly further infield to allow him to open the body and caress it far corner.
Instead, the angle was made tighter by the time he ran around the ball and, despite it still being a more than presentable chance, Salah couldn't beat Pickford.
To have that amount of clear chances, in a big game, one simply has to be put away. Salah's movement was great, but his penalty box play was terrible when Liverpool needed it most.
He wasn't the only one guilty of spurning chances, though, as Divock Origi wastefully shot wide, Fabinho couldn't shift his feet quickly enough from close range and the Reds managed just three shots on target all game—two of them the Salah efforts noted above.
Defence wins titles?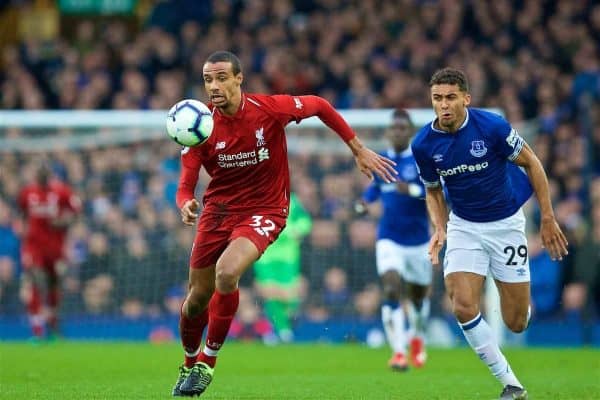 In with the profligacy at the other end, it must be noted that the defence once again stood tall, performed admirably and did more than the job expected of them.
After some turn-of-the-year troubles, Liverpool have now kept five clean sheets on the spin, a brilliant return to form at that end of the pitch.
Virgil van Dijk was imperious once more, Matip continued his good form and Alisson was commanding with anything thrown high into the box.
Liverpool's good start to the season was built on a rock-solid defence and it looks as though the end of the campaign will benefit from the same.
The points dropped aren't as a result of anything that back five, plus Fabinho as the shield, are doing wrong.
Draws cost Reds control of top spot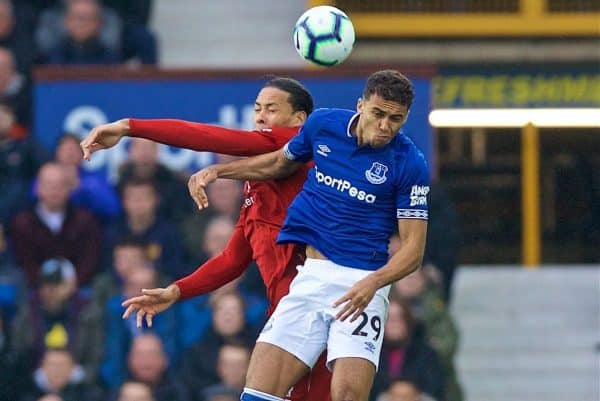 Drawing matches is the football equivalent of not bothering to lock your bicycle up while you pop into the shop for ten seconds, then watching someone ride off on it through the window.
It's stupid, frustrating and causes futile rage because you know, you just know, there was so much more which could have been done to prevent this feeling.
Liverpool didn't play particularly well all game, but they're obviously better than Everton. When they did shift the ball, move quickly, show endeavour, there was a gap between the sides.
In league terms, there's a bloody chasm.
But it doesn't make any difference at all if the intent and the desire isn't there at every single moment of the match.
No real tactical change, no real impetus from midfield, no absolute forcing the issue, desperately doing whatever is necessary to get that ball over the line and in. Not at Goodison Park, not at Old Trafford.
It's four draws in the last six Premier League games, or to put it another way, the Reds have taken 10 points from the last 18—barely more than half available.
That's not good enough, that's not title form and now the title itself is no longer in Liverpool's hands. Man City are top, because they found a way to get the win, just by 1-0, both in midweek and this weekend.
Abysmal bench use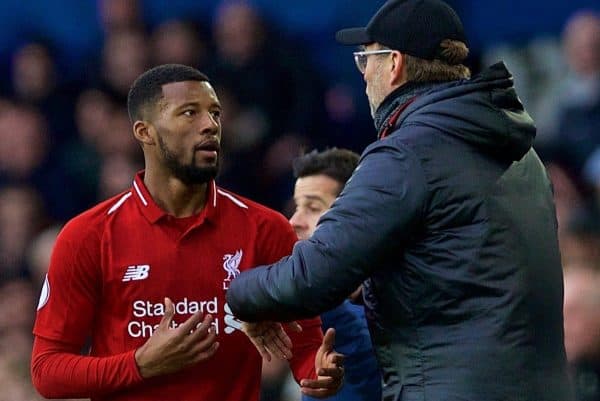 What on earth was the plan here?
Eighty-four minutes on the clock, desperately needing a goal, with one striker, one creative, dribbling-minded attacking midfielder and one oft-super-sub sat on the bench, and Jurgen Klopp turned to Adam Lallana.
The same Lallana who has scored precisely zero goals over the last 651 days, and who has racked up an almighty 929 minutes on the pitch across the last two seasons.
I like Lallana. He seems a nice guy. His touch is excellent and there are types of games where his attributes are clearly useable, or at least would be if he were fit.
The last five minutes of a must-win derby does not come under that heading—and to add insult to injury, Klopp opted to take off the Reds' most in-form goalscorer, Sadio Mane.
What was the plan?
Bringing Roberto Firmino on, fine. Even James Milner, fine, given the impetus he gave the midfield in the Watford match; though he wouldn't have been the first-choice sub for most, it's at least possible to see why the boss turned to him.
But with Keita, Sturridge and Shaqiri all having impacted matches off the bench this season, all being capable of scoring and all being far more offensive-minded and likely to actually create or score a chance, Lallana was an incredulous choice to make.
Klopp will face questions over his selections here and no mistake.
Title race and response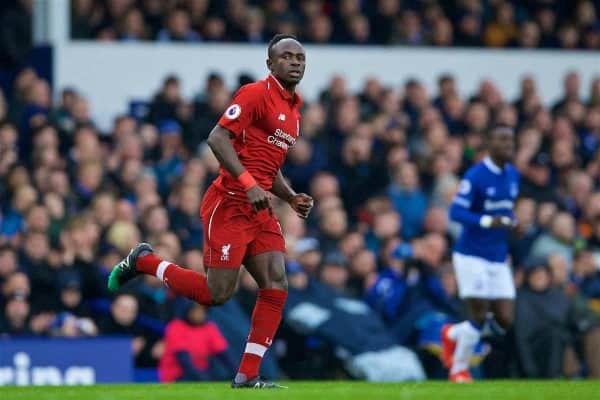 The dropped points have cost Liverpool top spot and now, having led for so long, we're reduced to seeing if and where Man City do the same.
They have a hard run of games coming up, but that's of little value to the Reds unless they start regularly winning their own games again.
Burnley home, Fulham away, Spurs home: that's the Premier League games left this month and Liverpool cannot drop a single point further before April.
Sandwiched in the middle is the Champions League second leg, and you can bet that some fans will already be suggesting that attentions are switched to giving Europe full priority.
There's more to come in this league season, more tricks of the football world to be played and another surprise and upset to come along the way.
Liverpool must now regroup, come up with a better plan to break down such sides, and especially those on the road.