There is a long-forced narrative that Liverpool are prone to 'bottling' this season's title race, but Rich Jolly believes it is just the nature of the Premier League.
A seven-point lead has been transformed into a one-point deficit. Four of the last six league games have been drawn. There is only explanation for it: Liverpool have bottled it. They are bottlers. Or they are if some are to be believed, anyway.
Although, of course, Tottenham are also bottlers for not leading a title race that they have no financial right to be in. And no doubt Man City will also be bottlers if they don't win the Champions League. Just as all of their managers are obviously frauds.
Thirty-one of the 32 teams in last summer's World Cup bottled it. At least 31 managers were frauds, even before factoring in the strange school of thought that Didier Deschamps also is.
So Pep Guardiola had a point when he said on Saturday: "I know that in our society only the first one is a winner and the second is seen as an absolute loser."
It is a consequence of dumbing down of debate, a result of the infantile whataboutery that abounds, part of the corrosive effect of social media, a sign of the misplaced sense of superiority of many who are not pre-eminent in any respects themselves.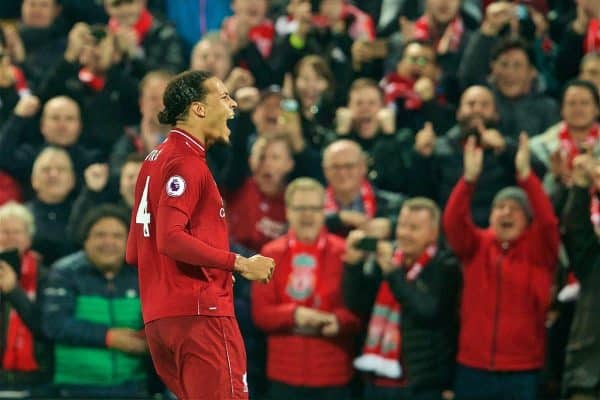 So it is worth pointing out that, at their current rate of progress, Liverpool will end the season with 92 points; 17 more than last year and with a total bettered only three times in Premier League history.
They are on course to become the first team in history to lose a solitary game and yet not win the title. Which, by any standards, is a strange definition of bottling it.
But Jurgen Klopp's comments about the wind have lent themselves to suggestions Liverpool have blown it. Which, with nine games to go and nothing determined, they clearly have not.
Nevertheless, they tie into perceptions that both manager and club fall at the final hurdle.
Klopp's recent record in finals is famously poor. Equally, with the exceptions of the 2015 German Cup, where Wolfsburg beat his Dortmund, and the following season's Europa League against Sevilla, he was facing more gifted and expensive groups.
Replay the 2017/18 Liverpool against a Real Madrid with Cristiano Ronaldo 10 times, removing Mohamed Salah for a ring-rusty, semi-fit Adam Lallana each time and, even if Loris Karius excelled, how many would they win?
On a similar note, Jamie Carragher argued on Sunday that the most people would call City a better team than Liverpool; is finishing second with the second-best side really bottling anything?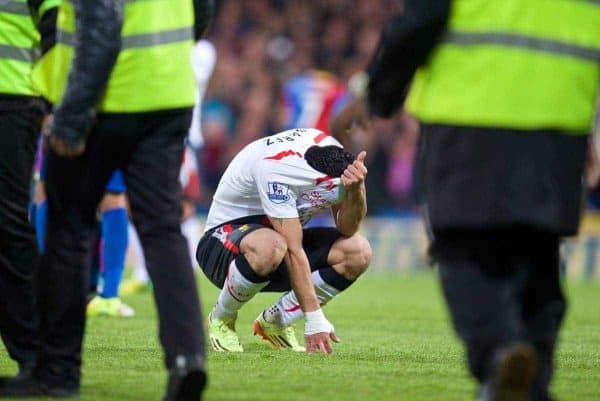 But Liverpool's last two title challenges can be lumped into this easy narrative. Yet they took 31 points from the final 33 available in 2008/09. Five years later, it was 37 out of 42.
Two different games were conflated then.
The 'Cryistanbul' collapse, when a defence that was nowhere near good enough to win the division, and which had long threatened to be their undoing, was found embarrassingly wanting in a nine-minute, three-goal capitulation.
And Steven Gerrard's infamous slip against Chelsea, which stemmed not from a failure of nerve but a technical error: he took his eye off the ball to look for the next pass before the ball arrived and thus failed to control it.
Fast-forward to this season and Liverpool's loss of points ought to be analysed in terms of both broader conclusions and specific elements. The calendar year has been a tougher time, but very few sustain form over an entire campaign, especially attackers. There are blips and dips.
Even Liverpool's normally excellent defence was breached three times in a shoddy display against Crystal Palace but, after going seven hours without conceding, they are scarcely cracking under pressure now.
Salah was astonishingly consistent last season. He has had a more fallow spell of late, culminating in misses at Goodison Park, even if the first was a fine save from Jordan Pickford.
And discussions should be rooted in realism. There are swings in most title races. Even the finest teams do not win every game that, in theory, they ought to.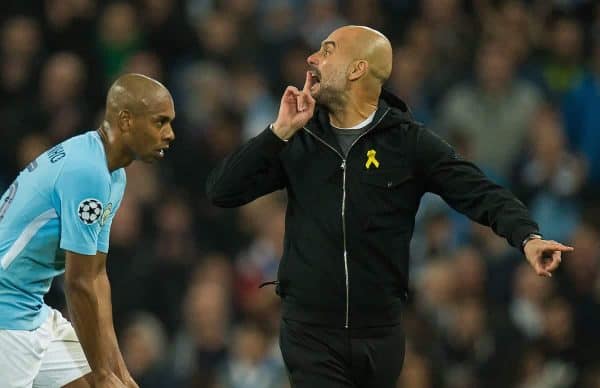 City got 100 points last season, but still drew at home to Huddersfield. Jose Mourinho's Chelsea set the previous record of 95, despite losing to City, in the days before they had the backing of a billionaire.
Liverpool, meanwhile, have not had a genuinely bad Premier League result. It is more that the cumulative effect of draws that presents an issue.
Until a few weeks ago, they had not dropped points against anyone outside the top six, which was a brand of ruthlessness that was ultimately unsustainable; the law of averages has since come into effect.
The 1-1 with Leicester feels wasteful, with it proving Claude Puel's last point, but the enigmatic Foxes have beaten Chelsea and City. Likewise, a mercurial West Ham side have shown the talent to beat Arsenal and Man United.
Everton showed more resolve than usual, though that should be no great surprise in a derby. United's sudden spate of injuries afforded Liverpool more of an opportunity than initially expected. A failure to grasp it was disappointing, but not disgraceful.
Amid the drawing habit, it is also worth noting that, while facing everyone twice, the fixture list is invariably uneven; when Liverpool face Burnley on Sunday, it will be eight weeks since they encountered anyone in the bottom seven, but the first of five games in seven against those mired in the lowest third of the table.
It ought to offer more margin for error than meetings with United or expensively assembled, rather talented mid-table teams. There are a variety of explanations for Liverpool's stumbles; some confined to individual meetings, some greater.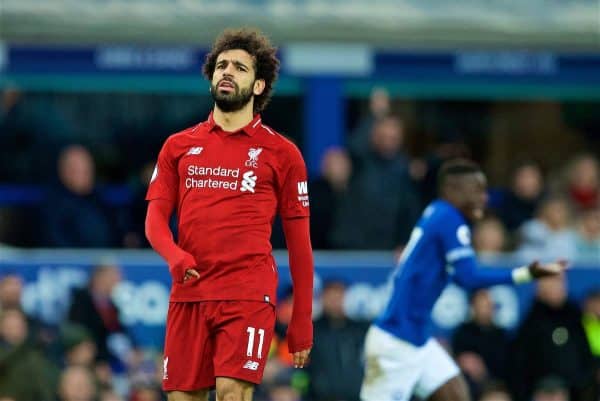 The lack of midfield creativity and goals rank high among them; Philippe Coutinho would have been useful in the last six weeks for his capacity to conjure something out of nothing. Salah was anonymous at Old Trafford and profligate at Goodison.
It hardly helped that Roberto Firmino was not deemed fit enough to start against Everton but if he had one of his worst Liverpool games against West Ham, the same may be said of Sadio Mane versus United.
Gini Wijnaldum, that paragon of reliability, was uncharacteristically off-form on Sunday.
Perhaps, too, Klopp's decision-making was complicated by those who have played well. Fabinho has excelled of late; Jordan Henderson was terrific against Bayern Munich. It meant the captain was crowbarred into the team against Everton; yet had Salah taken a first-half chance, his defensive instincts and running power could have been essential in preserving a lead.
Management is an inexact science. There are too many variables to each equation. Yet just as players' performance levels can rise and dip over a campaign, the same can be said of coaches.
Klopp had a golden run of substitutions before Christmas; his calls were invariably right then. But if he had the right intentions when omitting Trent Alexander-Arnold at Old Trafford, to ease him back after injury, Liverpool missed his crossing.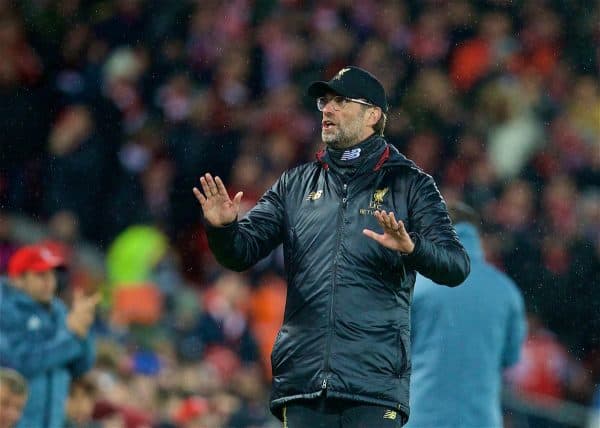 The German's substitutions were undeniably ineffective at Goodison. So was the choice of Divock Origi as a starter, though he had scored four days earlier.
Xherdan Shaqiri ought to have featured more in 2019. Perhaps the same may be said of Naby Keita, an unused substitute in the last two away games.
Perhaps Klopp's post-match rattiness on Sunday added to the argument the pressure is getting to him, though many a manager is bad loser or, at times, a bad drawer.
Yet which of those footballing decisions qualifies as bottling it? Klopp had a point when he railed at simplistic notions: more attackers do not necessarily equate to more goals, just as dropped points rarely actually mean a team is comprised of, or managed by, bottlers.
Any setback should instead prompt analysis, rather than lazy labelling.
Although it is true that Liverpool can be mentioned in the same sentence as bottlers. They have been commercial partners with Carlsberg for 27 years.