Man City returned to the top of the Premier League with a 2-0 win over Cardiff on Wednesday, and now both they and Liverpool have six games left in the title race.
Though Neil Warnock did not follow through on the threat of playing his U23s at the Etihad, the gulf in class between the two sides ensures it was close to a procession for City anyway.
Goals from Kevin de Bruyne and Leroy Sane made light work of the relegation candidates, and Pep Guardiola's side moved a point ahead of the Reds at the top.
Now level on games played, City and Liverpool can assess their remaining six games as the title race comes to a head, with fans hoping one side will slip up on the way.
Here's who both title contenders have left to play in the pursuit of Premier League glory:


On paper, Liverpool's are certainly more comfortable, with Huddersfield already relegated, Cardiff on their way, and both Southampton and Newcastle struggling in the bottom half this season.
There is the small matter of the visit of Chelsea on April 14, however, along with the final-day clash with Wolves, but the hope will be that the latter finds Nuno Espirito Santo's players already on the beach.
Meanwhile City will play Tottenham and Man United in back-to-back fixtures, and like Chelsea, both are in the midst of a tight tussle for a top-four finish.
Spurs can pose a real threat at the Etihad on April 20, while United will be desperate for three points just four days later at Old Trafford.
Crystal Palace and Leicester have already inflicted defeat on City this season, and they could once again prove to be tricky encounters for the reigning champions.
This, however, does not paint the full picture of either club's run-in, as both are still in the Champions League—and, importantly, City remain in the FA Cup: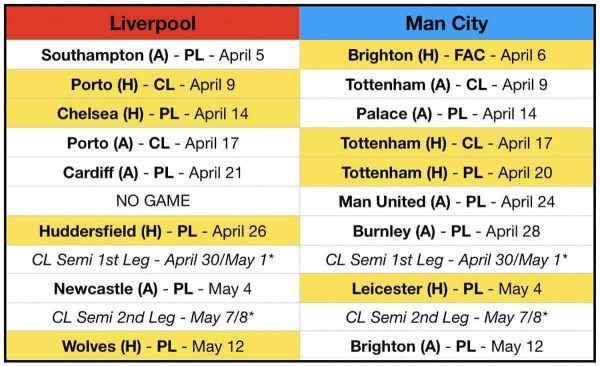 Guardiola's side are currently scheduled to play one more game than Liverpool, that being Saturday's FA Cup semi-final at home to Brighton, while the Reds play Southampton the night before.
Their most testing period of this run-in should come between April 17 and April 24, as not only do they play Spurs and United in the league, but City face a Champions League quarter-final decider against Spurs too.
These all-English European ties will be fiercely contested, and it will no doubt test the depth of Guardiola's admittedly strong squad.
Both Liverpool and City stand a convincing chance of making it to the semi-finals of the Champions League, which adds further to a congested month-and-a-bit ahead.
Neither manager is willing to sacrifice continental success in order to purely focus on the league, which ensures that the run-in could have more twists in store.