Liverpool come up against the world's best player when they take on Barcelona in the form of Lionel Messi, and the Argentinian will prove difficult to stop.
Heading into the Champions League meeting between Liverpool and Barcelona this week, only one player remains from the last time the two sides met at the Nou Camp.
Back in 2007, Rafa Benitez's Reds came away with a 2-1 win in the same competition's round of 16 on their way to a second final in three years.
It was a time when Man United-bound Brazilian midfielder Anderson was being compared with Ronaldinho, and there were doubts Cristiano Ronaldo was worth the money Real Madrid were willing to pay for his signature.
A 19-year-old Lionel Messi was already being compared to compatriot Diego Maradona—then still the greatest of all time.
Argentina had been desperate for a new incarnation of the great former Napoli player and World Cup winner, and they were getting someone who would go on to eclipse him.
Messi has aged 12 years since, but is no less effective. If anything the current version of Messi, under the guidance of Ernesto Valverde, is the best version, or at least the most entertaining one.
The 31-year-old is enjoying his football. Having broken more records than anyone can keep track of and already proven himself the best ever, there now appears to be less weight on his shoulders and this is making him even more magical.
That's not to say he can't still carry this Barcelona side on his own, but they have other weapons too, not least Jordi Alba down the left.
Their Uruguayan centre-forward is alright, too.
At the Nou Camp in 2007, Benitez deployed right-back Alvaro Arbeloa at left-back in order to have a player defending on his stronger foot as left-footed Messi cut in from the right.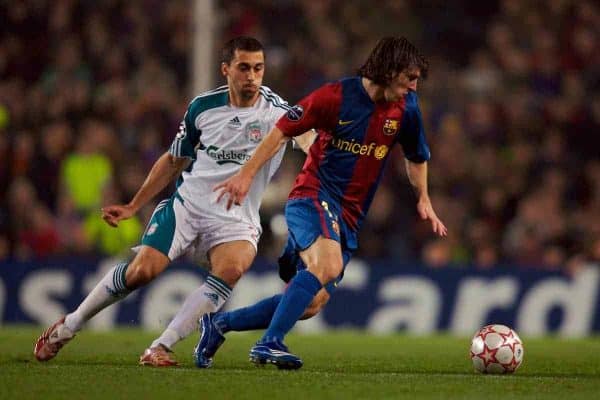 "Why would you put your best right-back on the left-hand side? Well, it was because Lionel Messi was playing as a right-winger and he came inside with his left foot," says Bolo Zenden, a substitute that night, of the tactical switch.
"I'm talking about some time ago because nowadays you can put Messi anywhere. It really helped us to eliminate the danger that came from Messi in those two games."
The change meant John Arne Riise was pushed further forward, and the Norwegian went on to score the winning goal.
As Zenden alludes to, the Messi of today is much more positionally flexible.
Though he starts from the left he'll drop deep to act as a playmaker as well as pushing forward to create and score goals, as shown in his 2018/19 heatmap below: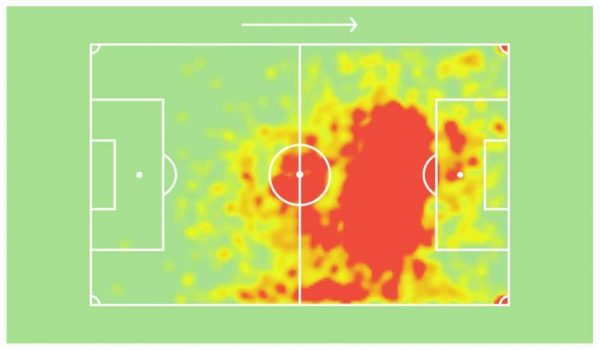 It won't be solely the job of the left-back to stop Messi this time around.
Messi has started 38 games in all competitions this season and has contributed to goals in 31 of them.
This narrows it down to just seven games where the opponents have prevented him from scoring and making an assist.
The seven games were all away from home: Lyon and United in the Champions League; La Liga matches against Real Madrid, Athletic Bilbao, Real Sociedad and Real Valladolid; and the away leg of their Copa del Rey semi-final against Real.
If it appears impossible to stop Messi in any game, but this looks to be especially the case at the Nou Camp.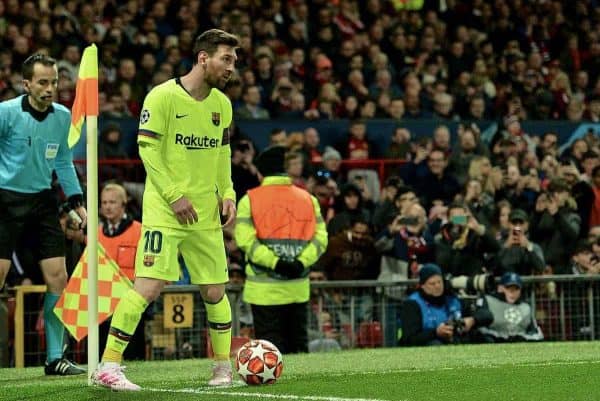 No goals or assists doesn't mean a bad game, and in the away leg against United he produced an outstanding cross to set up the goal for Luis Suarez, but didn't get the assist due to a deflection off Luke Shaw on it's way in.
Messi can be viewed as a player who spends much of a game lurking in attack while the other players do most of the work in defence and in the buildup, but this is not the case.
He regularly has more than 100 touches, or more accurately involvements, in a game, but in two of those games—Real Madrid in the cup, and Real Valladolid in the league—he was relatively quiet.
In terms of Expected Goals (xG) and Expected Assists (xA), one team in particular stands out when it comes to stopping Messi, and that game against Valladolid crops up again.
When combining Messi's xG (not including penalties) and xA, and looking at his record during the last five seasons, Real Sociedad feature four times in the top 10 of Messi's lowest xG+xA numbers:



And, according to Understat, the aforementioned game against Real Valladolid at the start of this season saw Messi register his lowest xG+xA for the past five seasons (0.09) in games where he's played around 90 minutes.
What are Real Sociedad generally, and Real Valladolid in that particular game, doing to thwart the little genius?
This clip from a game in 2014 shows one method, but there are also more measured approaches:
So Messi – who has literally been rugby tackled – has it easy https://t.co/cUiasWkgyw pic.twitter.com/jVuNXRpjiT

— Chris (@eat_sleep_film) March 15, 2018
Though he registered an assist in the game at home to Real Sociedad this season, and Barcelona won 2-1, this is the home game where he produced his lowest xG+xA in the past five seasons when playing the full 90.
A look at Messi's attacking duels from that game show that the opposition defended in numbers, and were also wary when they had the ball themselves.
As Liverpool know, a defence can be at its weakest in the transition from in possession to out of possession.
They regularly exploit opposition in this way themselves, most recently with Naby Keita's opener against Huddersfield, but they should also be aware of opposition trying to do the same.
Real Sociedad keep numbers around Messi even when attacking. The images below show them giving the ball away, but pouncing on Messi as soon as he wins it and dispossessing him: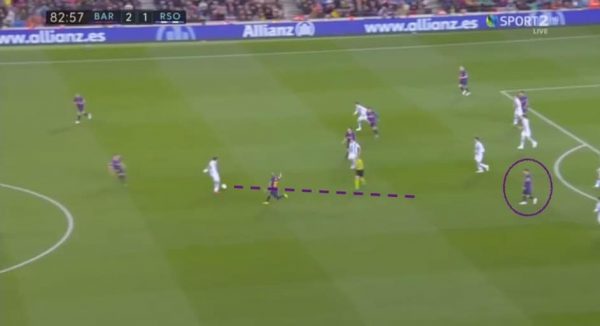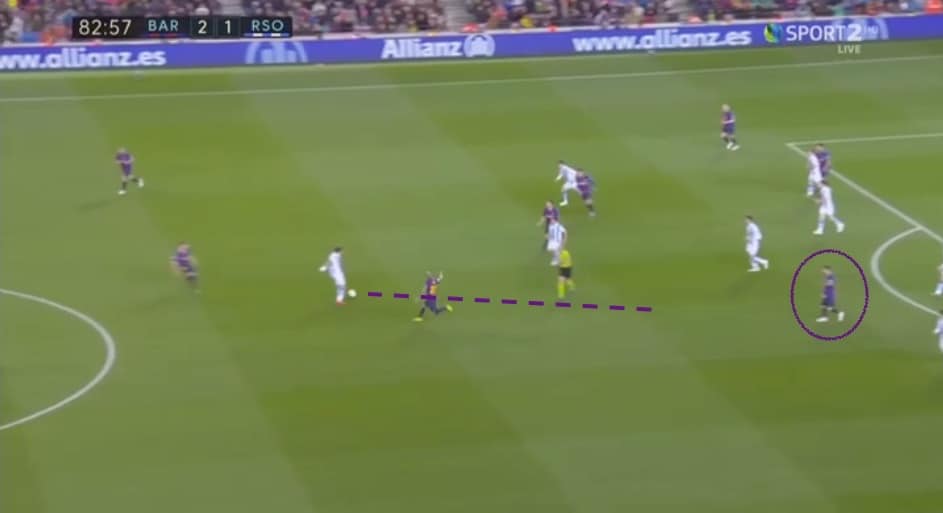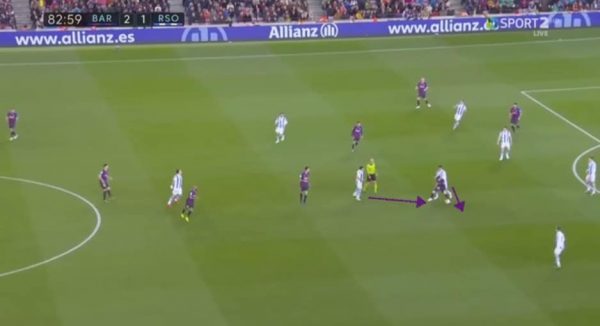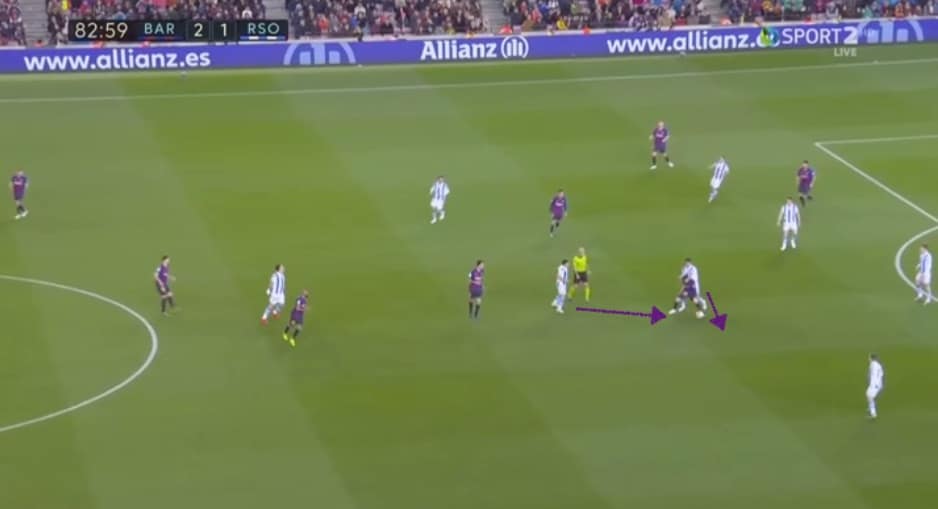 When Barcelona were in possession they defended in numbers around the No. 10.
Here Messi receives the ball, the centre-back pushed up to close him down, two midfielders join in before he's eventually tackled by a more advanced player as he drops deep: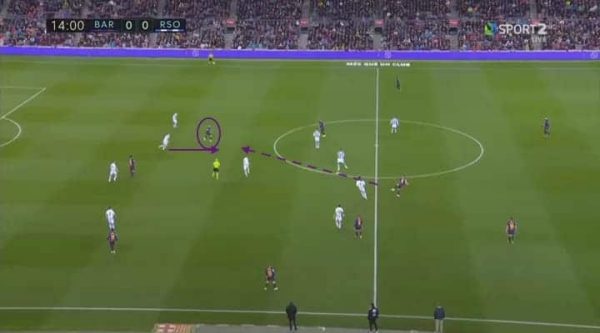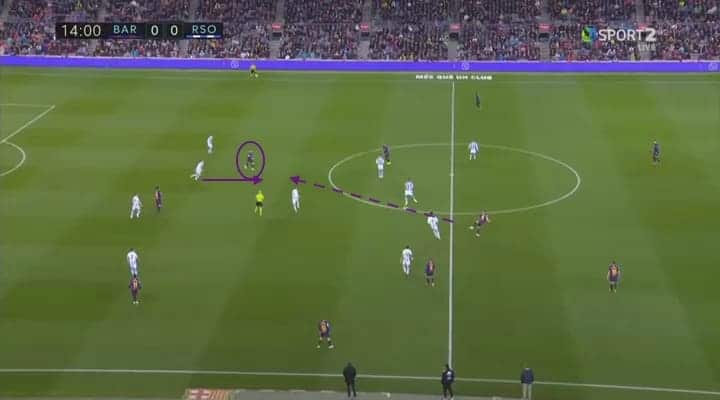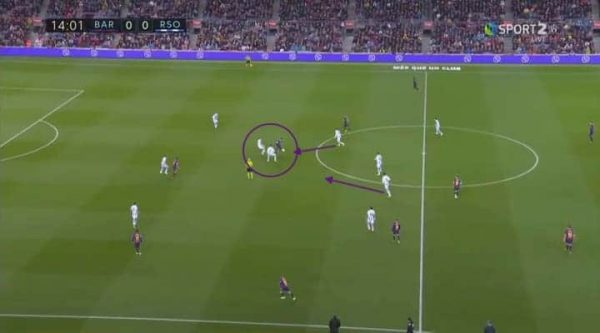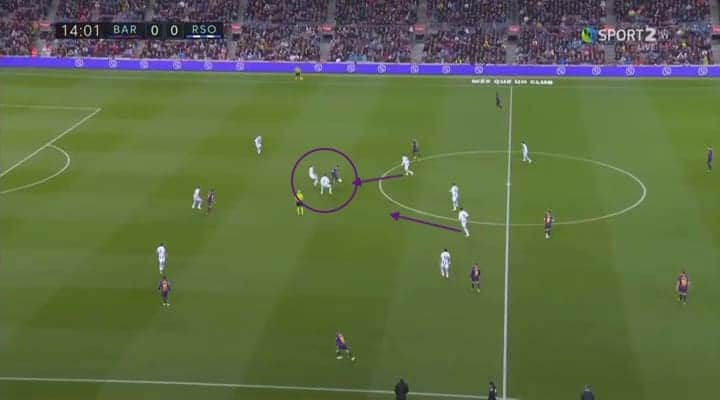 The left-back is covering the Barcelona right-back, which is something Andy Robertson will have to keep an eye on more so than Messi himself.
One of the two centre-backs, plus the defensive midfielder and another player dropping from an attacking area are likely to be the players required to deal with Messi, rather than Robertson.
Trent Alexander-Arnold will have to watch out for Alba who is one of Barcelona's most dangerous players after Messi.
The other centre-back will need to pick up Suarez, another midfielder on the left winger, while Trent and Robertson deal with the attacking full-backs.
Because an attacker has dropped deep, this now leaves a route to the counter-attack for Liverpool.
But there will also be occasions when they are controlling possession.
They will need to keep numbers around Messi, and shouldn't be afraid of passing the ball near him as his defensive work is in bursts rather than constant.
0 – Lionel Messi made 31 touches in the first half against Real Sociedad but none of them in the opposite box. Vigilance. pic.twitter.com/j50wtGWJmM

— OptaJose (@OptaJose) September 15, 2018
A common theme from the Real Valladolid game at the beginning of the season, and recent meeting Real Sociedad, will encourage Liverpool.
The sides used a similar team shape to deal with Messi as the one most often used by Jurgen Klopp's side this season.
At the Nou Camp, Sociedad were 4-3-3 with Willian Jose dropping into midfield to form a diamond, just as Roberto Firmino does for the Reds. The average positions are shown below, from WhoScored: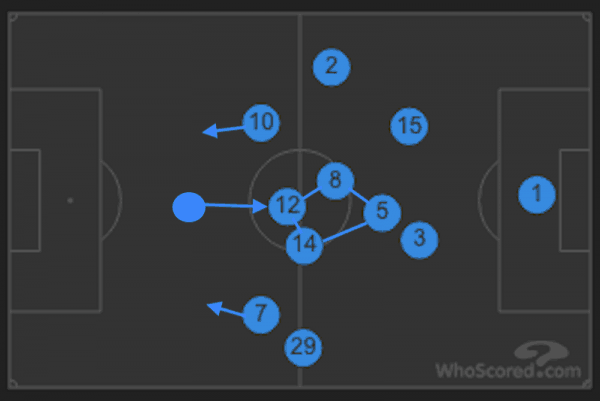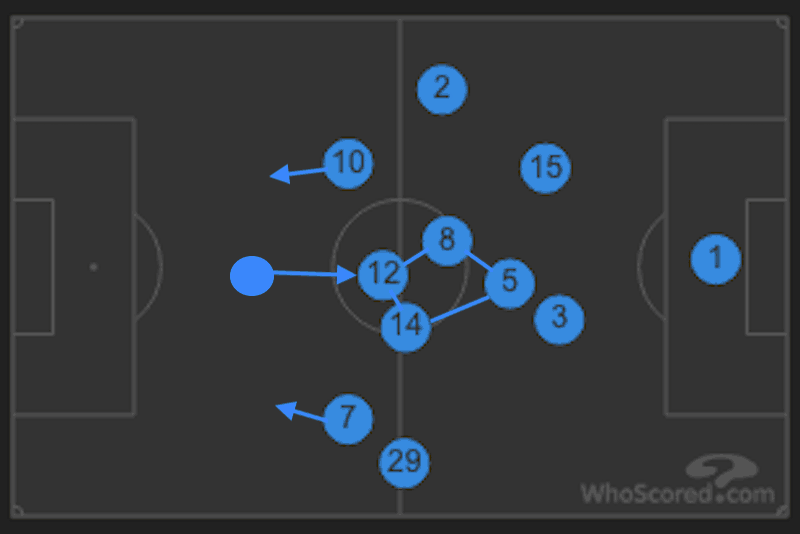 Valladolid used a more orthodox diamond with an attacking midfielder at the head of the midfield four, rather than a forward dropping deep: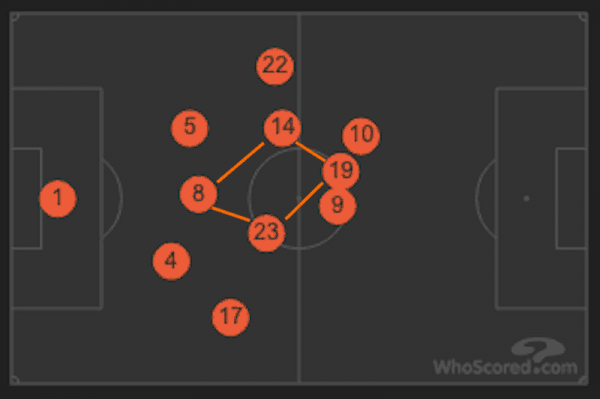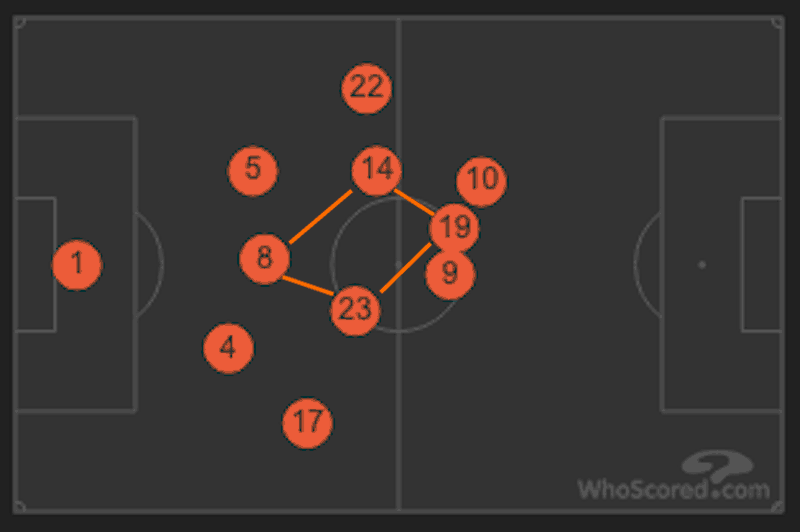 This season saw Barcelona win at Sociedad's Anoeta for the first time in La Liga in over 10 years, with Messi scoring a free-kick, but still registering an xG+xA of just 0.18.
This shows he's dangerous even when given small chances.
Defensive Block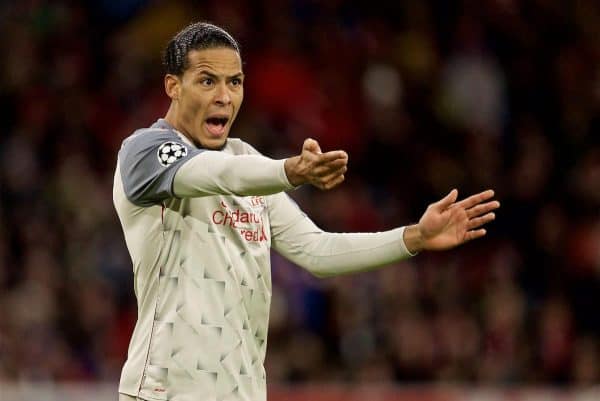 Liverpool have the best defence in Europe's top five leagues.
They have conceded fewer goals than sides who dominate their leagues such as Juventus and Paris Saint-Germain, and also fewer than sides who prioritise defence such as Atletico Madrid.
Klopp's Reds are an attacking side in a league which boasts a number of strong teams—evidenced by the amount of English clubs in the latter stages of the Europa League and Champions League.
The team they are challenging for the title, Man City, are widely considered one of the best teams in Europe despite their lack of progress in European competition since Manuel Pellegrini left the club.
An attacking side in the strongest league in Europe, still managing to boast the best defence.
If anyone can stop Messi, Liverpool can, and as Virgil van Dijk says, they will try to do so as a team rather than relying on any one individual.
"It's about doing it all together, it's never one-v-one, it's never just me against a particular striker," says the Dutch centre-back.
"It's going to be very hard [to stop Messi]. I think he's the best player in the world but we'll see."
Lyon were one of the Champions League sides able to stop Messi, at least at home.
They were pummelled 5-1 at the Nou Camp, but in four games against Barcelona and City this season, this was their only defeat.
Lyon's defensive duo of Marcelo and Jason Denayer—the latter Van Dijk's centre-back partner at Celtic, once upon a time—performed heroically in a 0-0 draw against Barca at the Stade de Lyon.
It was more last-ditch than the method used by Reals Valladolid and Sociedad, but it worked nonetheless.
Between them Les Gones' back four blocked 11 shots in a game where Messi didn't necessarily play badly, but repeatedly met resistance.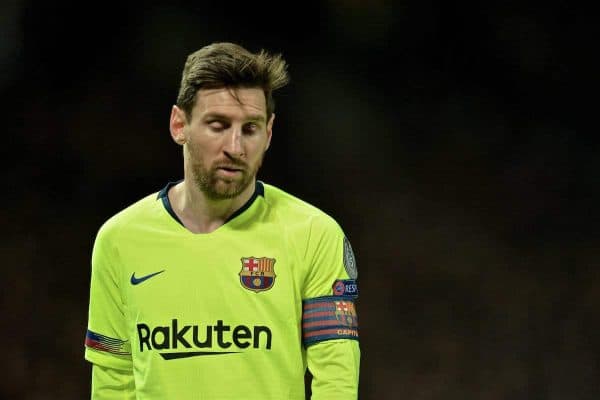 Four of Messi's nine shots that night were blocked, and only one hit the target. In total Barcelona let off 25 shots but only five hit the target.
Marcelo commented that he believes Kylian Mbappe is more difficult to defend against than Messi.
"The players I've played against in recent times are at the very top level," he said.
"Messi didn't play very well [on Tuesday], but Mbappe, for the speed, positioning, having direct confrontations with him, he was the most difficult."
Another of Barcelona's Champions League opponents, United, suffered in their second leg at the Nou Camp after stifling Messi to a certain extent in the home game.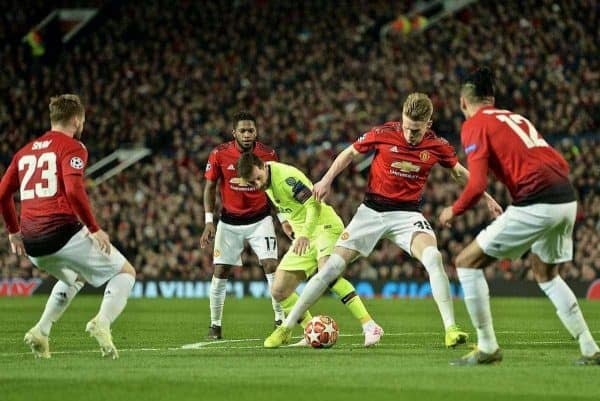 Former United boss Jose Mourinho reflects Van Dijk's earlier comments that Messi needs to be defended by a team, not by an individual.
The Portuguese described an effective method of defending against him is to "create a cage," which is also shown in the screenshots above from the Real Sociedad game:
"I think in the first game [United] tried to occupy that central zone because Messi's position is easy to understand, but is not easy to create a cage to control him.

"He comes from the right, then stays in the middle, and then [Ivan] Rakitic defends on the right and allows him to stay in the middle between the lines. It's very difficult.

"Man United in the first match, zonally, occupied that central area very well. So when he came into the inside he was finding Fred, he was finding [Scott] McTominay.

"In the second leg, maybe because they were losing 1-0, United tried to start the game with a different perspective.

"[Paul] Pogba wide on the left and McTominay much more on the right and Jesse Lingard playing as a No 10 behind the strikers. In front of the defensive line was only Fred.

"And that's the area where Messi comes and gets the ball and when Messi has the ball, one on one. You are dead.

"That's why I never liked individual man-on-man against Messi. Messi's a cage. You have to create a cage."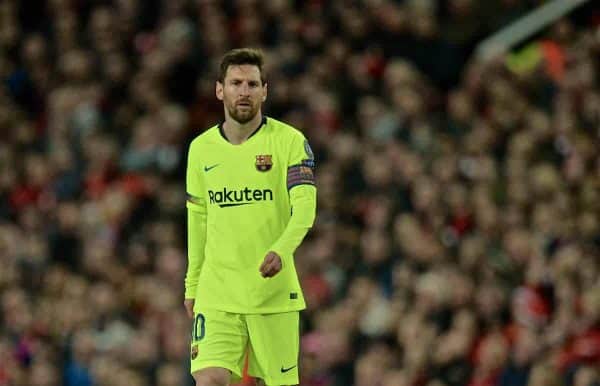 A quick guide in a rough order to trying to stop Messi:
Don't let Barcelona have the ball.
Stop Messi from getting the ball.
Use smaller or more agile players to defend against him when he drops deep (Mane, Keita and Robertson press).
Stifle him by "creating a cage," as per Mourinho's comments.
Use stronger or taller players to defend as the ball is played to him in attacking areas (Van Dijk, Fabinho)
Show him onto his right.
Block him off when he tries a one-two.
The Real Sociedad 2014 Method (rugby tackle).
Block shots/crosses.
…and don't concede free-kicks around the edge of the area.
How to stop Messi? You can't, but Liverpool will give it as good a go as anyone.