Jurgen Klopp has explained how Liverpool trained on a dry pitch ahead of their victory over Cardiff, foreseeing the Bluebirds' plan to disrupt the Reds' rhythm.
Another huge game came Liverpool's way on Sunday, with a win essential in the title race, particularly after Man City regained top spot.
It was a professional performance by the visitors, who eventually sealed a 2-0 triumph thanks to second-half goals from Gini Wijnaldum and James Milner.
The Reds struggled to find their best form at the Cardiff City Stadium, with the dry pitch clearly affecting some of their football.
The ball constantly slowed up and there was often indecision on show, as a tactic Cardiff has clearly planned threatened to pay off.
Speaking in his press conference after the match, Klopp brilliantly said he knew that would be part of Neil Warnock's 'masterplan', so his players prepared for it in advance.
"We had to convince our groundsmen yesterday because it was against their ethos. They didn't want to do it," said Klopp.
"We trained for one hour and 10 minutes on a bone dry pitch just to get used to it.
"I spoke about that last year when we played at West Brom and people called me a bad loser, even though we drew, it's just that dry pitches are dangerous for players, injury-wise.
"But you know why people leave the pitch dry, I don't have to say that!
"The ball doesn't roll quick and it's difficult for the fluency of the game. If you ask footballers what they want, they would say a wet pitch. You can slide better, everything is better.
"We were prepared this time and we learned from all our mistakes in the past and I'm happy with the outcome."
Warnock had the audacity to claim he had no prior knowledge of his plan, saying: "It was watered before the game, unless the groundsman thought there was hosepipe ban. As far as I'm aware it was watered before kickoff."
Yeah, okay. We believe you.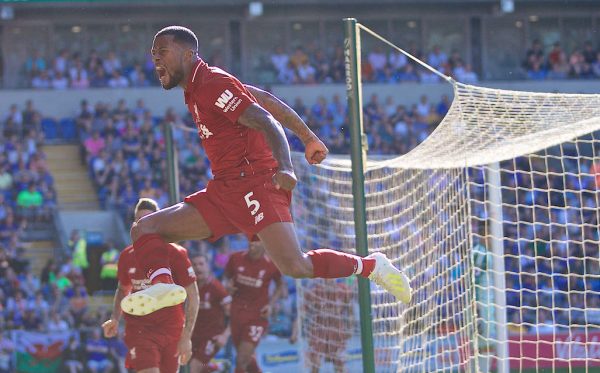 The win takes Liverpool back to the Premier League summit by two points, with City playing their game in hand against Man United on Wednesday night.
Should the Reds' rivals do them a huge favour at Old Trafford, destiny will be in the Reds' hands with three matches remaining.