Simon Mignolet has played just twice this season, but James Milner has insisted Liverpool's backup goalkeeper is playing a hugely important role off the pitch.
The Belgian was demoted to second choice midway through last season as Loris Karius took the gloves, and stayed in the periphery despite his team-mate's exit in the summer.
Alisson's arrival has shunted him further down the pecking order, as Mignolet is no longer even alternating duties between Premier League and Champions League, with his two appearances coming in the FA Cup and League Cup.
Both resulted in defeats, shortening his chances of any further action, and Alisson's remarkable consistency has kept him on the substitutes' bench for every other game bar the opening day.
But Milner believes Mignolet is showing "the best attitude I've ever seen in my life," as the vice-captain praised the lesser-seen 'keeper for his role in a successful season.
"Someone who hasn't been spoken about much this season: Simon Mignolet," he said, when discussing the quality throughout the squad.
"It's incredible how he is around the training ground, he has the best attitude I've ever seen in my life.
"Every single day, he pushes himself and pushes Ali and the boys to improve.
"Nobody will ever speak about him in the press because he's not on the field, but he's been so important for us this season.
"That's exactly what you need, great characters. Even if you're not playing as much as you would like, the characters in the dressing room are still standing up."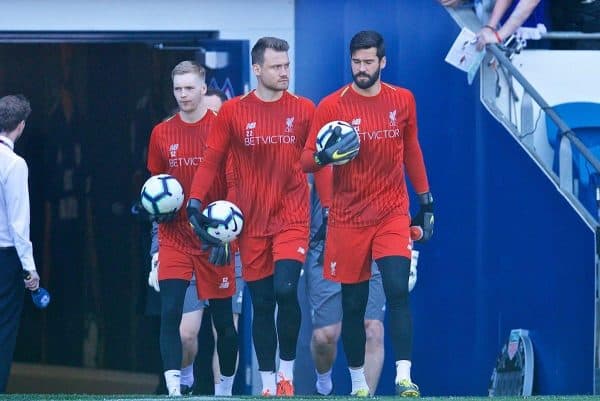 This may seem like arbitrary praise for a player who has paid his dues at the club, but Milner is one of the few in Jurgen Klopp's squad with experience of what is required to win titles.
Speaking to the Liverpool Echo in January, Mignolet showcased this selfless attitude as he praised Alisson.
He explained that the Brazilian "asks me some questions and I try to answer them" and outlined his approach to a new role, saying "if I switched off that might have a knock-on effect on the other boys, especially on Alisson."
This is a great stance to take, and one that he could have been forgiven for struggling with given, unlike Karius, he was not considered for a loan move in the summer.
A proposed switch to Fulham also fell through and with Kamil Grabara joining AGF Aarhus in January there was no chance of as mid-season departure, and to his immense credit Mignolet has knuckled down.
If Liverpool do lift the Premier League this season, he would be fully deserving of a winner's medal.