Jurgen Klopp has confirmed Virgil van Dijk will be available for Liverpool's trip to Southampton on Friday, praising his importance on and off the pitch.
Van Dijk was a doubt for the Reds' next game after picking up an ankle injury in the weekend's 2-1 win over Tottenham, but returned to training on Tuesday.
Any further concerns over the Dutchman's availability have been relieved as Klopp held his pre-Saints press conference at Melwood on Wednesday afternoon.
Klopp explained that Van Dijk had "trained normally," and that "it all looks OK" for Liverpool's 33rd Premier League game of the season.
"He trained normally, everything OK. Yesterday we only had a second recovery session but he was involved in that," he told reporters.
"I heard nothing different, that he could maybe not train today. No, it looks all OK."
The 27-year-old suffered the knock while defending one-on-two in an expert move that saw him deny Spurs' Moussa Sissoko and Heung-min Son with the scores 1-1 at Anfield.
Blocking the pathway to Son and forcing Sissoko onto his left foot, Van Dijk played a key role in the Frenchman spurning a significant chance that could have had serious ramifications on Liverpool's pursuit of the title.
The manager applauded his efforts, saying "if you can't be active you have to give the other player the chance to make the mistake."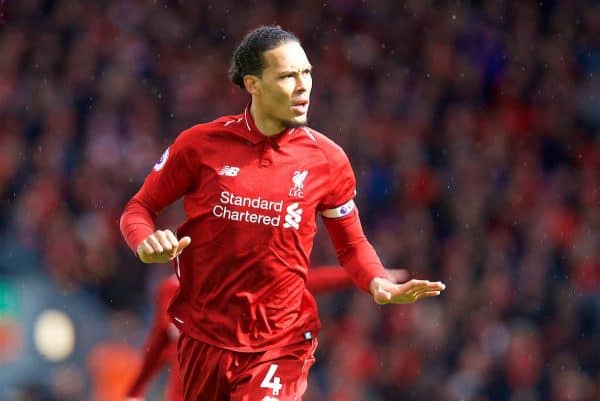 And on Van Dijk's overall influence, Klopp described him as a "brilliant boy," whose impact on the squad extends beyond his role on the field.
"He's so important to us. Not only as a player, as a person as well, he's a brilliant boy," he added.
"I couldn't say a bad word about him even if I wanted. It's difficult, really!
"But on the other hand, and he knows as all the others know, that you need the boys around. It doesn't work [alone].
"The one-versus-two situation, he needed Ally of course, to be there. But in the end he did it, at least it felt like, 50 seconds alone!
"In the end he did it 100 percent right, but on the other hand they still could have scored in the situation.
"But usually defending is teamwork. That helps him a lot, and he helps us a lot.
"We do it as a team, and the boys up front, who are usually attacking, start the defensive movements, close the right gaps, give him the opportunity to show his strengths.
"If we put a team under pressure and they have to play long balls, obviously a ball in the air is a big strength of Virg's, but it's also a big strength of Joel's, so that's good for us.
"And yes, he improved us, and I think he's improved since he's here as well, as a player.
"He's a different player to the player he was at Southampton, he was good there already, really, really good.
"But with all the different games he's played now, being part of the Champions League quarter-finals, semi-finals, final, that all helps you as a player.
"And for a centre-half he's still young, there's still a lot to come, so hopefully he can stay healthy and everything will be fine."
Van Dijk's recovery means he can still set his sights on an ever-present season for Liverpool in the top flight.