Jurgen Klopp insists he "wasn't surprised" by Man United's 2-0 loss to Liverpool's title rivals Man City, and joked they should buy their way out of their problems.
The Reds were hoping for an unlikely favour from United on Wednesday night, but despite a spirited start their lack of quality shone through.
Goals from Bernardo Silva and Leroy Sane gave City the victory and saw them return to the top of the Premier League, now level with Liverpool on games played, but with a point more.
Ahead of his side's clash with Huddersfield on Friday night, Klopp greeted reporters at his pre-match press conference by asking if they were "still suffering from the game yesterday," and said he was "not surprised" by the result.
"It was the result I expected. United tried whatever they could, the first half especially was good, unlucky in one or two moments," he explained.
"But then over the 95 minutes it was clear they can't stand City in the moment, so I was not surprised by the result.
"I know I said it already, in another interview before, in a situation like that you assess it a little bit yourself and I was completely calm.
"I watched it, finally that game was played, because for months it feels like they always had one game in hand.
"Now it's clear we are one point behind City and we knew for a long time that if we win the next two games then the decision will be made in the last game, the last matchday.
"That's pretty special. But for that we have to win the next two games, which is difficult enough.
"And first of all we have to play the next one, against Huddersfield, and that's what we are concentrated on."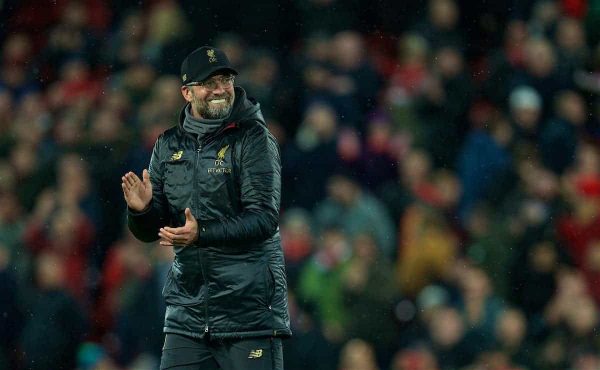 Defeat leaves morale at Old Trafford deliciously low, with United having lost seven of their last nine games and Ole Gunnar Solskjaer—the fourth manager they are currently paying—looking decidedly out of his depth.
Klopp was asked for his advice to Solskjaer by a reporter from his native Norway, and his response was brilliantly, deceptively scathing.
"They didn't help us, why should we help them?" he joked.
"You have to find your own solutions! It needs time, that's how it is: I needed time, everyone needs time.
"You cannot perform wonders, none of us can do that, and it's quite a competitive league.
"When I came in October [of 2015] and if we didn't have had quite an interesting ride in the Europa League I don't think there would have been a lot of positives about me.
"So that's how it is. We all have to try our best and to work everyday and that's what he has to do.
"And in the end I think the financial power of United is big enough to sort the problems!"