Luis Suarez has praised the development of Liverpool since his exit in 2014, but insists despite his affinity with the club there will be "no mates" on Tuesday.
Five years ago, Suarez was the leading goalscorer for the Reds as their Premier League title challenge faded at the last hurdle—and soon after, he was gone.
The Uruguayan perhaps understandably left to join Barcelona after his 31-goal, 19-assist campaign in 2013/14, earning Liverpool £75 million in the process, but setting them back significantly.
A period of poor recruitment saw Suarez's old club drift until the arrival of Jurgen Klopp, and now fighting more convincingly for the title, and vying for a Champions League final place for the second season running, they are a much different prospect.
Suarez has acknowledged this in an interview with the Guardian ahead of Wednesday night's semi-final first leg at the Nou Camp, saying "any player would like to go to Liverpool now."
"When I was there, it was very different," he recalls.
"We were on the verge of the Premier League with a squad nowhere near as good.
"They didn't spend as much as they're doing now. Any player would like to go to Liverpool now. It was different then.
"If we'd won the league, I think it would have been an even bigger achievement than if this team do.
"The front three are very quick, technically gifted, so much talent; they're players who make the difference and Liverpool's results depend on them.
"The kind of players you'd love to play with, with the level you'd expect for a club like Liverpool, built to win the Premier League and the Champions League."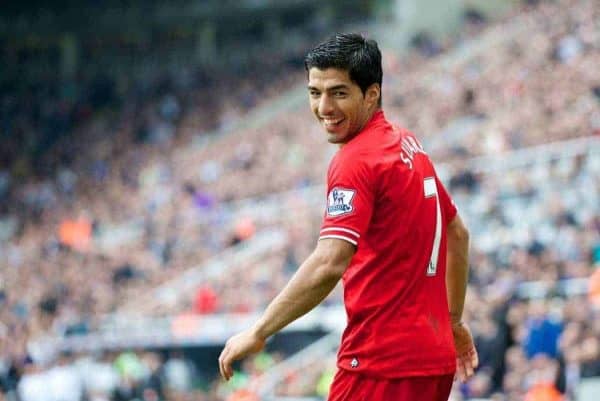 Suarez's achievements have now been surpassed by Mohamed Salah, who as the 32-year-old says is a "player you'd love to play with," but in Jordan Henderson there remains one likely starter who he counts as a former team-mate.
Philippe Coutinho is, of course, now with him at Barcelona too, and while Suarez admits it will be a "strange feeling but lovely" to return to Anfield—and a reunion with his old friends on the backroom staff—his focus is clear.
"I'm so grateful but I'm there to play for Barcelona, knowing what our targets are," he insisted.
"Once we're playing there'll be no friendship, no mates, none of those lovely memories. That's the way I am as a player, everyone knows."
This is understandable, but his affinity with Liverpool shines through when he explains that his dream would be to face another old club, Ajax, in the final, with the Reds going on to win the Premier League.
His assessment is accurate, as under Klopp we have come on significantly—with the likes of Alisson, Virgil van Dijk and Fabinho players fans can be confident of standing up to Suarez, Coutinho and Lionel Messi.