Robbie Fowler has taken an in-depth look at his Liverpool career through the shirts he wore, and revealed the "most important thing" for him about his kit.
Fowler, who has just taken over as manager of Australian A-League side Brisbane Roar, is an undisputed legend on Merseyside, scoring 183 goals in 369 games over two stints with the Reds.
He joined in 1991, made his senior debut in 1993 and remained a fixture of the side until his departure to Leeds in 2001, before a triumphant return for a season under Rafa Benitez in 2006.
As part of BT Sport's 'What I Wore' series, Fowler has discussed the steps he made over his career and the significant moments in his time at Anfield.
But, as is common knowledge, the striker grew up as an Everton fan, while he explained that he also owned Aston Villa and Tottenham shirts because he "loved football" and "really enjoyed watching good teams."
"In terms of Liverpool and Everton, I was never a horrible Everton fan who disliked anyone," he added.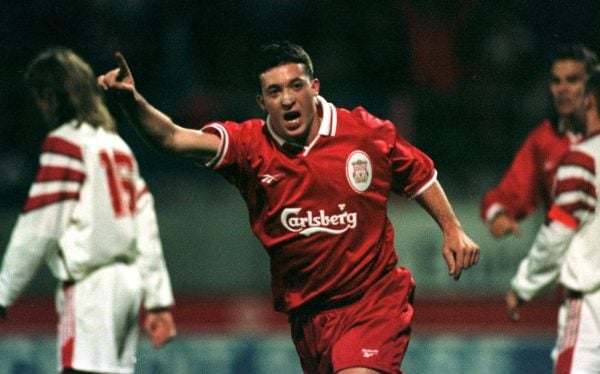 This was magnified across the city, in Fowler's eyes, due to the Toxteth riots in 1981, with the 44-year-old describing football as "a way for everyone just to forget what was happening."
"It was a big release for everyone, Everton and Liverpool, because of the turmoil and what was happening within society," he said.
Fowler brilliantly recalled his feelings on making his debut for the Reds, with the club his "first choice because they were the first club who came in for me."
"It's huge. To put that shirt on for the first time, there's always that special feeling," he said.
"But when you get a chance to put a shirt on like this, it's hard to put into words.
"You can use every superlative under the sun, it's years and years of hard work, years of dedication and all of a sudden you get this chance.
"I think 'legend' is used far too much in football, [but] when I got into the Liverpool side I'm in a dressing room that is full of absolute bona fide legends. Playing up front with Rushy, I'm a kid!"
He went over his memories of his record-breaking hat-trick against Arsenal, picked the 1995/96 away shirt as his favourite and described supporting the Liverpool dockers in 1997.
On becoming the Reds' No. 9, Fowler acknowledged that taking the shirt "should have been one of the best days ever," but instead stressed that the "most important thing" for him was the badge on the front.
Comparing himself with other legendary No. 9s from Premier League history, he confidently said he "would back himself against anyone."
There are also interesting stories on his relationship with Gerard Houllier, the "bittersweet" treble-winning season in 2000/01 and how he felt "forced out" soon after.
Fortunately "the best thing ever" came with his comeback in 2006, and it is clear how much that meant to Fowler.
"Nothing comes close, as far as I'm concerned."