Liverpool moved back to the Premier League summit with an electrifying 2-0 win over Chelsea, leaving fans with plenty to discuss.
The Reds stormed back to the top of the Premier League table on Sunday evening following a stunning 2-0 victory over Chelsea at Anfield.
Jurgen Klopp's men were the dominant side through the clash, but it was a quickfire double soon after the interval which ensured all three points remained on Merseyside.
Sadio Mane was the one to break the deadlock, before a thunderous Mohamed Salah strike doubled Liverpool's lead and sent Anfield into a state of euphoria, as another test of the Reds' title credentials was safely navigated.
This Is Anfield's Joanna Durkan (@JoannaDurkan_) spoke to Joel Rabinowitz (@joel_archie) and Jonathan Higgins (@Jhiggins3) to break down the highs and lows from the win and discuss the effect of Jordan Henderson's positional switch.
The good…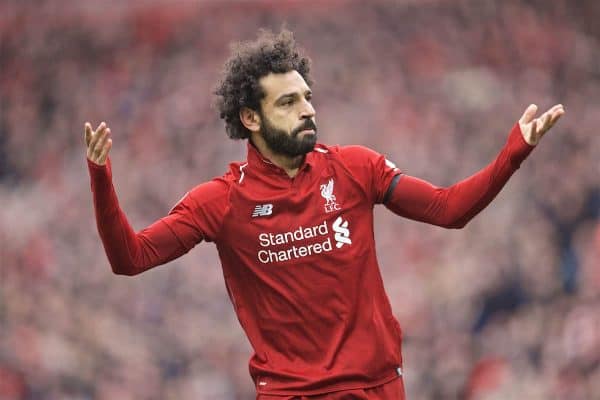 JONATHAN: After a goalless first half, the response after the break was very pleasing.
There was an energy to the Reds' display with the aggressive pressing back in full flow. In fact, the opening goal came as a result of that from Jordan Henderson.
Fabinho was an absolute beast, a rock in the deep-lying midfield role. His backtracking, crunching tackle on Eden Hazard on 10 minutes brought a collective roar from all sides of Anfield and really set the tone of the game.
It wasn't just his tackling and pressing that caught the eye, he had almost an arrogance with the ball at this feet. Time and time again he was able to manipulate himself out of tight situations and orchestrate waves of pressure with his quick-tempo passing.
Mo Salah was brilliant all day, at both ends of the pitch—but what an absolutely jaw-dropping goal. I've no problem admitting I screamed like a teenage girl as I watched it rocket into the top corner.
In a week where unfortunately he had to endure personal attacks from the dark, backward segments of society, he answered in emphatic style.
More importantly, it rubber-stamped another crucial victory as the Reds juggernaut passed their toughest remaining league opponents with flying colours.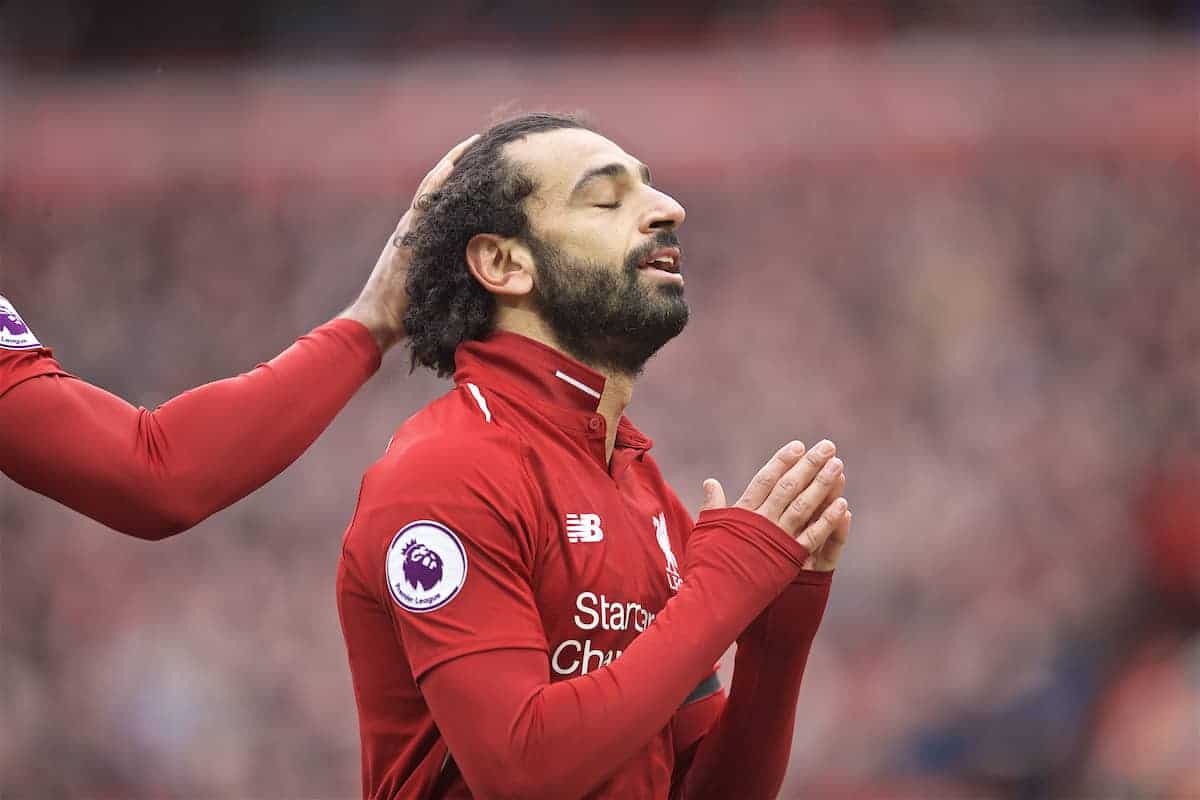 JOEL: Well, what a performance from everyone.
They all played out of their skin, and that second-half display in particular was just incredible given the pressure Liverpool were under to get the three points.
It was yet another phenomenal show of resilience and maturity and to get nine points from Spurs, Southampton and Chelsea puts Liverpool in a great position now.
Obviously, Salah's goal was just sensational—I think that's the best he's scored for Liverpool.
Roberto Firmino was exceptional in the second half and once again Henderson was an inspiration in that No. 8 role, creating the opening goal with a superb cross for Mane.
Every one of them put it all on the line and ensured Chelsea couldn't get the satisfaction of derailing our title hopes this time. It was one of the most feel-good victories of what has been an amazing season.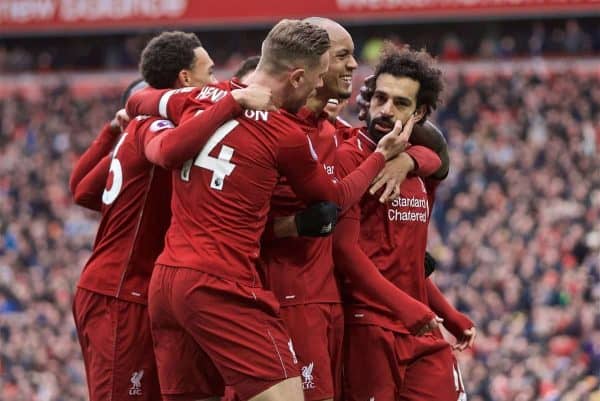 JOANNA: Just when you think this team cannot fill you with any more pride or surpass the levels of the previous week, they go out and do just that.
So much talk has surrounded the maturity and strength of character within this side and rightly so after the manner in which they have won over the last five league games.
Chelsea were out to frustrate and it would have been easy to play into their hands, but the Reds deserve a serious amount of credit for their second-half performance.
From front to back Liverpool were exceptional and they steamrolled the Blues into submission with some of the best football I've seen them play since the turn of the year.
I have to say Fabinho, Salah, and Trent Alexander-Arnold were my personal standouts on the day, but on the whole it's a result which sets the Reds on course for one hell of a finish to an already historic season.
Oh, and it would be rude not to echo the guys' sentiments on Salah's goal, what a thing of beauty it was!
The bad…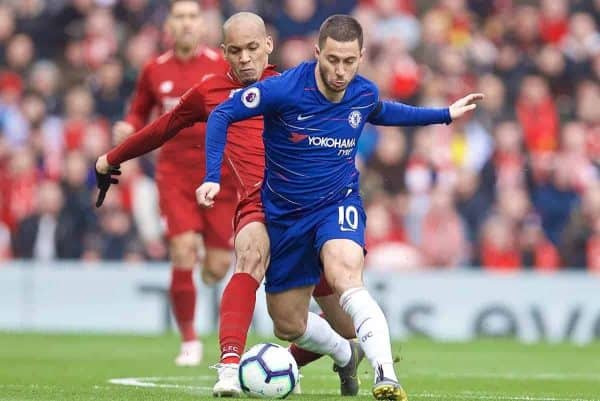 JONATHAN: The Chelsea purple patch after Liverpool took a two-goal lead was a little worrying. Eden Hazard missed two huge opportunities during that crazy spell. On another day Liverpool may not have been as lucky.
Liverpool played into Chelsea's hands during this period by continuing to bomb forward and not slowing down the tempo of the game.
Klopp reacted by introducing Gini Wijnaldum, and no doubt he will be making sure that the players aware of the improvements required between now and the end of the season.
Similarly, in the first half especially, it was far too easy for Chelsea to counter-attack.
Liverpool dominated possession and were camped in the Chelsea half but were vulnerable to Chelsea's rapid speed on the break.
JOEL: The only negative on a fantastic afternoon was Jordan Henderson going off with what looked like a nasty ankle injury at the time, although Klopp played it down after the match and said it isn't too serious.
He's been superb in recent weeks so Liverpool will need him fit and available for the final few games.
Liverpool did ride their luck a little defensively on a few occasions, but it's about time Eden Hazard had an off-day at Anfield—and that might well be the last we see of him for a while!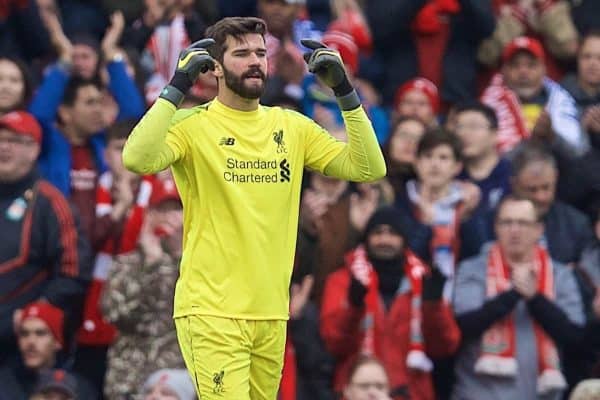 JOANNA: After a victory like that there are not a lot of negatives to pick out.
But what I would say is that it does feel as though we are giving the opposition more space and chances on goal than we did earlier in the season.
Like Jonathan mentioned, part of that comes down to the Reds' failing to take the sting out of the game during Chelsea's period of pressure, with Wijnaldum's introduction no doubt an indicator of Klopp's desire to regain control.
Similar to that against Porto, we were vulnerable on the counter in the first-half and, like Joel said, in the second term we were fortunate that Hazard had an off day in front of goal as he slipped through our defence a little too easy for my liking.
…and will Henderson's positional switch prove to be the game-changer in Liverpool's title bid?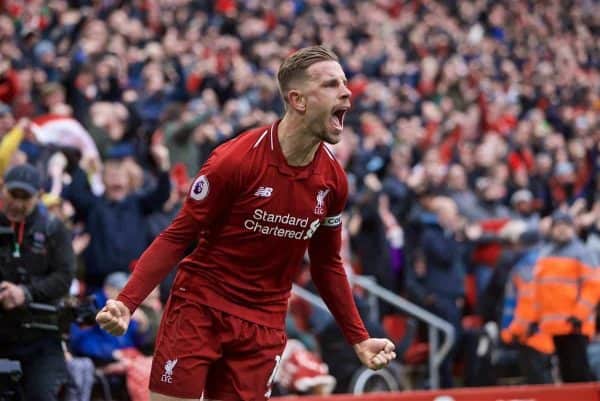 JONATHAN: It's certainly looking like that.
After a poor showing in the Tottenham game and people's desperation for Fabinho's involvement, it looked like uncertain times for the skipper.
There's no doubt his introduction in the Southampton game turned the match back in Liverpool's favour. I'd even go as far to suggest his goal and celebration got a lot of supporters back in his side and reminded everyone of his qualities.
He followed this up with an impressive midweek performance midweek and a man of the match display today.
Liverpool's midfield has been rightly criticised this season, but his involvement in the opening goal today highlights again the improvement at such a crucial stage of the game.
Maybe it's the missing spark we needed. Time will tell, but no one can doubt the boost it has given the team.
JOEL: I think it could quite possibly be a defining factor in Liverpool's run-in.
That cameo off the bench against Southampton was outstanding and he really helped drag his team over the line when it looked like they might drop crucial points.
I've always said he can contribute plenty in the final third and he showed that with both his through ball against Porto for Firmino's goal and his excellent cross for Mane's goal here against Chelsea.
Out of possession, he must be a nightmare for opponents as his work rate and ability to cover ground is phenomenal.
He's every inch what you want from your captain when he's in this kind of form, and you can see exactly why he asked Klopp about tweaking his role in the team.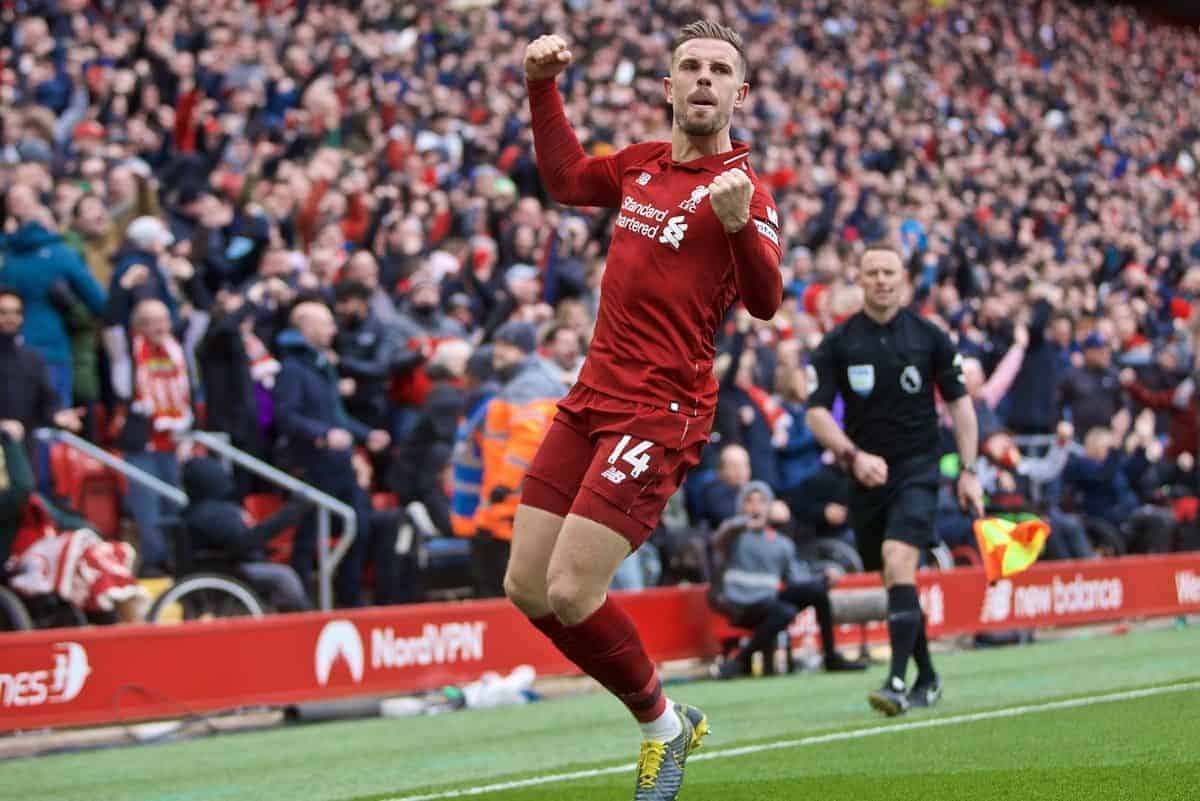 JOANNA: After struggling to settle on a midfield contingent for a large part of the season, for me, Henderson's move has already proven to be an inspired one.
Having the shackles unleashed allows the skipper to move further upfield where his energy and presence creates goalscoring opportunities, or forces the opposition into mistakes, with the former having been a key issue in the middle of the park for Liverpool all season long.
It doesn't come as much of a shock that he's had the high level of impact that both Joel and Jonathan mentioned as it's a position he thrives in, and you only have to think back to the 2013/14 season for proof.
It says a lot about him that he took on the No. 6 role for the team, but now with Fabinho taking that position he has the opportunity to influence the game in both defence and attack, and against the Blues he was simply phenomenal.
Earlier in the campaign I would have questioned if he was in Liverpool's best starting XI, but now I have no doubt that he is the player and a leader that the team needs to successfully push them through the remaining four games.