Liverpool clinched another three points with an impressive 2-0 win at Cardiff, leaving fans with plenty to discuss after the match.
The Reds secured their sixth successive Premier League victory—their ninth in a row in all competitions—with a comfortable 2-0 win over Cardiff on Sunday.
Gini Wijnaldum broke the deadlock early in the second half following a frustrating opening 45 which saw Jurgen Klopp's side struggle to capitalise on their chances in front of goal.
And Liverpool's trend of scoring late in the second half continued as they doubled their lead with 10 minutes left on the clock, as James Milner converted from the spot after Mohamed Salah was manhandled in the penalty area.
The 27th win of the Premier League campaign sees the Reds return to the top of the table with just three games remaining.
To break down the highs and the lows from the win and discuss Joel Matip's impressive run of form were This Is Anfield duo Joanna Durkan (@JoannaDurkan_) and Joel Rabinowitz (@joel_archie), and writer Matt Addison (@MattAddison97).
The good…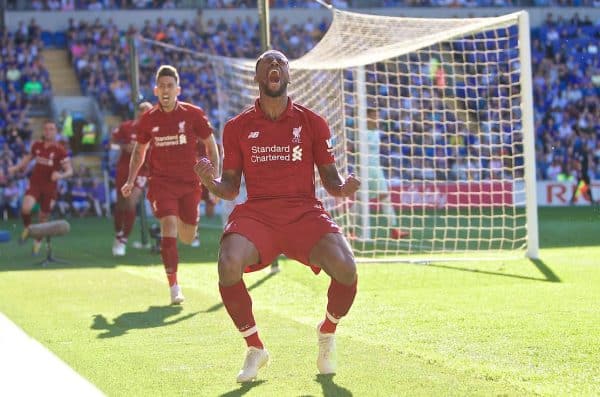 JOEL: Once again, Liverpool found themselves needing to score in the second half, knowing that nothing but a win at this stage will keep them in the title race.
There was no sense of panic, as Liverpool just kept playing their own game, keeping Cardiff penned back, believing that eventually they would make the breakthrough.
The corner routine was a fantastic piece of improvisation, and the finish from Wijnaldum was superb—I just wish you got to see that from him more often!
Cardiff made it tougher than most maybe expected, and playing a side battling desperately for survival at this stage of the season is never easy.
It puts the pressure right back on City, which is all you can ask for now.
MATT: That's 22 clean sheets for the Reds in all competitions this season, now—a fantastic defensive record.
Sunday's was partly down to an incredible miss from Liverpool fan Morrison, but it was also down to brilliant play from Matip and Van Dijk, and a top-class save from Alisson after Niasse's acrobatic effort.
Trent continues to be a reliable part of the defence, too. He struggled at times with Mendez-Laing in the first half but was much improved in the second.
His delivery from the corner for Wijnaldum's opener was superb as well—Trent's 10th assist of the campaign.
I've long thought the Reds could be more creative with set-pieces, and it was nice to see that on Sunday.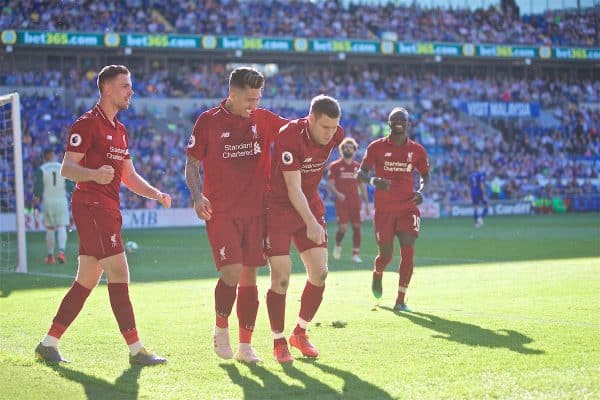 JOANNA: Firstly, I need to take a moment to look at the bigger picture.
The Reds now have a staggering 88 points with three games still to play—a club record for the most in a Premier League campaign.
That in itself needs applauding, and regardless of what happens come May this team is something else!
But looking at Liverpool's performance on Sunday, it was yet another show of their ability to be patient and withstand the external pressure which is being placed at their doorstep.
There was never a sign of panic and there was an inevitability about us scoring, and for the first time in a while I was without the debilitating nerves as this team have proved they have what it takes to get the job done.
I thought Keita had a brilliant day at the office, it was clear his confidence levels are rising game by game and it was a joy to watch him drive forward at the opposition and showcase the quality we all know he possesses.
I also have a lot of time for Wijnaldum and Milner's celebrations.
The bad…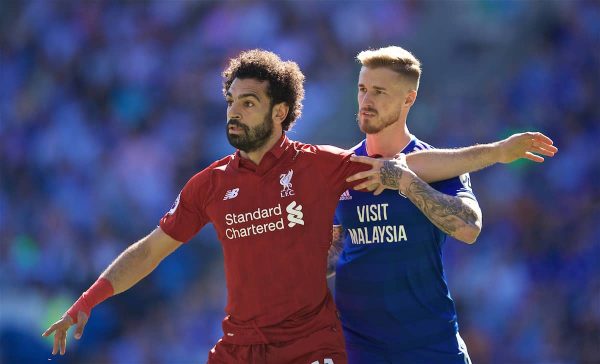 JOEL: Liverpool were really wasteful in the first half and ought to have been a couple of goals in front by the break.
Salah spurned a couple of great counter-attacking opportunities and I still don't know how Firmino skied that one-on-one chance.
It made for a closer contest than it might have been, and a couple of nervy moments when Cardiff launched the ball into the box in the second half.
By and large, though, Liverpool dealt with the pressure well and easily deserved the three points in the end.
We could do with Huddersfield on Friday being a little more straightforward, mind you…
MATT: There wasn't much to criticise once again from a Liverpool perspective, although, as Joel said, those missed chances in the first 45 minutes were frustrating at the time.
They can be explained to an extent by the dryness of the pitch, but on another day they could have been costly.
Fabinho's injury is a slight concern. Hopefully, his blow to the head won't have any lasting effects, and he was taken off more as a precaution than anything else.
He'll definitely be required in the next couple of weeks and has really hit form in recent matches.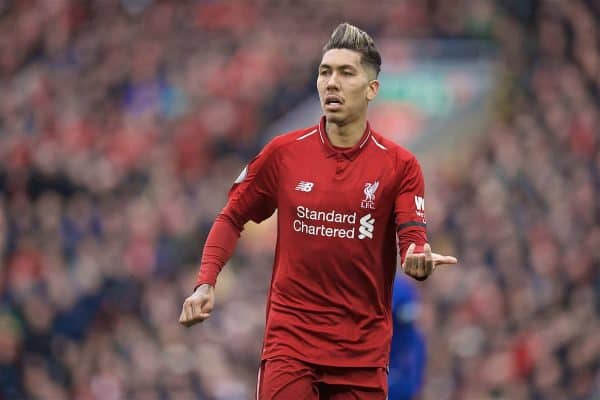 JOANNA: I have to echo both Joel and Matt with this one.
It's hard to point to too many negatives after another vital victory, but it was clear that the Reds should have done better with their opportunities in the first half.
It gave Cardiff hope when there shouldn't have been, but ultimately it kept Liverpool honest and hopefully the front three are back to their clinical best next time out.
At this point I'm picking at straws, but Trent did struggle in the opening term after being burned by pace far too many times, although he more than made up for it with an assist for Wijnaldum's goal in an improved second-half display.
And Matip's been impressive of late, but should we be surprised?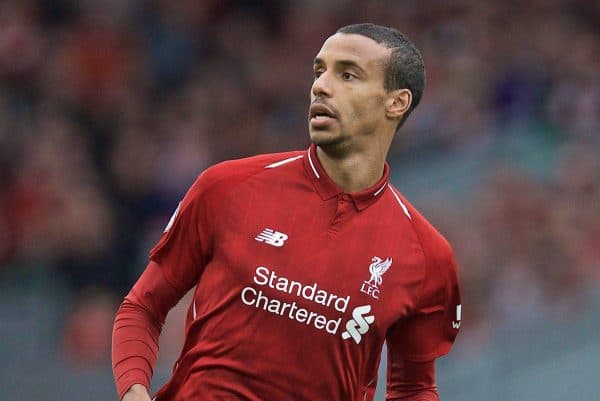 JOEL: I gave Matip the Man of the Match award in my player ratings piece.
I thought he was superb, as Liverpool had to cope with a fair amount of high balls lobbed into the box.
In the past, Matip has been criticised for his lack of physicality and aggression, but he stood strong here and defended really impressively.
On the ball, his driving runs get Liverpool moving up the pitch quickly, and he plays some lovely cutting through passes into the forward players (although he doesn't always get them right).
It's been great to see him step in so well for the team and put a consistent run of games together.
I'd still be looking to upgrade/strengthen that position in the summer, but I'd have no qualms keeping Matip around as a squad player.
He's shown he can fill in and contribute at a high level.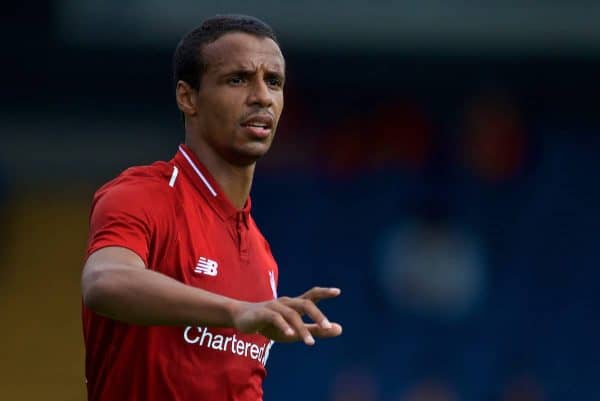 MATT: It's no surprise now—he's been performing for a few months at an excellent level, and was probably the Man of the Match on Sunday.
This is certainly the best and most sustained level of performance over a significant period of time that the Cameroonian has managed since he arrived at Anfield, and it's impossible to not be impressed by him right now.
Alongside Van Dijk, most centre-backs seem to be elevated to new heights, and Matip is no different.
Long-term, Gomez will be the Dutchman's partner most weeks, but at the minute, there's no reason to take Matip out of the lineup.
To go from fourth choice at the start of the season to starting at the Nou Camp in a Champions League semi-final is some rise, but he deserves it—long may it continue.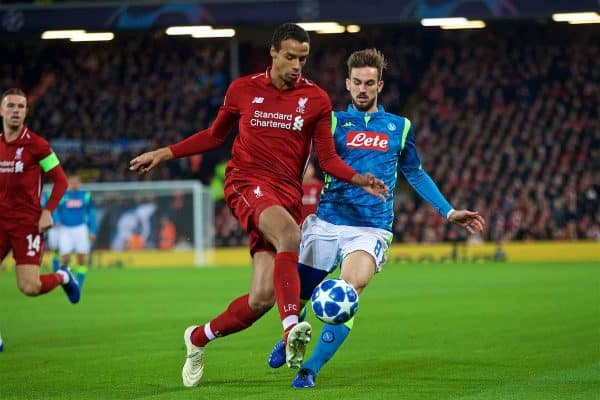 JOANNA: In a way I am slightly surprised at the level Matip has been playing at in recent weeks.
He's often the forgotten man among the Reds' centre-back ranks and I have previously been sceptical of his lack of physicality in the contest, but he's made a believer out of me.
He's shown a level of consistency not only in his performances but in his ability to be available for selection having played 13 consecutive games prior to being rested against Porto at home, before returning to the fold days later.
Matip's always been above Lovren in the pecking order for me, but, like Joel said, I don't see him as the player best suited to lineup alongside Van Dijk heading into the future—but as of right now you cannot overlook his performances.
Being named Man of the Match against Cardiff was a deserving accolade for a player who rarely gets any credit, and it's just rewards after failing to put a foot wrong in the last few weeks.