Liverpool steamrolled to victory over Huddersfield after piling on five unanswered goals, ensuring fans had plenty to discuss ahead of another vital fixture.
The Reds made it 10 wins on the spin across all competitions with a thumping 5-0 win over Huddersfield, collecting another three points to move Jurgen Klopp's side back to the top of the table, at least temporarily.
The night got off to the perfect start as Naby Keita notched Liverpool's quickest ever Premier League goal after just 15 seconds, where a brace for both Mohamed Salah and Sadio Mane ensured it was a five star performance from the Reds.
Liverpool's 28th win of the campaign saw records broken and in-house competitions taken up a notch, but more importantly it again asked questions of Manchester City as the season nears its end.
This Is Anfield's Joanna Durkan(@JoannaDurkan_) was joined by David Comerford (@Dave_Comerford) and Chris Smith (@chrissmithvivi) to delve into the highs and lows from the victory, and discuss who should start against Barcelona.
The good…

David: There are plenty of positives you can pick out because it was pretty much a perfect night for the Reds.
I think the main thing for me was the performance of Naby Keita. Yes, he got the opening goal, but what impressed me most was his tigerish work in the midfield – I think we saw a new side to his game.
He's looked a little timid at times, but it's clear his confidence is growing with this run in the team and that was reflected in his performance.
Another standout for me was the work of the full-backs: two assists for Andy Robertson and one for Trent, and now 21 between them in the league this season.
Those really are incredible numbers, and you can't underestimate just how significant they are in Liverpool's style of play. They're setting the standard for the modern full-back at the moment.
The last thing I'd say is that there was real belief around the ground, rather than any anxiety that we might miss out. There was a collective sense that there will be another twist in the next few weeks, and that this team will be ready to capitalise.
Chris: Let's start with another goal for Naby Keita. His form has improved massively in recent weeks and it was great to see him contribute to the scoreline.
Mane also deserves credit for an unbelievable season. And while Mohamed Salah's first goal was special, the most credit has to go to the fullbacks for me- Robbo and Trent are so vital to the way we play.
A nod also has to go to Jordan Henderson, who I thought was great on the night.
But, I have to end with a special mention for the Ox coming back- he looked very sharp!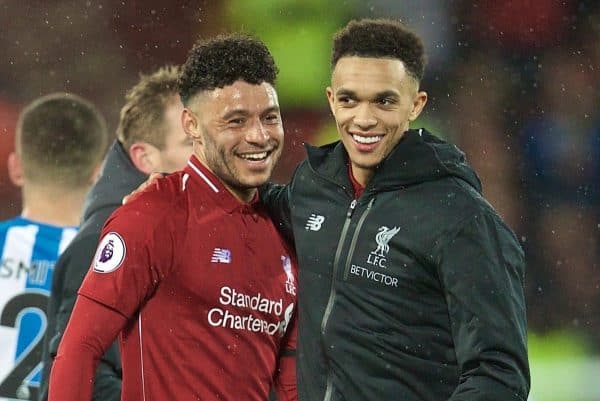 Joanna: Like David and Chris, I have to start off by piling an enormous amount of praise at the feet of Keita.
He's playing with a level of confidence we hadn't seen earlier in the campaign, and on Friday it was his work off the ball which deserves the spotlight.
He worked tirelessly all night and Klopp was spot on when he said he had "his best game in all defensive situations."
The full-backs and the prolific duo that are Salah and Mane also have to take the plaudits, they all stole the show with a ruthless display of attacking prowess and their respective assist and goal competition is seeing Liverpool surge to the finish line in frightening form, and with an unwavering level of confidence.
91 points, 20 clean sheets, Ox is back and the team is bursting with belief – and as we speak, Liverpool are top of the league. Couldn't ask for more.
The bad…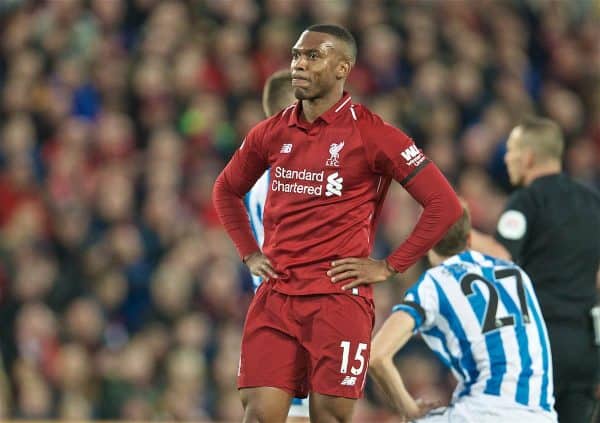 David: I think the only disappointment was Daniel Sturridge, and it pains me to say it because we're all desperate for him to succeed.
There was so much promise at the start of the season, but the old problems have cropped up again.
He just looks out of place in the team and is lacking in sharpness – we saw that when he was hesitant to release the ball when running forward or couldn't get a shot off in and around the box.
It could be his last appearance at Anfield, and if so it wasn't exactly a fond farewell. It's clear that we need to invest in a quality back-up for Roberto Firmino.
Chris: As David mentioned there were not a lot of negatives to pick out against what was a very poor opposition.
I would have liked to have seen Sturridge score a goal- but, he did little to indicate he's worthy of a starting role moving forward.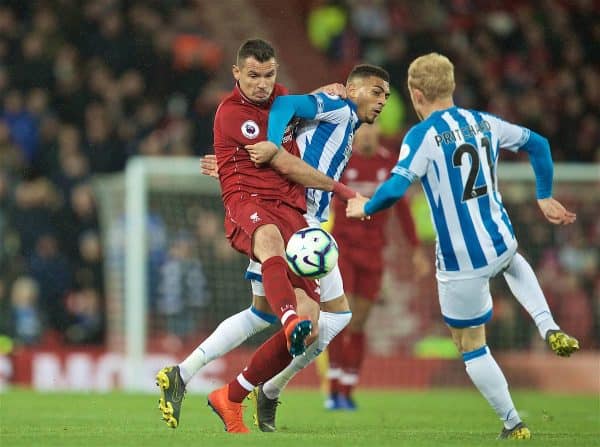 Joanna: The best way to put this is that it was the best worst start to a game I've seen the Reds have in a while.
While you couldn't have asked for a better opening with the ball in the back of the net inside 15 seconds, it was the sloppy and blase 15 minute period which followed which was one of the only negatives on the night.
With the exception of Sturridge's lacklustre performance, which the guys mentioned.
The result was never in doubt mind you, but we can ill afford a similar opening against Barcelona on Wednesday.
…and what should the starting XI look like against Barcelona?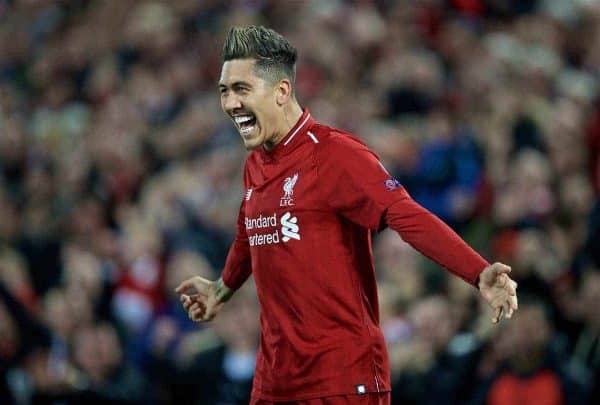 David: Joel Matip didn't start tonight but I think it was simply rotation, and perhaps Klopp thought Dejan Lovren was better suited to Huddersfield's direct style of play.
Matip's definitely done enough, though, to earn a start at the Nou Camp.
The head-scratching, as ever, is over the midfielders. As good as Keita was, I'd bring Fabinho back in to ensure solidity, and then go with Gini Wijnaldum and Henderson because we'll be looking to keep things tight.
And obviously, Roberto Firmino has to come back in if he's fit.
Alisson; Trent, Matip, Van Dijk, Robertson; Fabinho, Henderson, Wijnaldum; Salah, Firmino, Mane.
Chris: Despite his improvement in form, I wouldn't be surprised if Keita missed out in favour of the usual Wijnaldum, Henderson and James Milner midfield- but, Fabinho should start, in my opinion.
I think Salah and Mane will cause all sorts of problems, but if Firmino isn't fit, it's a big issue.
There isn't a like for like replacement. But if he doesn't recover in time I would go for Divock Origi to stretch Barcelona's defence with his pace.
Like David, I expect Matip to replace Lovren in an otherwise unchanged defence.
Alisson; Alexander-Arnold, Matip, Van Dijk, Robertson; Fabinho, Henderson, Wijnaldum; Salah, Firmino, Mane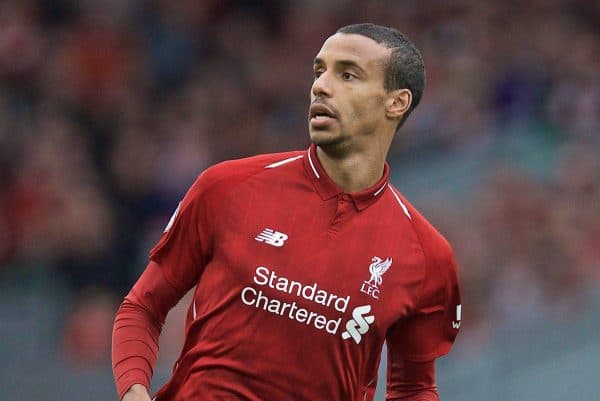 Joanna: I think Klopp might have a number of selection headaches with this fixture, and a lot relies on how key players respond to their respective injuries.
Firmino is the obvious concern such is his importance to Liverpool's style of play, but should he fail to overcome his injury I'd expect Origi to return in a wide position – despite his poor display at Porto – and Mane to move through the middle.
It's hard to predict how Klopp will setup in the middle of the park, however, like the guys noted above he could again look to his trusted trio of Milner, Henderson and Wijnaldum- but for me Fabinho has to be involved, if fit.
Barcelona have an abundance of talent in their attacking half and the Brazilian will be key in keeping them at bay, and his fresh legs only further the notion that he has to start.
The rest of the team more or less falls into place by itself, and we should have more than enough options on the bench for any number of eventualities.
Alisson; Alexander-Arnold, Matip, Van Dijk, Robertson; Fabinho, Henderson, Wijnaldum; Salah, Firmino, Mane