Virgil van Dijk insists Liverpool need to "take it game by game" as they continue their push for Premier League and Champions League double against Porto.
The Reds are firmly in the race for silverware in both competitions, having returned to the top of the league table and drawing arguably the most comfortable tie in the quarter-finals in Europe.
Porto will not be an easy opponent, of course, despite last season's 5-0 rout in the round of 16, and speaking to reporters at Anfield Van Dijk was quick to stress this.
And addressing Liverpool's hopes of lifting two trophies at the end of the campaign, the Dutchman hammered home the need to avoid any "slip-ups."
"We're still in the race so it's possible, of course," Van Dijk explained.
"But I think it's still a bit too far [away] to think about it.
"We have to take it game by game, we know that any points that we drop or any slip-up can cost us, and that's the same for them.
"The only thing we can do is just to keep going and it starts tomorrow for us in the Champions League as well.
"We know it's going to be very tough, they're in the quarter-finals because they deserve to be in it.
"They have been playing well throughout the season as well, and it's going to be hard.
"Obviously they don't want to experience what they experienced last year, so they're going to try and do everything to not let that happen.
"I think the most important thing for us, like we always do, is just focus on ourselves, but obviously remember what we're going to face: a very tough team."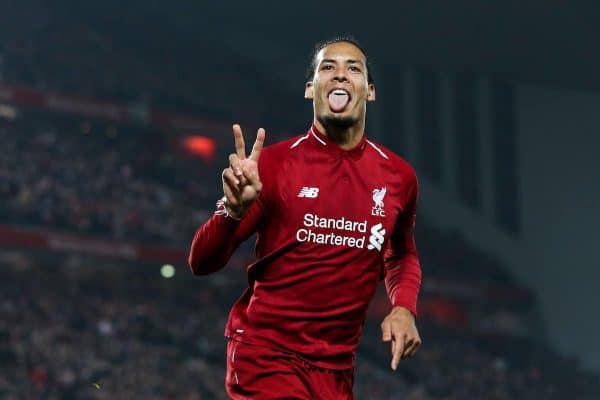 Asked again on his hopes for a double, in a disappointingly narrative-driven press conference led by the English media, Van Dijk added that Liverpool are "unlucky" to be up against such a strong side in Man City.
"Hopefully. That's the only answer I can give you," he said.
"Everyone is dreaming of it, but the unlucky bit for us is some other team in the league has been amazing as well.
"Obviously for a neutral it's a great view, it's nice to see two good teams challenging for the title.
"So hopefully it can all be something great at the end of the season, but we can already keep our heads very high."
One player who will not be able to help the Reds in their push for the Champions League semi-finals on Tuesday is Andy Robertson, with the left-back suspended for the first leg.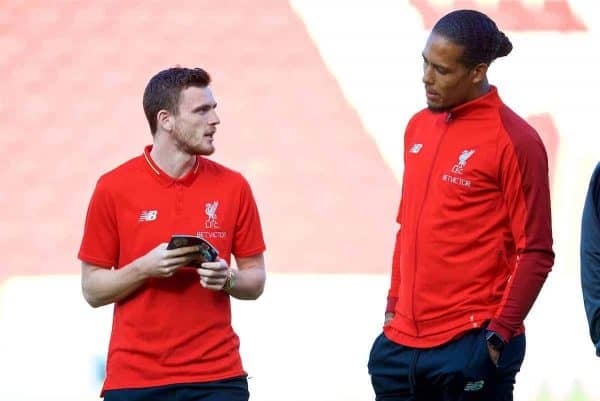 Van Dijk was questioned on whether this was a big loss, and obviously he responded affirmatively—though reiterating his confidence in Robertson's stand-in.
"He's going to be missed. He's been, I think together with myself from the back four, playing most the games," he continued.
"For me personally, he's having an amazing season. I think he's the best left-back in the country.
"We're definitely going to miss him but it is what it is.
"I didn't play against Bayern [at Anfield] and Fabinho obviously did the job fantastically, so somebody else needs to fill his spot tomorrow.
"I'm very confident that that will be fine."