Making sense of the most incredible comeback in European Cup knock-out history? Steven Scragg gives it a go…
Liverpool FC are eternal.
That mystical place where the unlikely joins hands with insanity.
Strangers embrace like lifelong friends. You stand and stare at the referee, then the liner, then back at the referee.
Each second-half goal was almost too incredulous to accept as real.
It Was the Greatest of Nights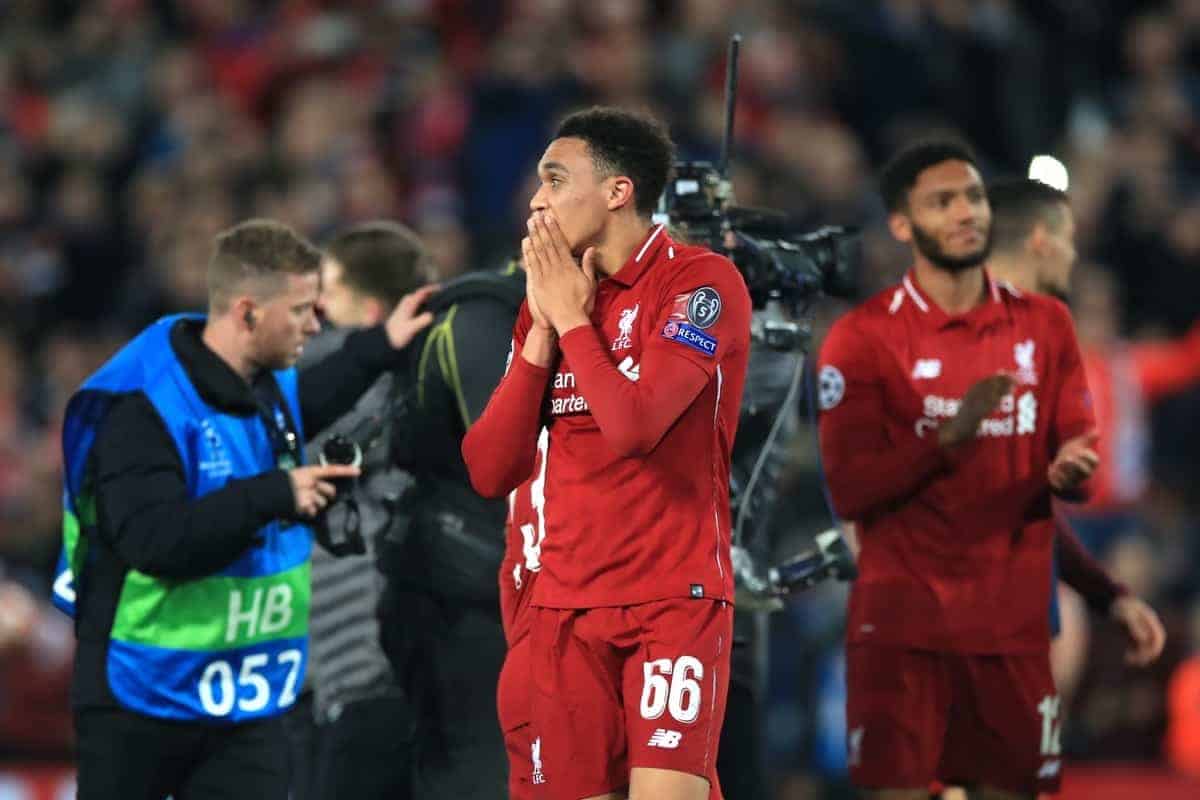 Nothing is impossible for this Liverpool. Unlikely is there to be transformed into likely, transformed into job done.
Liverpool always have a chance. The final whistle is the only thing we ever need to listen to. The final whistle will tell us what we will end this season in possession of, not the rantings of opposing fans, not the wisdom of television pundits, not me.
On European nights there is a train of thought that you need to be into Anfield early, to be there to stir the embers of the atmosphere to come. These are the scene-setters, these are the people who make the impossible possible.
Then you have those who find their seat a few moments before the game begins. They bring the same amount of enthusiasm to the stage, but they bring it at just the right time.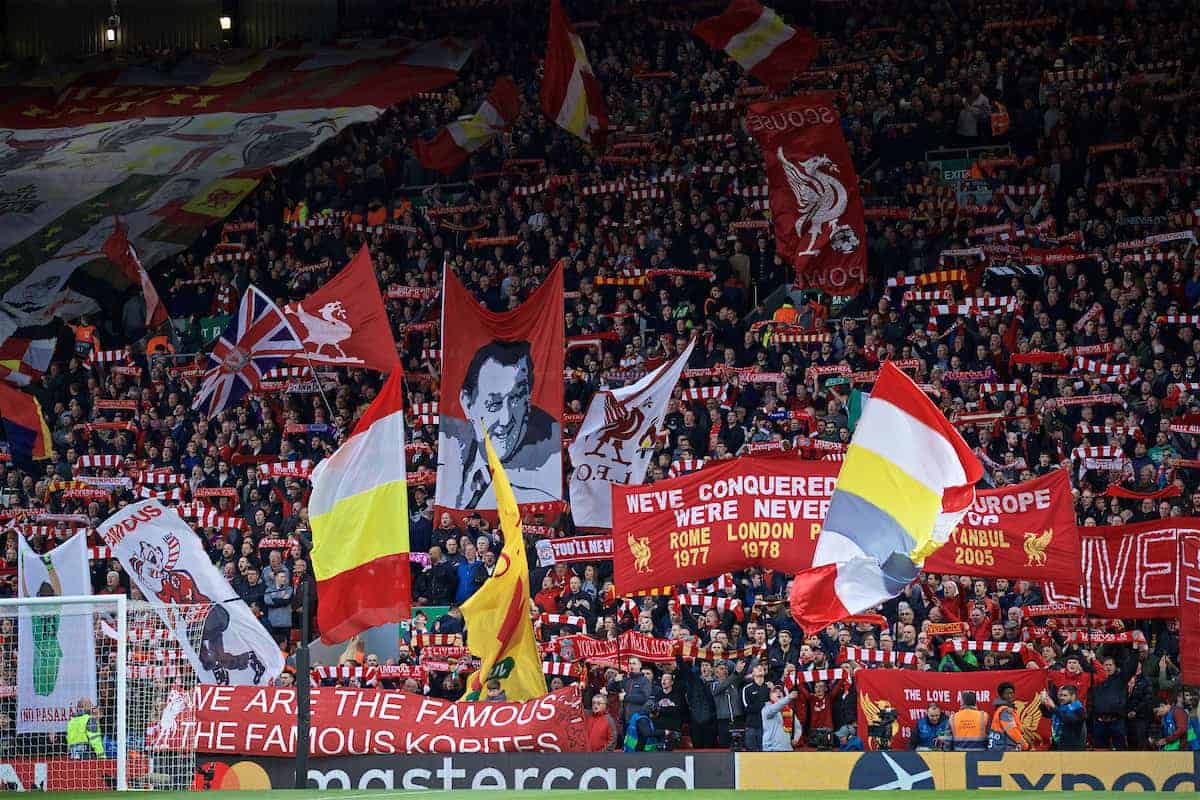 While the Kop waves its flags, holds up its banners and sings its songs, there will often be a mild lull in the Main Stand and over the opposite side on the Sir Kenny Dalglish Stand.
These individuals are facilitators, conduits. With a punch of the air and a lung-busting solo rendition of whatever song the Kop is booming out, they will get half a dozen or so spectators joining in around them.
This then blossoms and before you know it the whole stadium is electrified, not just the heartbeat of the Kop.
Before all this comes the welcoming of the team coach. Noise, plumes of red pyro smoke. In England, but not of England.
We. Are. Liverpool.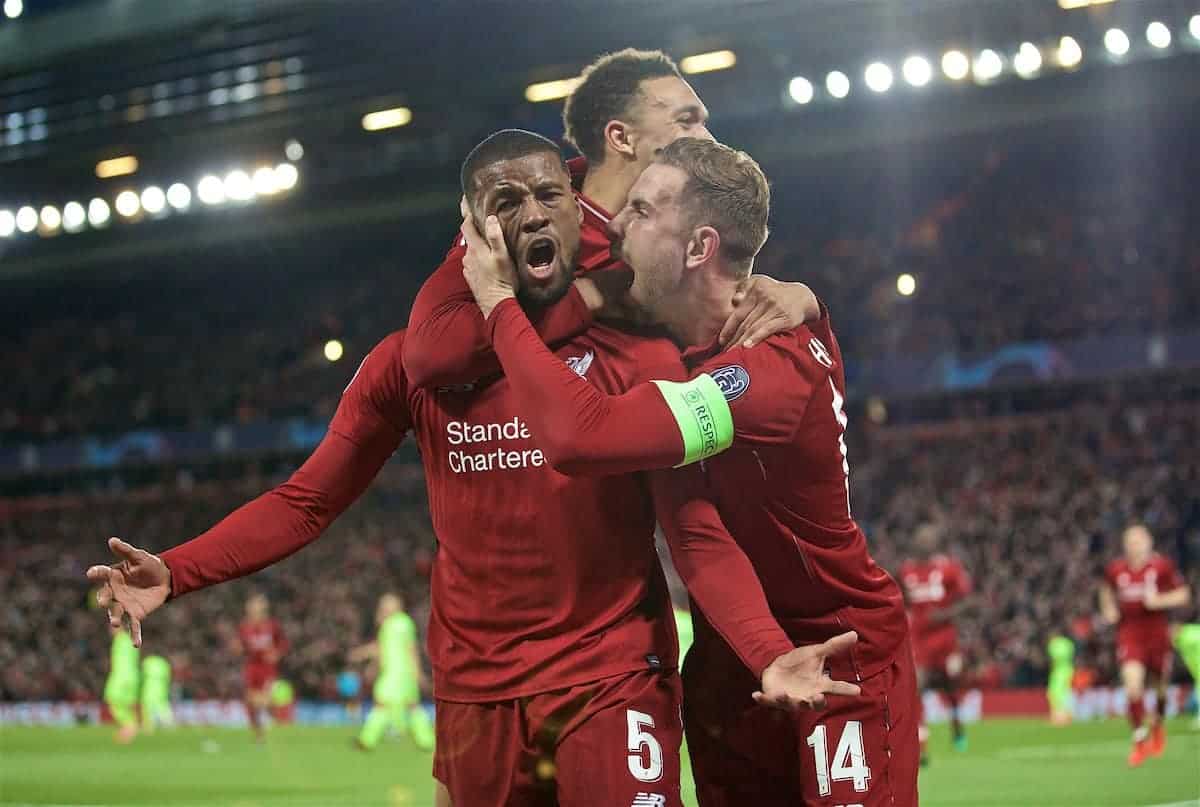 As a player, as the manager of Liverpool FC, this must be intoxicating. They must feel 10 feet tall; they must feel unbeatable. As a supporter, that's the way it makes me feel.
Three-nil, momentarily muted before going loco. Hugs dispensed, balance repeatedly lost, kept upright by those surrounding you, while simultaneously helping others keep to their feet.
Car alarms going off all over Stanley Park car park due to the ferocity of the noise that was erupting within the adjacent football ground.
None of this can be replicated in another English football ground. We are unique, and others begrudgingly know it.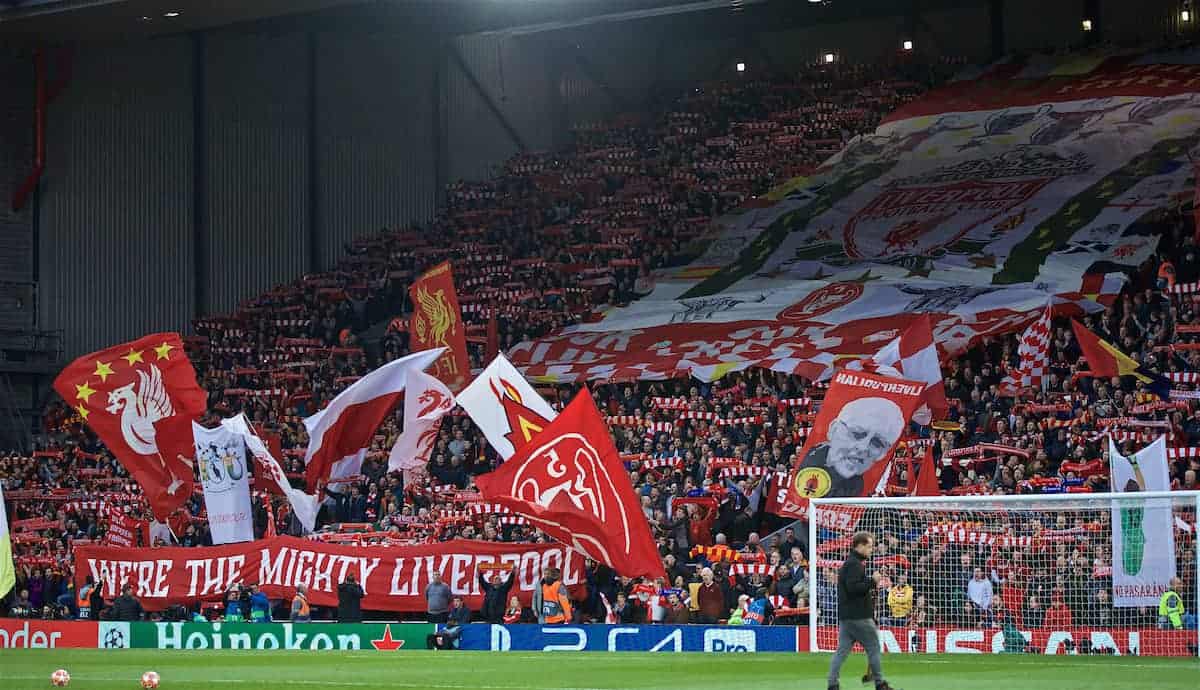 No Mohamed Salah, no Roberto Firmino, No Naby Keita, Andy Robertson lost at half time. Georginio Wijnaldum and Divock Origi the unlikeliest, yet eminently likely heroes. This was nothing short of incredible.
There must have been a deep and satisfied sigh of Barcelona relief when Robertson didn't reappear for the second half. Wijnaldum was the sucker punch they never saw coming, though.
Marc-Andre ter Stegen is meant to be a like-for-like contemporary of Alisson Becker. While our keeper pulled off a string of invaluable saves, ter Stegen could have done better with at least half of the goals he conceded.
Superheroes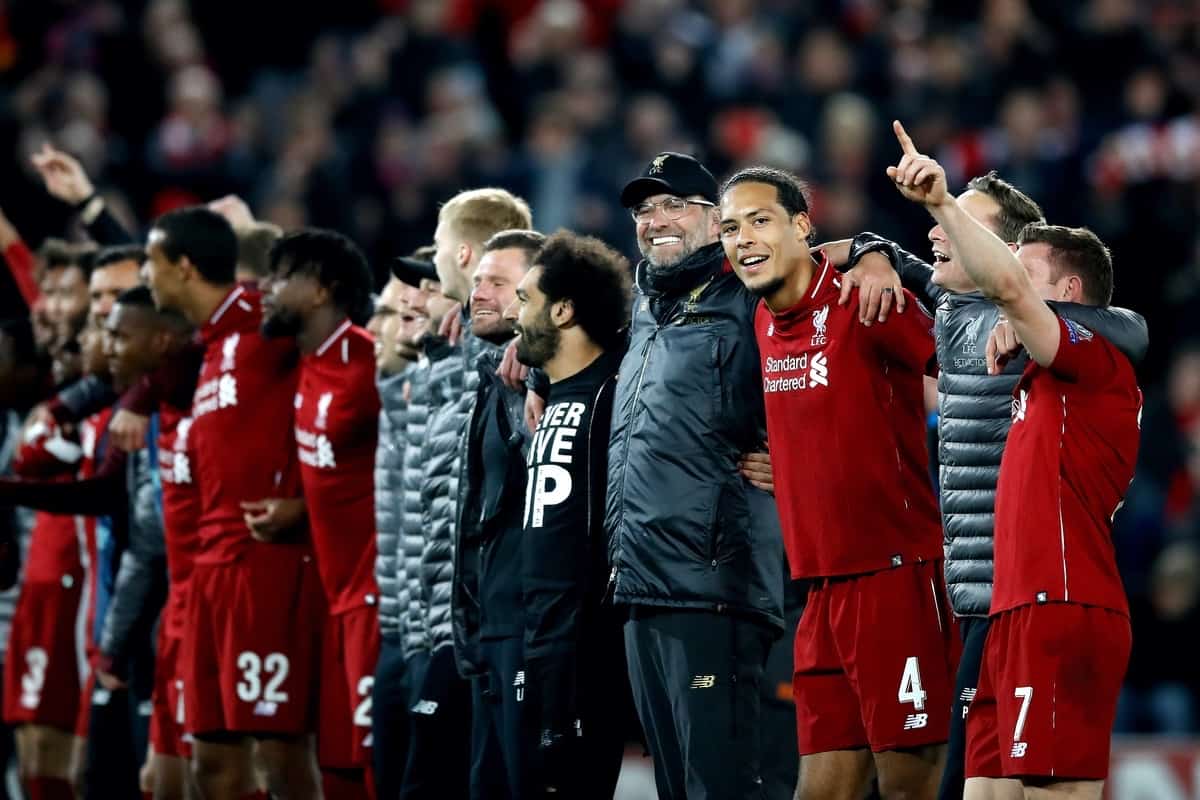 Every player played their part. Superheroes, each one of them. It wasn't solely down to those who were on the pitch, either.
Salah with his NEVER GIVE UP t-shirt, Rhian Brewster bouncing on the bench and singing along with the crowd, Ben Woodburn missing the fourth goal and seeking an eye-witness account of what the hell had just happened.
Keita going ballistic in front of his television, watching the game with a Liverpool shirt on.
More than a club. A phrase synonymous with Barcelona, yet a state of mind that sometimes eludes them. They are beautiful, yet fragile; persistent, yet just not stubborn enough.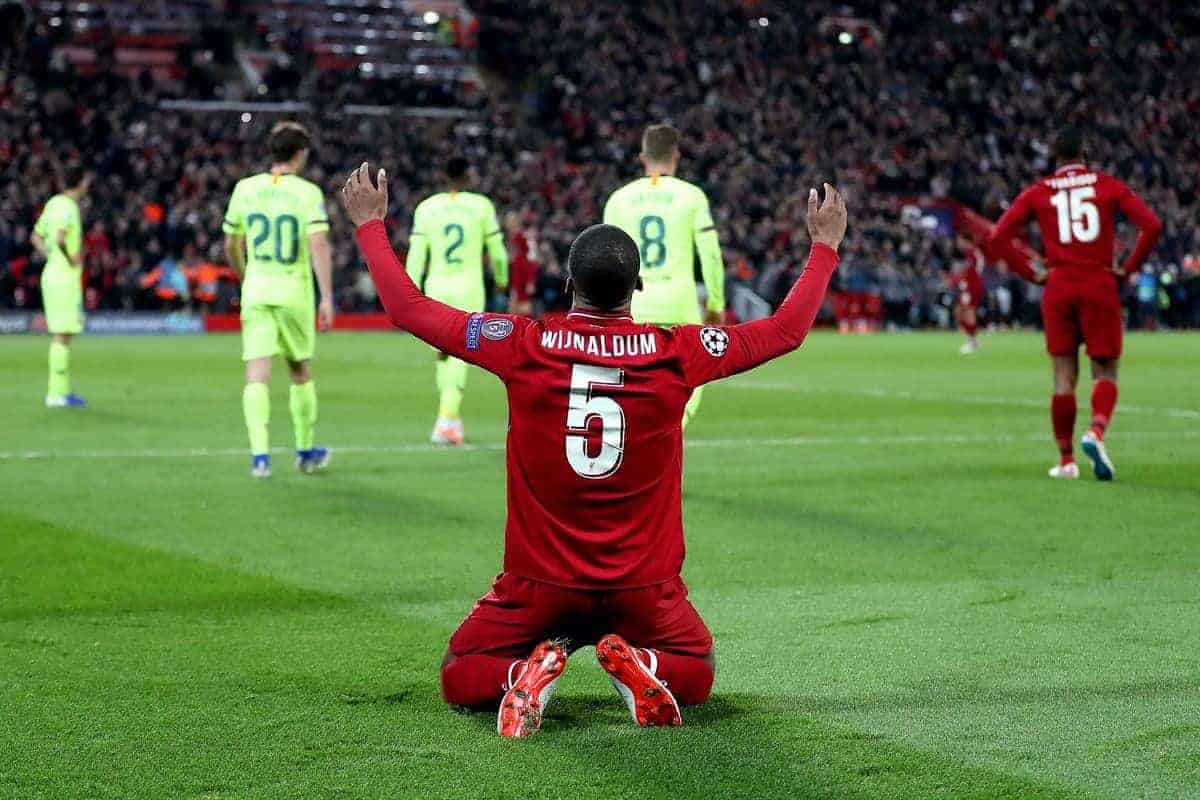 This defeat will drift across their collective mind and blindside them without a moment's notice for years and years to come.
Much was made of Luis Suarez; much was made of Philippe Coutinho. This isn't about them though. They were only a sideshow, as was the largely subdued Lionel Messi.
The picture developing at Anfield is bigger than any one individual, friend or foe, friend of the past turned foe of the present. It is a hypnotic movement. The tectonic plates of football are not simply shifting, we are pushing them along with our sheer force of will.
Kloppchillian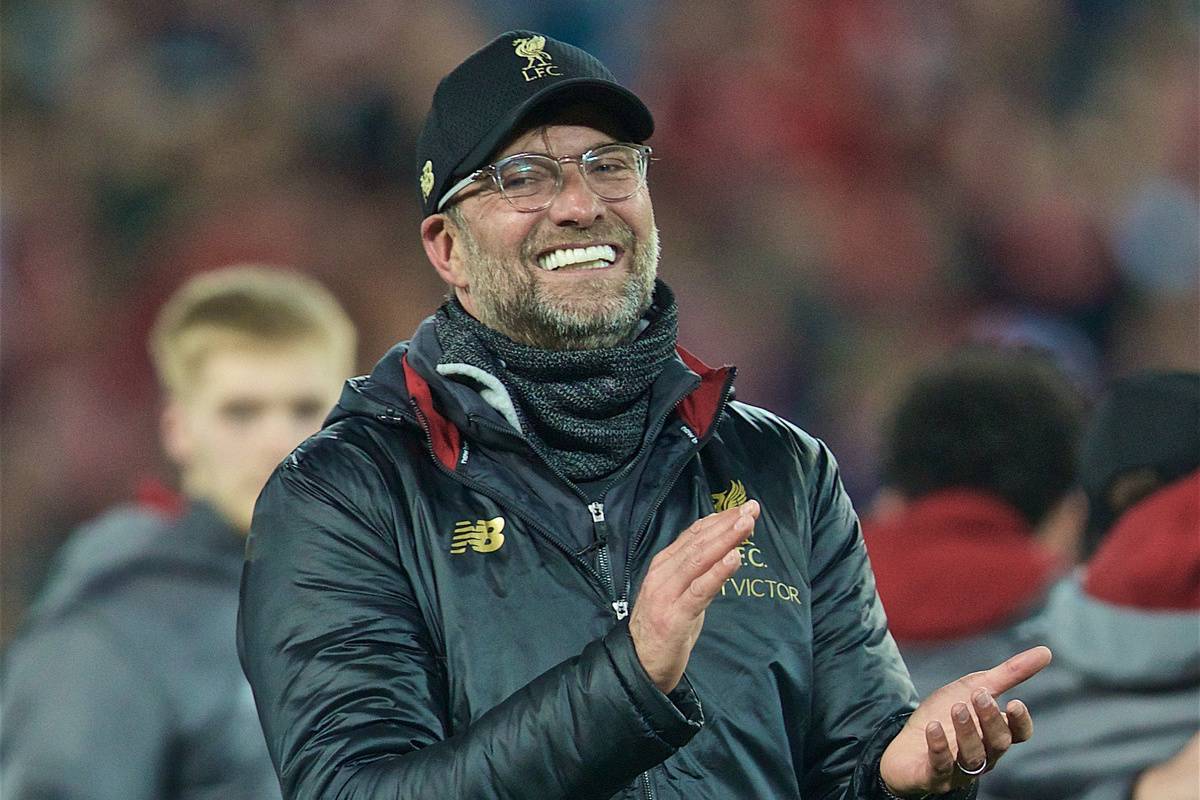 Jurgen Klopp reputedly bestowed upon his players the pre-match speech to end all pre-match speeches. Churchillian, they call this type of rabble-rousing. Kloppchillian is perhaps the newly born concept.
Dejan Lovren, listening on in the dressing room, watching on from the sidelines, was inspired. He was in the mix of the celebrations that exploded in the wake of Origi's winning goal.
What a goal that was.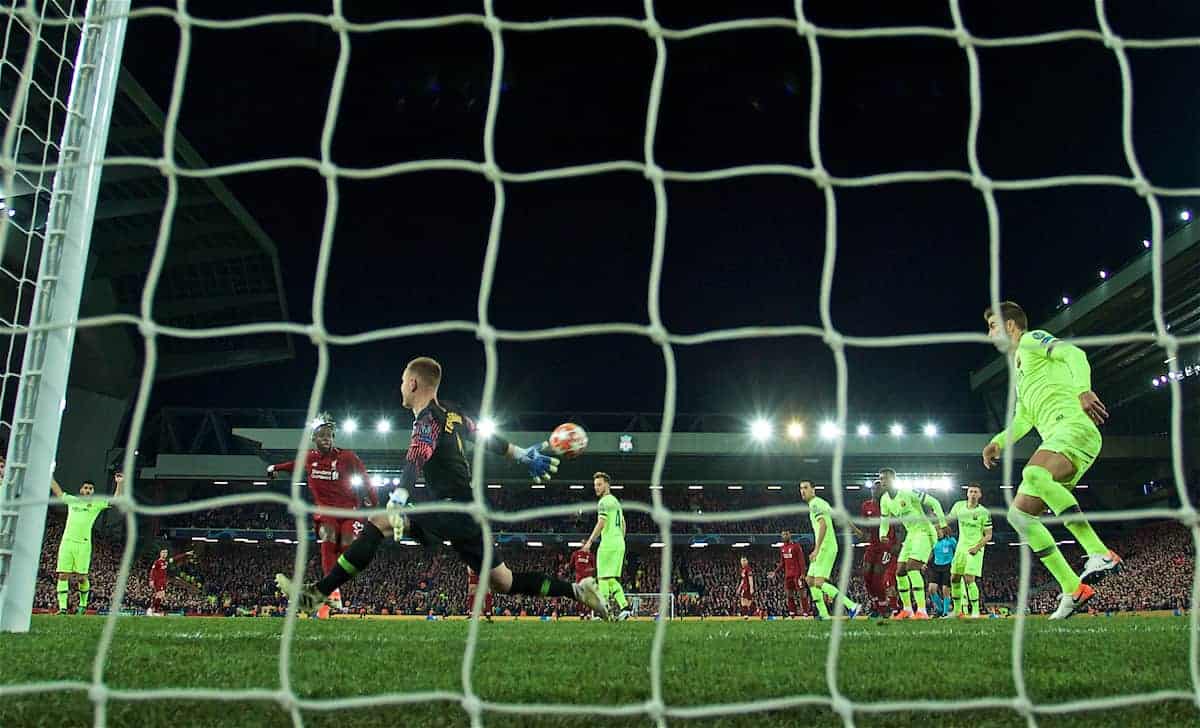 It didn't just take Barcelona by surprise, it happened so quickly that half the Liverpool bench seemed to miss it. The fella next to me certainly missed it, as he clasped his hands together in prayer, his head bowed, instead watching his restless feet shuffle around nervously.
I saw it though and I was off and away. The comeback completed on the greatest night.
Just as the season appeared to be drawing to a potential sombre conclusion, the booster rockets have kicked in. Madrid awaits and no matter what Sunday brings, 2018/19 belongs to Liverpool.
We have five days to regain our composure. Domestic matters are there to be tidied up. Tuesday night has categorically proved that the unlikely can still hold hands with the most wonderful forms of insanity.