Alex Malone is one of the organisers of 'KOPCON' – a Liverpool fans convention that was already organised in Las Vegas for the weekend of the Champions League final…
On Thursday May 30, Liverpool fans from across North America and beyond will descend on The Westgate Hotel in Las Vegas for what promises to be a three-day Liverpool Supporters event of a lifetime.
After years of dreaming it, and months planning it, the headaches are over, the obstacles hurdled and that dream is now a reality.
THURSDAY
It all kicks off at McMullan's from 5:30-7pm with a special 'Liver Girls' private event in 'Shenanigan's' – the specially reserved room at McMullan's for KOPCON 2019.
It's a chance for our female KOPCON guests to come together for a couple of drinks, get to know each other and have a bit of a natter before the rowdy fellas come in to join them at 7.
The men are more than welcome to arrive earlier, but will have to make do with a drink in the main bar until the clock strikes 7, when the boys are allowed in and the main event in Shenanigan's begins.
At 7pm, McMullan's – which, by the way, happens to be the Liverpool Supporters Pub of Las Vegas – will come alive with a sea Of Red; the pub will be packed to the rafters with pre-Champions League excitement, exhilaration and anticipation.
We are already assured of hundreds of fanatical, passionate, obsessive Liverpool fans, singing & dancing their hearts out in celebration of the only team that matters.
To add to the excitement, renowned Liverpool fan and local Merseyside artist, Marc Kenny, will orchestrate the Stateside Kop choir with the entire LFC songbook being cracked open for every amateur rock star and tone-deaf bathroom singer to strut their stuff. A late night is guaranteed for all. You might even bump in to a Liverpool legend or 3…
Yes, we are genuinely honoured to have Roy Evans, David Johnson and Howard Gayle joining us for the entire event.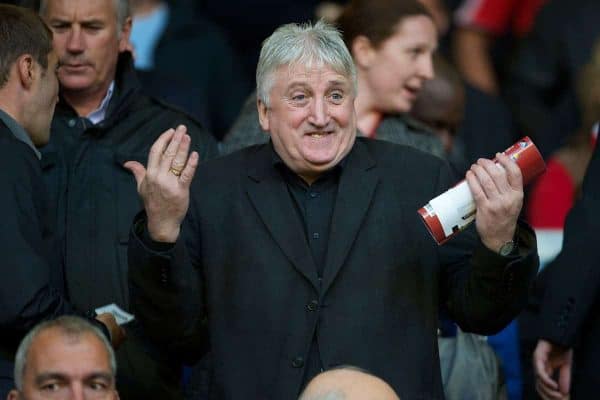 FRIDAY
The day after the night before begins with Roy, David and Howard available to sign autographs between 10 till noon on Friday morning at a special 'meet and greet' event. Come down and meet them in person and don't forget to bring your favourite piece of LFC memorabilia for them each to autograph.
As the meet and greet winds down, fun in the sun winds up. From 12-4pm, courtesy of the guaranteed Vegas sunshine, is a dip in the pool, a cocktail or beer or two from our own exclusive bar, and, for the budding rock stars amongst us, a live DJ and karaoke. Ever dreamed of being on stage in Las Vegas, singing your heart out? Well, here's your chance.
All of this in an exclusive, cordoned off area, reserved only for KOPCON guests. Bring your flags, banners, and your croaky voices from the night before to continue the party.
The energy, excitement and buzz from the afternoon will be ramped up even further as we enter Friday evening.
It's Legends Night!
From 8pm, in one of The Westgate's impressive event ballrooms, you'll get to hear the Legends tell their favourite stories from their illustrious past with the club. You might also get the chance to ask them a question or two.
Marc Kenny will again be providing the entertainment, performing on stage to send the pre-final party into overdrive.
By the time we strike midnight, with the party in full flow, the game in Madrid will be a mere 12 hours away.
Marc will assure the night goes out with a bang by taking us through the catalogue of world-famous, legendary Liverpool songs heard echoing around Anfield through the years. Wear your club colours, bring your scarves, your banners and your best singing voice. It's going to be one helluva party – and we've confirmed, dancing on the tables IS allowed.
SATURDAY
When we all wake up not-so-bright and bushy-tailed on the Saturday morning, trying desperately to recover our bearings and our voices, it will suddenly dawn on us… it's the day of the Champions League Final!
It's back to McMullans for the 12pm kick-off (Vegas time) and hopefully the greatest 'grand finale' this inaugural KOPCON event could possibly have dreamed of!
We have again secured Shenanigan's for KOPCON ticket holders to watch the final along with the legends. The rest of the pub is available and open to Reds fans too, but on a 'first come -first served' basis. It's important to know that ticket holders will be guaranteed entry, but others may not be so lucky – it's anticipated to be a 400-fan sell-out long before a ball is kicked.
So, there you have it. KOPCON 2019 is almost here.
When our small team of five decided to try to put this together, and knowing it was the first time, all we could do wa hope to make it some kind of success; and hope too that enough fellow Reds would be interested enough to want to join us.
Now, with less than two weeks to go before the event, we are thrilled to announce that the level of enthusiasm, excitement and anticipation is way beyond anything we could have hoped.
Reds from all across the United States, Canada, and the UK are flying in to join us.
If you're reading this, and you do want to join us, there's still time, and there's plenty of room. Go to www.kopcon.org for tickets and exclusive discounted hotel prices at The Westgate.
We picked venues and a hotel location purposely designed to make sure that whatever size the crowd we would not be forced to turn anyone away.
It's been 20 years of dreaming, and one year of planning by this incredibly dedicated team of Reds, all using their spare time to put this together for just one simple reason – the love of our club.
We want this to be an event of a lifetime and we're committed to it being a Liverpool supporters event never to be forgotten.
I know the Legends and the KOPCON crowd will do their part… and I'm absolutely sure the boys in Madrid will do theirs too.