Jurgen Klopp has emphatically ruled out a switch to Juventus, pledging his future to Liverpool on the eve of a second consecutive Champions League final.
Klopp has worked wonders on Merseyside, and has led the Reds to their fourth final in his three-and-a-half years with the club, looking for his first trophy.
After disappointment in the League Cup and Europa League in 2016, and the Champions League last year, Liverpool are on the cusp of European glory, reinforced by their 97-point campaign in the Premier League.
It comes as no surprise, therefore, that Klopp has been mooted as a potential successor to Massimiliano Allegri at Juventus, after the Italian's departure this summer.
Real Madrid president Florentino Perez also told Onda Cero on Tuesday that while he had "never tried to sign" the German, it "doesn't mean we won't try to in the future."
Predictably there appears to be no danger of either, as while Klopp expressed his admiration for Serie A, he told Sky Italia any rumour he is leaving Liverpool is "bullshit."
"Of course it's a league that I like, it's really exciting, but all these rumours I hear about Juventus are bullshit," he said.
"There is nothing true about it. I am not going to leave Liverpool.
"I know Serie A very well, I follow it and I like it but I am going to stay at Liverpool."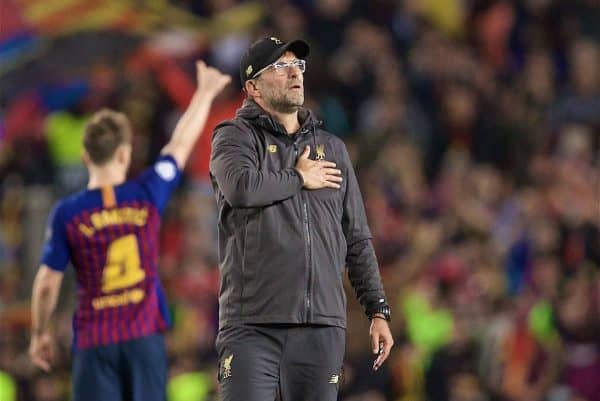 Few could have truly believed claims Klopp is leaving Liverpool, with the manager repeatedly stressing his love for the club and the need to build for the long term.
This is particularly the case given the progress he and his side are making, with the 97 points tallied in the league this season the most the Reds have picked up ever in their history.
At the club's UEFA Media Day on Tuesday, Klopp insisted he has "never been part of a final with a better team," adding that he is "not so surprised" at that fact.
"Because the boys are, how we call it, a mix of potential and attitude in the best way I ever witnessed," he explained.
"That's just brilliant, exceptional, and that brought us where we are."
There have been suggestions Klopp could sign a new contract with Liverpool, though that would be unprecedented given he has stayed for seven years as manager at both of his previous clubs.
His current deal expires in 2022, which would bring him up to seven years at Anfield.