Liverpool players were left with an overwhelming feeling of disappointment after the 3-0 defeat at the hands of Barcelona.
The Reds travelled to Barcelona for the first leg of their Champions League semi-final tie full of confidence after extending their winning streak to 10 in the victory over Huddersfield.
And while Jurgen Klopp's men translated that to the field of play having dominated large parts of the proceedings, they were ultimately undone by a lack of a clinical edge and the individual brilliance of their counterparts.
A perfectly timed run and finish from Luis Suarez saw the Liverpool head into the break behind but not out of contention, but after failing to steer a plethora of chances beyond Marc-Andre ter Stegen they were left to the mercy of Lionel Messi.
The five-time Ballon d'Or winner clinched a brace in the closing stages after first benefiting from in fortunate bounce of the ball, before dispatching an inch perfect free-kick from distance—a finish Andy Robertson labelled "world-class."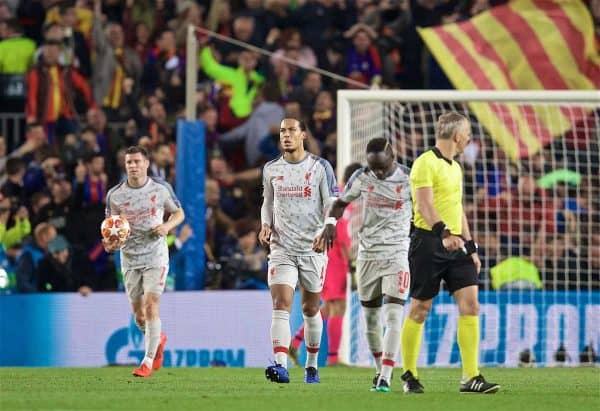 After the game the left-back felt the Reds had "played well" but were undone by a moment of genius and wayward finishing, as he also discussed the changes made to the starting lineup for the game.
He did insist, however, that Liverpool "will give it our all" at Anfield as the game at the Nou Camp showed the Reds "can get at Barcelona."
"We played well, we had chances that we never took and that's what is disappointing for us.

"We could have played better, but we played a good game and we've been undone by, probably, first goal perfect defending from us, second goal lucky and third goal was world-class.

"So, look from that point of view Barcelona can do that to anyone at the Nou Camp and unfortunately for us it makes it a wee bit harder because we played well.

"We worked on [Gini's role up front] as soon as the Huddersfield game was out of the way, Bobby was obviously struggling and you know our game is full of high pressing and Gini is full of legs and can do that, and we don't have fixed positions.

"Sadio and Mo were running in-behind so that one explains itself and Joe [Gomez] is a bit more of a centre-half/right-back so you know the boss went with him over Trent, and it could have been either one of them.

"Trent would have been disappointed but that's what the managers gets paid for, he gets paid to make the decisions and I don't think we can look at team selection.

"I think we were good enough and we played well, but like you said maybe didn't end up with the rub of the green.

"I think today's performance [gives us hope], we know we can get at Barcelona and the difference is that it's at Anfield and we hope that our fans get behind us and do everything they can to make it a good atmosphere.

"Hopefully they can do that and then we look forward to the challenge, we know how hard it's going to be but we've come a long way and we're not going to give up on our chances.

"We'll give it our all and if we fall short we fall short, but we'll leave everything out there next Tuesday."
Similarly, James Milner insisted the Reds could be "proud" of their performance but lamented the missed chances in the final third which meant missing out on a valuable away goal.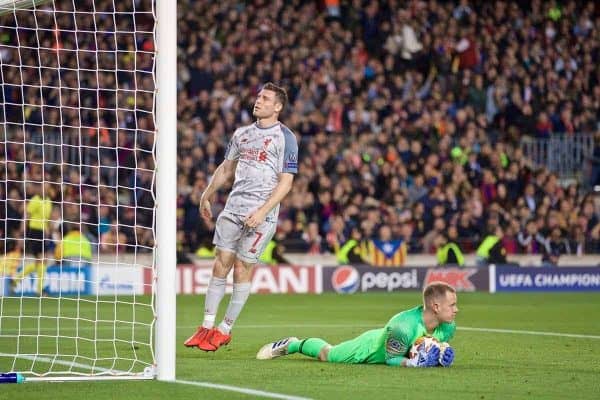 Although disappointing, the result at the Nou Camp ensures Liverpool know that a clean sheet is key to turning the tie around, and while it will not be easy Milner refused to rule out the possibility.
"Maybe we can take heart that we created chances in the game and we should have probably taken a couple of those, but it didn't happen and they are a top team who are always going to create chances and they took them.

"We can be proud of our play, but at this stage of the competition you need to get the result.

"With the score at 3-0 we needed a goal desperately at that point. But before that we were confident that we would score, and it's important to get a goal when you are away from home in the first leg.

"With the players they have got it will be tough to keep a clean sheet [at Anfield] but we've defended well all year, so if we can keep a clean sheet and start well then let's see what happens.

"It's tough to take at this stage of the competition and with the performance we put in. But when you come to places like this with the players they have, it's always going to be tough."
Despite their best efforts, the result is one which is hard to swallow and as such only Gini Wijnaldum and Robertson took to Instagram after the game.
The pair conceded it "wasn't our night" but now it is time to "bounce back" as "anything is possible" in the games which remain this season:
Klopp's side must now quickly pick themselves up and dust off the disappointment as a crucial trip to Newcastle awaits on Saturday evening, where the fate of the Premier League title remains in the balance.