Another Bundesliga club has emerged in pursuit of in-demand Liverpool midfielder Marko Grujic, if the club decide to loan out the Serbian again.
Grujic is set to return to Merseyside after a spell with Hertha Berlin which he described as an "OK year" in which his side "deserved much more" after finishing 11th.
The 23-year-old was one of the standout performers for Pal Dardai's side, scoring five goals and assisting another in 23 appearances as roving midfielder.
Though a pair of ankle injuries disrupted his campaign, that has not dampened interest in his services, with Hertha seeking renewed terms and Atletico Madrid, Lazio and Bayern Munich touted as possible destinations.
It remains to be seen whether Liverpool will sanction another loan, but if that is the case Werder Bremen will aim to be at the front of the queue.
That is according to Mein Werder, a sister publication of Bremen publication Weser-Kurier, who claim Florian Kohfeldt's side are interested in a two-year deal.
Werder are said to have reached an agreement with Liverpool last summer, but the Bundesliga outfit pulled out due to concerns over its length and the need for a "classic six."
But now with Kohfeldt looking to implement a two-man midfield system, Grujic has become a "priority" for Werder ahead of 2019/20.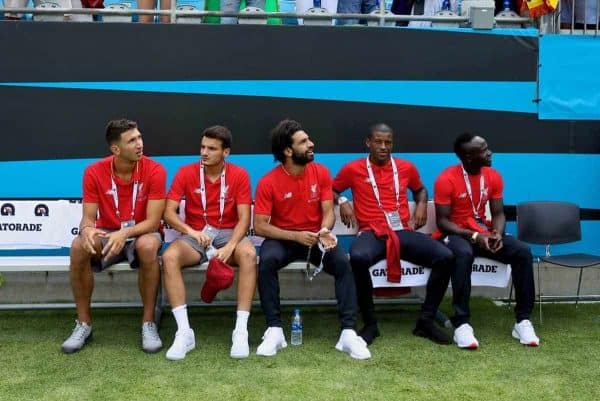 Talks between the two clubs "have been going on for weeks," they claim, with the chances of a deal "not bad," though a "quick decision is not to be expected" and any announcement could wait until August.
Liverpool have shown a "willingness to let the contract run for two years" despite Grujic turning 23 last month, as it would "offer better opportunities for development."
Mein Werder also cite the close relationship between Kohfeldt and Jurgen Klopp due to sharing a consultant.
The Liverpool manager is reportedly "very pleased with the Bremen style of play" and "believes Grujic is in good hands with Kohfeldt."
However, the deal is considered "extremely complex" due to the many parties involved, with the suggestion being that the midfielder could opt to stay with the Reds for pre-season.
Eintracht Frankfurt, who have also been linked with Harry Wilson, are mooted as another club interested in a player who could prove a big commodity this summer.