The media lauded Liverpool's "remarkable drive" in the 3-2 win at Newcastle and feel the least the Reds deserve is a final-day shot at earning title glory.
The Reds just refuse to relent in the title chase, with a dramatic win at St James' Park ensuring dreams of glory will be alive on the final day.
A late header from Divock Origi handed Klopp's side a priceless three points, after Christian Atsu and Salomon Rondon pegged back Virgil van Dijk and Mohamed Salah strikes.
After a tough night in Barcelona and with key injuries taking their toll, this was an incredible effort from the Reds who deserve immense credit for finding a way to prevail.
All eyes turn to the Etihad Stadium where we all now desperately hope Leicester can derail Man City on Monday night.
Before that, here's how the media assessed a crucial win at Newcastle.
The media were full of admiration for Liverpool's character and relentlessness in the title race…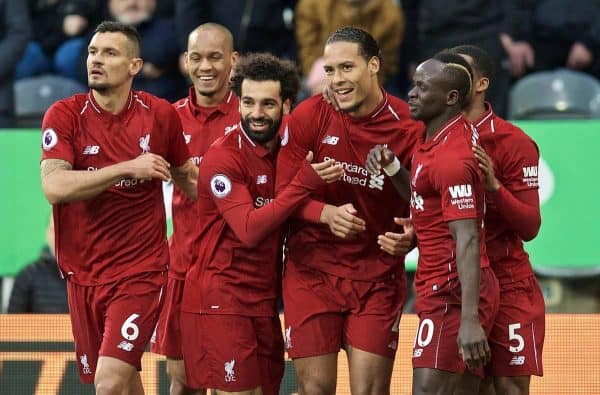 The BBC's Phil McNulty lauded Liverpool's "remarkable drive" and explained how this has been a key factor to the Reds' success in earning several priceless late wins:
Klopp's side are showing remarkable drive and resilience, illustrated by the manner in which they have won so many games in the closing stages, especially when the pressure has been on.

There have been prime examples at home to Everton and Tottenham but in recent weeks they have stayed the course to outlast opponents such as Fulham, Southampton and now Newcastle away from home.
Writing for Goal.com, Neil Jones is full of admiration for the way the Reds continue to come up with the answers at crucial moments:
Asked question after question, Liverpool once more found the answers. What must Manchester City make of this team? Where does it find its energy reserves, its courage, its character?

[…]

The pressure builds and builds, and Liverpool find ways to deal with it. Their bravery is unquestionable.
Standard Sport's David Lynch heaped praise on Klopp for his work in instilling such resilience and mental strength in his players:
As well as their countless other qualities, this Liverpool team possesses a rare sort of mental strength.

[…]

But they have a manager who never countenances giving up and, during his time at Anfield, he has instilled that throughout the squad he has built.
Reporters thought it was a game in which individual performances outshone that of the collective…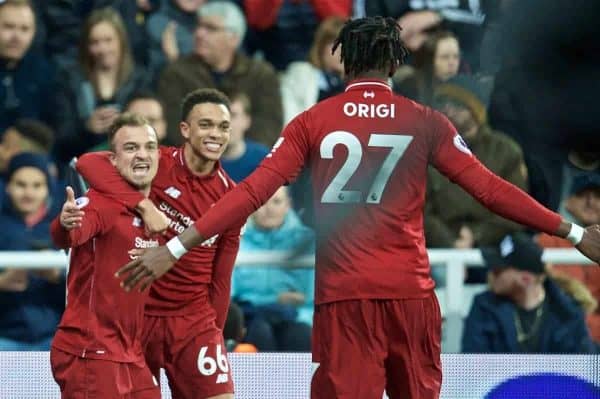 First off, the Telegraph's Jonathan Liew labelled Liverpool's defending "pretty shocking" but rightly noted that the victory far outweighed the performance at this time:
Their defending was pretty shocking at times.

[…]

But these were footnotes, mere bagatelles, on a night when Liverpool ensured the Premier League title race would be decided on its very final day.
Lynch thought a dire display from Dejan Lovren was a key reason behind that poor defensive display and thinks the Croatian's days at Anfield could be numbered:
Post-European weariness no doubt played some part, but it was not a good look for the rarely seen Dejan Lovren to be involved.

The Croatian has often been a target of supporter criticism and failed to convince up against Salomon Rondon here. Having been relegated to fourth choice centre-back of late, you wonder whether Lovren might be considering a summer departure.
However, the Mirror's Simon Bird downplayed performance concerns, explaining that the lack of sharpness was nothing to be worried about given midweek European exploits:
Not in terms of energy levels, but certainly in terms of their ability to cash in on their dominance.

[…]

In the last half hour the title chasers looked exactly like they'd had a big European game in midweek.
Discussing the top performers, the Telegraph's Sam Wallace reserved praise for "heroic occasional" Divock Origi for once again delivering a crucial contribution from the bench:
As for Origi, it is the second time he has made a critical intervention in the season, following his winner against Everton on Dec 2.

On that occasion he struck even later in the day and every team with title ambitions needs its heroic occasionals, unleashed periodically to change the course of the season.
The Mail's Dominic King was impressed with the performances of Trent Alexander-Arnold and Andy Robertson and labelled the duo the "finest full-back combination in Europe":
On a night of high tension, the indefatigable Robertson – whose value must now be eight times more than the £8million Liverpool paid for him in 2017 – and Alexander-Arnold kept running and probing to the bitter end.

[…]

Liverpool, arguably, have the finest full-back combination in Europe and Alexander-Arnold's two assists at St James's Park took their combined tally to 22 for the campaign, split 11 each. So many players get praise in Jurgen Klopp's squad that it can be easy to overlook what these men do.
Lynch thought Xherdan Shaqiri proved his worth in his impactful cameo and thinks it is strange that the Swiss international has not had more chances in the second-half of the season:
But if the Swiss entered the field as something of a surprise first substitute hoping to show his value, he more than did that in setting up the winner.

[…]

You wonder why the Reds' No.23 has struggled so much for minutes during the latter stages of the season given he has always looked bright when involved.
ESPN's Dave Usher praised Klopp for his selection of Daniel Sturridge and for showing faith in fringe players who stepped up and delivered to repay the German's belief:
Jurgen Klopp somewhat surprisingly went with Daniel Sturridge in the starting lineup, but the veteran striker performed well and justified his selection.

Two of Klopp's substitutes combined for the winning goal as Xherdan Shaqiri crossed for Origi to head home, so all in all a good night's work for the manager.
Certain journalists offered alternative thoughts from a tense night at St James' Park…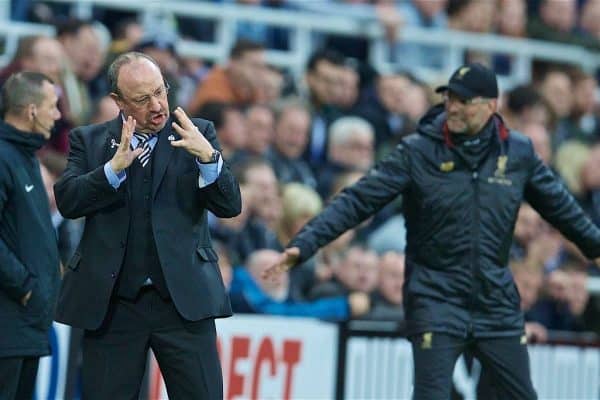 First of all, the Mail's Oliver Holt dismissed the notion that Rafa Benitez would ever hand Liverpool an easy result, noting how the Reds legend is too much of a winner to have done so:
Sure, he may have managed Liverpool between 2004 and 2010, winning the Champions League and FA Cup, and he may be part of the iconography that extends from Shankly to Paisley to Fagan to Dalglish and onwards.

But Benitez is also a relentlessly competitive animal, an obsessive who is always desperate to prove his worth and his ability to outwit a rival. The idea he might be somehow compromised by wanting Liverpool to win the league was absurd.
In contrast, Lynch thought Liverpool's lack of squad depth was highlighted as injuries mount up, and was slightly critical of Klopp for failing to address this issue:
And it would be churlish of the German to suggest poor luck has anything to do with it when a lack of strength in depth has long been considered his team's weakness.

Liverpool cannot afford to go another summer without addressing this problem or they will end up potless yet again next year.
The Mail's Rob Draper believes it is concerning how domestic leagues are now becoming "hugely unbalanced" as the Reds and Man City dominate the Premier League:
The fact that in England we have two teams who dominate does not hide the fact that here, as in France and Italy and often, though not this year in Germany, domestic leagues are now hugely unbalanced. In Spain, a duopoly tends to rule.

The gaps between them and us grow ever wider.
And, of course, reporters took a moment to discuss the title race ahead of the final day…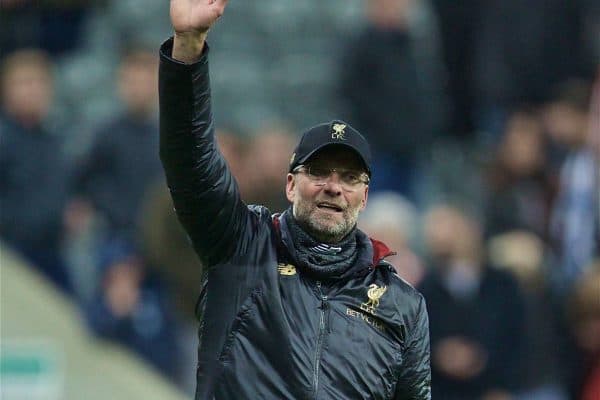 First of all, Draper assessed that Liverpool have been better this season than certain title winning sides of bygone seasons:
But plenty of teams in the past have won titles without being as glorious as this one.
Holt was pleased to see Liverpool take the fight to the last day as this is the minimum that Klopp's men deserve:
And so Liverpool fight on. And so this team that have been locked in such a compelling duel with City will host Wolves on the final day still in with a chance of overhauling City, who will be at Brighton.

After all that has passed in this season where they have lost only once, it is the least they deserve.
The Guardian's Andy Hunter rightly assessed that Liverpool could not have done any more to dethrone Man City:
Wherever the Premier League title ends up, and for Liverpool there remains hope it will be Anfield, Jürgen Klopp and his players know they could not have given any more.
And finally, Jones believes that whoever wins the title deserves nothing but immense credit and respect for their efforts during a remarkable title race:
Whoever lifts that trophy next weekend, we should applaud and appreciate them. These are two special football sides.