Following Liverpool's staggering 4-0 win over Barcelona on Tuesday, we discuss everything great about a memorable Reds triumph.
What a football team this is.
Even by Liverpool's standards this was a comeback of epic proportions, having been defeated (harshly) 3-0 at the Nou Camp last week.
Not many gave Jurgen Klopp's side a hope of progressing to the Champions League final, but this a unique squad and they produced a legendary performance at Anfield.
Divock Origi's early strike gave a narrow half-time lead, before Gini Wijnaldum came off the bench to bag a speedy brace.
Origi scored the decisive goal late in the day, finishing in front of the Kop after remarkably quick thinking from Trent Alexander-Arnold.
A place in next month's final in Madrid has been secured, as Klopp and his players look to go one better than last season.
Henry Jackson (@HenryJackson87) was joined by fellow This Is Anfield regulars Chris Williams (@Chris78Williams) and Matt Ladson (@mattladson) to discuss all the positives from a crazy night on Merseyside.
The good…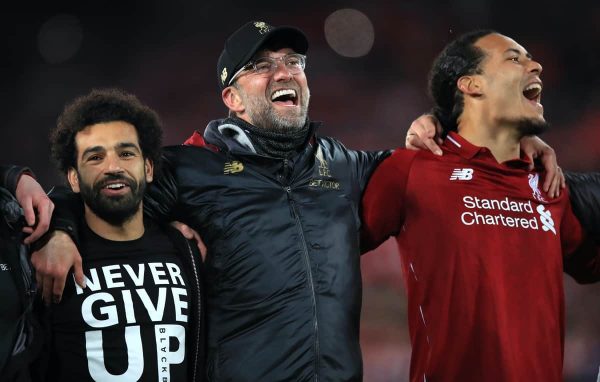 CHRIS: Everything – I'll be honest, I had no appetite for the game. I arrived at Anfield to work (Chris was at the game as a journalist), it felt like a non-entity.
Thankfully the 55,000 fans that paid to go didn't have my doubts. Never have I seen the stadium like that before – not to that magnitude.
Everyone inside the ground played their part. It was a magical Anfield night for a new generation.
Don't listen to your dad, mum, nan or grandad – that was your night, your time. I'm struggling to narrow the 'goodness'.
HENRY: That was my favourite match since Istanbul, there I've said it. There have been some contenders in that time, but none have given me so little sleep afterwards.
That was an astonishing performance from the first kick to the last – the Reds needed to be perfect and they were, up against a really top side.
It is almost impossible to single out individuals because so many were phenomenal, but I think a handful deserve a special mention.
Alisson's saves were huge, showing exactly why he is one of the world's best goalkeepers, while Matip was immaculate at the back, as he has been for weeks.
I thought Fabinho was man of the match, putting in probably Liverpool's best midfield performance of the season, with Jordan Henderson not far behind.
Then there was Alexander-Arnold, Wijnaldum and Origi, all of whom had the biggest say in proceedings with either their goals or assists.
The Anfield crowd also did their best, as always in Europe, arguably creating the best atmosphere since Chelsea back in 2005.
Oh, and Jurgen Klopp wasn't too shabby on the night either. This team are just the best, I love them.
MATT: There's so much to digest and so much praise to give. In many ways, it wasn't just about last night, this was about a whole process under Klopp and the squad the club have assembled.
These are players who are good people, who have character, desire and determination like no other squad I've ever seen. Then they have their inspiration in Klopp and the supporters.
They understand what it means to represent this club and this city. They aren't here to get a paycheque and move on. Klopp spoke post-match about righting the wrong of the final last year. They have their own belief and you shouldn't listen to naysayers.
This group of players have now provided the greatest ever comeback in Liverpool FC history, and the highest ever points total in Liverpool FC history. Give them the credit they have earned.
One thing, I thought our control at 1-0 was excellent, we didn't go gung-ho and showed superb maturity to keep it (relatively) calm, knowing we had plenty of time. I really appreciated that!
The 'bad'…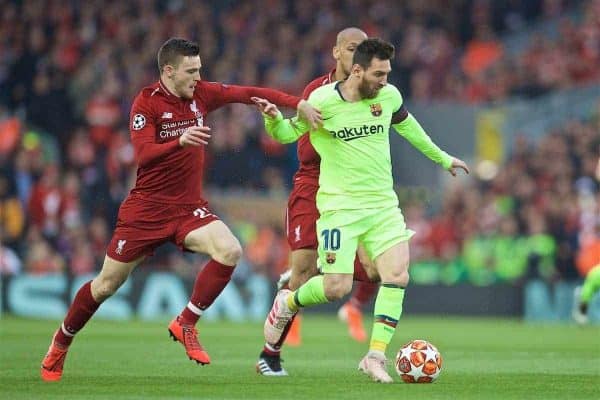 CHRIS: Everyone in that ghastly Day-Glo yellow monstrosity, and me forever doubting Klopp and his players.
But mostly Coutinho, who was outperformed by two plastic bags that blew across the pitch whilst I was still trying to fathom what I'd witnessed.
We can wax lyrical about just how bad Barcelona were, but in truth it was the superiority of Liverpool in every position on the pitch that made the Catalans perform as badly as they did.
HENRY: If you can sit and find negatives on a night like that, go and take up rugby or something else equally inferior to football.
Yes, Shaqiri had a poor first half, but even he was vastly improved after the break, showing great character.
I feel for you if you can't only feel ecstatic about a game like that.
Coutinho and Suarez had stinkers, which was nice.
MATT: Yeah Shaqiri wasn't great first-half, but then you expect that when the manager hasn't played him for four months – weird one that!
The ref was poor, especially first half. Has anyone worked out what on earth he was VAR checking after Gini's first goal yet?!
I hadn't realised how poor Coutinho's shot at 1-0 was until I watched back the highlights. No wonder he's getting hammered in the Catalan media.
…and what it meant to you…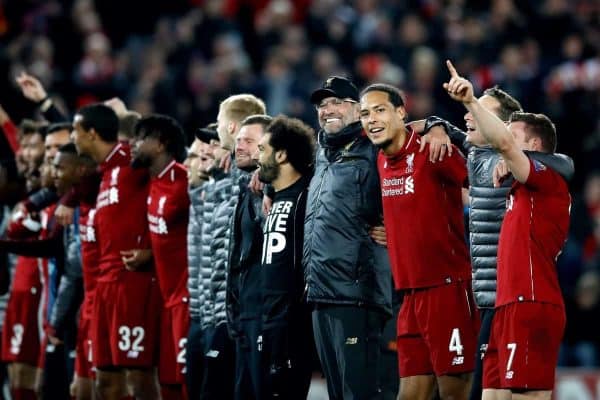 CHRIS: I can't put into words what it was like in the stadium, but I've got to so bear with me. It was a rollercoaster ride, but one without dips – just a constant uphill journey, the nice bit.
For once there was no drop, no uncontrollable descent that felt out of control, scary, on the edge – no need to put your arms out to make it look like you're not bothered by a fast descent towards the ground at a breakneck speed.
It was the best ride ever, one that I didn't want to get off – we could still be playing now; Origi and Wijnaldum would be battling it out for their 15th hat-trick each, Suarez would have cramp in both arms from the amount of times he'd thrown them up in the air due to frustration and Messi, well he'd be stuck with that 'face' – you know, the one your mum would warn you about would stick if the wind changed.
Because the wind did change, against all odds and it was something that will live forever.
HENRY: I'm not as emotional as I used to be watching games, partly due to actually working during matches and trying to keep a cool head.
Crushing defeats don't devastate me as much and memorable wins don't necessarily lead to me celebrating quite as manically.
This was different, though – I was on the verge of tears at full time and really did feel the proudest I have ever felt of a Liverpool team. The adrenaline was through the roof.
They deserved to go through after actually playing well in Barcelona, and as I keep telling anyone who isn't yet bored of my company, it would be a travesty if such a great side goes trophyless this season.
I will always treasure this match, even if Liverpool end up falling short in the final.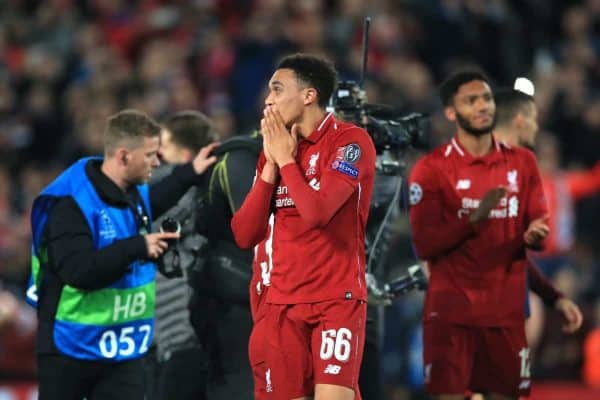 MATT: I didn't think Dortmund would be topped in terms of comeback atmospheres but this has well and truly crushed that.
I genuinely still haven't taken it all in, but having spent the morning consuming BT's brilliant post-match coverage, it's sinking in slowly.
Now, we must win in Madrid in order for this to be truly remembered as one of, if not the greatest nights in Anfield's history.