Jurgen Klopp said he would "remember it forever" after his Liverpool side won 4-0 at home to Barcelona to reach the Champions League final once again.
The Reds were given little chance of overturning a 3-0 defeat from the first leg at the Nou Camp, but headed to Anfield full of belief regardless.
And roared on by an incredible Anfield crowd, they did exactly what was required, dominating Barcelona and booking their place in Madrid through braces from Divock Origi and Gini Wijnaldum.
Liverpool will now play either Ajax or Tottenham in the final in Madrid on June 1, and will be motivated by a night that encapsulated why Klopp believes "this club touches you like crazy."
"I will remember it forever, 100 percent," he told reporters at Anfield.
"I don't know if it happened before and I don't know if it can happen again. I really don't know. The boys did it and it was brilliant."
Reaching the final has particular resonance given the events in last year's clash with Real Madrid in Kyiv, in which Mohamed Salah's shoulder injury and Loris Karius' concussion paved the way to a miserable loss.
"Last year we really felt we have to go back, we cannot let it stand like this, that's not possible," Klopp explained.
"Now we get another chance, and we will go for that of course.
"I'm not sure that [a night like this] will happen again, because it's so special.
"What the boys did tonight, when I saw the boys after the game and I saw tears in their eyes, that's football, and they're professionals and it's still like this.
"This club touches you like crazy, you feel much more than others. It's really great, I love it."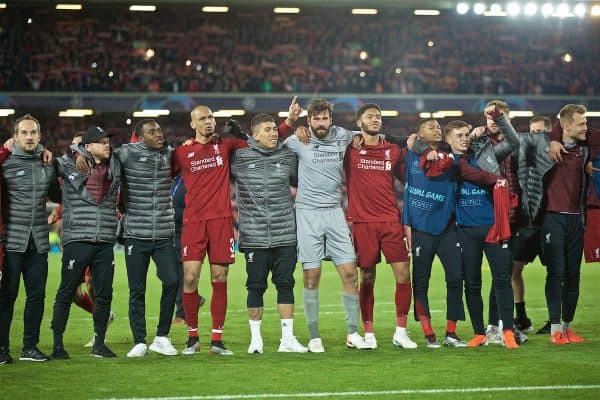 Liverpool were without a trio of key players on the night in Salah, Roberto Firmino and Naby Keita, with Alex Oxlade-Chamberlain also missing out as a precaution.
The issue was compounded as Jordan Henderson took a knock to the knee and Andy Robertson was forced off at half-time with a calf injury that will require a scan on Wednesday.
"Tonight was really intense. We started without Bobby, Mo and Naby, Ox not available but only [because] we rested him—hopefully an option for the weekend," the manager said.
"Then Hendo got an unbelievable kick against his knee, he didn't feel his patella, that obviously doesn't help in football; Robbo got the heel of Suarez against his calf.
"So you saw both limping, then Virg goes down, then Sadio goes down, and you just think 'OK, it would help if we could finish the game with 11'.
"So we will see, we again try to collect the bones and go again against Wolves."
As Klopp says, Liverpool now need to turn their focus to the visit of Wolves on Sunday, as victory could still secure them the small matter of the Premier League title.
* Video source: ISNTV