Speculation over Dejan Lovren's future continues to rumble on after Liverpool placed a £25m pricetag on his head, leaving fans with the question of to sell, or not to sell?
The conclusion of the regular season and the start of the summer always opens up the debate over incomings and possible outgoings, as clubs seek to ensure the strongest possible squad is assembled for the new campaign.
And it's a point of discussion Lovren often finds himself in the middle of, following a topsy-turvy five-year career at Anfield.
The centre-back has proven to be a polarising figure among the fan base due to the levels of his performances and an injury record which leaves question marks over his reliability.
It has seen him move down to fourth in the pecking order behind Vigil van Dijk, Joe Gomez and Joel Matip; raising the question of if Liverpool would be best-served parting ways with the Croatian.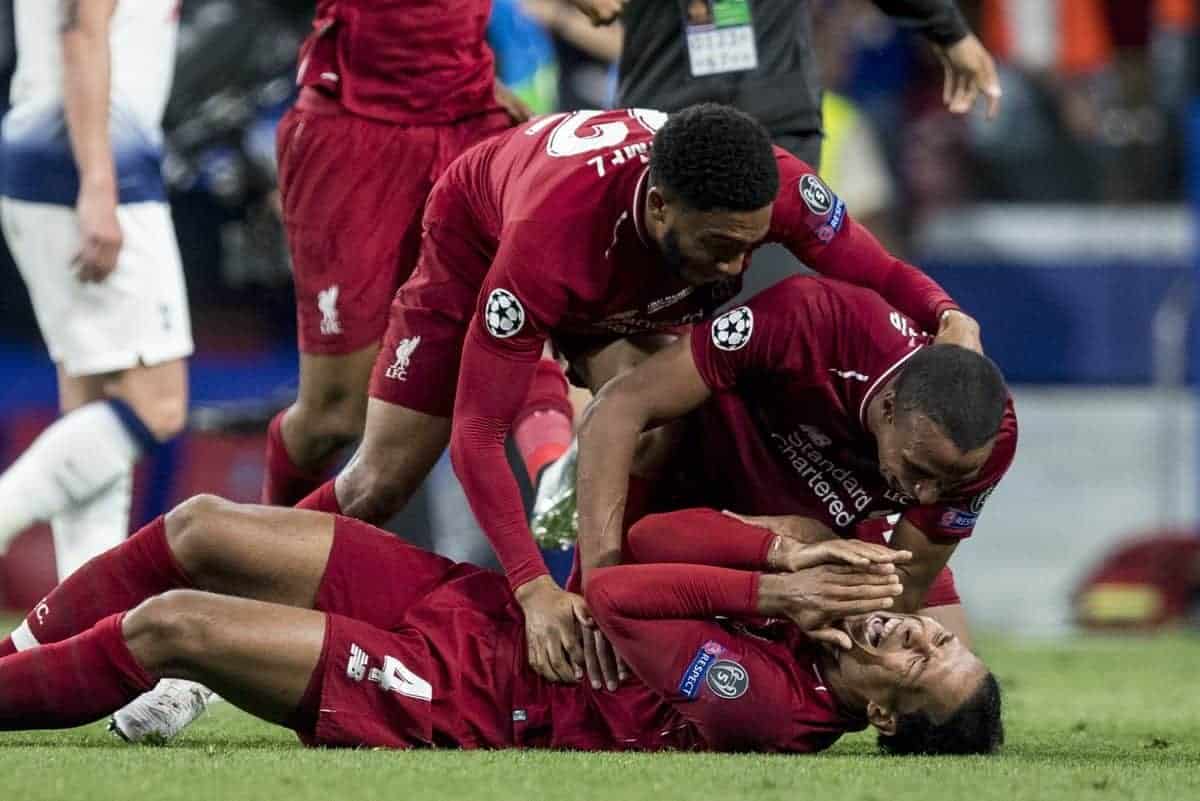 Lovren's market value is likely to be at its highest this summer as his contract continues to dwindle down into its last two years and, as a result, the Reds are willing to consider selling the defender should an offer of £25 million be tabled.
While the 29-year-old's downfalls have been well-documented, the opposing side of the argument is that the Reds would struggle to find a better option as a fourth-choice centre-back.
This Is Anfield asked fans on Facebook and Twitter if Liverpool should keep or sell Lovren should a £25m bid be received, and the results were unequivocal.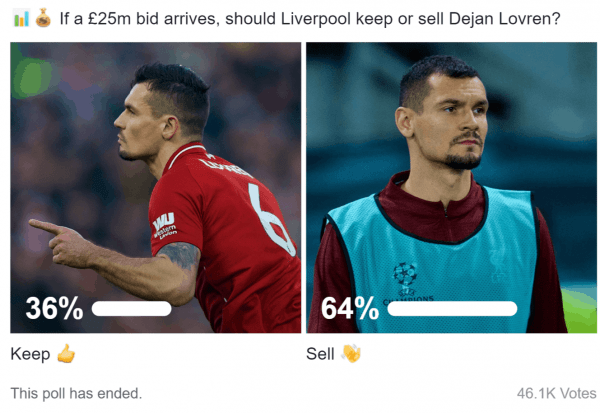 Of the 46,100 fans who voted on Facebook, 64 percent were of the mind that the Reds should cut ties with the defender if a club matches Liverpool's £25m valuation.
A common view was that the Reds could do better than Lovren, and that it would be a sensible move for the club to receive a greater return for him then their initial outlay.
"Sell. Decent player but prone to some amazing howlers. With the younger crop coming through and Matip having a wonderful season beside Van Dijk, it would be smart business to push through the sale," Andrew Lawlor wrote.
"It's £5m more than what we paid for him, hasn't improved at all, in my opinion, and now he is fourth choice. So, get rid," Steven Elrick argued.
Meho Hadzic wrote: "Sell, need to start thinking bigger and better. Top defender, just not good enough."
But for many it was more of a case of needing assurances that another quality addition would be brought into the fold before sanctioning Lovren's departure.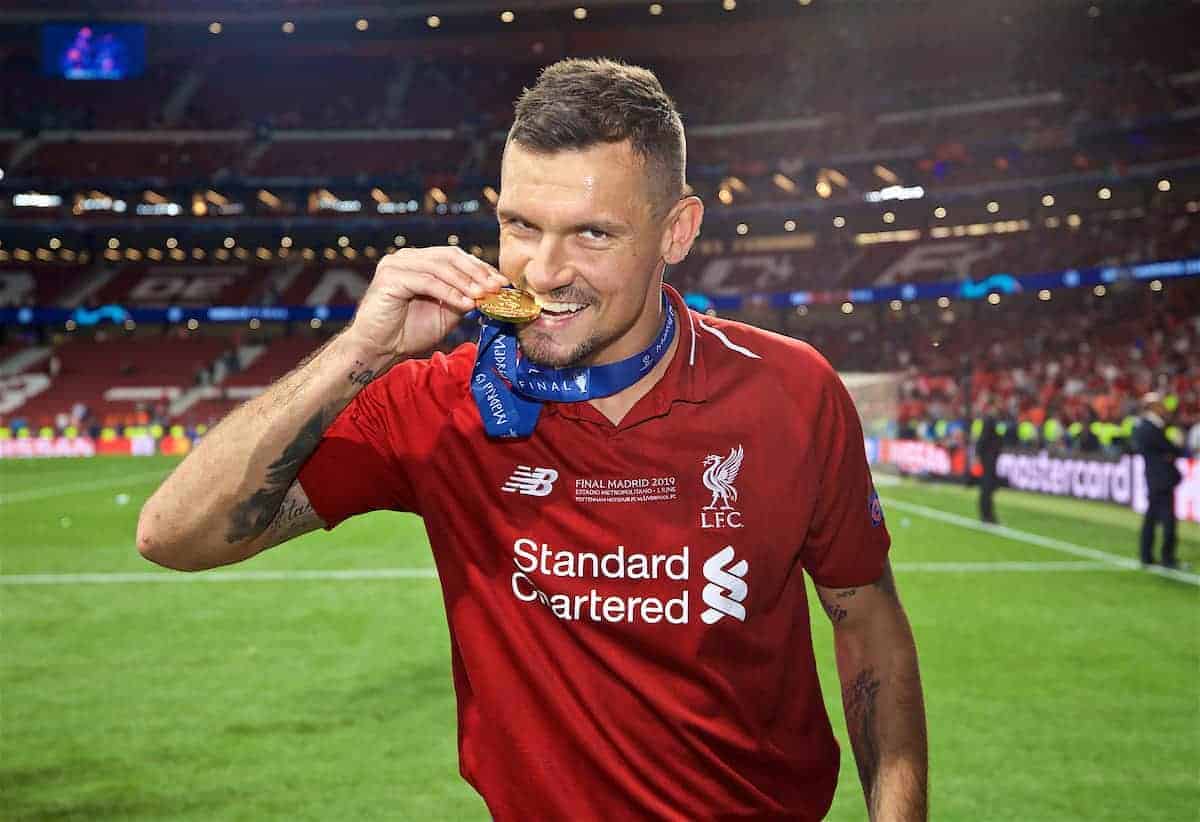 "Caveat, as long as we bring someone better in. If not, keep him. He's still a quality backup option," Benjamin Stephen Jones argued.
A view supported by Gaz Atmore who wrote: "We were down to one fit defender at one point last season, so unless we buy a replacement I don't think he should be sold."
On the other side of the coin, fans felt Lovren's passion and popularity within the dressing room, and the fact that Liverpool would be hard-pressed finding a quality player willing to be fourth choice, were reasons enough to see him stay.
"He's a top character and a leader in the team. You won't find his quality who will settle for fourth choice," John Knowles explained.
A sentiment echoed by Ikko Shibuya, who wrote: "Name one central defender who has the experience of Lovren that we can get for £25m. He's also got passion for the club; something money can't buy."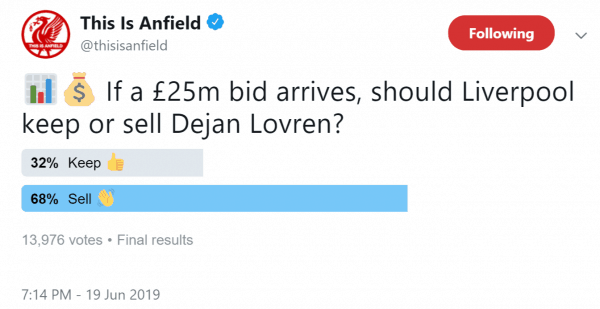 It was a similar landslide on Twitter, as 68 percent of fans were in favour of selling the Croatia international.
"Definitely sell, I know he seems like a very likeable guy but he's just not good enough for us.
"He's getting older, he has a high salary for fourth-choice CB and the main issue is that he's more injured than Lallana! £25m would be an absolute robbery," @AndersDragstedt argued.
"£25mil for a player reaching his 30's is a no brainer to sell. Not just because it's Lovren, but someone of that age we need to cash in on, and we could sign a young player for backup," @ShaneOFlynn01 explained.
For @bobbygunn8 it's a case of being unlikely to find a suitable replacement at a similar price: "Depends on Lovren, if he's happy to be fourth-choice then it's a no brainer to keep him.
"100 percent not getting a better fourth-choice centre back than Lovren, and especially won't get one for £25m in this market."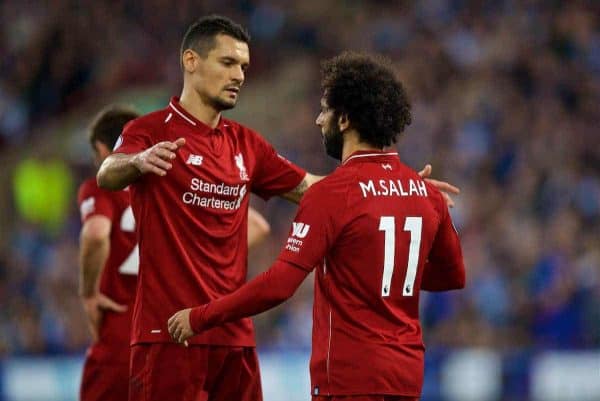 @SarahB_MSRE echoed the thoughts of Jones, Badro and Atmore, writing: "Sell all day, as long as you get someone better. Love Lovren, but I get scared when he's on the field still."
"Just depends really, if we sell, we need to get someone better who is willing to sit on the bench," @ScouserChrisLFC added. "If not, I'd keep him."
The results paint a convincing view of what a sub-section of the fan base feel is Liverpool's best course of action, and only time will tell if it's the route the club take.
But the other consideration will be whether Lovren, who has featured 170 times for Liverpool over his five seasons at the club, will be content with being fourth in line.