An exponential rise to the elite bracket continued for Andy Robertson after yet another remarkable season in Liverpool colours throughout 2018/19.
Robertson was a figure of unparalleled consistency for Liverpool in a season which saw him hit new heights and cement himself among the upper echelon of players around the world.
Since breaking into the side in the 2017/18 season the Scot has gone from strength to strength, coupling defensive astuteness with attacking prowess.
The importance of Robertson's role within Jurgen Klopp's system is indisputable, and he is a key member of the creative hub having established a prolific partnership with Trent Alexander-Arnold—which returned 29 assists.
It was a combination which went a long way in securing the club's sixth European Cup and taking Liverpool to the cusp of a long-awaited league title.
Andy Robertson, 2018/19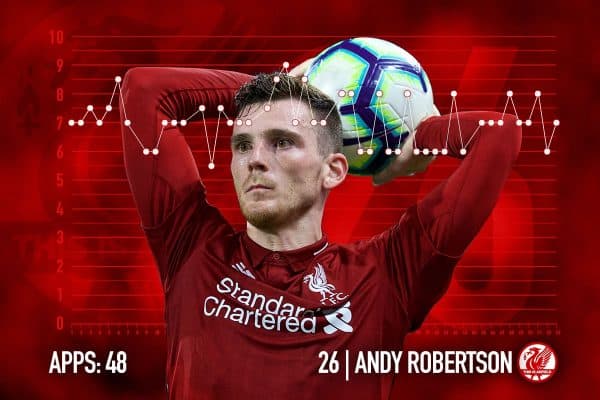 Started: 48 (All competitions)
On as a substitute: 0
Unused sub: 1
Goals: 0
Assists: 13
Our Overall Season Rating: 9.5
Average TIA Player Rating: 7.05 (Rank: 5th)
Last year's average TIA Player Rating: 7.35
Meteoric Rise Continues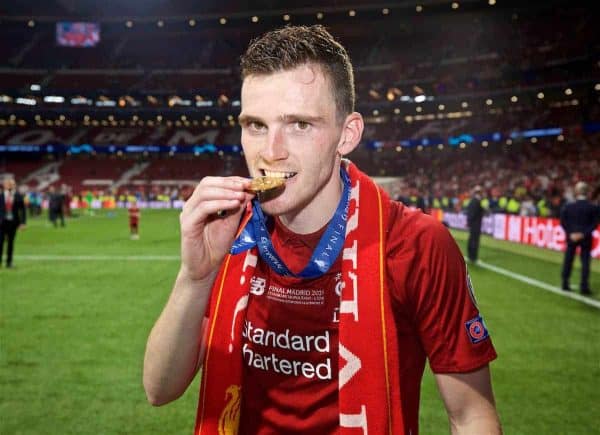 From scepticism over what appeared to be an underwhelming signing at the time to a European champion and one of the leading players in his position in just two years, Robertson's rise has been nothing short of remarkable.
The 2018/19 campaign was his first full season as Liverpool's first-choice left-back, and it was one epitomised by an incredible level of consistency and proficiency in his duties within a multifaceted role.
Defensively he is assured and astute, and on the offensive front he is as prolific as they come having notched 13 assists across his 48 appearances—a tally even wingers struggle to reach.
And it was a case of start as you mean to go on for Robertson as it took little time for him to lay the blueprint for the season ahead.
He helped get the Reds off the mark in the first league game against West Ham, with a sumptuous delivery for Mohamed Salah.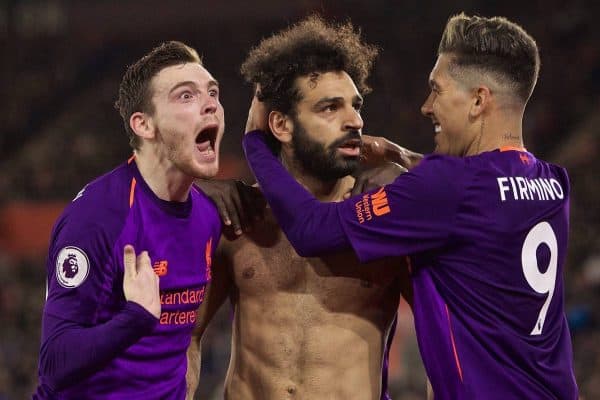 A multitude of exquisite deliveries into the box would follow throughout the season but, significantly, five of his assists culminated in Liverpool's opening goal and a subsequent win (West Ham, Leicester, PSG, Red Star and Tottenham).
And although he lost out in his in-house assist competition with Trent don't think he won't be out to turn the result in his favour next season.
Ultimately, it isn't just his prowess in the final third which saw him named in the PFA Team of the Year, it's also his inability to neglect any of his defensive duties.
This was exemplified by his last-gasp block on Christian Eriksen to deny a certain goal, a timely intervention on Lionel Messi at Camp Nou and an expertly handled one-on-three counter-attack in the same game which ensured Liverpool had the platform to turn the tie in their favour the following week.
And we know how that one turned out…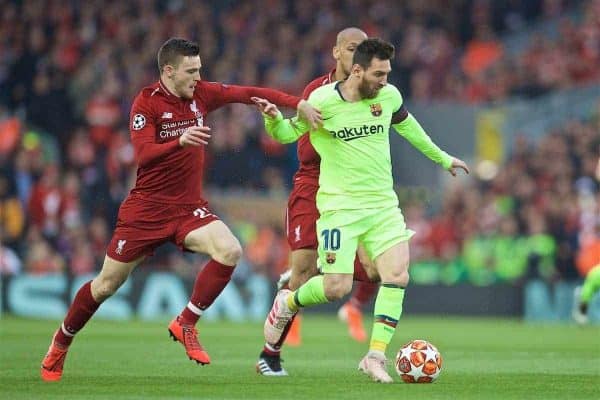 His tireless work ethic and durability make it possible for him to back up such performances week in and week out, and it is a testament to his character and desire to not stagnate and rest on his laurels.
And to say it would not be outlandish to currently consider him as one of the world's best left-backs only goes to show how far he has come in such a short space of time.
Tenacious and Aggressive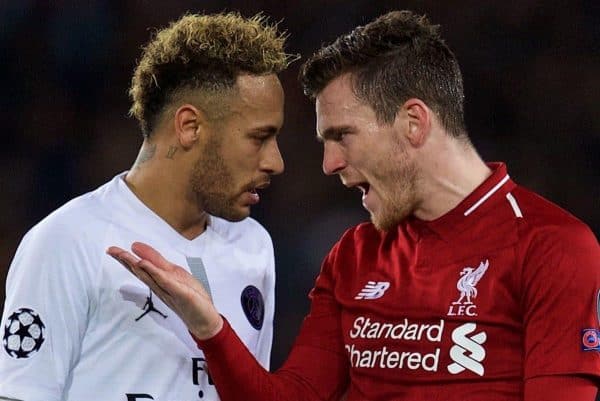 He'd already endeared himself to the Liverpool supporters last season and assumed a cult hero status, leading to "oh Andy, Andy" being heard on the regular from all corners of Anfield.
But this season his intensity was gone up a notch, as was his no-nonsense approach which ensured he was not afraid to get in the opposition's face, just ask Neymar and Messi.
In previous years Liverpool have been too 'nice' to their rivals, failing to ruffle their feathers and lacking the level of snide required to take the opposition out of their stride.
But Robertson is one who is not going to back down from a confrontation, and if anything he thrives off it.
It ensures he plays with a level of swagger which is indicative of both his position in the team and Liverpool's continued rise to the top.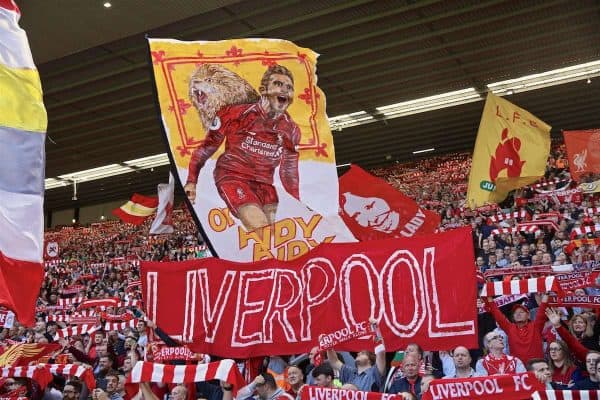 Moreover, he often sets the tempo with his unrelenting runs down the left flank, but he isn't just all lungs as his controlled aggression allows those ahead of him to prosper, most notably his left-sided partner in Sadio Mane.
Robertson epitomises what it is to play for the Reds and his tenacity is a crucial ingredient for not just his individual success, but also Liverpool's as they look to continue their assault on both domestic and European fronts.
A leader in his own right with an infectious spirit; and who said nobody wants the left-back's shirt?!
Improvements & Future Role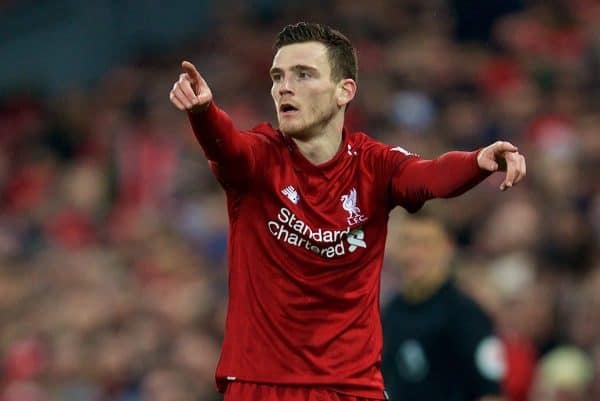 Robertson has experienced an exponential rise since his career took off at Liverpool and, alarmingly for members of the opposition, he's not showing any signs of slowing down.
At 25, he is only just entering the prime years of his career and he is Klopp's undisputed first-choice left-back, but he is likely to see an understudy brought into the fold following Alberto Moreno's departure.
Expectations will no doubt rise in line with his level of performances, but he has the mentality to both shoulder and flourish under them.
Finding scope for improvement for Robertson is no easy feat, but while he is the epitome of consistency a lapse in concentration has seen him come unstuck on a handful of occasions.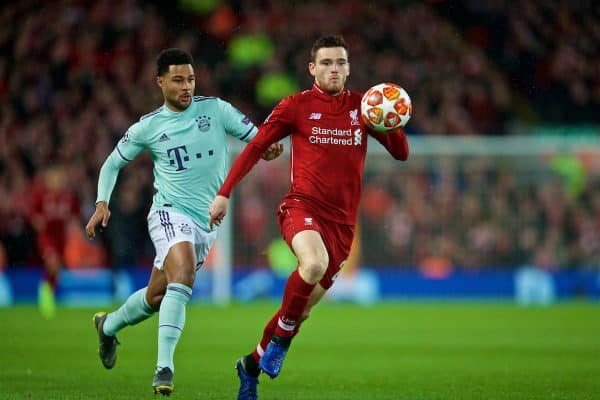 It is nitpicking to the finest degree, but he can hardly be perfect at every moment.
Moreover, after finding himself in dangerous areas in front of goal and threatening to nestle an effort in the back of the net in the latter stages of the season, he could look to add more goals to his own name.
One thing is for sure and that is his star will undoubtedly continue to rise next season…and to think he set Liverpool back just £8 million!
---
Best moment: Any number of his assists could take the crown but roughing up Messi with a shove to the head is too good to overlook.
Worst moment: Giving away a needless free-kick against Leicester which proved costly.
Role next season: Key player integral to Liverpool's success and one of the world's leading left-backs.