We have been producing our post-match Player Ratings throughout the 2018/19 campaign, but who comes out on top in the season-long averages?
There is one match remaining for Liverpool this season: a defining Champions League final meeting with Tottenham in Madrid on 1 June.
It has been a thrilling nine months, as the Reds reached a club-best total of 97 points, agonisingly falling short to Man City in the Premier League title race.
Much of the campaign has seen positive ratings produced after matches, with This is Anfield's collection of writers rotating in the role each week.
Having averaged out the rating for every player in 2018/19, here are the results ranked from best to worst, from the 19 players who have made a minimum of 10 appearances.
(Note: ratings are judged on starts, not substitute appearances, unless they came off the bench before/at half time)
1st – Virgil van Dijk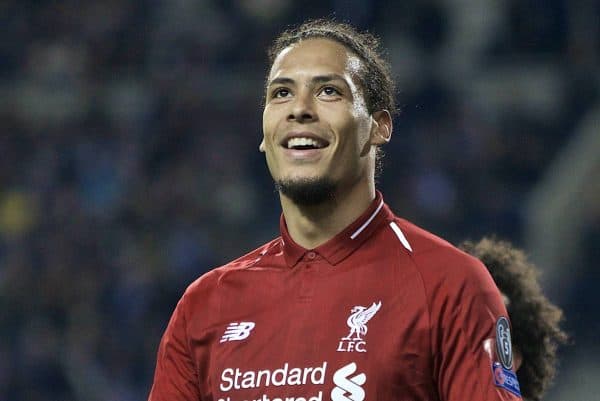 Appearances:49
Average Rating: 7.55
Was there really any doubt about Virgil van Dijk topping the pile?
The Dutchman has put together a season of unrivalled defensive brilliance, combining world class positional sense, pace, power and leadership.
Van Dijk earned a perfect 10/10 rating for his performance at home to Watford, when he scored twice and helped Liverpool keep a clean sheet.
If anything, it's a surprise his average wasn't slightly higher.
2nd – Joe Gomez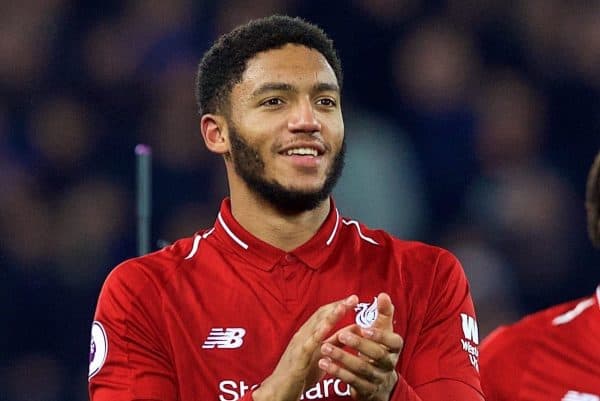 Appearances: 24
Average Rating: 7.28
It's easy to forget what a commanding, consistent presence Joe Gomez was before breaking his leg, as highlighted by him finishing runner-up to Van Dijk.
In fact, there was a point when he was performing as well as his teammate, which is the ultimate compliment, when you consider Van Dijk's standing in the game.
Gomez didn't get lower than a 7/10 until the defeat to Paris Saint-German in late November.
3rd – Fabinho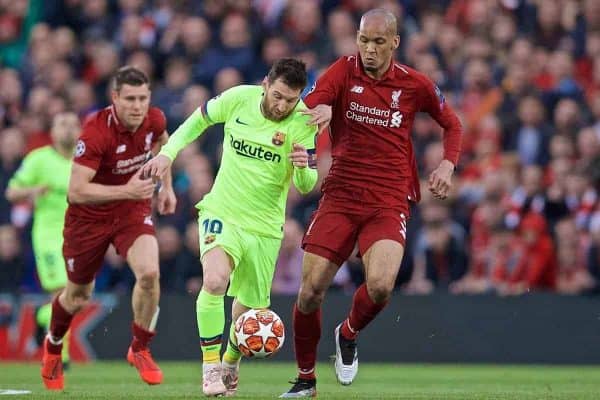 Appearances: 40
Average Rating: 7.16
This may surprise many, but it is testament to the strides made by Fabinho after a slow start at Liverpool.
The 25-year-old has now become an undisputed key man and he will mature into one of Europe's best No.6s, if he isn't already.
A 9/10 showing in the 3-1 win at home to Man United stands out as a season-best display, but he was also fantastic against Barcelona in the Champions League semi-final second leg.
4th – Sadio Mane

Appearances: 49
Average Rating: 7.06
It would be unfair to say that Sadio Mane's season has been one of two halves, but he has been mesmerising since the turn of the year.
His performances were more patchy up until Christmas, with many 6/10 ratings handed to him, but he has found an incredible level in recent months.
The Senegalese received a deserved 10/10 for his stunning showing away to Bayern Munich, in which he scored one of Liverpool's goals of the season.
5th – Andy Robertson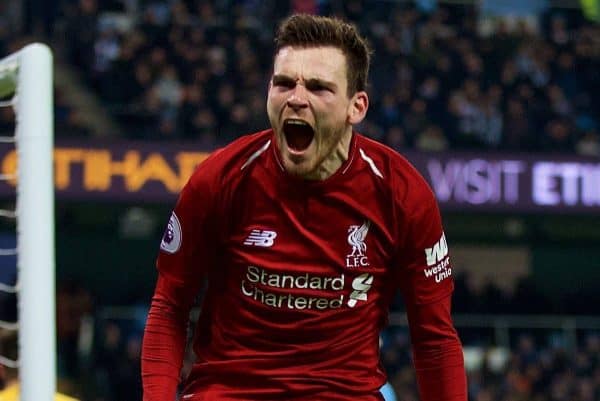 Appearances: 47
Average Rating: 7.05
It is actually surprising that Andy Robertson hasn't finisher higher, given the remarkable levels of consistency he shows week in, week out.
Last season's winner has to settle for fifth place, though.
Only one rating throughout the entire campaign was less than a 6/10 – a 5.5/10 away to Red Star Belgrade – as the Scot continues to thrive.
6th – Xherdan Shaqiri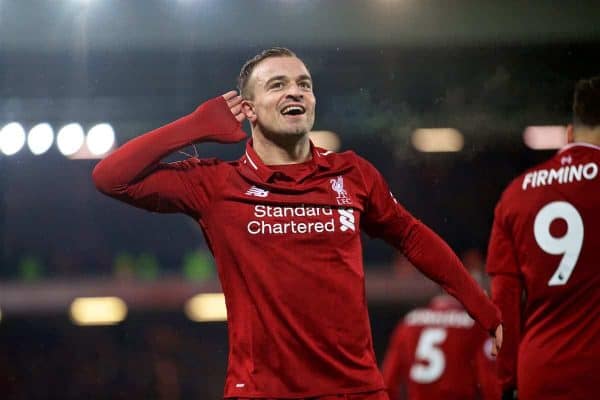 Appearances: 30
Average Rating: 7.03
Who else is shocked by this one?
Xherdan Shaqiri has found himself in the wilderness in recent times, but there was a spell when he was shining as a regular in Klopp's previous 4-2-3-1 formation.
The match-winning display at home to United stands out, but the Swiss only got above a 6/10 once in his last four starts of the season.
7th – Joel Matip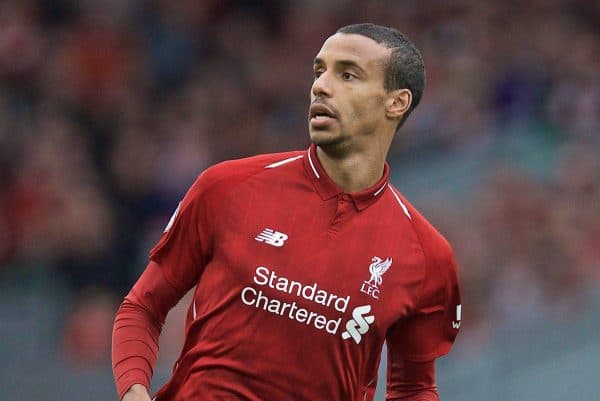 Appearances: 30
Average Rating: 7.02
Joel Matip has reached a level not many thought he was capable of in the back-end of the campaign, shining alongside Van Dijk.
To finish with an average just higher than 7/10 is testament to his level and he was impressive as anyone over two legs against Barcelona.
At one stage he looked certain to leave this summer, but that had swiftly changed.
8th – Roberto Firmino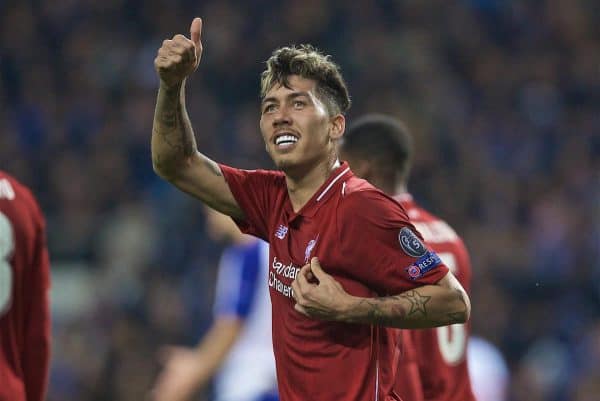 Appearances: 47
Average Rating: 6.92
Still vastly underrated by the those outside of Merseyside, Roberto Firmino has enjoyed another good season for the Reds.
The hat-trick against Arsenal earned the Brazilian a perfect 10/10 rating, although a low point was the 4/10 in a woeful display at West Ham.
The good clearly outweighed the bad.
9th – Alisson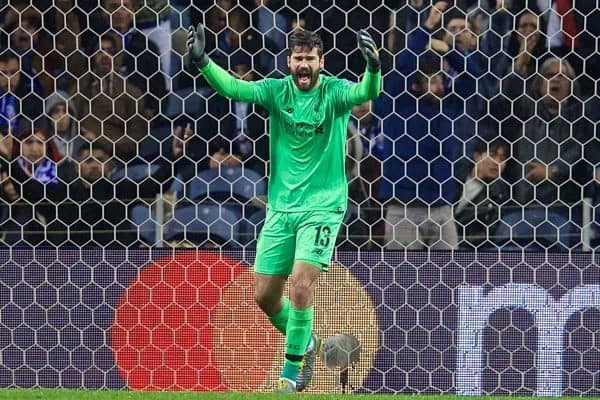 Appearances: 50
Average Rating: 6.82
How has Alisson finished lower than Shaqiri, I hear you say? That's the bonkers nature of Player Ratings!
In truth, not having had a huge amount to do in lots of games has ultimately worked against the goalkeeper, with not many star showings thrown in.
That being said, the 26-year-old has produced when it really matters, as a 9.5/10 and 10/10 against Napoli and Barcelona, respectively, shows.
Liverpool's season would be over without that last-gasp save against Napoli.
10th – Naby Keita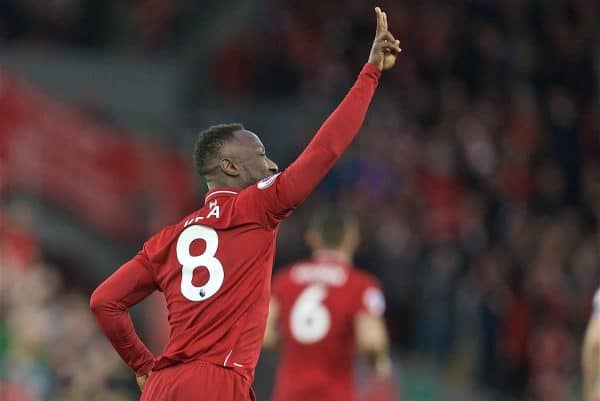 Appearances: 33
Average Rating: 6.81
Naby Keita arrived as arguably the Premier League's most exciting signing last summer, but a stop-start campaign saw him struggle to excel.
The Guinean still produced plenty of positive moments, though, and was awarded an 8.5/10 away to Burnley in December, after putting together an eye-catching midfield performance.
He will only improve next season.
=11th – Mohamed Salah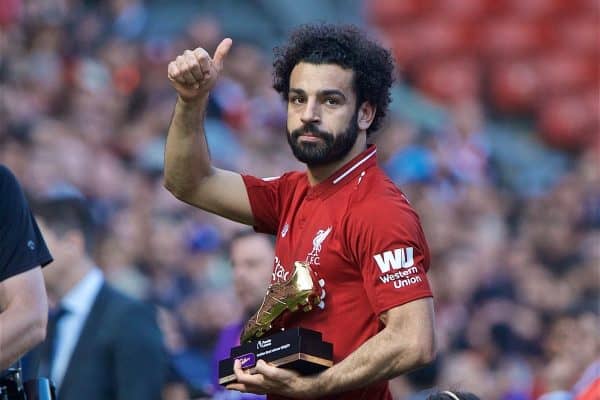 Appearances: 51
Average Rating: 6.79
Considering Mohamed Salah shared the Golden Boot with Mane and Pierre-Emerick Aubameyang, his ranking has to be seen as a surprise.
Liverpool's No.11 made an up-and-down start to the season, following his Kyiv heartbreak and injury-plagued World Cup, with eight of his first 11 starts leading to a 6/10 or less.
Salah has gone up a gear as 2018/19 has gone on, however, and his 10/10 performance at Bournemouth, which saw him bag a hat-trick, was a standout game.
=11th – Jordan Henderson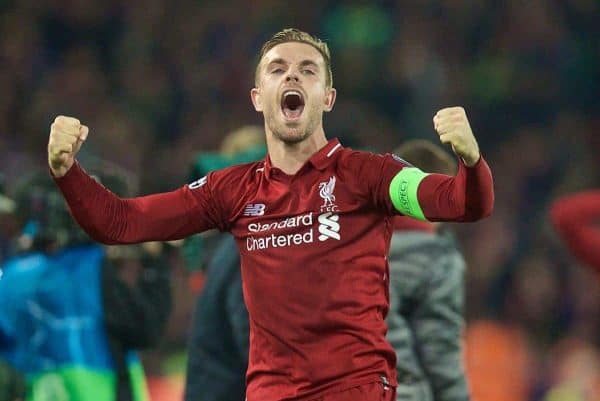 Appearances: 43
Average Rating: 6.79
It is hard to fault much of what Klopp does, but his stubbornness in playing Jordan Henderson as a No.6 benefited neither the team or the player.
The skipper played both well and badly in the role, but since being moved further up the pitch he has been largely excellent.
A captain's display was produced in the unforgettable 4-0 win over Barcelona, earning him a 9/10.
13th – Gini Wijnaldum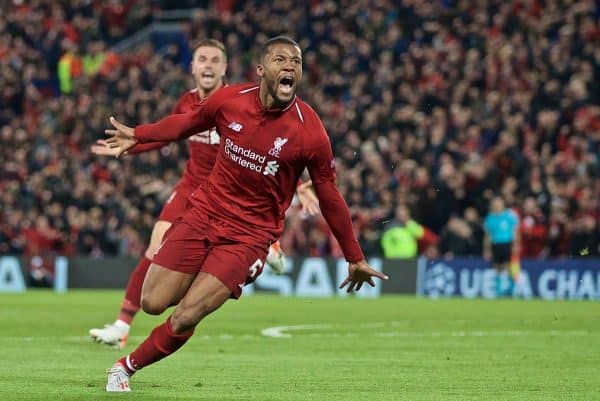 Appearances: 46
Average Rating: 6.73
This is definitely a shock.
Gini Wijnaldum has felt like Liverpool's most consistent, influential midfielder, but his average sees him behind Fabinho, Keita and Henderson in the pecking order.
The Dutchman saved his best performance for last week, scoring a crucial double against Barca and receiving maximum points.
Those invisible games that appear from time to time have hampered Wijnaldum's average.
=14th – Trent Alexander-Arnold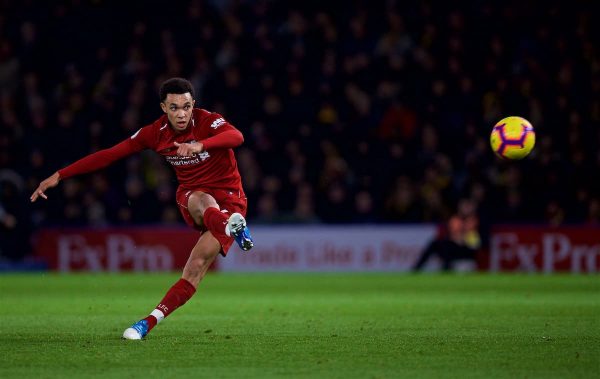 Appearances: 39
Average Rating: 6.71
Perhaps it is just the level that so many have shown this season, but it feels harsh that Trent Alexander-Arnold is not higher up the list.
The youngster ended the season with the most assists (12) by a defender in Premier League history, after all.
There have been defensive struggles, however, and a poor spell of form in the autumn saw a 4/10, 4.5/10 and 5/10 given in consecutive games, against Arsenal, Red Star and Fulham.
=14th – Divock Origi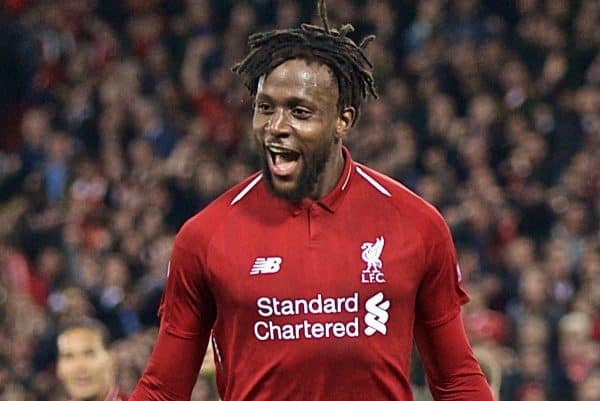 Appearances: 20
Average Rating: 6.71
Liverpool's unlikely big-game player is threatening to turn himself into a cult hero, although his all-round ratings haven't caught the eye.
There are only seven starts to tally up, with the richly deserved 10/10 at home to Barca upping his average considerably.
16th – James Milner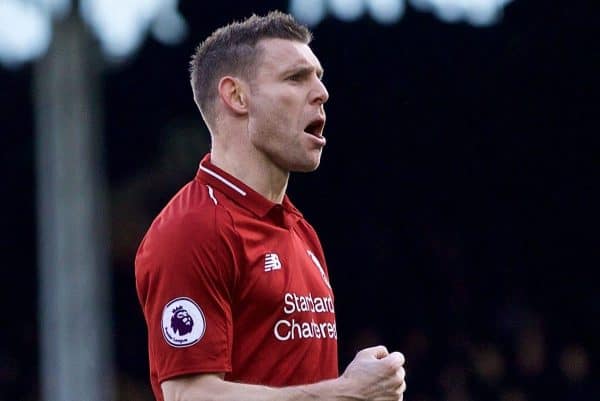 Appearances: 44
Average Rating: 6.54
In past seasons, being this far down the list would be a damning indictment of a player's form, but James Milner has been a key part of a heavily rotated midfield.
Bad days at the office have come and gone, most noticeable away to Red Star when everyone struggled, but a superb outing against PSG at Anfield was his only 9/10 of the season.
Milner won't be celebrating these results with a glass of Ribena!
17th – Dejan Lovren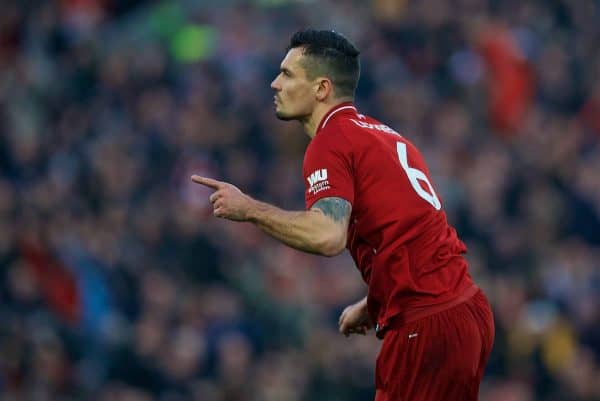 Appearances: 18
Average Rating: 6.28
Dejan Lovren must be sweating over his future, following another season plagued by injury and unpredictable performances.
When Lovren is good, he is a dominant centre-back – Wolves away and Newcastle at home were both 8/10 – but those days have been few and far between, with just 14 starts made in total.
18th – Daniel Sturridge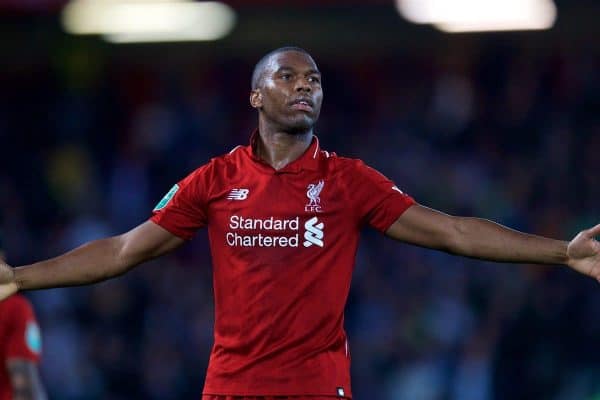 Appearances: 27
Average Rating: 5.81
Daniel Sturridge is one of those certain to leave Liverpool this summer and he is one of only two players to average less than 6/10 overall.
The 29-year-old is a shadow of the player who once looked world class alongside Luis Suarez, although an impressive goalscoring showing at home to PSG stood out.
As for his worst game, a wretched 3/10 in the ill-fated Red Star defeat was about as bad as it got from any player during the season.
19th – Adam Lallana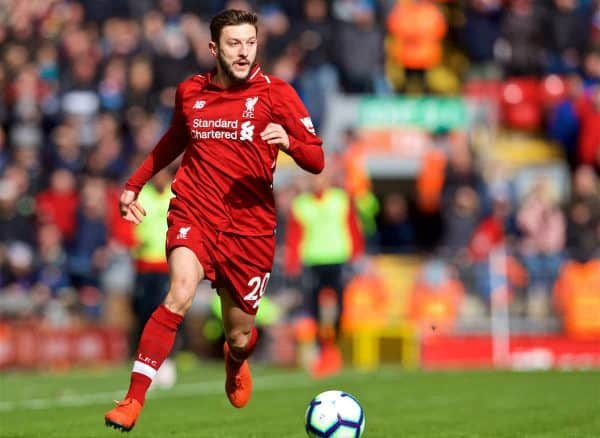 Appearances: 16
Average Rating: 5.66
Adam Lallana divides opinion at the best of times, but this season has shown that a change of club is required this summer.
No player with 10 appearances or more averaged lower than the Englishman, who got three 5/10s out of six starts.
His highest rating was a 7/10 against Burnley at Anfield – one of his only positive contributions, in truth.