Andy Robertson picked up a hamstring injury on international duty with Scotland, but claims he could miss the start of next season are hyperbolic in the least.
The 25-year-old left-back was with Scotland for their Euro 2020 qualifiers and scored a brilliant goal in their win over Cyprus last Friday.
But the national skipper missed Tuesday night's qualifier against Belgium – a tie Scotland lost 3-0 – due to a hamstring injury.
This has, somehow, led to Sky Sports suggesting the Liverpool left-back "could miss start of 2019/20 Premier League season".
If this sounds pretty alarmist, what with the new season being two months away, it is. Hamstring injuries very rarely take that long to recover from.
Indeed, Scotland boss Steve Clarke said that Robertson "tried everything he could [to be okay to play vs. Belgium], he did the training session last night, but he woke up and still felt it so no good."
That indicates that the injury is not severe, so quite likely a 'Grade I' hamstring injury at the most, which typically takes three weeks to return from. Which is exactly when Liverpool return to pre-season training.
Robertson will likely get a slightly extended break, so perhaps we won't see him in action in the pre-season friendlies before the Reds head over to the USA, but to suggest he will miss the start of the new season is massively overstating this injury.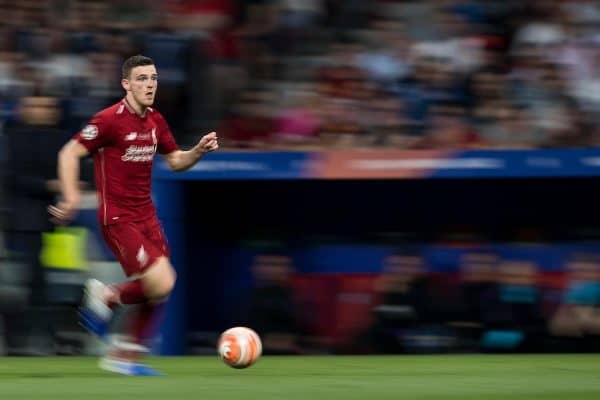 Robertson's injury could be down to a number of factors, with few Liverpool players appearing as relentlessly as he did last season.
He made 48 appearances in all competitions – only Mohamed Salah (52), Alisson (51), Virgil van Dijk (50) and Sadio Made (50) made more – and his role in the side was one of the most punishing physically.
That means fatigue may have played a part, as could the different manner in which he has been managed by Scotland, compared to his daily routine at Liverpool.
From a Liverpool perspective, it could provide further opportunity for under-23s skipper Adam Lewis in pre-season, while a replacement for Alberto Moreno as Robertson's deputy is certainly required this summer.