Gareth Southgate has praised Jurgen Klopp for showing "great faith" in Trent Alexander-Arnold, who appears to be moving up the pecking order for England.
Trent is a two-time Champions League finalist, a one-time Champions League winner and the youngest player to ever feature in back-to-back Champions League deciders.
He is the first-choice right-back for one of the best Liverpool sides in memory, who tallied their best-ever points tally in the Premier League in 2018/19, and at 20, broke the league's campaign assist record for a defender.
But at international level, he is still competing for a starting spot with Kyle Walker, who started in the 3-1 Nations League semi-final loss to the Netherlands last Thursday.
Starting in the eventual third-place playoff win over Switzerland on Sunday, however, Trent caught the eye—particular with his delivery from the right, creating the most chances of any player.
England are certainly blessed in the right-back department, but as Southgate spoke after that victory in Portugal, the Independent's Jack Pitt-Brooke got the impression "[Trent] was the new first choice right-back."
"He was very good in terms of his use of the ball. His technique for his crossing is fantastic," the manager praised.
"There's still a bit to do defensively on positioning and awareness, but he's had some fantastic experiences already in a very short career.
"He's heading in a really good trajectory."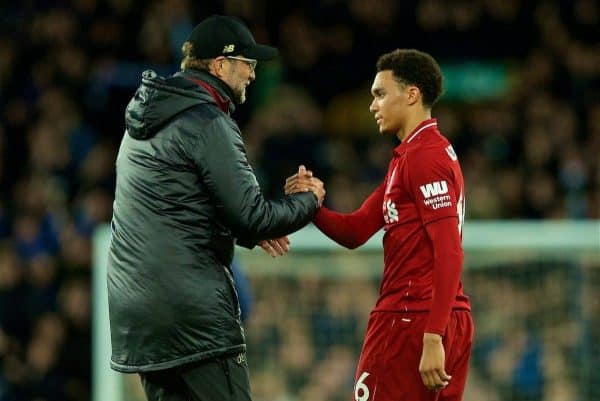 That reservation over Trent's positional awareness has certainly been something acknowledge by Klopp in the No. 66's short career so far, and he has been rotated with Joe Gomez to address that.
But Southgate offered praise for the Liverpool manager for rightly persevering with the West Derby native, saying "that faith has been repaid."
"His manager has shown great faith in him to put him in the team at Liverpool, keep him in the team when he's had a few difficult moments. That faith has been repaid," he continued.
"He knows the quality he brings, and the way Liverpool like to play by turning teams, and the quality of his forward passing in behind opposition is a huge asset for them.
"It's great that he has a manager with that faith in him."
England are not in action again until their Euro 2020 qualifier against Bulgaria on September 7, and if Southgate is looking to improve his side the introduction of Trent as first-choice right-back is a big step forward.
He's already proved his worth at just 20, and his potential is seemingly limitless.