Brian Henderson shared a long embrace with his son, Jordan, after the Reds won the Champions League—then revealed the Liverpool captain's 18-year motivation.
The 28-year-old has endured a turbulent time since joining the Reds from Sunderland in 2011, arriving as a youngster with a big transfer fee and a difficult task ahead.
Inheriting the captain's armband from Steven Gerrard, Henderson has received widespread criticism in recent years, but enjoyed a particular resurgence in the second half of this season to complement his clear influence off the pitch.
This culminated in lifting the Champions League trophy on Saturday night, and the emotion was clear as he hugged his dad at the touchline during the celebrations.
Brian Henderson suffered throat cancer for a long part of the decade, but has now recovered and, after witnessing tears in Kyiv last year, was able to experience a dream come true.
I'm not crying, you're crying ?

This interview with @jhenderson's old man is something special ??#OptusSport #UCLfinal @kellysomers @carra23 pic.twitter.com/EN9Zt1OrhH

— Optus Sport (@OptusSport) 1 June 2019
"When he was 10 I took him to see a Champions League final at Man United, and he said when they came out with the Champions League music, 'dad, I'm going to play there one day'," the elder Henderson told Optus Sport.
"[He's done it] not only once, but twice, and now he's won one. Absolutely delighted for him.
"I think if he hadn't picked that trophy up today it could've given him a bad, bad summer, but he'll have a fantastic summer now with the children."
Brian was visibly emotional throughout the interview, and spoke further on his pride at sharing the moment with his family—after fearing another long night.
"I didn't expect [to win] the way the game was going! I thought it was going to be 1-1, going into extra time," he continued.
"Everybody was dead on their feet, but they came through and I'm just so proud. Unbelievably proud.
"It's just very emotional. The tears come, you start shaking, you grab the wife, you grab the daughter-in-law, you grab anybody that's around you! I'm just so happy."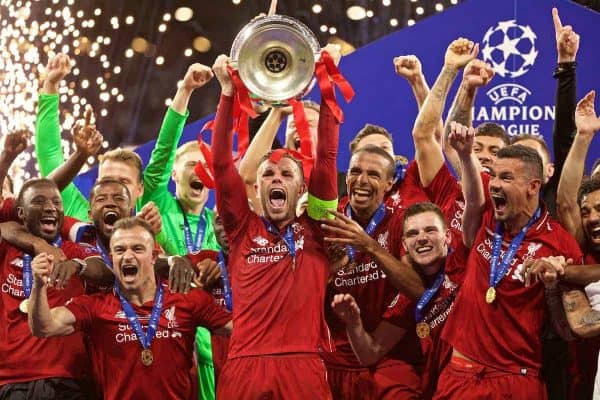 This is undoubtedly the biggest achievement of Henderson's career, surpassing his old Bebo ambition of winning "the FA Cup for Sunderland before I'm 30″ by securing the Champions League with two years to spare.
The midfielder recalled that night in Manchester with his dad, and dedicated the victory to his family and in particular Brian, saying "I'm delighted that I can take this medal home for him."
"I suppose [dreams do come true]! He took me to the Champions League final at Old Trafford, I think it was AC-Juventus if I remember rightly, 0-0 so it wasn't a great game," he said.
"But I said to him, of course, 'I want to play in the Champions League final one day'. One was unlucky and we didn't win, this one's amazing.
"He's been through a hard time, him and his family, so he deserves it as well.
"So I'm delighted that I can take this medal home for him, for my family and I'm sure all the lads are the same."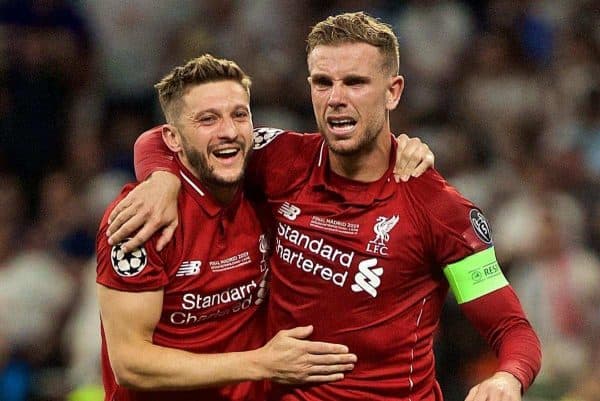 Henderson's role as captain of a club littered with more high-profile names, and leaders in the likes of James Milner, Virgil van Dijk and Gini Wijnaldum, is an unsung one.
The No. 14 maintained his humility as he reflected on Liverpool's sixth triumph in the European Cup, and set his sights on more silverware in the near future.
"I just try to do the best I can for this team, this football club," Henderson added.
"Without the lads, without the manager this isn't possible. So it's not down to me, even though I wear the armband, there's so many leaders in the dressing room.
"I'm so honoured and so proud to be playing in this football team, for this football club.
"Now we just need to continue to improve as a team. Enjoy the night of course, but next season we want to keep going.
"We're a young team, and hopefully we can stay together and win more trophies."