Liverpool are set to face Lyon in Geneva in July, along with at least two domestic friendlies, as their schedule for this summer's pre-season nears completion.
The Reds have already confirmed clashes with Borussia Dortmund, Sevilla and Sporting CP as part of a US tour which will take them to Indiana, Boston and New York.
With a place in the Community Shield against Man City also booked, preparations for the 2019/20 campaign had been forced into something of a reshuffle.
According to the Liverpool Echo's James Pearce, a training camp in France will see them make the short trip to Geneva in Switzerland, where they are expected to play Lyon on July 31.
Pearce also reports that Tranmere Rovers and Bradford City are lined up as the first opponents of the summer, with those friendlies taking place before the trip to the United States.
This means that Liverpool will play at least eight games before the Premier League opener on August 10/11, including the showpiece clash with City at Wembley on August 3/4.
Plans for a high-profile meeting with Napoli at Tottenham's new stadium have been shelved, with new venues under consideration including Murrayfield in Edinburgh.
Here's how the Reds' pre-season schedule is shaping up, including the four confirmed fixtures:
Liverpool Pre-Season, 2019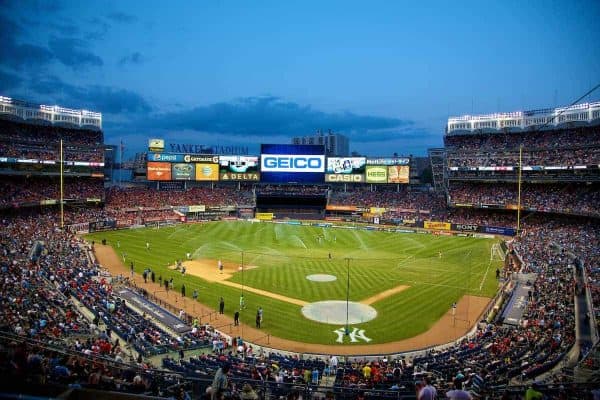 Tranmere Rovers – Prenton Park – July 11*
Bradford City – Valley Parade – July 14*
US tour begins
Borussia Dortmund – Norte Dame Stadium – July 19
Sevilla – Fenway Park – July 21
Sporting CP – Yankee Stadium – July 24
US tour ends
Napoli – Venue TBC – July 28*
France training camp begins
Lyon – Stade de Geneve – July 31*
France training camp ends
Man City – Wembley – August 3/4
Opponent TBC – Anfield – Date TBC, likely August 6/7*
* Fixture yet to be confirmed.
Last summer, Liverpool played nine games in pre-season, including four domestic friendlies against Chester, Tranmere, Bury and Blackburn.
And Pearce explains that another could be added to this summer's schedule.
The Reds will also play in the UEFA Super Cup against Chelsea in Istanbul on August 14, days after the start of the new Premier League campaign.