Norwich City left-back Jamal Lewis has been hailed as "almost identical" to Andy Robertson, which suggests Liverpool would be wise to target the 21-year-old.
One position the Reds are required to fill this summer is that of Robertson's deputy, with Alberto Moreno having departed on a free transfer after five years with the club.
Moreno only played twice in 2018/19, with James Milner largely preferred as backup left-back, but with the No. 7 turning 34 in January and better served in midfield, a new signing is necessary.
A move for Lloyd Kelly was derailed by Bournemouth's £13 million offer to Bristol City, and no further concrete links have emerged so far.
But former Northern Ireland manager Sammy McIlroy has compared Lewis to Robertson, with the 64-year-old's praise indication he could be the perfect addition for Liverpool.
"Jamal is a tremendous prospect with fantastic ability, loads of energy and confidence for a boy of such a young age," McIlroy told the Belfast Telegraph.
"He's definitely one for the future and everyone knows it."
He added: "Just like Robertson, bigger clubs will come calling if Jamal does well at Norwich.
"If he can be as consistent as he has been then the world is his oyster.
"There are still not a lot of top-quality left-sided players. Robbo has been a sensation at Liverpool and this kid can go the same road.
"They play the same way and their style is almost identical. Jamal couldn't get a better role model than Robertson."
Lewis made his debut for Norwich at the end of 2017, going on to establish himself as first-choice left-back and starting 64 of his 67 appearances so far.
At just 21, he is also a Northern Ireland international, and speaking to the Press Association earlier this month he explained how and Canaries right-back Max Aarons are similar to Robertson and Trent Alexander-Arnold.
"Some years ago full-back might have been a bit of a 'throwaway' position, you could stick anyone there," he said.
"You can still do that, but in teams that play attacking football, like Liverpool, you see how many opportunities Andy Robertson and Trent Alexander-Arnold create for their team.
"If you place that importance on a full-back, it's a position that can give outlets to your team."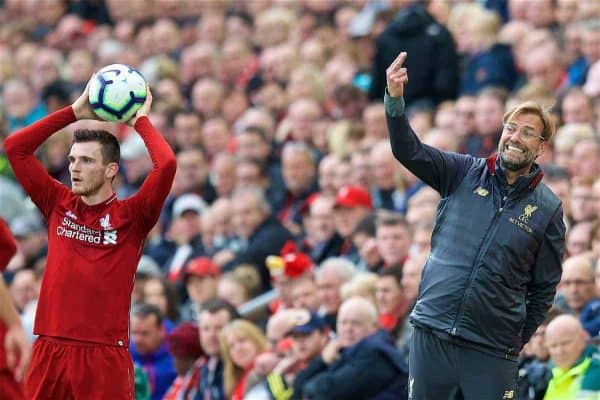 One of the most important aspects of a player joining Jurgen Klopp's Liverpool is the ability to attune to his tactical demands, with Robertson himself spending months on the sidelines prior to taking up a starting role.
It appears as though Lewis would have little trouble adapting, particularly if he was serving as deputy to the Scotland captain.
Whether he would accept a backup duty is unclear—and there is no suggestion of interest from the Reds—but he may well be the ideal signing for Klopp.
As it stands, Lewis is set to start for Norwich on their return to the Premier League at Anfield on August 9.