Think you've seen everything from Liverpool's incredible sixth European Cup win in Madrid? Think again, as UEFA's Champions League final doc is a must-watch.
The benefits of social media in the aftermath of the Reds' victory over Spurs have been clear; 14 years on from Istanbul, there is so much more to soak in this time around.
From the scenes in the city before the game, the views from the stands, a brilliant six-minute insight into Jurgen Klopp's immediate reaction, countless interviews and videos from the dressing room, the coverage has been immense.
Over three weeks on from that night in Spain, UEFA have released their official video of the final, and it is a genuinely brilliant piece of film.
It takes the viewer through the buildup, including both Klopp and Mauricio Pochettino's pre-match words—showcasing the admirable hope of the two clubs' managers—and even conversations between travelling supporters.
We see Fabinho and Lucas Moura, Brazilian compatriots, embrace in the tunnel, the roar of the travelling Kop permeate the Champions League theme and Hugo Lloris and Jordan Henderson's show of respect at the coin toss.
The level of access around the penalty call is ridiculous, with Christian Eriksen's protest amplified by referee Damir Skomina's microphone.
"What can he do? What can he do? Arm his here, ball's going that way," the Dane argued.
But the response from Skomina, following a VAR check, confirmed it was a "clear penalty, 100 percent."
UEFA follow the referee particularly closely, including his instructions to players during the game—urging the Spurs defenders not to enter the box during Mo Salah's spot-kick—and half-time respite.
More importantly, though, we get another fantastic view of the action, and the sight of Virgil van Dijk collapsing to the floor following Divock Origi's late clincher is class.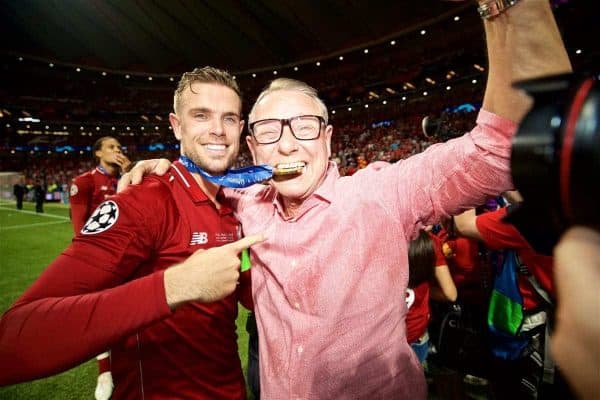 A lingering embrace between Jordan Henderson and his dad, Adam Lallana and Mohamed Salah's phone calls, and Van Dijk and Andy Robertson's celebrations tell it all; this was a monumental night.
The documentary ends with Alisson sat on the turf at the Wanda Metropolitano, on FaceTime with his pregnant wife Natalia, gripping his medal in triumph.
Our new season doesn't start for another month-and-a-half—let's keep celebrating No. 6.