Memories of last season and how it was experienced by those closest to home are revealed in a new book by Daniel Fieldsend, Local: a club and its city—Liverpool's social history.
Former players, dedicated fans and civic leaders explain the relationship between the club they support and the city of their birth, exploring the events and moments in time that moulded their unique identity. This is the story of Liverpool, a club and its city.
LIVERPOOL'S civic identity remained a complex subject. It appeared all the more confusing for any outsiders on the coach to Huddersfield on the 20th October.
Accompanying the Reds that day was a group of lads from Glasgow Celtic. The Green Brigade had welcomed Liverpudlians down a few months earlier to look at their safe standing section, and they travelled to Yorkshire to reaffirm the link. The friendship had been longstanding.
Back in 1994 Celtic raised money for the Hillsborough families. Since then there had been a constant flow of Celtic supporters visiting Anfield and Kopites travelling to Parkhead.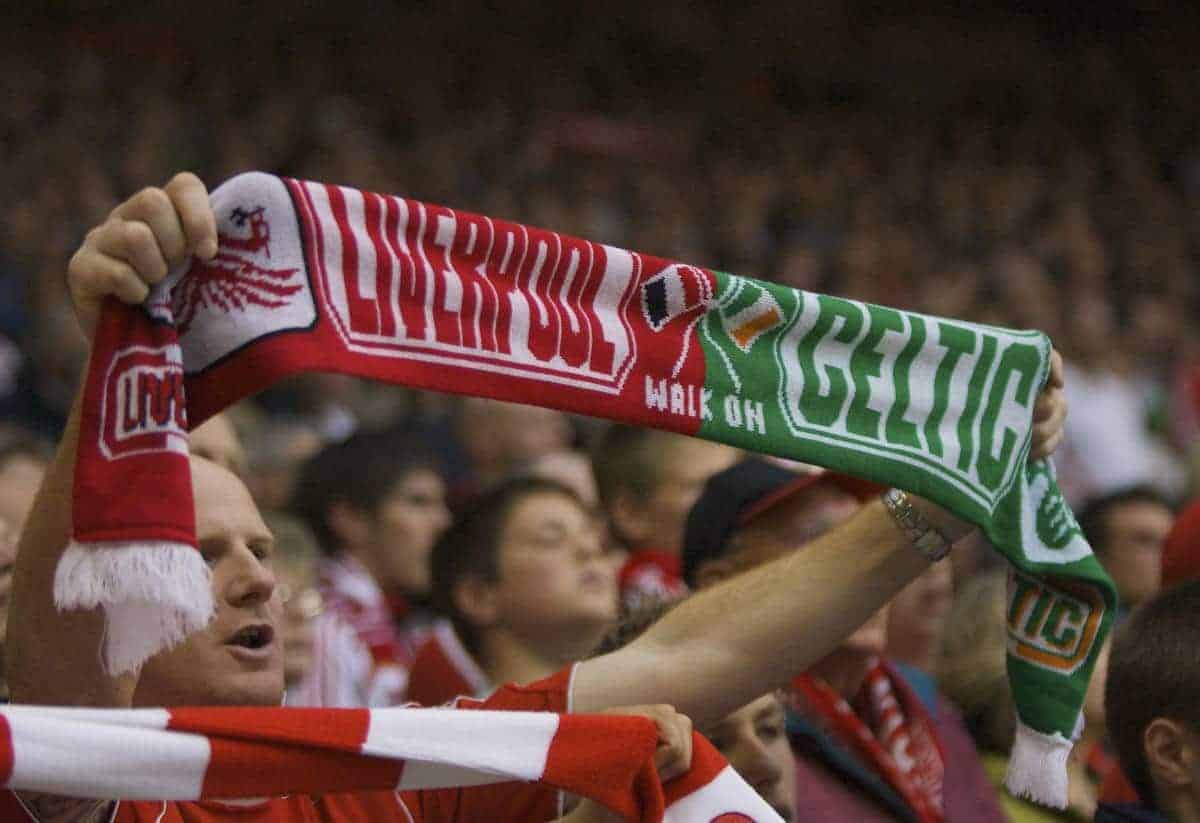 Andy MacKenzie is part of that contingent, who is taken by the shared politics, the Clyde and lust for Europe, as well as the antipathy to the establishment that defines both city and club. "There is a feeling of enjoying life and not taking it too seriously. There is no pretence to either city because of the underlying working-class attitude," he says.
The Liverpool – Celtic link had been enhanced by Shankly's friendship with Jock Stein, and by Kenny Dalglish too who was a legend at both clubs, but Nicky Allt thinks it's more geographical: "Both have got strong working-class ethics. They're hard-edged cities on the river the people don't suffer fools."
On the way to Huddersfield, despite the friendship, one Red put £2 in a Paddock pub jukebox and requested both 'Penny Arcade' and 'Simply the Best' – Rangers songs – to wind up the Glaswegians.
Joe McDonald of Dovecot (a member of the magnificent seven) plays it all down by saying: "Some of the lads go and see Celtic but I keep away from all of that," Liverpool is his team and nobody else. Chris Hudson concurs: "I'd pick Celtic over Rangers but Liverpool is the one, I don't support anybody else." The clubs – Liverpool and Celtic – are mates, but they aren't married.
Next, at home, Liverpool beat Red Star Belgrade 4-0 on the 24th October. Their fans had been banned from attending matches because of racist chanting, which made it the biggest official attendance of just Liverpool supporters at Anfield in years.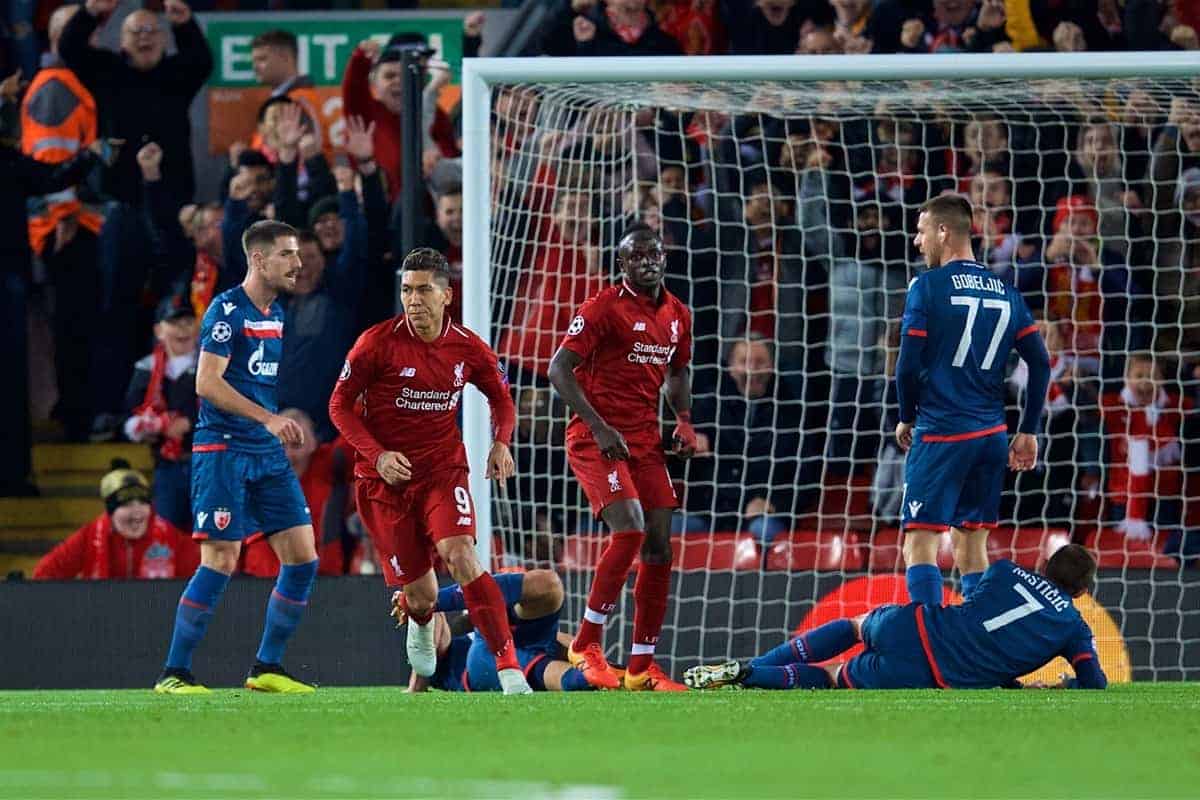 Unofficially, however, there were hundreds of Serbians in the Anfield Road end with Liverpool tickets, secretly supporting their team.
There had been something refreshing about Anfield being an echo chamber.
Cardiff City came to town next and brought the whole repertoire with them – including classics 'Always the victim', 'Sign on', 'Demba Ba' and the favourite: 'Your support is fucking shit'. Evidently they'd forgotten the backing their mining community had been given in the 1980s by Scousers who'd raised funds for them to eat. Nevertheless, Liverpool won 4-0.
In many senses it was a typical season.
The Reds drew with Arsenal away early in November, then lost to Red Star Belgrade after spending what felt like 25-minutes walking down their tunnel before the game. They got back to winning ways against Fulham on the 11th November and then beat Watford on the 24th.
But Paris Saint-Germain was to be another loss, against the most expensive assembled side in football history.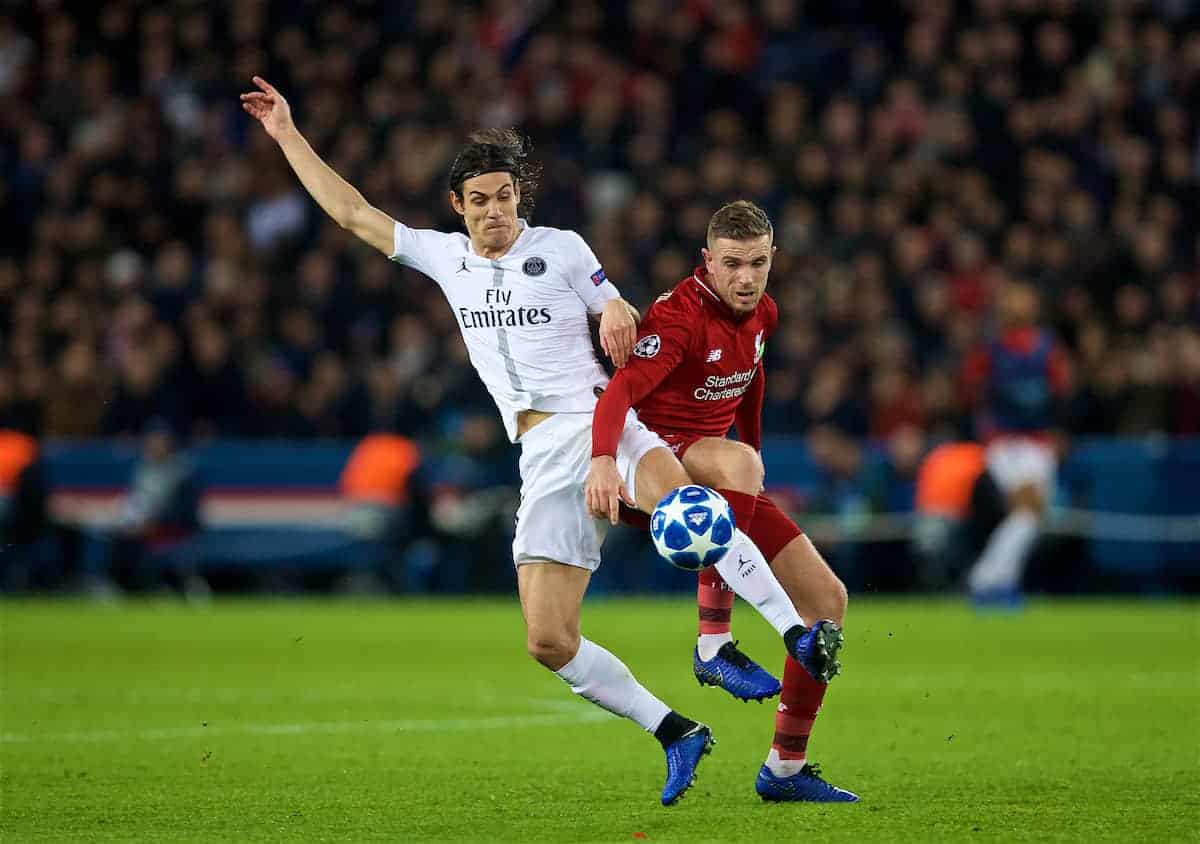 Back in 1978, PSG fans created the 'Kop of Boulogne' in tribute to the mythical Anfield legend. They were in awe of Kopites in 1981, too, when Liverpool used their home ground and city as a canvass to win another European Cup on. When the sides first met in 1997, Virage Auteuil presented a banner that read: 'Welcome to the Legendary Fans'.
Parisians must have thought the tribute was returned in late November 2018 when, in Liverpool's section, there were more fans in PSG caps than there was in the rest of the ground. It wasn't a unique gesture though: hats were a part of Liverpool fan culture, collected to pinpoint where in Europe they'd been.
On the Eurostar over, an older lady in a 'Five Times' t-shirt had walked up and down giving out mince pies to recognisable fans.
The Firmino chant made another appearance outside Boss (it was first heard in Belgrade), but was sang with too many words and with too few pauses that it became indiscernible. Paul McCartney – who was playing to 35,000 people across town – would not have approved.
The conflict on the pitch was between the theatrics of Neymar who rolled around a lot and posed to the crowd, and Andy Robertson who, with his Caledonian values, seemed like a Shankly signing.
Was he born to play for Liverpool?
Afterwards PSG celebrated their victory as if they had won the cup. But the real story of the fixture came much later when a coach full of Liverpool fans discovered they had been harbouring two asylum seekers underneath the engine for 12 hours.
Liverpool fans brilliantly take 'asylum seekers' on coach back from Paris under their wing https://t.co/g3ojgJGXuE pic.twitter.com/DVK9CMCMye

— Mirror Football (@MirrorFootball) November 29, 2018
The 'Football Travel Limited' group of supporters first heard a rumbling when they crossed the border into England. Then, out popped two men. At a time of Brexit-inspired national xenophobia, the stowaways were given drinks, food, hugs, money and clothes by the Scouse contingent.
"It's about the way Scousers are so welcoming," the coach owner told the Echo.
The fans and the two men got a group photograph together. It provided an unmistakably 'Liverpool' image: "You can easily identify a Scouser," says Kevin Sampson.
"That now-famous photograph of the lads coming back from Paris, they are clearly not from Leicester or Glasgow: they're Scouse. It's visible and easily identifiable to us, the je ne sais quoi which marks them out. It was there in the late-70s and I can still recognise it now from 100 paces away."
Fashion had evolved again but still had a local flavour.
---


* This is an excerpt from Local: a club and its city—Liverpool's social history, by Daniel Fieldsend, available on Amazon here.
Find Dan on Twitter @danfieldsend.