Fabinho has hailed the impact of Virgil van Dijk on Liverpool, tipping him for the Ballon d'Or, and praised two of his midfield competitors for their help.
Strangely omitted from the Brazil squad for Copa America, Fabinho spent the summer on an extended break, before reporting back for pre-season among the initial 16-man group on Saturday.
During his time off, the 25-year-old conducted a lengthy interview with Globo Esporte on their podcast Hoje Sim, with its second part focusing on Liverpool.
In quotes translated by Sport Witness' Lucas Sposito, Fabinho discussed Van Dijk's role on and off the pitch—and the shout he gives team-mates to "get out of the way."
"One guy who impresses me a lot is Van Djik," he told Cleber Machado.
"I hadn't particularly seen so many games of his [before I joined]. In the games I saw, I focused on the midfield there. I didn't see much of him.
"And man, since the pre-season I arrived, following him like that, the guy is sovereign.
"No one beats him on the air. I think he's been there for 64 games without being dribbled.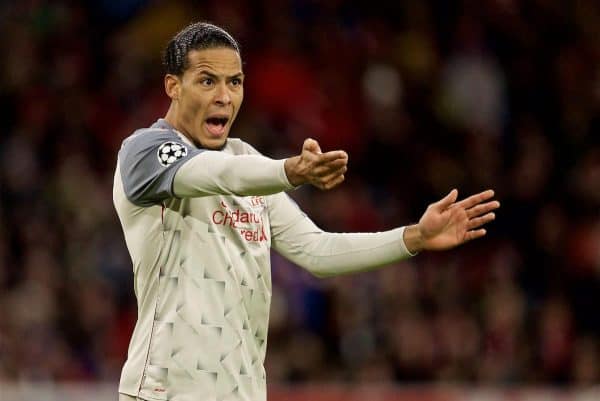 "He's fast, and it's funny that it seems like he doesn't have to make effort to run. He does it that way, like a big guy, and he easily gets to the ball.
"Aerial balls are funny, because the ball comes and we just hear him shouting 'VIRGIL!'. And you can let it pass, whoever the attacker is.
"Against Manchester [United], he impressed me. Because we were going to play against [Romelu] Lukaku. I thought 'hey Lukaku has his size, let's see if he will hold up'.
"My god. Every air ball, it was 'VIRGIL', he would run over. You hear 'VIRGIL', you get out of the way, because he will come running over."
Fabinho went on to described Van Dijk as a "big child" off the pitch and Ballon d'Or front-runner on it, and credited him and Gini Wijnaldum—who he sits between in the dressing room—for helping him settle at the club.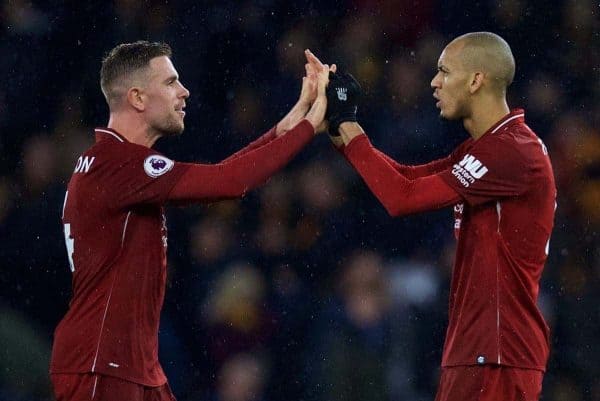 The No. 3's arrival, and eventual integration into the No. 6 role, came at the expense of Jordan Henderson, whose subsequent shift to a more advanced duty ensured more competition for James Milner.
It is this situation that prompted Fabinho to express his surprise at how selflessly they approached him as he found his feet on Merseyside.
"These two guys, whenever there's something, are the two that organise a meeting, the two who talk most in the locker room," he explained.
"When I arrived at the club, they were the ones who talked to me the most, guiding me.
"And it surprised me a little that they are the two in my position. The two who helped me a lot."
Reddit user miscossa paraphrased the entire interview in a brilliant, lengthy post on Friday, and it is certainly worth reading.
Pepijn Lijnders and Mohamed Salah are also praised for helping Fabinho after joining, while there are some excellent points on the 4-0 comeback win over Barcelona at Anfield.