Liverpool's US tour came to a close with a 2-2 draw against Sporting CP, ending the mini losing streak as the Reds move closer to the new season.
Liverpool 2-2 Sporting CP
Yankee Stadium, New York; Pre-season friendly (5)
24 July, 2019
Goals: Origi 19′, Wijnaldum 43′; Fernandes 4′, Wendel 52′.
Two more forward options?
Gini Wijnaldum and Alex Oxlade-Chamberlain might be midfielders by trade, but both have shown their versatility for Liverpool before and they got the opportunity to shine against Sporting — in more advanced roles.
The Dutchman certainly caught the eye most, playing from the left of the attack for the most part, with his forward running and willingness to stretch play at every turn.

It was Wijnaldum whose surge behind the Sporting defence led to the equaliser, before he was crudely chopped down by a late and rash challenge from Neto, attempting to stem Gini's influence.
Oxlade-Chamberlain, by contrast, was somewhat loose in possession, didn't really drive at the defensive line in the manner we'd like to have seen and wasn't a goal threat himself, though he did lift one or two decent crosses over.
Right at the end of the first half, though, the two combined in decisive fashion: an outside-of-the-boot cross from Ox, Gini doing enough to turn the ball home for 2-1.
Ready for an absurdly early new season prediction? The No. 5 will be scoring at least eight this season and perhaps even pushing double figures.
Bruno Fernandes' Big Apple Exhibition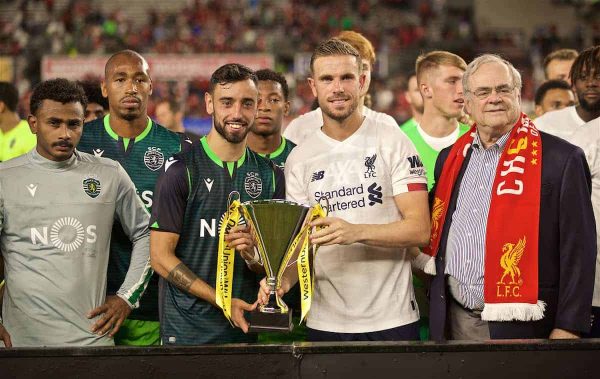 Well, some fans might not have known what all the fuss was about, but they probably do now.
Portuguese attacking midfielder Bruno Fernandes has been linked with the Reds all summer, along with half of Europe's big teams, and he offered another glimpse at his all-round quality here.
Long shots, set pieces, a good passing range and hard work in both halves of the pitch; it's not hard to see why he has an enormous price tag and why many feel he'd fit Jurgen Klopp's style.
One goal and one assist meant he was the central figure for his team, but that went for open play as much as the scoresheet.
Everything goes through Fernandes, the central cog in the SCP machine, and perhaps that's one note against him from a Liverpool perspective: we don't tend to operate with that type of go-to playmaker, the player who gets the ball every time.
Or, depending on your view of the matter, perhaps that's another reason to be interested.
Signs of season starting everywhere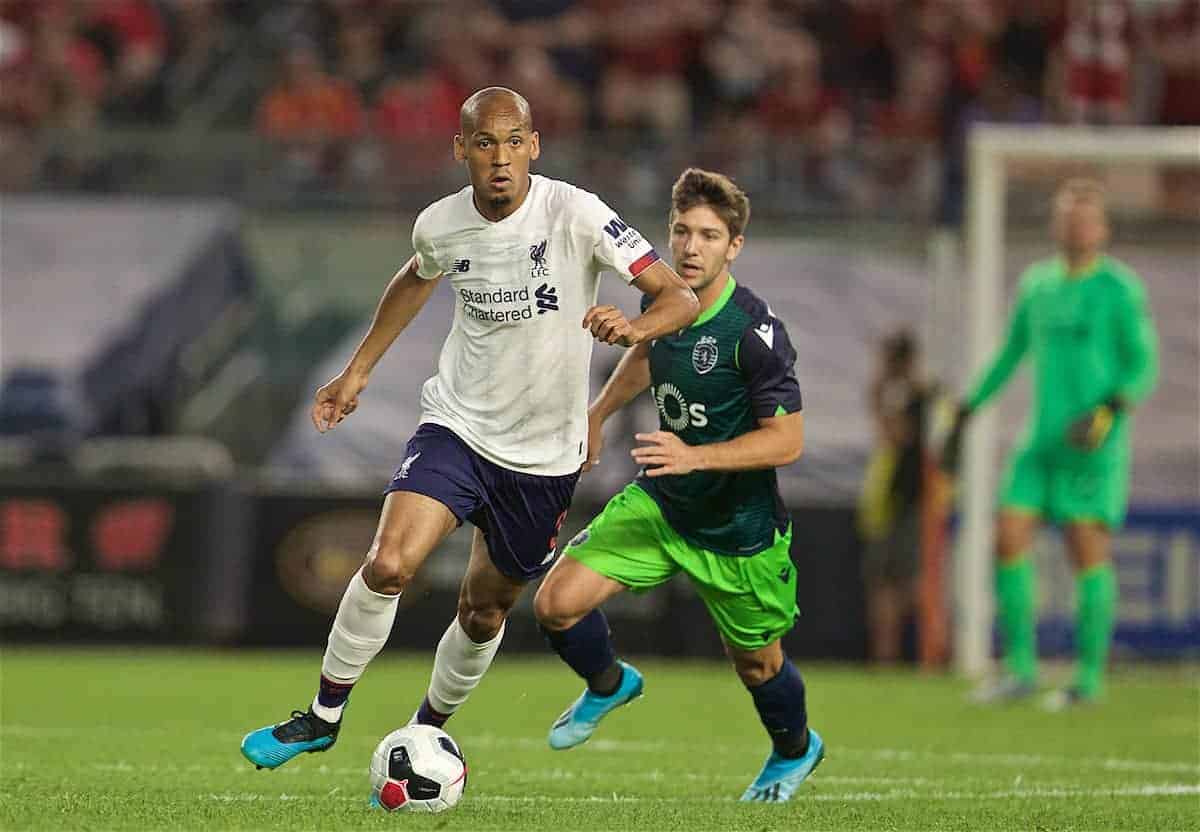 It's the small things which matter, in football as in life.
Here at Yankee Stadium, we saw flutterings and moments which suggest the cohesion of the team is returning, the players are taking another step toward peak condition.
There was Joel Matip, dribbling forward out of defence, taking on two players and causing confusion in the backline.
Then it was Fabinho, long-legged and spidery, halting Sporting counters in abrupt fashion, before immediately setting away James Milner or Jordan Henderson to counter in turn.
And don't forget Robbo on the overlap, Robbo on the overlap, oh so many times, Andy Robertson on the overlap.
Oh, and don't forget Klopp. Here, he wasn't placidly sat on the sidelines all game; several times in the first half alone, he was up and directing matters tactically, sorting out the Reds' right side at one point and getting irate with a few players at another.
And the season draws closer.
Defensive cover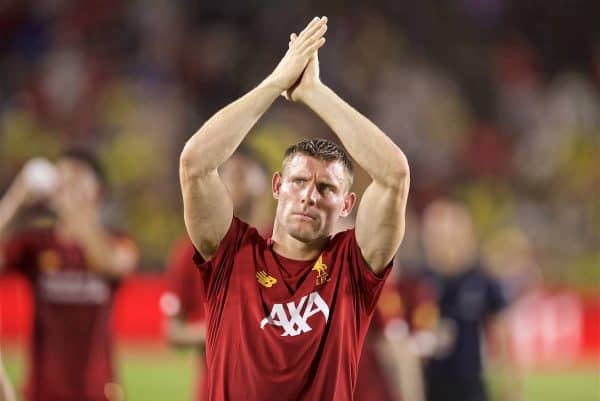 Ok, so: Larouci is out. Clyne is out. Lewis has only been purposely put in at full-back twice in pre-season.
Which means we're back to the less-than-explosive duo of Joe Gomez and James Milner as cover for the sides of the defence.
Both do a solid, dependable job. Both are fine in keeping the shape, can help see off a wide threat and can offer support to the build-up play.
Neither, though, really offer the lung-bursting runs down the flank that the regular duo do, neither have the exceptional crossing ability or capacity to beat opposing defenders one-on-one.
And there the question shall remain: should the Reds be looking for an additional squad member to fill that particular gap in the squad?
Gomez prefers centre-back, as he told This Is Anfield, but he's more than willing to do the job in two positions if that's what Klopp requires.
With the amount of games we have coming up, he is very likely to be employed there on a reasonably regular basis.
Next up: Back to Europe and now it matters more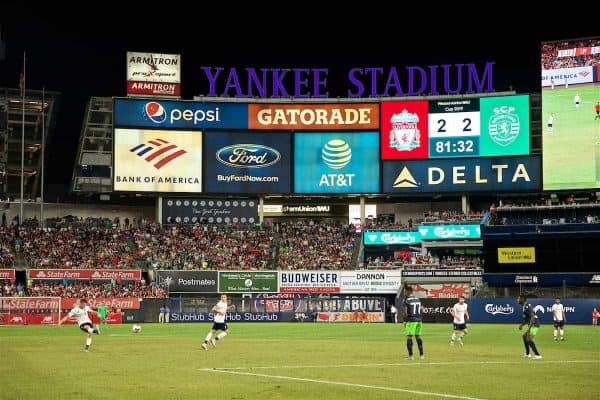 A three-game trip is over and done with, after probably a few more negatives than Liverpool would ideally have liked, taking into account results and injuries.
But still, the positives are more numerous, starting with the fitness and not being limited to on-pitch factors.
Several players clocked up 60 and even 70 minutes of action here in New York, while one notable participant managed one minute plus injury time: Sepp van den Berg, a last-minute debutant after finally receiving international clearance.
After the match, Klopp surmised the US-tour, saying: "It was an intense time. All good, nice to meet all the people, tonight an outstanding atmosphere.
"From a sports point of view, I'm happy to go back. We have an important week [in France] ahead of us; a proper training camp."
The Reds head back to Europe with friendlies to follow in Edinburgh and Geneva, along with the training camp in Evian. Then it's onto competition proper and the possibility to add more silverware to the overflowing cabinets at Anfield.