Liverpool lost 2-1 to Sevilla on the second game of their US pre-season tour, but it was concern for teenager Yasser Larouci post-match that dominated after a horrific challenge.
Liverpool 1-2 Sevilla
Fenway Park, Pre-season friendly (4)
21 July, 2019
Goals: Origi 44′; Nolito 37′, Pozo 89′.
Origi the poacher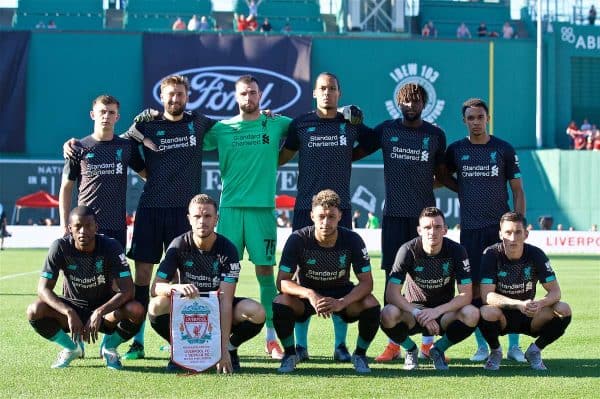 Something we haven't seen anywhere near enough of: Divock Origi scoring close-range goals, 'proper striker's goals' as your average British pundit might term them.
A few — Everton, Newcastle — were all the more important and memorable because of the lateness of them when he netted last term, but he largely got them only because he got as high upfield as possible, under the crossbar almost.
Liverpool's style of play doesn't always lend itself to a No. 9 playing in that central, predatory zone, so at set-pieces in particular it's vital that he (or any other forward) does exactly that.
A one-touch finish, an instinctive know-how on how to bury a chance, unthinking and without second chances needed; they can often be the difference between one point and three.
It's great to see Origi showing goalscoring form over the summer, as we'll need him to do the same once competitive action starts, with the regular three no doubt lacking sharpness.
Fiesty fixture a different type of test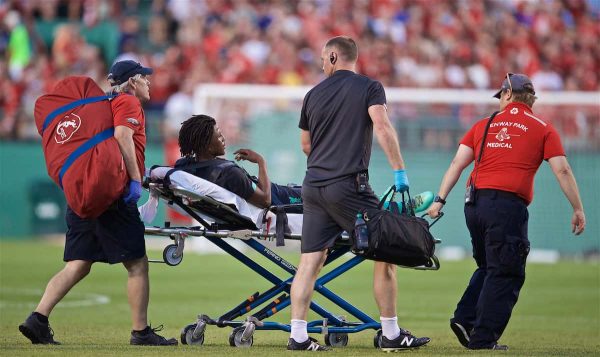 Note for future pre-season planners at Liverpool: if the main objectives are to 'build fitness' and 'avoid injuries', perhaps a good idea is to avoid any team Ever Banega plays for.
The first half at Fenway Park was an entirely different—and ridiculous—challenge for Liverpool compared to the three previous pre-season friendlies, as they had to cope with not just heat and humidity but also a far more aggressive opponent.
Aggressive is probably a nice way of putting it; some tackles were borderline reckless and Banega absolutely should have been red-carded, regardless of it being a friendly, for a double-arm smash on Harry Wilson's face.
Hopefully no lasting damage there, nor for Oxlade-Chamberlain's ankle or any of the many Reds' backs which were barged and clattered in mid-air challenges.
The worst was saved until last: Joris Gnagnon and a truly horrendous 'tackle', a vicious and appalling kick on Yasser Larouci which was deservedly shown a straight red card.
Stretchered off, there's now a worry over the fitness of the young left-back who had been performing largely superbly this pre-season. Klopp said post-match that it seems he has been "lucky" that it's not serious as it might have been.
Less possession, more tracking and running, dealing with a side very good in the air in the first half: this was a completely new test for the summer and the Reds had a mixed time of matters, in fairness.
Seizing opportunities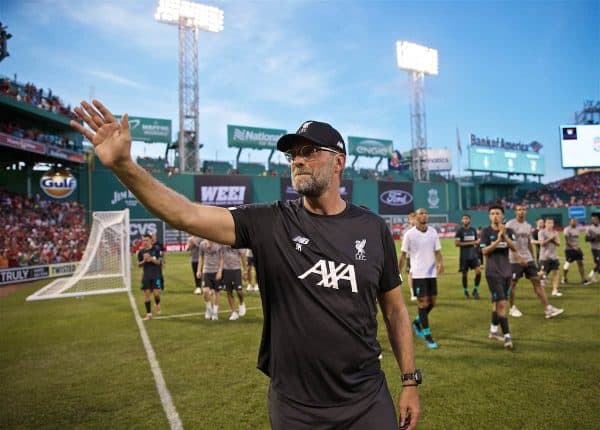 It's not just about the youngsters proving their worth in pre-season; plenty of experienced seniors want to earn their starting spot again this term after being marginalised in 18/19.
Of course it can't happen for everyone, but even so the better displays have to be noted—and against Sevilla, plaudits should go to Simon Mignolet and Dejan Lovren.
Mignolet played the second half in goal, made a good double save early on and dealt well with aerial balls too.
Lovren showed a more restrained, mature performance than he has done in other pre-season games, with one clearance inside the six-yard box particularly noteworthy. The one mark against his name was the late winning goal, where he was caught woefully out of position against the counter-attack.
As mentioned, Origi was good in the first half with a well-taken goal, but also with his movement and hold-up play which was excellent at times.
A few good turns and clever pieces of skill had the fans applauding, too, and he's clearly heading into the 19/20 campaign as an icon in the stands.
Fenway hoodoo!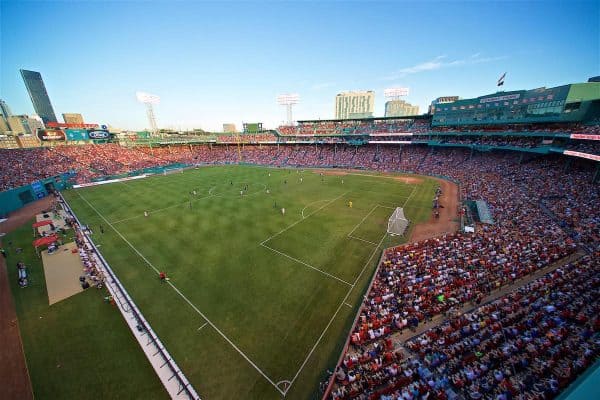 The script was supposed to be slightly different: Liverpool at Fenway Park, the famous team and the famous stadium, all the off-pitch links between the Kop and Green Monster, the owners, the many years without the coveted title.
Fans and players celebrating a win at Fenway would be quite something, as far as pre-season goes.
Except, in three attempts now, Liverpool haven't managed to taste success—or even avoid defeat—at the home of the Boston Red Sox.
Two defeats to Roma and now one to Sevilla; it doesn't amount to much, or anything, in the scheme of the season, of course, but it's still a frustration at the time and probably not what the corporate suits had in mind when establishing the link-up.
Maybe next time we visit the States we should take Tranmere with us and play that annual game there.
New York next and last chance for the youth?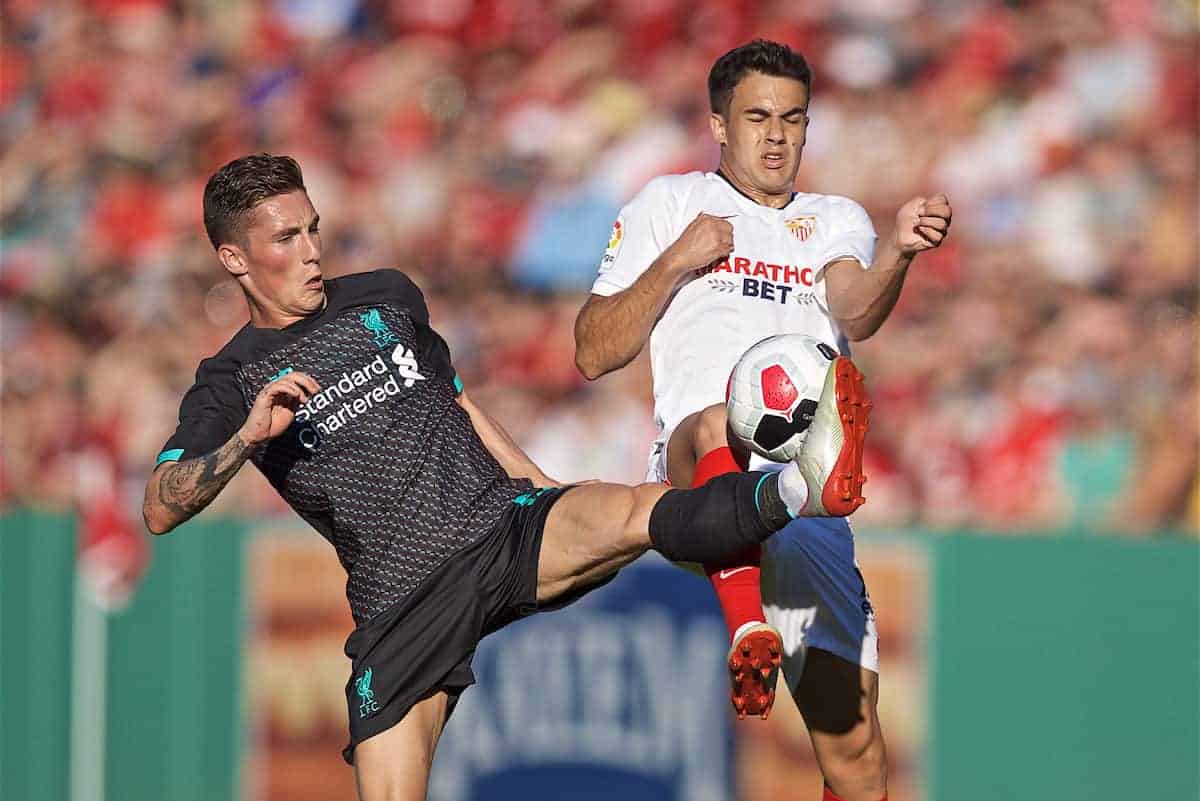 Usually, by the time the Reds end their pre-season tour overseas and come back for a final friendly or two, it's all about the first-team squad.
The younger lads who bulk out the squad to enable a full 11 changes in earlier games generally revert to either training support or game time with the U23s—which means the game against Sporting might be their last opportunity to show Jurgen Klopp they should remain around for longer.
The trip to New York should result in lower temperatures for the fixture, perhaps lending itself to a quicker tempo in the match—though that will depend also on the training sessions which come beforehand.
The hope will be to end the tour on a positive note, with a win and some good form to head off to France and the Evian training camp with.