With pre-season and the 2019/20 season almost upon us, why not take one last look back at that incredible 2018/19 season? Alex Malone gets in the mood for the return of the Reds.
In a season where just about every player played his part, I've chosen one defining moment for each player – one particular 'stand-out' moment in a whole season of stand-out moments.
Some are season-defining, others simply gave me a good laugh or a treasured memory. Yours might well be different, and likely are different, but that's the fun of it. Feel free to agree or disagree; in the end, our picks are our own personal highlights/memories of what was an exhilarating, magnificent season.
Alisson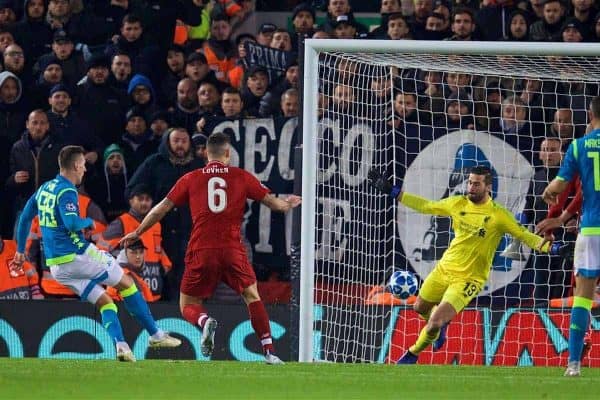 Alisson's record-breaking debut season was a storybook of world-class moments. But for all the heroics and wonder saves, his greatest game came when it really, really mattered; that monumental clean sheet against Barca at Anfield. While emotions and recollections naturally default to the four goals scored, it's easy to overlook the number of high-quality, essential saves our goalkeeper made in that crucial game.
But it was the final seconds against Napoli which shaped our season. With a lesser keeper, Milik scores and the European dream is over. But Alisson's positional sense and the way he spreads his body to cover every possible angle rescued the moment. The 1-0 win was secured, the group stage had been navigated and the rest is history.
Alexander-Arnold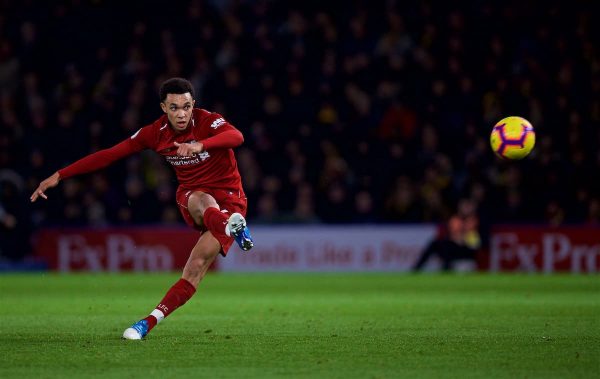 What a season our young Scouser had! There were a record-breaking number of assists to choose from, including the hat-trick of assists against Watford at Anfield, as well as his pinpoint free-kick against the same opposition at Vicarage Road.
Trent could have a highlight DVD all of his own, but one in particular will live in the collective memory and history books forever – that piece of genius thinking and perfect execution to set up Divock Origi for the fourth and historic goal against Barcelona. It was, quite simply, sublime.
Van Dijk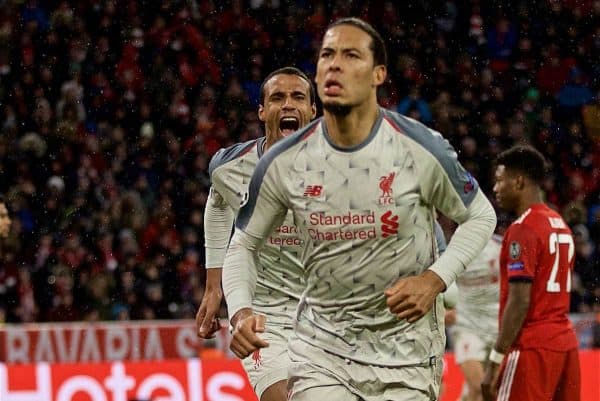 In any 'Player of the Season' highlight reel, there are inevitably many moments of brilliance. Virgil's defending was out of this world. His left-footed volley against Wolves was a controlled thing of beauty. There was also his 2-goal performance against Watford and the towering header away at Bayern.
Yet the most memorable moment was when he didn't touch the ball whatsoever.
With Liverpool staring defeat in the face as Sissoko and Son broke 2-on-1 with only Van Dijk in their path, his decision making was breathtakingly brilliant; blocking off the pass to Son, while simultaneously ushering Sissoko onto his weak left foot was defensive masterclass. Sissoko ballooned it, Spurs bottled it, and the game was won.
Matip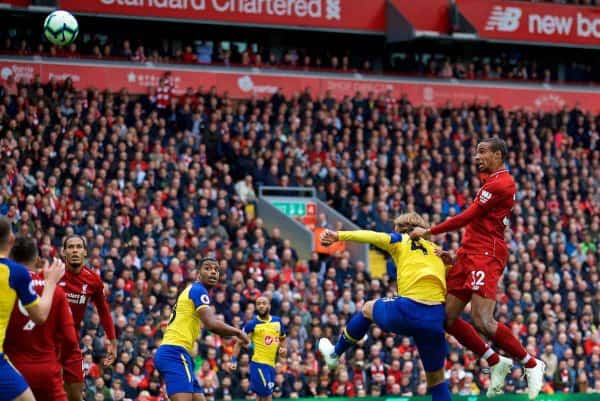 It's fair to say that Joel Matip's season may well have been limited to occasional cameos had it not been for the unfortunate injury to Joe Gomez.
But what a stand-in he proved to be as a rock-solid pillar of the league's best defence. While defensively he was impressive, the highlight is his towering 12-yard looping header against Southampton.
Mind, his assist for Origi's goal in Madrid wasn't bad either!
Lovren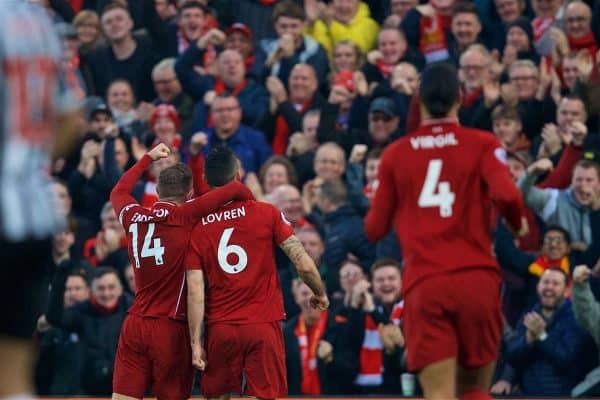 While Lovren was only a bit-part player, and given that goals for him are as rare as a David De Gea penalty save, there was one particular moment that stood out. Boxing Day, 2018 and Rafa's Newcastle roll into town.
Rafa had undoubtedly drilled his troops to marshal the Liverpool front three and cut off the supply from the wings. Little did he expect Lovren to channel Ian Rush and blast a spectacular half-volley from 12 yards which opened the floodgates for a thumping 4-0 win. A Happy Christmas indeed.
Robertson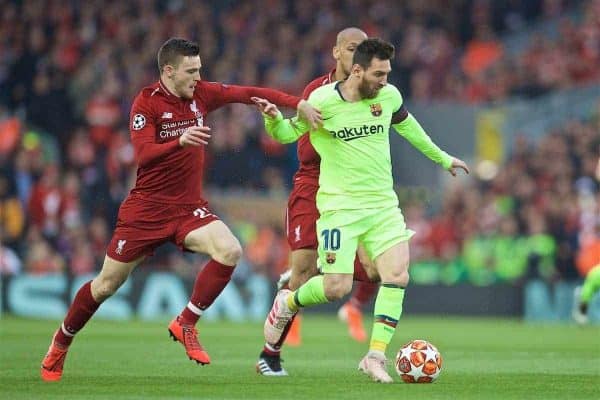 Yet another record-breaking season, this time from our world-class Scot. As with Trent, there are a plethora of assists to choose from. His first-time looping cross for Shaqiri's volley against Fulham; another for Firmino's opening goal against Spurs.
One of his best was another superb assist for Firmino to level against Man City at the Etihad, but his pin-point cross for Mane to head in against Arsenal was arguably the pick of the bunch.
But, outdoing all of these was how he hassled, harried and completely ruffled the Lionel Messi feathers. He got into Messi's head both physically and mentally, so much so that the red mist descended, Messi lost the plot, and he and his team collectively fell to pieces.
Milner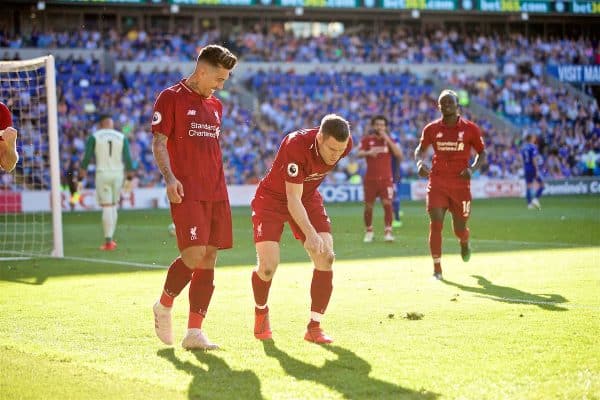 Our self-proclaimed senior citizen had yet another fantastic season, defying his 33 years in what was a relentless assault on two fronts. The opening goal against Arsenal at The Emirates was crucial, while he also hit a belter against Burnley.
As per usual, his penalty taking was exemplary all season. He was also the width of a post away from a Champions League final goal.
But the moment I remember with fondness was pure James 'the comedian' Milner; the bad-back & walking stick celebration after his penalty success against Cardiff.
Wijnaldum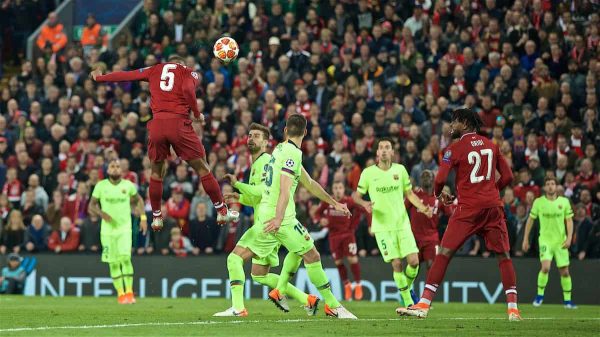 In Gini's best season yet there were some real gems to choose from; his brilliant chip over the goalkeeper at Fulham; his sumptuous half-volley from Trent's 'Origi-like' low corner against Cardiff.
But the highlight of his season came in his second-half cameo against Barcelona with first his low drive, then moments later, his magnificent 'Pele-hanging' header. He single-handedly brought Liverpool to the brink of European Cup Final glory as a shell-shocking Messi, Suarez and Coutinho looked on like startled bunny rabbits.
Henderson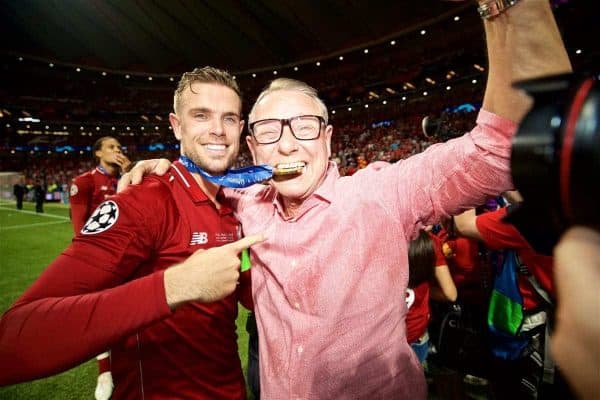 Jordan Henderson was finding himself on the bench more than he would have liked as the season progressed. Fabinho, Keita and others were seemingly wresting the midfield positions away from him.
True to character, he rolled up his sleeves and reacted in explosive style. A quite remarkable 15-minute cameo against Southampton included a headed assist for Salah to race away and snatch the lead followed by a rare goal of his own to finish the contest.
There was also the hilarious moment in the same game when he and Robertson excitedly tried to hug the scorer Salah – only for Mo to duck at the perfect moment, meaning they ended up inadvertently hugging each other.
But the iconic moment was surely the image of Henderson with his dad – the joy, the love and the exhilaration of family; the dad seeing his lad's unbridled joy as he lifted old big ears; the lad seeing his dad's beaming pride as he did so.
Fabinho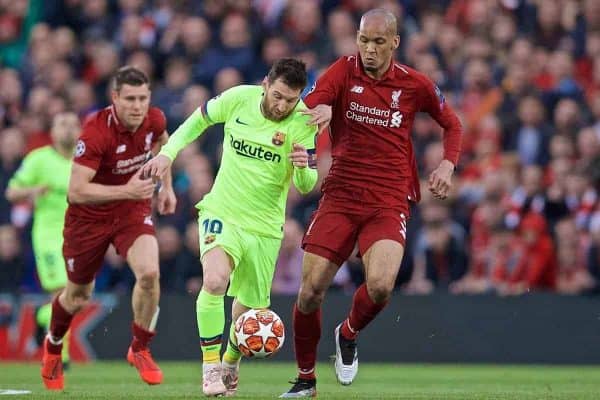 Fabinho's first season evolved from stuttering, to promising, to exhilarating.
His season was kick-started in the best possible way when his clever ball over the top of the Man United defence allowed Sadio Mane to chest down and volley home. His personal highlight might just be his first Liverpool goal when he thumped in a header against Newcastle.
But for me, there was one key, defining moment. It was injury time, 4-0 up against Barca and every Liverpool fan's nerves shot to pieces. Barca are pressing… and pressing… and one goal sends us out. Suddenly Fabinho stretches out a telescopic leg, nicks the ball from Lionel Messi, and gallops off towards the halfway line. A desperate Messi races back and takes him down, earning himself an injury-time booking while simultaneously killing Barcelona's momentum. In that moment the semi-final was won.
Keita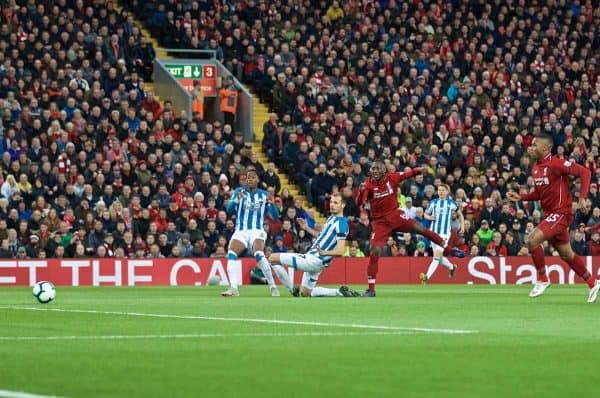 Naby's start-stop season was more stop than start, but it did have its moments. There was the sumptuous over-the-top ball in just his first game, and belatedly his first Liverpool goal – an unlikely header against Southampton.
But his best moment came in the first minute against Huddersfield. Anticipating a mistake from the Huddersfield defender, Naby pounced, stole, laid-off, took the return and fired Liverpool ahead before the clock had hit the 1-minute mark. It was exciting, it was decisive and it was everything we are hoping Naby will become.
Shaqiri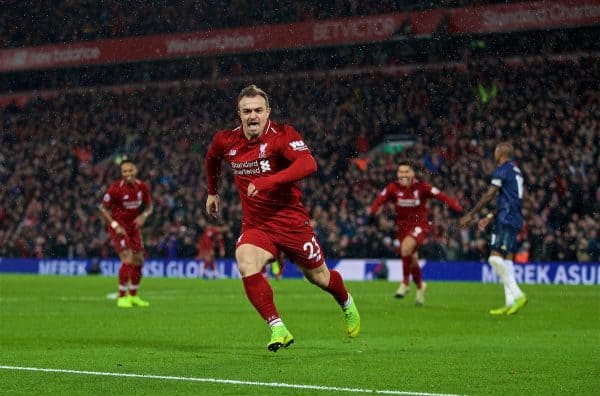 For a player who saw relatively little action as a starter throughout the season, his performances were littered with moments of class. There was (of course) his two-goal substitute appearance as Mourinho's parked bus was seen for the last time before it was used to drive him out of Manchester. Shaq's first deflected goal was important, but the second was the special one.
There was also his superb finished volley against Fulham, as well as a wonderful solo goal against Cardiff and a smart breakaway finish against Burnley.
But the defining moment once again came in that Barca game. In the absence of both Salah and Firmino, it was imperative that the replacements did something extra special – and that single, pinpoint cross on to Wijnaldum's head for the equalising goal was special indeed. It broke Barcelona's flimsy self-confidence, sent Anfield into a wild, frenzied cauldron of noise and helped changed Liverpool history forever. Yes, it really was that big.
Sturridge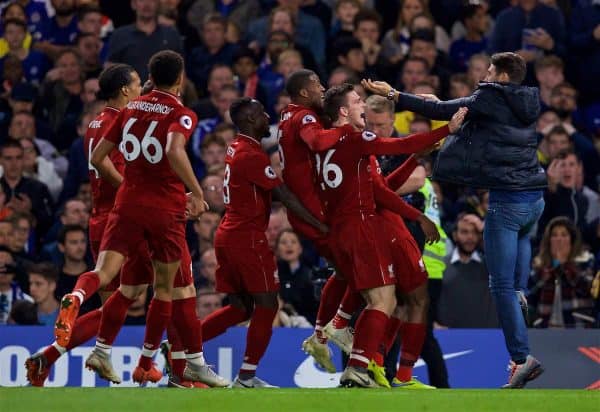 In what we now know was Daniel Sturridge's last season with the club, appearances were few and far between. Unfortunately, in the one season he was free of injury, he found himself too far down the pecking order to make too much of an impact. But as with almost everyone else in this superb squad, there were moments to cherish.
It was Sturridge who opened our European account with the first goal against PSG. There was a glimpse of the old Sturridge with his brilliant vision to find Mane for his decisive goal against Burnley.
Undoubtedly though, it was the bending, swerving looping thunderbolt which dipped over the newly crowned world's most expensive goalkeeper at Chelsea that was a highlight of any season. It wasn't just an equalizer and a goal that preserved the then-unbeaten record. It was a moment that said 'We are Liverpool, we are back, and we mean business.'
Firmino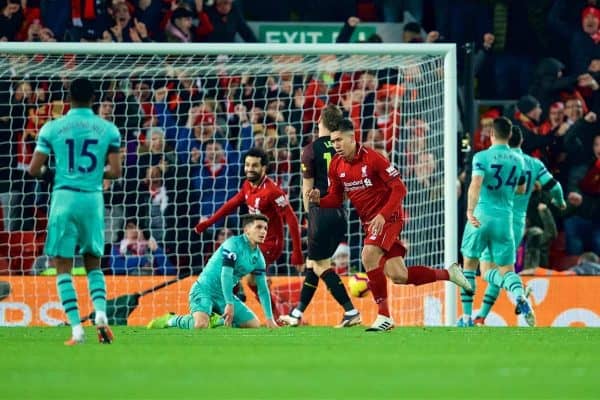 While Bobby didn't get the accolades, or a golden boot like his two main strike partners, he remained incredibly influential. He scored essential European goals, none more so than the late winner against PSG.
There was one particular moment of genius as he back-heeled directly into the path of Salah to score against Fulham. But the highlight of his season came in the middle of his hat-trick against Arsenal at Anfield.
With the Kop still singing 'Si Senor' after his no-look first goal, Bobby slalomed his way through the entire Arsenal defence leaving no less than three of them on their arses as he slotted into the bottom corner. It was John Barnes like in its brilliance and that says it all.
Mane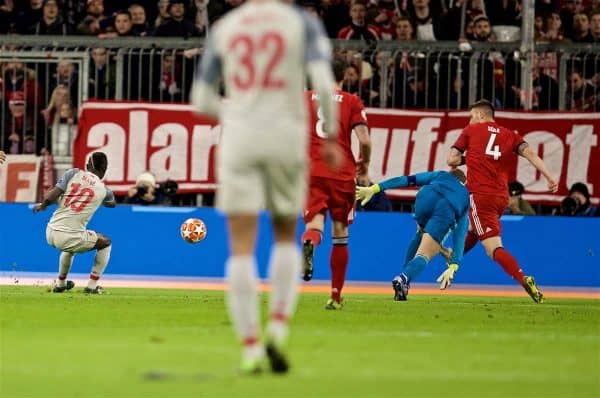 Sadio Mane had his best ever goalscoring season, earning him a deserved share of the golden boot. There were goals of every type, but who can forget his cheeky back-heeler from 12 yards against Watford? Or the run of games mid-season where he seemed to score the opening goal in every game we played?
But of all the wonderful moments he gave us last season, it was the trap, control, swivel, vision, coolness under pressure and delightful chip against Bayern on their own patch that stands out as THE moment of Sadio's fantastic season.
Salah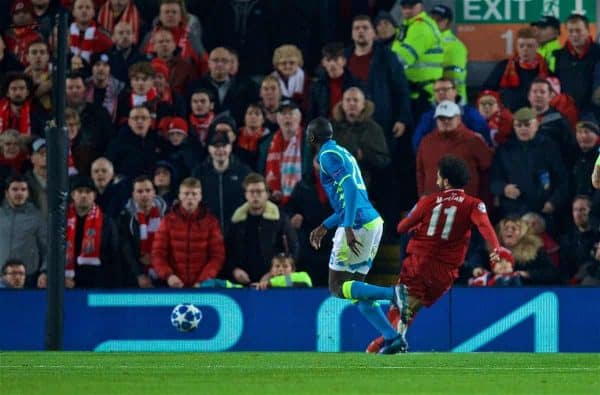 Mo became the faster Liverpool player EVER to reach 100 goals; he bagged his second consecutive golden boot; he scored in Liverpool's sixth Champions League win. Left foot, right foot, head, tap-ins, pile-drivers were all on the agenda.
Probably his best goal was that unstoppable rocket against Chelsea, but THE goal – the one that mattered more than any other – was the moment he wriggled past the Napoli defender and blasted into the far corner. In a moment of dire need, and with Champions League progress hanging by the flimsiest of threads, our Egyptian King came through once again.
Origi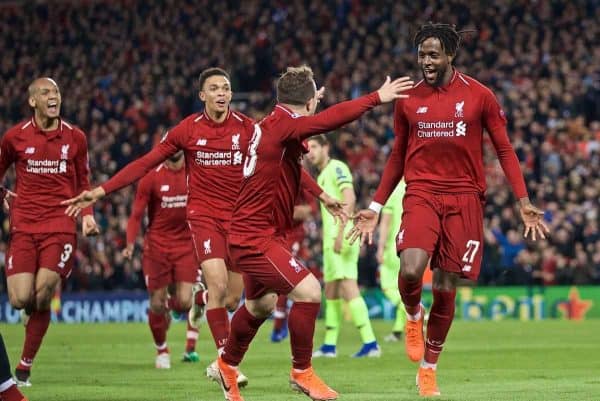 Divock Origi played a grand total of 11 league games last season. He played another eight in the
Champions League. But those 19 games have propelled a bit-part player into a bona fide legend of David Fairclough proportions.
The Everton goal became instant stuff of legend; his winner late on against Newcastle consolidated the status in another game when all seemed lost. With the odds massively against us with the absence of Salah and Firmino and needing four against Barca, he was Johnny-on-the-spot after only seven minutes. He blasted the goal that finally broke Spurs resistance in Madrid.
But it was the fourth goal against Barca which was the pinnacle of a quite astonishing list. As Shaqiri, head down, ambled his way to the corner to – he thought – take the corner, only two players on the pitch were switched on; Trent and Divock.
Trent's vision, as mentioned, was nothing short of extraordinary; but Divock Origi spotted the intent, was switched on while an entire defence switched off, and executed the finish to perfection. It was a career-defining moment, and it sealed the greatest comeback Anfield has ever seen.
Klopp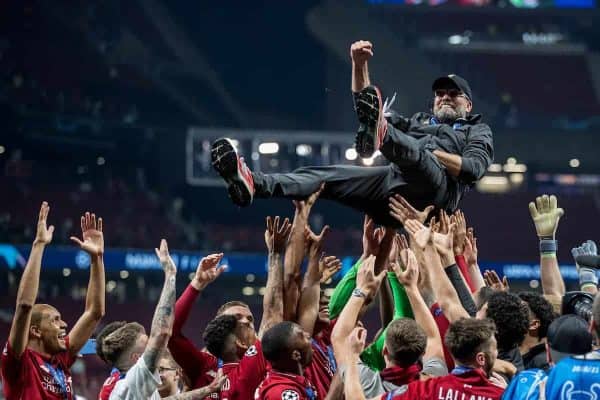 This one is almost impossible such is the highlight reel from our slightly bonkers manager, but there were a few stand-out moments to me.
One was him unleashing the 'f-bomb' live on US television because he "thought they were ok with it."
There was the sight of his 6' 3" frame being bounced by the players in the aftermath of Champion's League victory. There were the bear hugs, the great big toothy laughs and the numerous heartfelt bonding moments with the fans.
At the final whistle in Madrid, there were the six minutes of hugs he gave out to players, staff and anyone LFC related while at the same time taking the time to console the dejected Spurs players; a class act in everything he does.
But the moment that wins it for me was the sight of him running on to the pitch to hug Alisson after Origi's crazy winner against Everton. I mean, who does that, and who gets away with basically a free pass from the authorities and media?
Jurgen Klopp does; the charismatic, fascinating, wonderful manager of this magnificent, fabulous club. The manager of The Six Times Champions Of Europe…
… and it's time to do it all again. Roll on 2019/20.