Liverpool cruised to a 3-1 win over Bradford in their second pre-season game of the summer and will now head off for their US tour.
Bradford 1-3 Liverpool
Pre-Season Friendly (2), Valley Parade
July 14, 2019
Goals: Milner 13′, Milner pen 14′, Brewster 40′; Doyle pen 80′
---
Stephen Darby's Day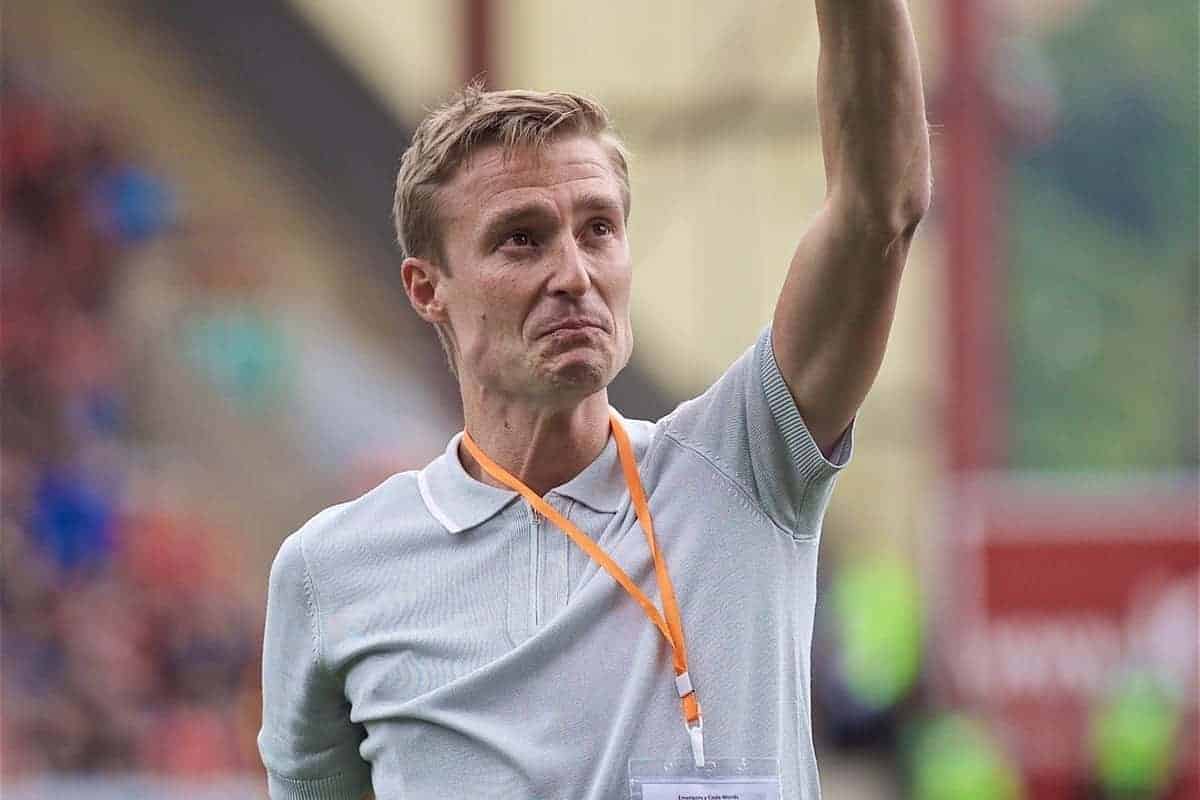 Of course this was a pre-season game, but the occasion was also to raise awareness for the Darby Rimmer MND Foundation, the charity set up by ex-Liverpool defender Stephen Darby.
The former right-back was forced to retire at 29 having been diagnosed with motor neurone disease, setting up the foundation soon afterwards.
While the fixture was to bring in funds and awareness, the club went further: James Milner the ringleader, with the team and coaches taking on a social media challenge.
After being nominated for the #StephenDarbyBaby challenge, @JamesMilner called in some backing singers, in support of @Distance_Darbs – @darbyrimmermnd. ?

Our nomination is everyone attending our game vs @officialbantams tomorrow. Over to you… ? #DistanceForDarbs pic.twitter.com/xCNysyWLRh

— Liverpool FC (@LFC) 13 July 2019
Fans will also take part in a sponsored walk from Valley Parade to Anfield to continue the charity drive.
Darby addressed the crowd before the game, with emotion painted on his face as he joined fellow sufferer and friend Chris Rimmer on the Valley Parade turf.
Rhian keeps the excitement building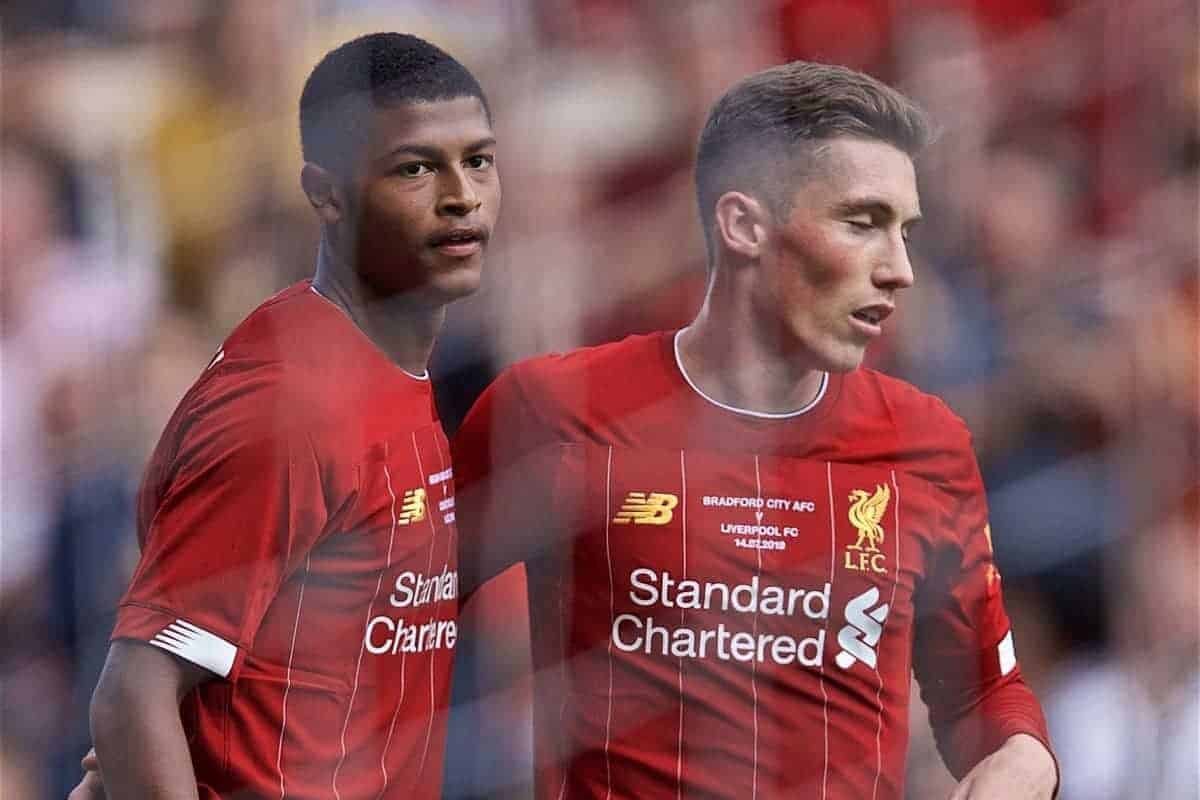 Another 45 minutes, another bunch of reasons to be nodding in appreciation of the talents of Rhian Brewster.
The striker wasn't an electric, non-stop presence in the first half, wasn't a silky running, continuously dribbling menace.
But he showed he has everything in his game, did everything right and played with a maturity far beyond his passport years.
The link play he possesses is very impressive, combining good vision with selfless use of the ball and a willingness to play the simple, but important, quick balls at the right time.
He set Ryan Kent free to win a penalty and combined brilliantly with Harry Wilson from the opposite channel for another great chance—the exact type of interlinking that Mo Salah and Sadio Mane would relish.
As a striker, too, he shines with the key traits: good movement, clinical finishing, following in other players' shots.
Twice in as many halves of football now, he has scored close-range efforts after being first to react. Keep doing the same and that will earn him the chance to plunder plenty of goals across his career.
Midfield Overloads Giving Reason for Optimism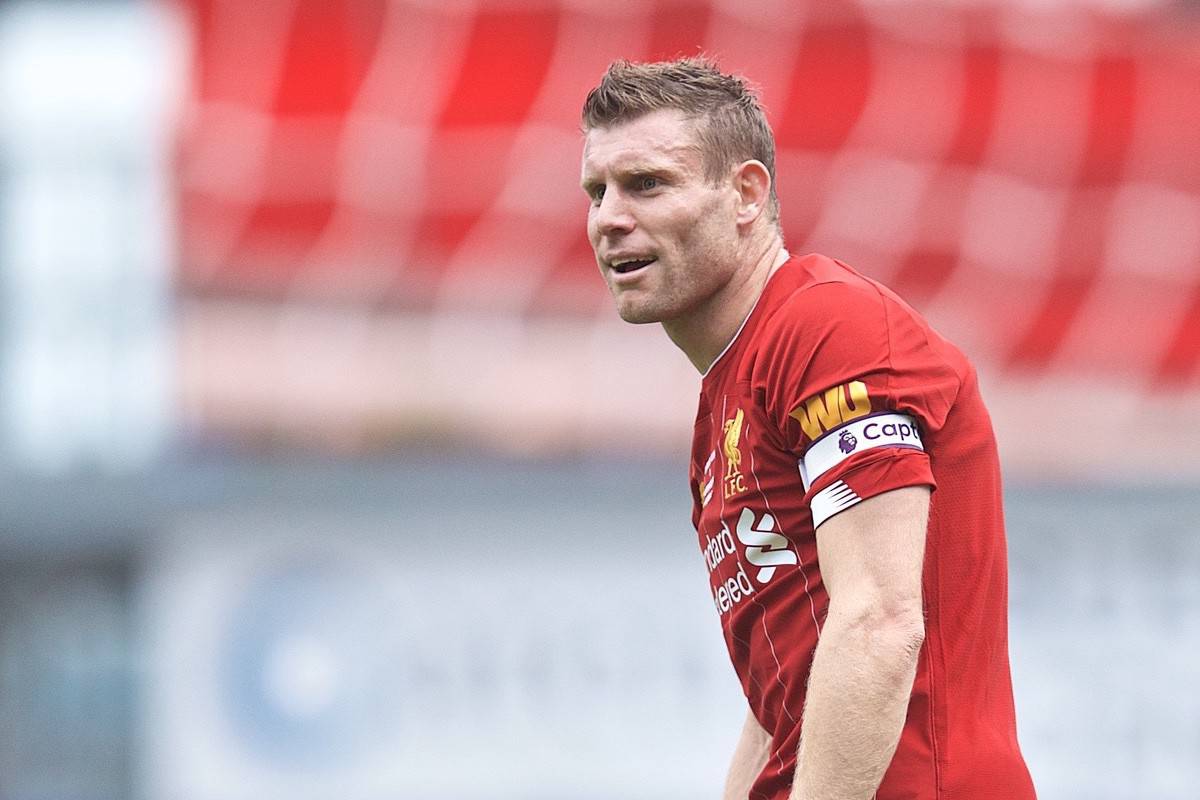 High on the list for many fans this summer would have been an offensive-minded midfielder who could get into the penalty box and create or score goals.
Klopp has a great selection of central enforcers to choose from, but there's no doubt we could do with more from them at times in terms of end product in the final third.
Until a late-season burst of goals from Gini Wijnaldum and Jordan Henderson, they weren't exactly prolific as a group last season.
Early on this summer, though, we're perhaps seeing a hint of the latest evolution: more runners, with greater frequency, into the area and beyond.
Against Tranmere, Alex Oxlade-Chamberlain, Curtis Jones and Ben Woodburn all managed frequent bursts forward; here against Bradford, Ox did the same in the first half and James Milner joined him.
Yes, these are low-grade opponents—but that's a very common coaching technique.
Perform the way you want to against inferior players, who allow that space and more often give opportunities to play the way you're attempting, and it becomes a natural instinct to do the same against the bigger, better teams.
No new goalscoring maestro from deep, perhaps, but shots aplenty and goals in both the opening friendlies from No. 8s perhaps hints that those solutions, too, already reside in the Reds' ranks.
Second-Half Standout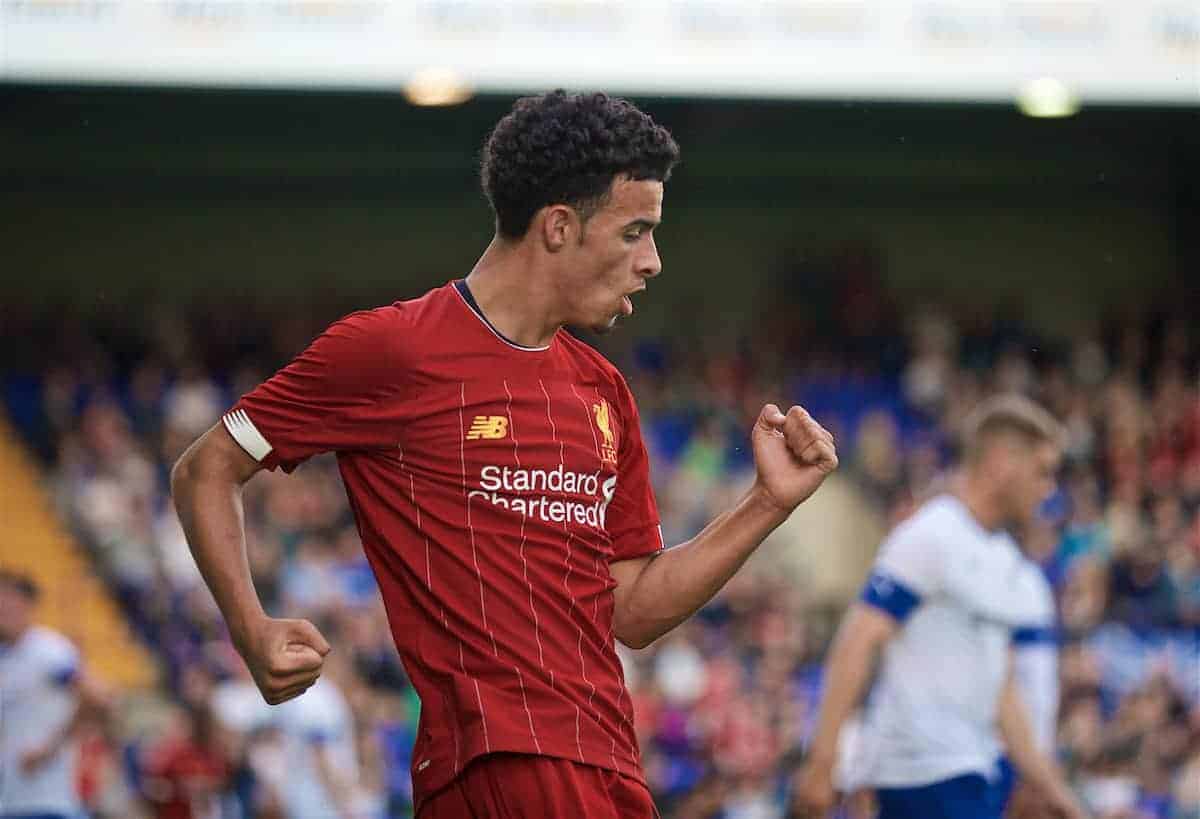 Perhaps as a result of the gruelling training sessions of the last few days, the second half at Valley Parade was rather less free-flowing and full of chances than the first.
The Reds didn't score after the break, but there was still an impressive performance on show from Curtis Jones in midfield.
His running into the channels was constant and intelligent, his strength to hold up play was good and as usual his trademark close control and dribbling ability opened up plenty of avenues for the Reds.
While there's no sense going overboard about pre-season performances, at the same time they have to be seen as an opportunity to prove their worth for the youngsters, and Jones has already stressed he wants to make his Premier League debut for the Reds in 2019/20.
If that's to be the case, he must catch the eye whenever he has the chance, and prove that he can impact against seasoned professionals, whatever their level.
Going into the US tour, a few under-23s will of course be cut from regular selection as the seniors get involved once again—so playing well now will only increase the chances of remaining on the pitch Stateside.
Last year Jones was excellent in the summer but had inconsistencies throughout the season; this time around he'll hope to prolong this good early form into the campaign proper.
Fly time and increased challenges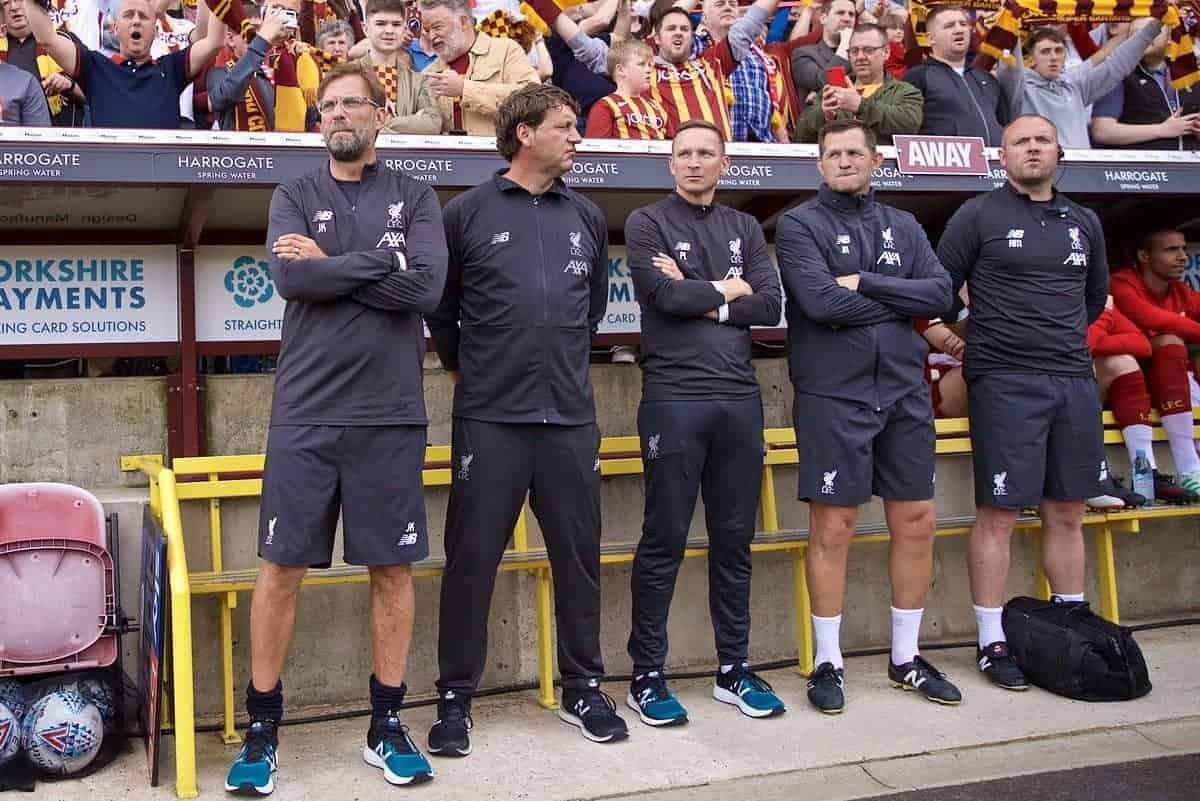 Two games down, two wins for the Reds—but the domestic fixtures are done with now and Liverpool are heading off for a real step-up in pre-season activities.
Borussia Dortmund, Sevilla and Sporting CP lie ahead and, as well as the upturn in quality of opposition, the training sessions will intensify as the senior players return.
Tactical implementation will become as much a part of the routine as fitness work, and of course the youngsters who head away with the first team will be able to test themselves against truly top-end opponents.
The countdown to the new season is well underway and the next two weeks will be crucial for the Reds to be ready to go, right from day one.
Bring on Indiana!