Curtis Jones has set himself a big goal at Liverpool in 2019/20, and has his work cut out for him as he aims to prove his immediate worth to Jurgen Klopp.
"I definitely think that I've got it in me and I have definitely got a manager who believes in me," the 18-year-old told LFCTV in his first interview back for pre-season.
Expressing his desire for a Premier League debut in 2019/20, Jones added: "I will be trying my best to show what I am capable of doing and hopefully I will get some minutes in the season."
The attacking midfielder was among the 16 names announced to return for the first day of training ahead of the new campaign, alongside senior names such as Fabinho, Alex Oxlade-Chamberlain and Joel Matip.
But while the likes of Rhian Brewster, Ki-Jana Hoever and new signing Sepp van den Berg came into focus for supporters as the Reds reported to Melwood, little was mentioned of Jones.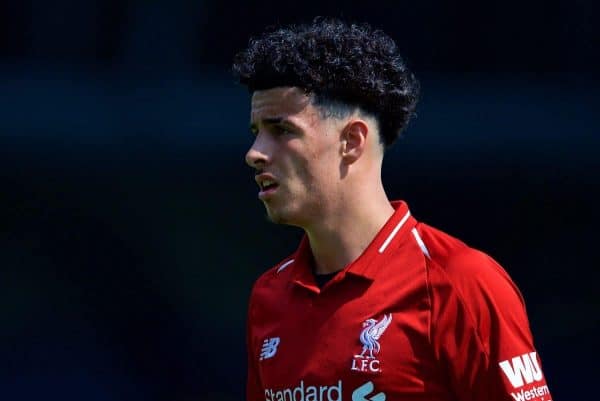 This comes off the back of a modest campaign, largely spent turning out for the academy, which dampened the hype built from an impressive pre-season last year.
Jones has become something of a forgotten man, with the immediacy of modern football moulding short-term memories, as other attractive youngsters have shunted him into the background.
Not deterring the teenager, however, there is a big opportunity for a confident Jones to make his mark and achieve that goal under Klopp this season.
The manager is, of course, already a fan, having drafted the youngster into his squad along with Rafa Camacho at the beginning of 2018, with the pair travelling to Kyiv for the Champions League final.
Klopp followed this up by handing Jones a prominent role in his preparations for 2018/19: he was one of just six players to feature in all seven pre-season friendlies, with only seven clocking more minutes (385).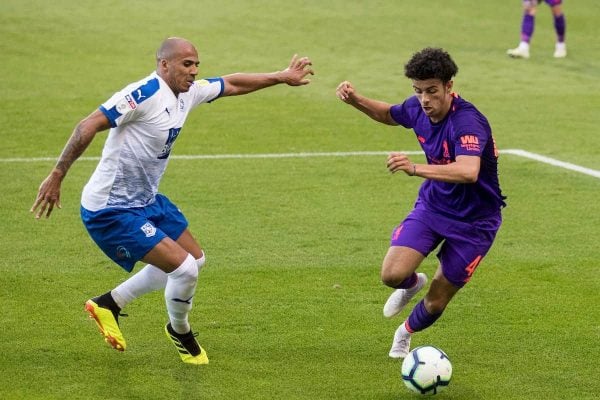 His versatility on the pitch allowed Klopp to field him across the midfield and forward line, and even at right-back, and his character caught the eye off it too.
"Curtis is a proper scouser—I don't know if I have the right words, but he is not shy to say a few things and probably that's a surprise for one or two players!" Klopp told the club's official website this time last year.
Assessing Jones' ability, he described him as "a tall boy but still very mobile, good at dribbling and stuff like that," but indicated his decision-making needed to improve.
"But it's easier to train that than to show somebody how to dribble, which is quite natural," he added, also noting it is important to study "how will he react to all the different public things, family at home, friends at home."
It appears as though Jones has not strayed onto the wrong side of the tracks in that respect, as seemingly a popular member of the first team with a strong rapport with those around him.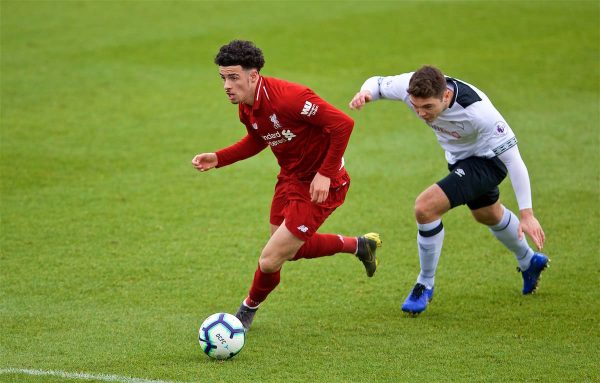 But his understanding, or lack thereof, of "the right moment to pass the ball," as Klopp put it, did undermine him at times as the season wore on.
Jones made 21 appearances for the under-23s and under-19s last term, scoring seven goals and assisting five, but while his numbers stand out, the eye test suggested there was still work to be done.
Too often, Jones would pick up then ball, drift past one or two players and then find himself at a dead end, with his head down, forced to turn back.
His skill would regularly allow him to navigate these sticky situations, but by that point the moment would have passed him by; a clear opening squandered by a tendency to overelaborate.
And when called upon to make his first-team debut against Wolves, he struggled to make an impression, making fewer touches (41) than Simon Mignolet (46) and significantly fewer than his fellow wide-man Xherdan Shaqiri (66).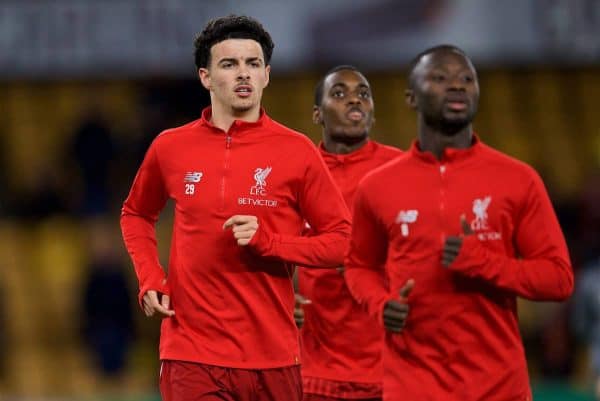 This is natural: Jones only turned 18 in January, only signed his first pro deal in February, and, by way of example, Mohamed Salah can still be found ploughing the same frustrating furrow on occasion.
He did deliver a timely reminder of his ability to dominate games towards the end of the campaign, when he was named Player of the Tournament as the England under-18s finished second at the UAE Sports Chain Cup.
And while he did surge down a blind alley once in the 3-1 win over Bradford, there are signs he is developing a grasp of when to experiment and when to keep it simple so far this pre-season.
Jones was one of the standouts in the second half of Liverpool's 6-0 victory at Tranmere, capping his 45-minute showing with a fine finish at the far post.
And he was the pick of the post-break XI at Valley Parade.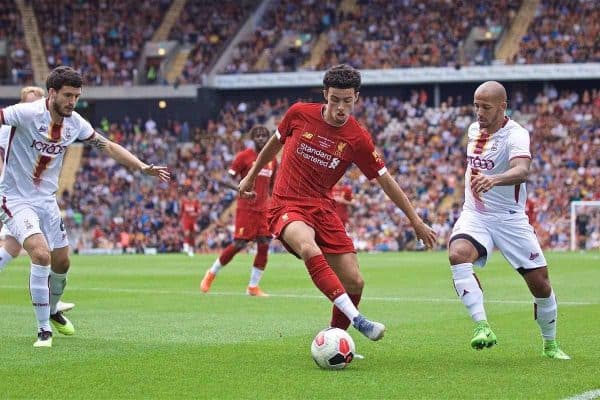 One deft pass over the top of the Bradford defence and towards the onrushing Ki-Jana Hoever, though ultimately foiled, hinted at a vision that could aid his progress into the senior side on a more regular basis.
A similar ball from Fabinho unlocked the Man United defence back in December, as Sadio Mane opened the scoring, and this invention is required from Klopp's midfielders.
The manager currently finds two of his more creative options sidelined as the Reds head to the United States for the next stage of pre-season, with both Shaqiri and Naby Keita struggling with injuries, and this could provide a chance for Jones.
He will still be competing with the likes of Oxlade-Chamberlain, James Milner, Ben Woodburn and the returning Jordan Henderson and Gini Wijnaldum for a place.
But with Adam Lallana dropping back into the No. 6 role and Keita out, there is hope for Jones.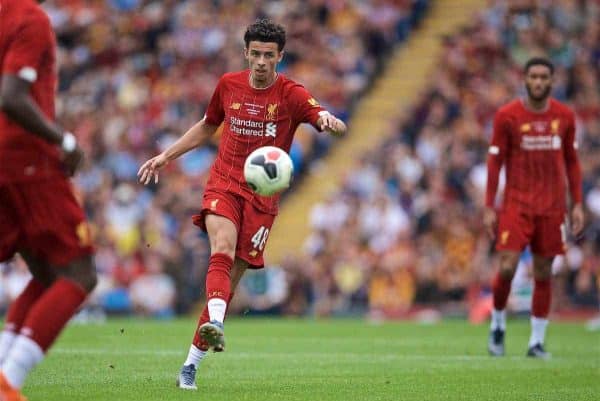 Furthermore, injury to Shaqiri and the late return of Mohamed Salah and Sadio Mane ensures there are also chances out wide, with flexibility undoubtedly an endearing feature.
But while he was able to score seven and assist five in 21 games against academy teams last term, and has impressed against sides from League One and League Two in pre-season so far, the big test comes across the Atlantic.
Borussia Dortmund, Sevilla and Sporting CP are all top-flight clubs boasting top-class players, and this is the level Jones will be looking to reach in the future.
Of course, he did so against Dortmund, Man City and Man United a year ago in the US, but a year older and more comfortable in the shirt, the hope is he can sustain this into the campaign proper.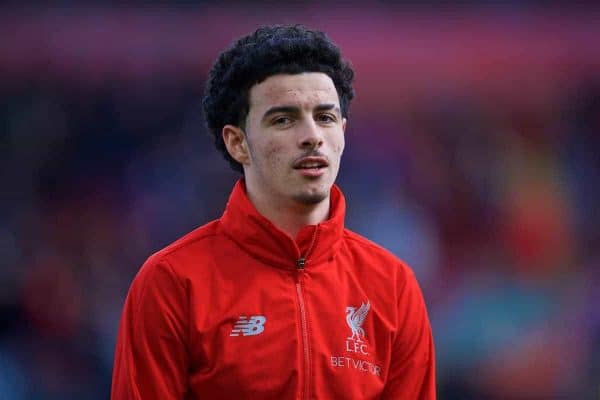 During last year's spell in America, Jones gave an interview with the Liverpool Echo which exposed his youth, responding on Twitter by asking "why do I look so nervous and sound it?"
Twelve months on, he will be looking to prove he has grown on and off the pitch, as Klopp leaves the door open for Liverpool's best young players to break through this summer.