MND sufferers Stephen Darby and Chris Rimmer were held up as "true inspirations" by the Liverpool squad after their 3-1 win at Bradford on Sunday.
The Reds' trip to Valley Parade came in support of the Darby Rimmer MND Foundation, set up by the pair following Darby's diagnosis with motor neurone disease in September.
Before the game, Darby delivered an emotional speech to the sell-out crowd of fans from both of his former clubs.
Rimmer also said a few words which demonstrated the heartbreaking severity of the disease.
It was a routine victory for Liverpool, albeit less impressive than the 6-0 win at Tranmere last time out, but the occasion was reserved for Darby and Rimmer.
After being nominated for the #StephenDarbyBaby challenge, @JamesMilner called in some backing singers, in support of @Distance_Darbs – @darbyrimmermnd. ?

Our nomination is everyone attending our game vs @officialbantams tomorrow. Over to you… ? #DistanceForDarbs pic.twitter.com/xCNysyWLRh

— Liverpool FC (@LFC) 13 July 2019
For James Milner, Darby's diagnosis affected him "personally," and he told LFCTV on his motivation for supporting the 30-year-old, including a £40,000 donation from his own foundation—and a spirited #DistanceForDarbs challenge:
"[Darby is] incredible. I'm proud to know him.

"Losing his football career like he did, that's one thing.

"And then dealing with the disease, having Steph [Houghton] around him, she's doing incredibly as well—carrying on her football and being there for Darbs at the same time, going through it together.

"[He is] thinking about himself and his family but also thinking about others in setting up the foundation and how it can help other people going forward. They have done an amazing job.

"He is one of the nicest guys you'll meet. It's unfortunate what happened. Today shows how much everybody thinks of him."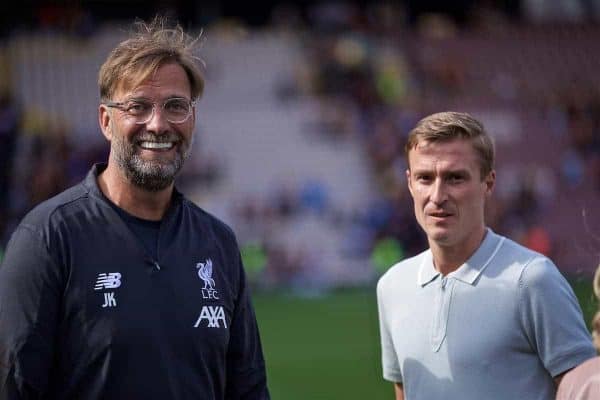 Darby made six appearances for the Liverpool first team after coming through the academy as one of the club's FA Youth Cup winners of 2006, but left over three years before Klopp arrived.
Regardless, the manager showed great warmth towards the former right-back, his family and Rimmer too, and echoed Milner's words in his own interview with LFCTV:
"Very important information, I would say: if you play one game for Liverpool's first team or 400, it doesn't matter—you are one of us.

"That's what the club showed today and [Bradford] showed it as well.

"It was a really nice opportunity for us to show the support for Stephen and his family."
On Instagram, the rest of the squad paid tribute to the inspirational pair, highlighting the importance of the game above their usual pre-season work:
https://www.instagram.com/p/Bz6LAEPAk-R/
Milner scored twice in quick succession at Valley Parade, before Rhian Brewster sealed the win from close range at the end of the first half, though Eoin Doyle grabbed one back from the penalty spot after the break.
Liverpool are next in action on their US tour, with Borussia Dortmund the first opponents in Notre Dame, before clashes with Sevilla in Boston and Sporting CP in New York.