Pre-season has been an opportunity for fringe and young players to impress so far, but with more seniors returned and ready for involvement, it'll be harder than ever to make an impression.
Even so, with new signings far less forthcoming this summer than in previous years, there's a case to be made for a couple of young talents to step up and help boost Jurgen Klopp's squad this season for Liverpool.
Two who are hoping to do exactly that are Curtis Jones and Rhian Brewster, the 18- and 19-year-olds who have long been held in high regard at Anfield.
For Jones, it's a second pre-season with the first team and last year he impressed as a precocious, though sometimes inconsistent, attacking midfielder. He ended up making his senior debut during the 2018/19 season and now wants to take the next step: being a regular part of the first-team squad.
It doesn't get much harder than breaking into the picture for the European champions, though, as he told the club website.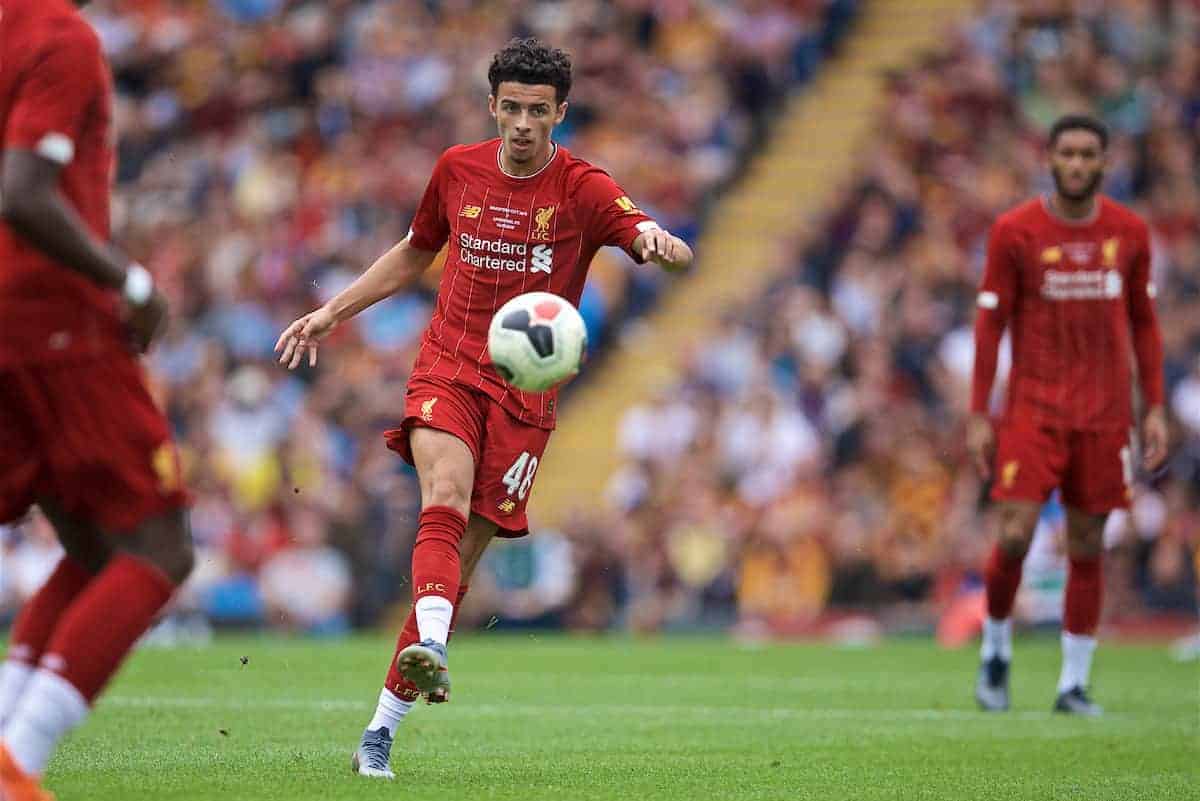 "Being a young, local lad, it has always been my dream to get into any Liverpool team – but this team is definitely one of the best I've seen growing up.

"For any young kid that is down at the Academy, the next step is to get to Melwood – and after that, it's about staying there. The players I am around help me all the time and have helped me become a better player.

"I'm going out there and giving it my all because I know there is a massive season coming up and I am trying to be part of the team.

"It's better than ever. Last year was a taste of what it can be like, but now I am living the dream – I am out here and I am 100 per cent confident that I am giving it my all, trying to catch the eye of the people I need to."
Chief among those whose eye he needs to catch is, of course, Klopp—but his trusted backroom staff will each have their take on a young player's readiness: mental state, physical capacity, tactical intelligence.
It's a step by step process to proving a starlet can become a star, but pre-season is a great proving ground. So far, Jones has impressed both as a No. 8 and, against Dortmund, in the attacking line—now consistently decent displays against the bigger, better teams on tour will only help him show Klopp he can contribute.
Alongside him in attack and scoring against Dormtund was, of course, Rhian Brewster.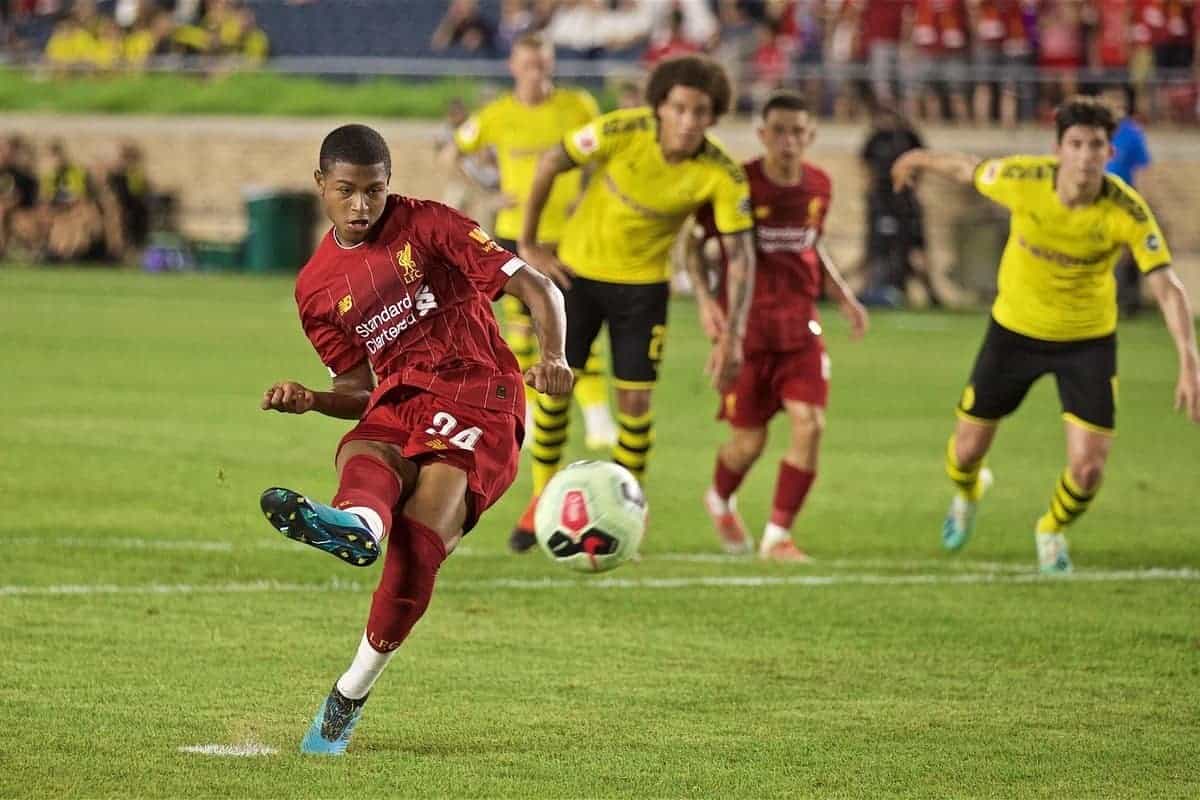 The striker netted a fantastic penalty in an otherwise quiet half-hour outing, but that took his tally to four goals in three matches…and really, only two half-matches and this latest 30 minutes.
As a ratio it's impressive, but Brewster's work ethic, movement and link play have also caught the eye.
Dortmund winger Jadon Sancho was part of England's U17 World Cup-winning squad along with Brewster and says he knew his friend would net the penalty due to the hours of practice he puts in—a good sign for fans to hear, as if they needed more proof of Brewster's determination to improve after his injury rehab.
"I knew it was going in as soon as he put the ball in his hands," said Sancho to ESPN. "I've seen him do it all the time, top corner. I just knew what was coming.
"He spends time after training, practising and practising his technique. I always used to see him out on the pitches. Penalties, free kicks, he took them all."
Whether Brewster gets to take any set pieces once competitive action is underway remains to be seen, but there is precedent at Liverpool for those who have proven their worth in training to do it in-game, of course—just look at another Academy graduate.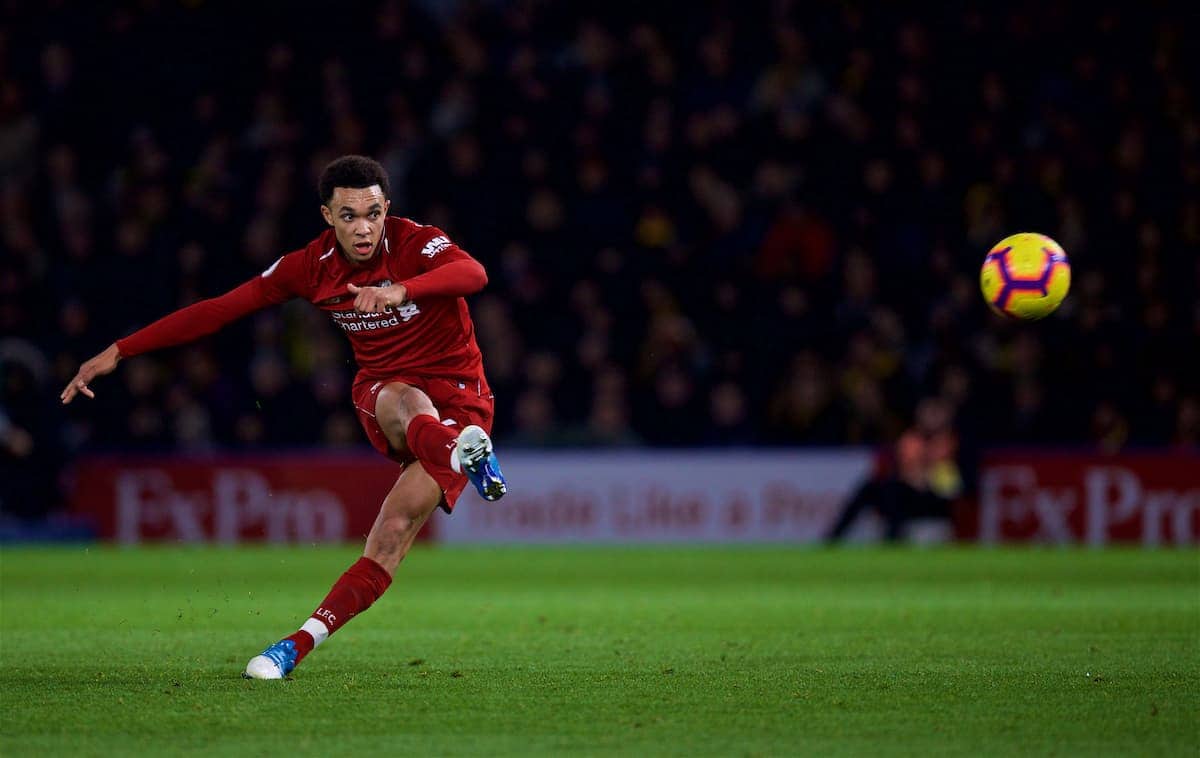 For penalties, though, Brewster will at least be behind James Milner in the order of merit—and Milner is one of those who will be ensuring the young striker does everything possible to achieve what his talent suggests he's capable of.
Speaking to the Echo, the Reds' vice-captain said that while the teenager is clearly gifted, he's trying to achieve a difficult task: coming back from injury and not just reaching his previous level, but being far better than that, good enough to break into the senior team.
"To come in here and score goals in pre-season is great and it has given him a lift but now it is the start of it.
"He has got a great squad around him, he has learned off the manager and he needs to take everything in every day. Every day is an opportunity to prove himself and improve again.
"When you're out for a long time from youth team football and you're trying to get back to where he was, that's hard enough. But Rhian's not trying to get back to where he was, he is trying to get back to a level to play for the first team and at a team that plays at a tempo like we do. It's not easy."
As well as improve his own game, Milner makes a key point: he's got to fit in to a successful team who have a unique style. Moreover, he's trying to provide competition for one of the most versatile, impressive, consistent and complete forwards in world football: Roberto Firmino.

It's a lot to take in, so it's just as well Brewster has a good squad of leaders around him—and Milner makes it clear he'll step in to deliver a telling message if Brewster thinks he has 'made it' too early!
"He's trying to learn the position as well. We play different to a lot of other teams. Obviously he's a different player to Bobby (Firmino) but he's a goalscorer and that's the hardest thing to do in football."

"There's not many better strikers in the world to learn from than Bobby and watching him, how he does the defensive job and the runs he makes. Rhian is a different player to Bobby but he still has to do the job that Bobby does so well – to set the press off and be in the position to block the number six.

"Rhian's a goalscorer, you see the positions he takes up, he just needs minutes, he needs game time and he needs to be training, learning and taking everything in. He listens to the guys around him who are trying to help him.

"It's a long path to get there and he is in among it straight away. If he wasn't as grounded as he is that could be a problem but the good thing is he is and he has got hunger.

"And if he doesn't have that and maybe wobbles for one second he has got plenty of senior players around him that will give him a kick up the arse."
Jones, Brewster and all the other young players at the club couldn't really wish for better names to look up to.
From the proven success of the manager, to the longevity and influence of Milner and the unbelievable technical and mental ability shown by the likes of Firmino, Virgil van Dijk or Alisson—there's someone for every youngster to look up to.
Plus, of course, Milner's motivational boots to remain wary of.