Despite losing on penalties to Man City, an encouraging second half showed Liverpool might just be ready for the new campaign despite a far-from-perfect pre-season.
Liverpool 1-1 Man City (4-5 on pens)
Community Shield, Wembley
August 4, 2019
Goals: Matip 77′; Sterling 12′
---
How Much Does the Community Shield Mean to LFC?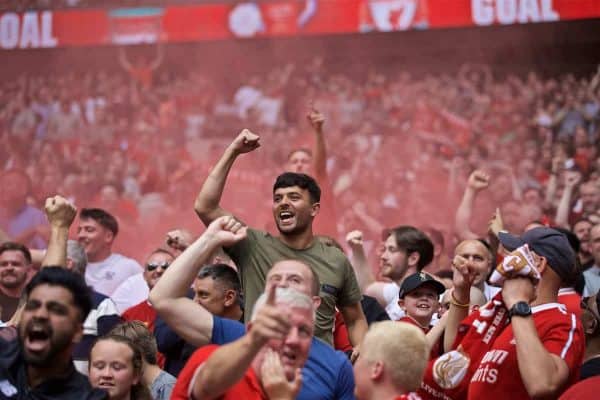 Both managers take this game seriously, even though some tried to take Jurgen Klopp's words on the game out of context.
City celebrated it as part of a 'quadruple' last season, and Klopp will view it as the equivalent to the German Super Cup which is taken reasonably seriously.
There was plenty of fight on the pitch between these two rivals, and as the game progressed there were battles across the park, especially between Andy Robertson and Bernardo Silva.
Even though teams shouldn't read too much into it, and celebrating it as part of your trophy haul at the end of the season is a bit much, it is still a useful step between pre-season and competitive matches.
It tests the water ahead of the new season, is the most useful of the pre-season games and, as it turned out, also a chance to practice penalties in front of 70,000+ fans.
Fresh Firmino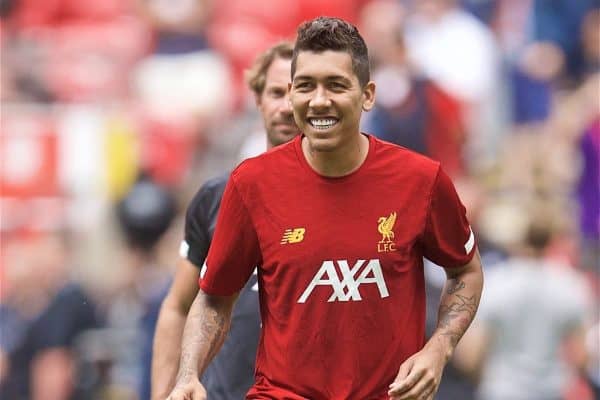 From the opening minutes Roberto Firmino looked on his game.
Despite having spent the summer leading the line for Brazil as they won the Copa America, contributing to more goals than any other player in the competition, he was back at his hardworking best for Liverpool.
He gave City's new Spanish midfielder Rodri an early taste of what he's about, pressing him all the way back to his own goal-line.
Shortly after he was getting away an acrobatic shot from a difficult angle, showing the sharpness which saw him score an opportunist effort in his return against Lyon in midweek.
He was winning fouls, brushing off opponents and strong in the challenge.
Given the amount of football he's played during the last few years, he's bound to have a slump at some point this season unless Liverpool rest him—but that looks unlikely.
As far as the start of the season is concerned, he looks ready, even though in an ideal world he would be having much more of a rest before starting competitive games.
Second-Half Superiority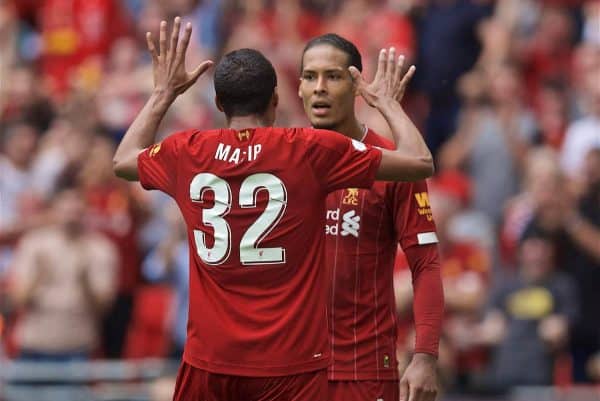 Klopp must have reminded his players at half-time that the season starts next week. Five more sleeps.
Mohamed Salah's sharpness grew as the game went on, his rushed shots fired wide became shots which troubled Claudio Bravo, and his footwork in the area was tricky and unpredictable.
The team looked much more competitive in general in the second half, and this led to more chances on goal—13 in the second period compared to four in the first.
A Virgil van Dijk shot hit the bar and rebounded onto the line, but it wasn't long before he was setting up his second centre-back partner of the game, Joel Matip, to score the equaliser.
Liverpool were by far the better team in the second half, during which they had 64 percent possession compared to 42 percent in the first.
The caveat is that City made fewer subs, but Liverpool's changes could have easily made them more disjointed and they didn't.
More Goals Conceded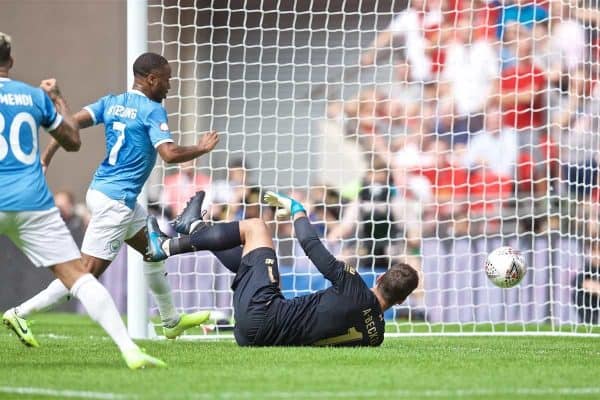 Liverpool have not kept a clean sheet in pre-season since their opener against Tranmere Rovers.
Bradford City, Borussia Dortmund, Sevilla, Sporting, Napoli, Lyon and now Man City have all found a way past the Reds as they head into the new campaign.
The first goal conceded here was a well-worked set-piece by City, but Liverpool reacted like they were still on holiday rather than five days away from the start of the season.
Individually they were quite good, and Joe Gomez especially warranted his place alongside Van Dijk, at least for this game.
Alisson was commanding and made a good stop from Raheem Sterling, though he couldn't prevent the goal despite the ex-Red's fairly weak attempt.
Gomez impressed at right-back once Matip came on, with the latter grabbing the equalising goal.
But as was the case with the attack, the defence looked much more impressive in the second period.
Are Liverpool Ready for the New Season?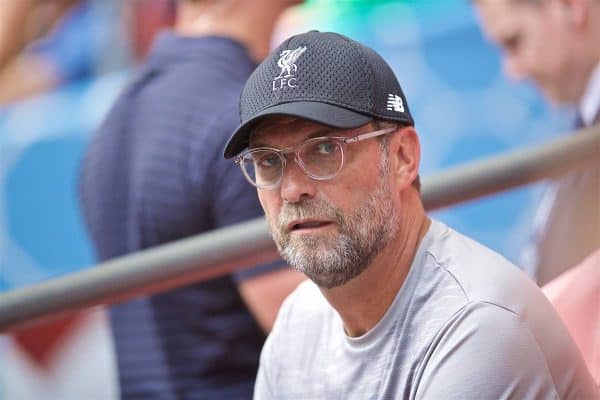 On this evidence… not quite.
But if they time it right they will be ready to face newly promoted Norwich on Friday.
Liverpool are unlucky in that their first game of the season is a day earlier than everyone else's.
They feel like the team who needs the most rest after their Champions League exploits carried them into June, and had a number of important players away on international duty, but they will get the least.
Some might say Liverpool are lucky in that they are facing Norwich at home in their first game, but this isn't the same Norwich Luis Suarez used to score goals past for fun.
It will be an important week. Sadio Mane returns to complete the squad, and many are hoping for a late flurry in the transfer market…