Jurgen Klopp insisted he had "no problem" with Adrian's error as Liverpool won 2-1 at Southampton, pointing to a similar mistake from Alisson last year.
The Reds were cruising at 2-0 up as they went up a gear in the second half at St Mary's when Adrian's skewed a simple clearance into the onrushing Danny Ings.
Liverpool's old No. 28 couldn't have missed if he tried, and the 83rd-minute goal gave life to a home crowd desperate to avoid a second straight defeat to start the season.
Thankfully, the visitors were able to hold on, but with Adrian struggling on the ball throughout there are obvious concerns among supporters as Alisson remains sidelined.
But speaking at his post-match press conference, Klopp pointed towards the Brazilian's own slack possession play in the early games of his Reds career—most notably costing a goal against Leicester—in defence of his new backup.
"Second half we made another big step, controlled the game better, did a lot of good things," he told reporters including This Is Anfield.
"Then minute 83 showed up on the screen and Adrian thought 'I played really well, so maybe like Ali did maybe I have to make the same mistake', and kept the game open.
"The boys then went 'really? We have to go again?'."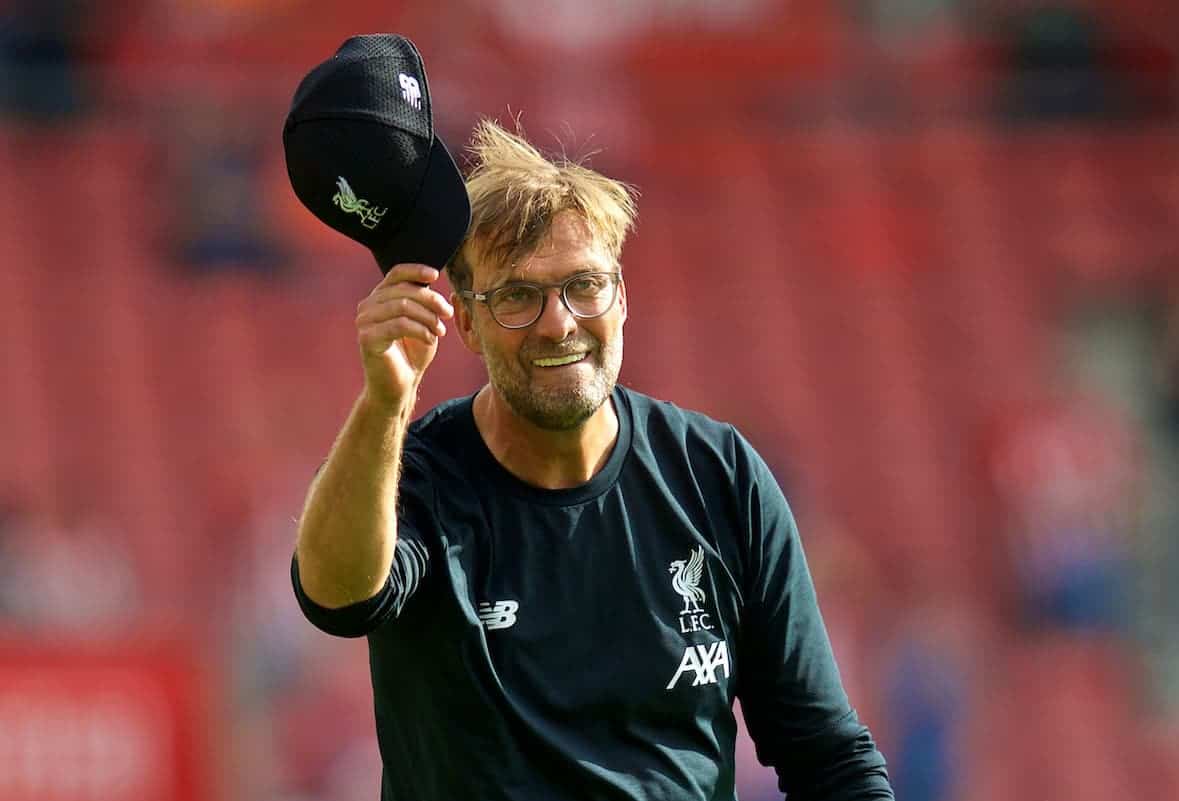 Klopp was asked if he had spoken to the summer signing about his error, and he confirmed he had—but rather than criticise, he joked that he had told Adrian: "Finally, you arrived."
"[I told him] welcome. Ali did the same, obviously it's a goalie thing at Liverpool," he continued.
"No problem with that as long as we win the games."
Adrian came close to missing the game due to an ankle injury sustained in the celebrations in Wednesday night's UEFA Super Cup victory over Chelsea, but the swelling subsided and the Spaniard was able to start.
However, while Klopp stressed that he had no issue with starting Adrian, he blamed his defenders for playing too many passes back.
"He had a clearing session this morning at 10 o'clock, and then the message flew to my phone that he was fine," he explained.
"If the message was 'he's not fine', then I'd have to make a decision. He said at breakfast he would be fine, but we had to test it."

Meanwhile, speaking directly after Klopp, Southampton manager Ralph Hasenhuttl revealed he instructed his players to put pressure on the "not that comfortable" stopper to force errors.
"It's no secret that the goalkeeper who is not in at the moment is for sure a fantastic footballer," he said of Alisson.
"[Adrian]'s new, it's normal that he's not that comfortable and if you force him into mistakes maybe the mistakes come.
"We forced the mistake and that's why he scored."